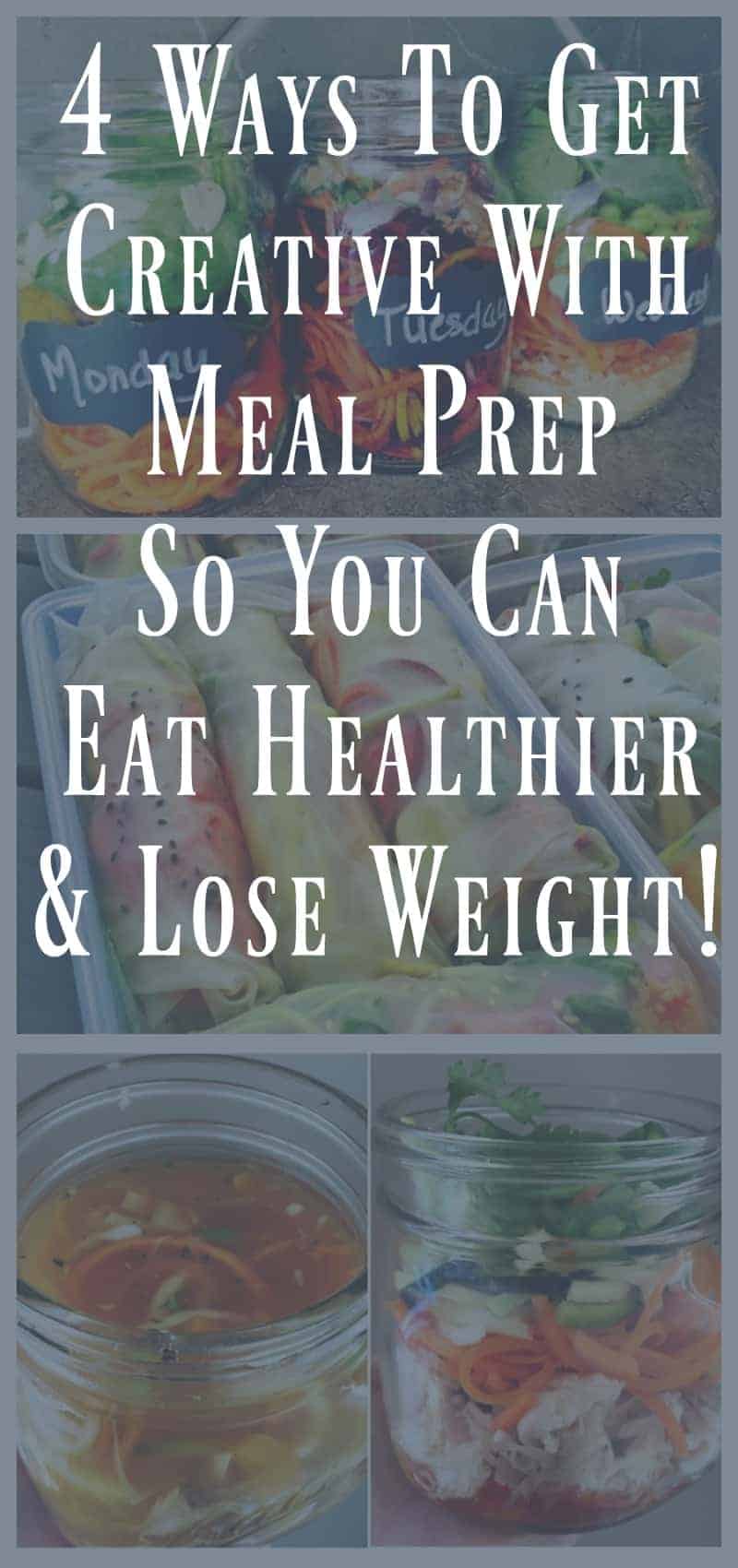 This post is by OYS writer Steph from Confessions of a Meal Plan Addict! Being a busy mom, wife and full time career woman, she has mastered once a week meal prep to organize her week, her life, and her health. You can read more about her on the OYS Team Page. You can find Steph on her blog, Facebook, and Instagram.
---
When I use to hear the words meal prep, I had visions of containers upon containers of broiled chicken, plain rice, and steamed broccoli. As an avid foodie, if I was ever going to drop weight I was going to have to find a more creative way to tackle once a week meal prep, because chicken, rice, and veggies all day, everyday, just wasn't going to work for me.
On my weight loss journey, I have found some creative ways in the kitchen to make Instagram worthy meals that helped me meal prep myself skinny.
Here are 4 ways to get creative with once a week meal prep and ditch the typical prep ahead menus:
#1. Get into spiralizing
I had never consumed as many vegetables in all my life than I did when I bought a spiralizer. This little counter top tool turns vegetables into noodles and the possibilities are out of this world. Finally, I was filling up on nutrient dense veggies!
By substituting carb-rich noodles with vegetables you are easily slashing hundreds of calories per meal and creating amazingly beautiful dinners that will shock your family.
I spiralize all of my various veggies on meal prep day and store them until the weeknight I want to use them. Once all of your ingredients are ready to go, dinner comes together faster than you can order takeout.
Ready to start spiralizing, start with some of my favorites:
Pot Sticker Bowls with spiralized Rutabaga.
Spiralized Rainbow Rolls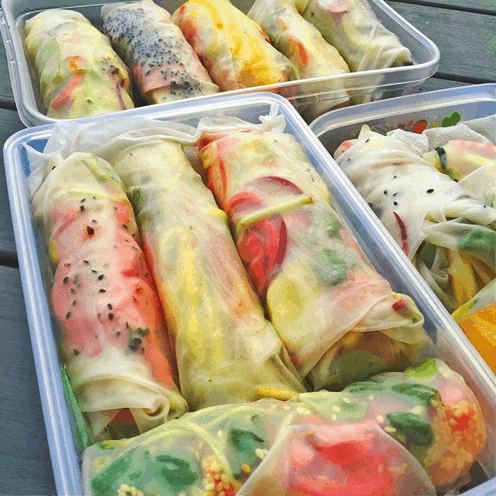 #2. Use steak and chicken dinner leftovers for Mason Jar Soups
Cut the salt and swelling feeling you get after instant noodle soups and create your own healthier version. Do you have leftover chicken or steak from last night's dinner? Throw those cooked meat leftovers into a jar with your favorite flavors, some veggies, and when you are ready to have lunch, simply add water.
Try my personal favorite mason jar soups:
Beef Teriyaki Instant Mason Jar Soup
Chili Chicken Instant Mason Jar Soup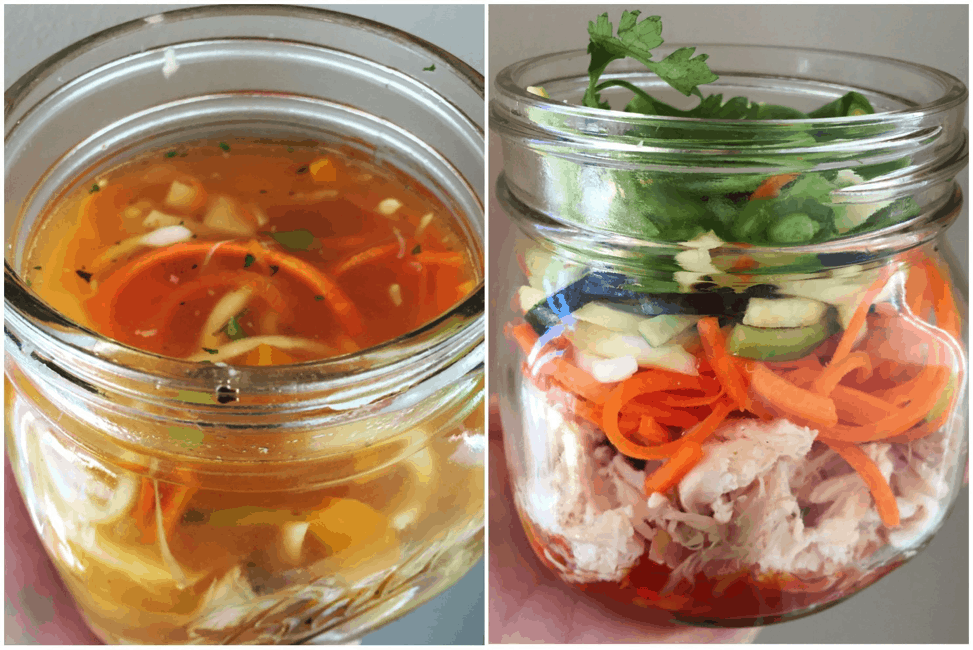 #3. Ditch the boring iceberg lettuce salads for Prep Ahead Stacked Mason Jar Salads
I also use to hear the word salad and think "boooooring". Not anymore! After a quick mason jar tutorial I had become addicted to these portable, prep ahead, one container dream lunches.
I assemble 3 days of salads at a time and then I have no excuse to get a take out lunch. These are grab and go, and all in one container. Genius!
Try my personal favorite mason jar salads:
Thai Inspired Mason Jar Slaw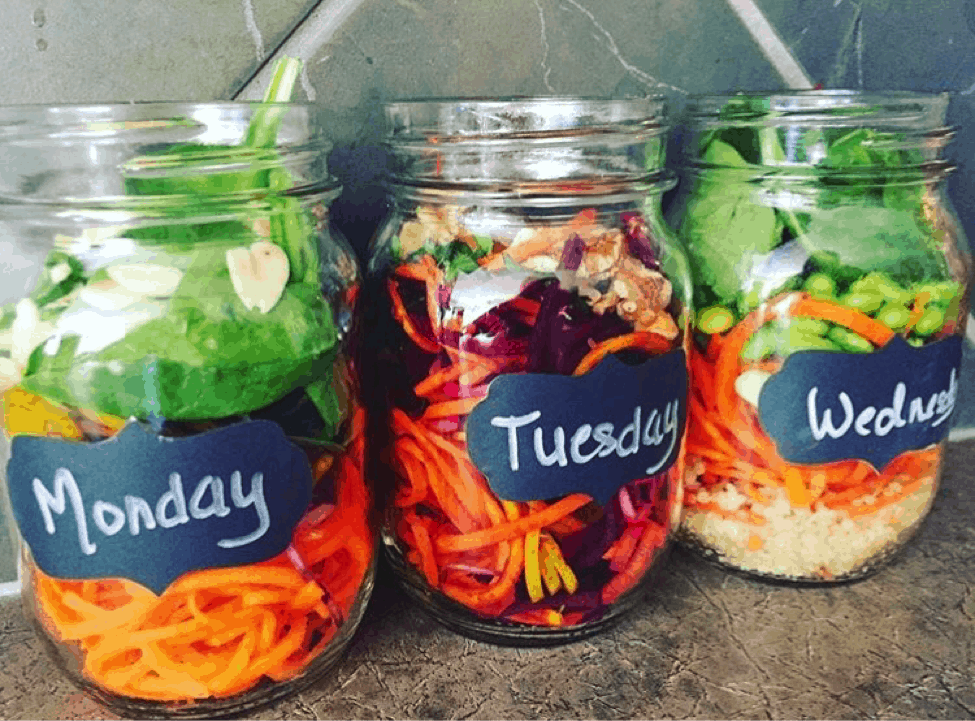 #4. Embrace the Instant Pot
I know, I know, you hear pressure cooker and are a bit afraid. Don't be!
Canadian company, Instant Pot has made your grandma's old pressure cooker into a safer counter top kitchen tool that will get dinner on the table with not too much effort, and in no time.
Prepping your instant pot recipes raw for the week, and then tossing them into your pot when you walk in the door has dinner cooking while you do better things with your time!
Interested in seeing how your instant pot PLUS once a week meal prep makes your healthy dinner life a breeze? Start here:
How to use an instant pot for once a week meal prep (plus recipe links)
How to prep and freeze instant pot suppers
5 foods I make in the Instant Pot on Meal Prep Day to eat healthy and lose weight
Once a week meal prep doesn't need to be boring anymore when you adopt a few new ways to prep and cook healthy food in your own kitchen!
What other creative ways are you prepping to make meal prepping less boring?