Thank you Corning® Gorilla® Glass 4 for sponsoring this post today! You can find out if your smart phone, tablet, or computer has Gorilla Glass 4 by checking out their website.
The last two months might go down as my laziest exercise days ever. Seriously! I spent so much time at our cabin this summer and had every intention of waking up and running around the countryside. But… sitting on the back porch swing was much more appealing.
I am paying for it now!
Once September hit, and the kiddos went back to school, I was left feeling tired, sluggish, and totally out of shape. I also felt disappointed. Mostly because I know better so I should do better.
Instead of feeling sorry for myself I decided to take action and do something about it. Anyone that knows me knows that I am not one to wait for change to happen I make it happen. It's just who I am. It's in my blood. It's what I do.
My solution for my 2 month exercise hiatus was to complete a 30-day 3-mile a day running challenge. I see "30-day fitness challenges" popping up on social media all the time. Truthfully, I always thought they were pretty gimmicky- and I am sure some are – but I now think there is real value in completely a 30-day fitness challenge.
Here's why…
Exercise is an essential habit to a healthy lifestyle. I don't just mean weight loss either. Sure, exercising regularly will give you nice arms and a tight tushy but a good sweaty workout will also help your body on the inside too. Not to mention exercise does wonders for our emotional well being. At least it does for me. I know when I am stressed out a good run will make me feel like a new woman.
Anyway, it takes about 3 – 4 weeks to make something a habit. By completing a 30-day exercise challenge you are essentially putting in the time necessary to make exercise a habit.
I am not saying putting in that amount of time is easy. 30 days is a long time, especially if you are not prepared.
Here are 4 tips to prepare for a successful 30-day fitness challenge.
#1 Choose an exercise
I recommend choosing one exercise and keep it simple. Don't go into a challenge saying something like "I am going to exercise 30 minutes a day". That is too vague. You need to know exactly the exercise you will do every day. Doing so helps you measure results and stay accountable. I chose running 3 miles a day. I love to run. It keeps me in shape but also keeps me sane. If I feel stressed out I know a good run will help me feel better. Other popular 30- day challenges are squat or plank challenges – you can choose any exercise you like. My advice is to choose a challenge that you want to continue as a lifelong habit.
#2 Get your smart phone ready
How did we survive without our smart phones? My phone was (and still is) ESSENTIAL to my running routine. It provides my music play list, apps to track my runs, and a calendar to set my workout reminders. I don't think I could successfully complete a 30-day challenge without it.
Many people attach their phones to their arm or hip – that does not work for me. I like to hold my phone as I run. For this reason I need to make sure I am careful. Not to be gross but my hands get sweaty as I run so my phone could easily slip out of my hands. I think I would cry if my screen cracked. Maybe even a panic attack. Where do I go? What do I do? MY MUSIC!!!!!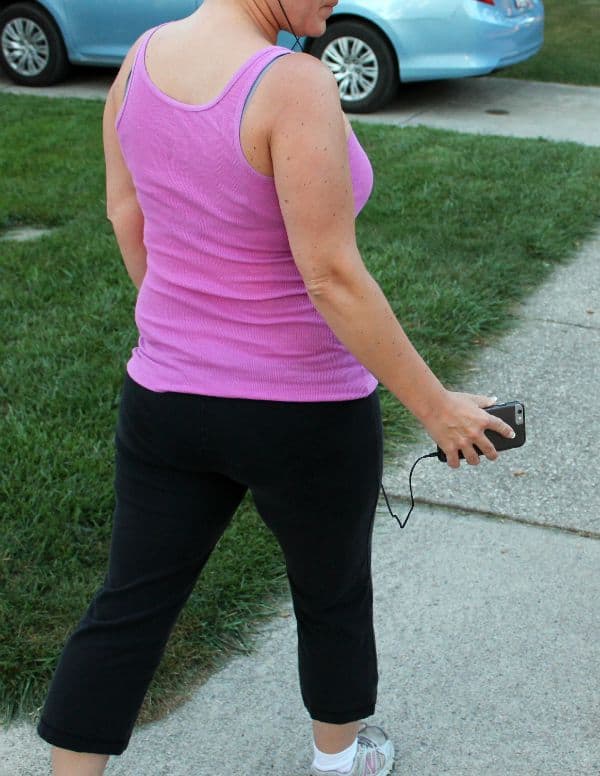 Many phones have Corning® Gorilla® Glass 4 and this is the toughest cover glass yet. Check here to see if your phone or device has it. The focus of Gorilla Glass 4 is on improving damage resistance against sharp contact, such as a drop on asphalt, concrete, and other rough surfaces – perfect for those that like to run outside. Actually, this is even great for us treadmill runners. Sometimes I place my phone on the sill of my treadmill when my hands get too slippery. A few times I have knock it off. Thank goodness my screen did not break.
If you worry about dropping your phone while exercising then look into phones or devices that have Gorilla Glass 4. In laboratory tests, it survives up to 80% of the time when dropped from 3 feet high, and was up to 2x tougher than competitive glass designs. Sweet!
#3 Create a check off sheet
The point with a 30-day challenge is you need to do it every day for 30 days. Creating a check off sheet gives you a visual of your daily accomplishments. This keeps you motivated and your eyes on the prize. Yes I know we are all adults and don't need achievement sheets but in a way we kind of do. I always tell my kiddos that adults are just kids in bigger bodies. We still need many of the same things that made us motivated and happy at 5 years old. Gold stars and ice cream anyone? You know it's true!
A 30-day challenge check off sheet can be as complicated or simple as you want. I tend to lean more towards simple. All you need to do is type day 1 – 30 with the challenge next to it. For example, Day 1 run 3 miles. After you complete that day's challenge cross it off. As simple as that sounds it is really quite powerful. If you commit and stick to it I guarantee you will start to look forward to crossing off days and will feel determined to get the challenge in even if you start to get busy.
#4 Get your exercise gear ready ahead of time
Nothing prevents me more from exercising than not having my workout clothes ready or if I have to spend to much time looking for earbuds or phone. I exercise in the morning which makes my time limited. So, if I have to spend more than 10 minutes getting my gear together I will probably throw in the towel. I know not very disciplined but at 6:00am in the morning I am crankier than usual. If I want my 30-day exercise challenge is be a success I need to be prepared ahead of time.
Completing a 30-day running challenge was exactly the thing I needed to get back on track with my running habit. The first week and part of the second was a struggle. Trust me there were many mornings I did not want to run. But I made that commitment to myself so I kept going. By the third week I felt AMAZING and even ran longer than 3 miles some days. Now it is habit and I plan to keep it that way.
Thank you again to Corning® Gorilla® Glass 4 for sponsoring this post today! 
Corning® Gorilla® Glass has been used on nearly 4 billion devices from 40 major brands. Is it on yours? Click here to find out <link to http://corninggorillaglass.com/en/products-with-gorilla>
This is a sponsored conversation written by me on behalf of Corning® Gorilla® Glass. The opinions and text are all mine.
Get Instant Access to My Best Weight Loss Tips & Strategies!
Sign up now for a free step-by-step 7-day email course that I created exclusively for my email subscribers! That's you. I will teach the best habits, strategies, and insider tips so you can enjoy a lifestyle that encourages and supports weight loss! Stop relying on willpower and take control back over your life! You can do this. Let me help!