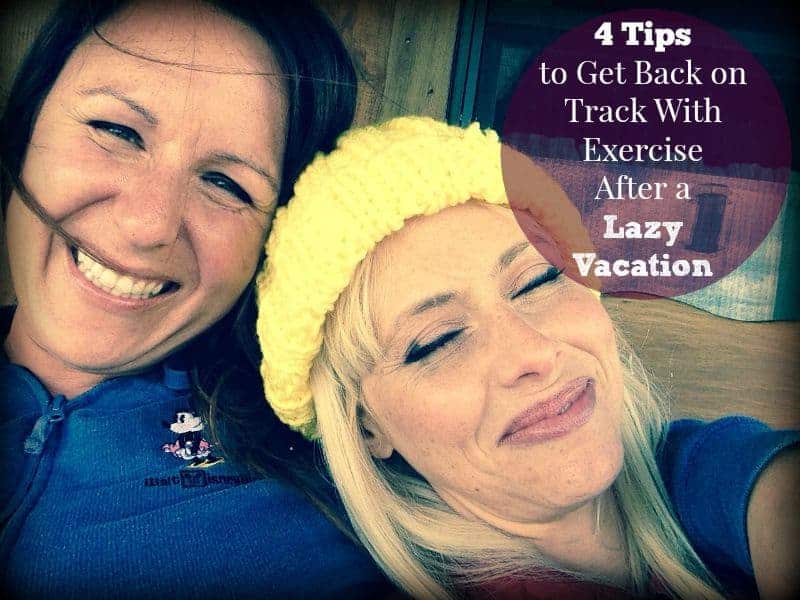 This post is by OYS writer Melissa. You can read all of her posts here.
Last month I wrote a post about how to stay active on vacation, which you can read here. Hopefully some of my tips helped you and you are able to use them on your next vacation. However, sometimes our best intentions go out the window when we are away, and we don't follow through with our exercise plans. That's okay too. A vacation is meant to be for recharging your batteries, mentally and physically. So if you just spent a week lying around on the beach drinking margaritas…good for you! But now it's time to get back on track with your exercise routine. Read on for some helpful tips to get over the laziness.
#1 Assess the damage
That's right…get. on. the. scale. It may be painful to see that you have gained a few pounds, but you need to know what you are dealing with. On the other hand, you might find that you didn't do as much damage as you think. You probably will not see a dramatic weight gain after only one week. Either way, you need to be realistic about what your body needs to do now. So just weigh yourself and get it over with, and then don't get on that scale for another week until you have had a chance to get back at your healthy habits.
#2 Let it go
Yes, we are all probably singing that dreaded Frozen song in our heads when seeing this phrase, but it's what you need to do. If you had a lazy vacation, you should not feel bad about it. I'm actually incredibly jealous because I haven't had one of those in a while. You should feel really good about what you have done for yourself by putting your needs first for a change. Any guilt or regret you are feeling should be pushed out the window now. You are actually lucky because you are most likely coming back with a fresh attitude and a renewed sense of your goals. So literally let it go…I'm serious…bend down and scoop your arms up really big, walk over to a window, and throw all that guilt away. Sounds cheesy, but sometimes that physical act of throwing something away helps me. I use that little trick when I'm feeling stressed, and I literally throw the stress out the window. Just give it a try.
#3 Make a plan
Planning is so important when you are trying to start, or in this case, restart a healthy lifestyle. Don't just rely on telling yourself that you will do it. Make some sort of visible plan on pen and paper, or on a fitness app like My Fitness Pal. Set a goal for yourself for your first week back exercising, and maybe also plan for a small reward to treat yourself to after that first week. You can get exercise goal setting tips here, exercise planning tips here, and exercise reward ideas here.
#4 Just do it
First I steal from Frozen, now I'm stealing from Nike. Something to keep in mind: Healthy habits take at least three weeks to form. Once you hit that point, you should be able to maintain your exercise habit fairly seamlessly. However, it takes way less time to break a healthy habit, as in one week. So your one lazy week of vacation has the potential to derail your good exercise habits, but you can overcome it. You just need to get right back at it as soon as you get home and you are back in your usual daily routine. If you get home and wait any amount of time before exercising again, it's only going to get harder. You need to start exercising again right away, like even the day after you get back. You may be tired and have a million things to do, like unpacking and sorting mail, but just carve out 30 minutes to do some sort of physical activity. It will give you the energy you need to plow through those post-vacation chores, and will set the tone that you are going to exercise on a regular basis again.
What are your tips for getting back into exercise after vacation?