Thank you Lunchbox for sponsoring this post today!
I worked an office job for 14 years! That seems like a very long time considering I still feel 16. Seriously. Today I work as a full-time professional blogger – yes I still need to pinch myself once in a while. While this does allow me more flexibility to move around and exercise I still spend a good chunk of time at my computer writing and doing other blogging tasks. Because of my two chosen profession I am very familiar with the challenges of sitting at a desk all day long.
Before starting my first "real" job I worked as a waitress and quite honestly I don't think I sat down from the ages of 18 – 24. I also exercised regularly and would go for many walks after work with my friends. Walking and talking was (and still is) one of my favorite activities to do. During that time I also worked on my bachelors and masters degrees. I was a busy girl but somehow managed to find the time and energy to stay active. If I were a betting person I think a lot of it had to do with being child-free and only working maybe 20 hours a week. Needless to say my time belonged to me.
Enter the "real" world.
After spending 6 years, and a whole lot of money, in college I was very excited to put my academic degrees to use. I was offered my first job, quit my waitressing job, and started my first "real" career as grown up. 5 minutes after walking through the door I was shown my desk, sat down, and within the first year gained 20 lbs. Over the next few years I went from 118lbs to 165lbs. After my babies were born my weight topped out at 177lbs and stayed there for about 7 years. My new sedentary desk life turned out to be good for my bank account but not so good for my waistline.
There were many days I spent 8 hours sitting at my desk. The only moving taking place was when I walk to another office for a meeting where we sat. Even if I did that a couple times a day it was not enough.
By the end of an 8 hour day of sitting I would feel…
Exhausted
I would get home and want to sleep. I had zero energy to fix dinner, play with my kids, clean my home, and/or do anything fun. On a side note, I always found it interesting that I felt more exhausted sitting at my desk all day than working a double shift at a restaurant. After a 12-hour shift of running around waiting tables I still had energy to hang out with friends or clean my apartment. 8 hours at my desk and I was lucky if I had the energy to get out of my car to pick up the pizza. It was a different type of exhaustion. It was mental but ultimately physical. The sedentary lifestyle did not work for me.
Unmotivated
Every morning I was raring to go. I would fly through my task list, write emails like my life depended on it, and the idea factory was in full swing. However, after only just a few hours I did not feel like doing anything. The spark for the career I worked so hard to achieve was gone by lunch. Even checking and responding to email was burdensome. Don't even get me started on late afternoon committee meetings. Oh boy!
Unfocused
I struggle with focus anyway but if I am tired and unmotivated then forget about it, I might as well go home. When I lose focus I can stare at my computer screen for hours and get zero accomplished. I can't put my thoughts together and even when I can they never seem to make it through my brain filter and onto the computer screen. Unfortunately, that's just the way I am. In order for me to produce quality work I need to be completely focused. For me to become and stay focused I need an environment that energizes and motivates me. I am sure most people are like that but sometimes I feel like I need to be more intentional with my surroundings.
When I started to change my lifestyle it became obvious that if I wanted to get back in shape I needed to move during the day.
Here are 4 tips that get me moving and helped to burn calories while I sat at my desk all day.
Start the day with exercise
In my experience exercising in the morning sets the tone for the rest of the day. It gets your metabolism going and keeps it going. Personally, I preferred to get my main workout in before work. This way I know it's complete and don't need to worry about anything getting in the way of my treadmill and me. I still found exercise during my workday to be beneficial but I always feel my best when I prioritize exercise in the morning before my day begins.
If you don't have time for a full 1-hour workout then try to get in a quick routine like this from Degree® .
Incorporate strength training into your exercise routine
Strength training is key to increase metabolism, burn fat, and sculpt your body. My exercise routines used to only consist of running on the treadmill. I love to run and this worked for me but when I started to do exercises like squats, push-ups, bicep curls, and other basic strength-training exercises I began to see big results. Strength training can be a part of your regular exercise routine or can easily be done in your office when you have time. Often, I would run out of time in the morning so I would do exercise like squats or push-ups before lunch.
Keep simple exercise equipment in your office
A year or two into my weight loss journey is when I purchased a second set of exercise equipment specifically for my office. I wish I would have done this sooner because it made exercising during the day easy for me. I kept a set of 5lb weights and resistant bands in one of my desk drawers. When I started to feel tired or unfocused I would do a few bicep curls or lounges to get my blood flowing again. Other equipment I recommend keeping in your office is an exercise ball, yoga mat, step, and/or jump rope. Of course you might not have the room for everything but if you can bring a few.
Pack an exercise office kit
If there is one thing I learned on this weight loss journey of mine is if you don't plan for it then most likely it won't happen. This is especially true with exercise. As a busy person a lot needs to take place for exercise to happen. If I want to exercise during the work day then even more needs to happen. I will need to pack sneakers, exercise clothes, earbuds, a head band and hair tie, and hygiene products such as face soap and deodorant. Not have 1 or more of these items can put the breaks on my workday exercise efforts.
I recommend taking all these items and creating an exercise kit of sorts to be kept in a bag and stored in your office. This way you always have what you need and won't worry about leaving your deodorant at home when you just had the best sweatiest workout of your life.
If you are looking for a deodorant to keep you fresh at work after exercise then check out Degree® Women MotionSense Daisy Fresh Invisible Solid Anti-Perspirant & Deodorant. I love the smell, the more you move the more it works, and it will keep you smelling pretty straight into that long afternoon committee meeting. Your welcome!
You can purchase this at Walmart. This is where I picked mine up. You can unlock a $1 off coupon by watching this video.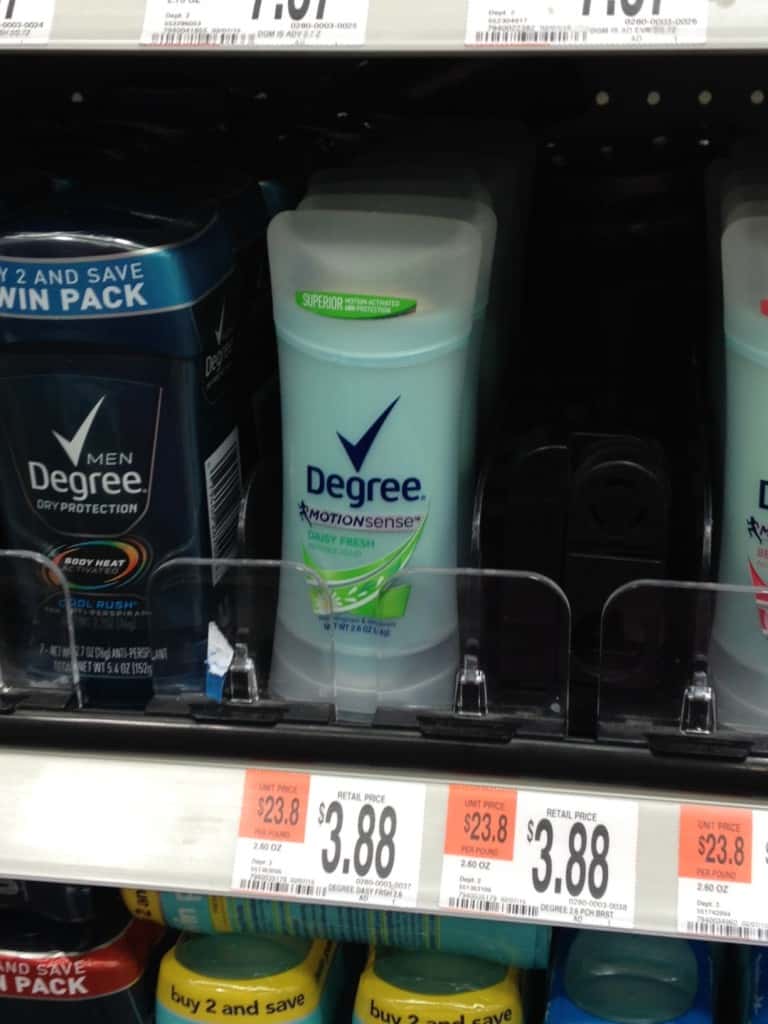 If you struggle to make exercise a priority or need some extra encouragement then consider taking the 6-week GET MOVING SUMMER FITNESS CHALLENGE with Degree® and Celebrity Trainer and Transformation Pro, Chris Powell. Chris will take you through a series of simple exercises that can be done anywhere, anytime. He'll provide easy tips to help you incorporate fitness into your daily routine so you can get moving.
To help you out even Degree® is giving away 1 Misfit Flash to one very lucky Organize Yourself Skinny Reader! YAY!! I love giveaways like this! This sporty fitness tracker measures your activity and sleep, syncs with your smart phone, and comes in a variety of colors. Super exciting!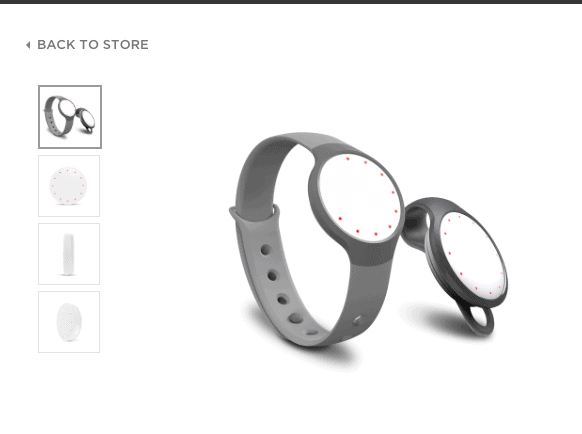 GIVEAWAY IS CLOSED
Want to win a Misfit Flash? Enter the Sweepstakes by leaving a blog comment to answer the question below.
What is your fitness level and favorite Degree Get Moving workout routine?
Entry Method Instructions:
1. Visit here to check out Degree® products, workout routines, and exercise tips.
2. Select your fitness level and workout.
3. Enter by leaving a blog comment stating your "Fitness Level + Degree Get Moving" workout routine you would like to try.
**This sweepstakes ends July 24th, 2015 at 5:00pm Eastern. Winner will be contacted via email and the winner will be announced on my blog.
For full sweepstakes official rules click here.
Get Instant Access to My Best Weight Loss Tips & Strategies!
Sign up now for a free step-by-step 7-day email course that I created exclusively for my email subscribers! That's you. I will teach the best habits, strategies, and insider tips so you can enjoy a lifestyle that encourages and supports weight loss! Stop relying on willpower and take control back over your life! You can do this. Let me help!