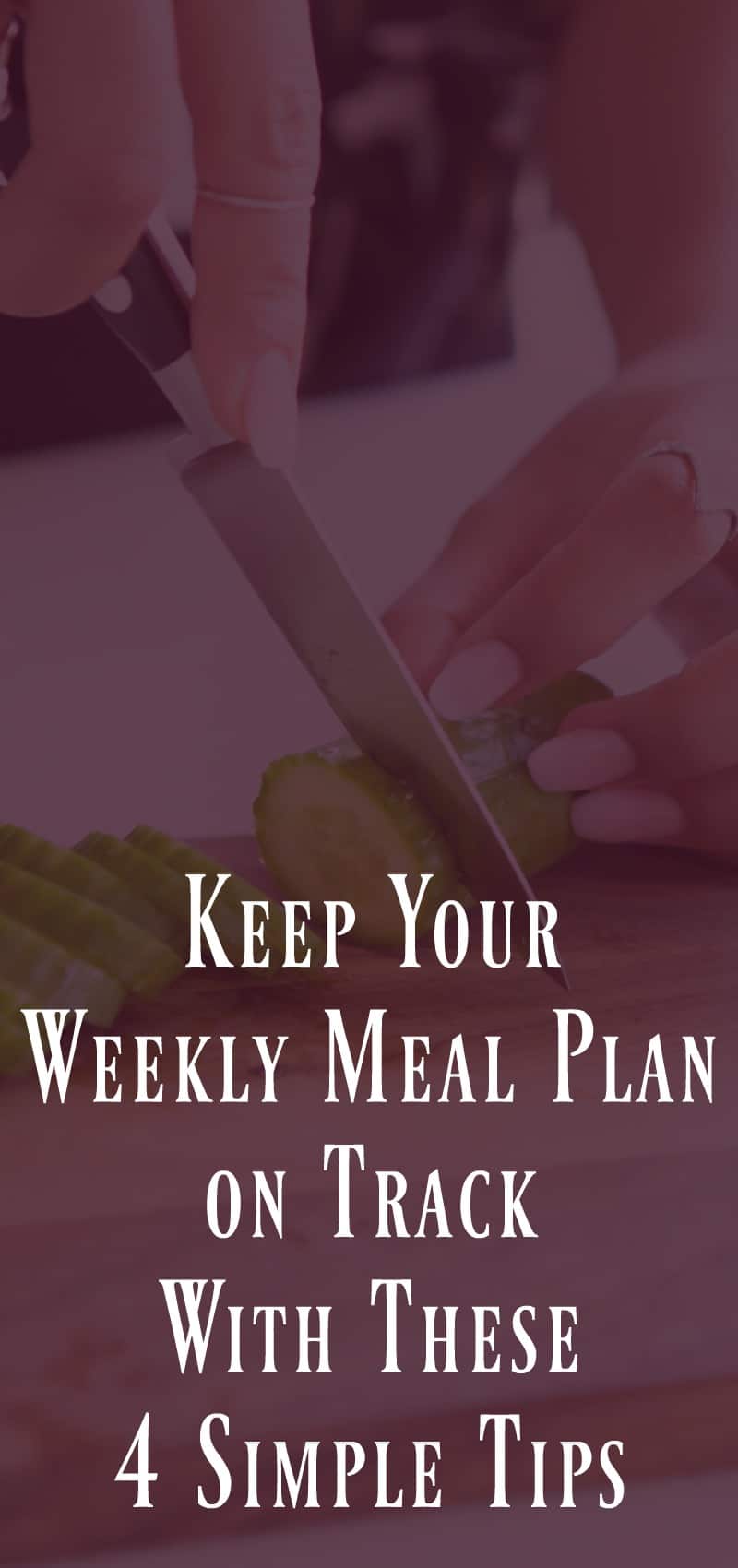 Anyone that has attempted to menu plan for their family knows that, in the real world, menu planning does not always go as planned.  However, with the amount of time it takes to search and organize recipes that everyone will enjoy, you want to make sure your efforts are not wasted.
Through numerous mishaps I have experienced over the last year, I have taught myself strategies to keep my menu plan from just becoming another notebook list.
Here are some tips to help keep your menu plan on track:
Choose realistic recipes. When I first started actively putting a menu plan together, I wanted to cook tons of elaborate new recipes for my family.  This concept is easier said than done.  The first of two challenges I was faced was the adorable faces giving me dirty looks when proudly introducing them to my new dish.  The second challenge I met was the imaginary time I thought I had to create such dishes after I got home from work at 5.  By 6:00pm everyone was frustrated and hungry.  I still like to try new recipes but, I make sure they are family friendly and easy to prepare.  If there is a more sophisticated recipe that I'm dying to test my skills with, I hold off until the weekend when I have little more time to play with.
Purchase the ingredients ahead of time. This sounds like common sense right?  I have lost count the number of times I come home ready to prepare dinner, only to be missing half the ingredients.  When putting together your menu plan, be sure you write down all the ingredients you need to buy.   Take an inventory of the refrigerator and cupboards with the recipe in hand.  Don't count on your memory to remember whether or not you have certain ingredients on hand.  You need to actually check.  My brain is on overload with work and kids and I know how my memory is.  I will just assume that, if you have kids, you're right there with me.
Post the menu plan where you can see it. A reader once asked me what I do with the menu plans that I post every week.  The answer is simple; I print them out and stick them to the refrigerator.  If I don't, guess what happens?  Yep!  I am walking around the house completely confused at dinner time.  Having the menu right where I can see it keeps me on track and holds me accountable to what I am making and eating.
Prep and cook meals ahead of time. The best thing I ever started doing to increase my sanity as a working mom, and to help me lose weight, was to prepare and freeze all my meals ahead of time.  After a long day at work it is near impossible to find the energy or motivation to prepare a homemade meal from scratch. In the past, this situation would result in ordering pizza.  A habit that was largely responsible for my weight gain in years past.  Of course, there are times I still want pizza but it is way more under control. Having the preparation work done beforehand or, better yet, the entire dish ready to go in the freezer, makes my June Cleaver impression much easier.  This way I can guarantee my kids are not only going to eat but, eat healthy homemade meals.
Menu planning is a wonderful tool that can greatly reduce dinnertime pressure and stress.  It does take time to get the hang of it and to find what works best for you and your family.  Don't get discouraged if your first few attempts don't go as planned.  Sooner or later it will all come together and you won't remember how you survived without it.
Get Instant Access to My Best Weight Loss Tips & Strategies!
Sign up now for a free step-by-step 7-day email course that I created exclusively for my email subscribers! That's you. I will teach the best habits, strategies, and insider tips so you can enjoy a lifestyle that encourages and supports weight loss! Stop relying on willpower and take control back over your life! You can do this. Let me help!