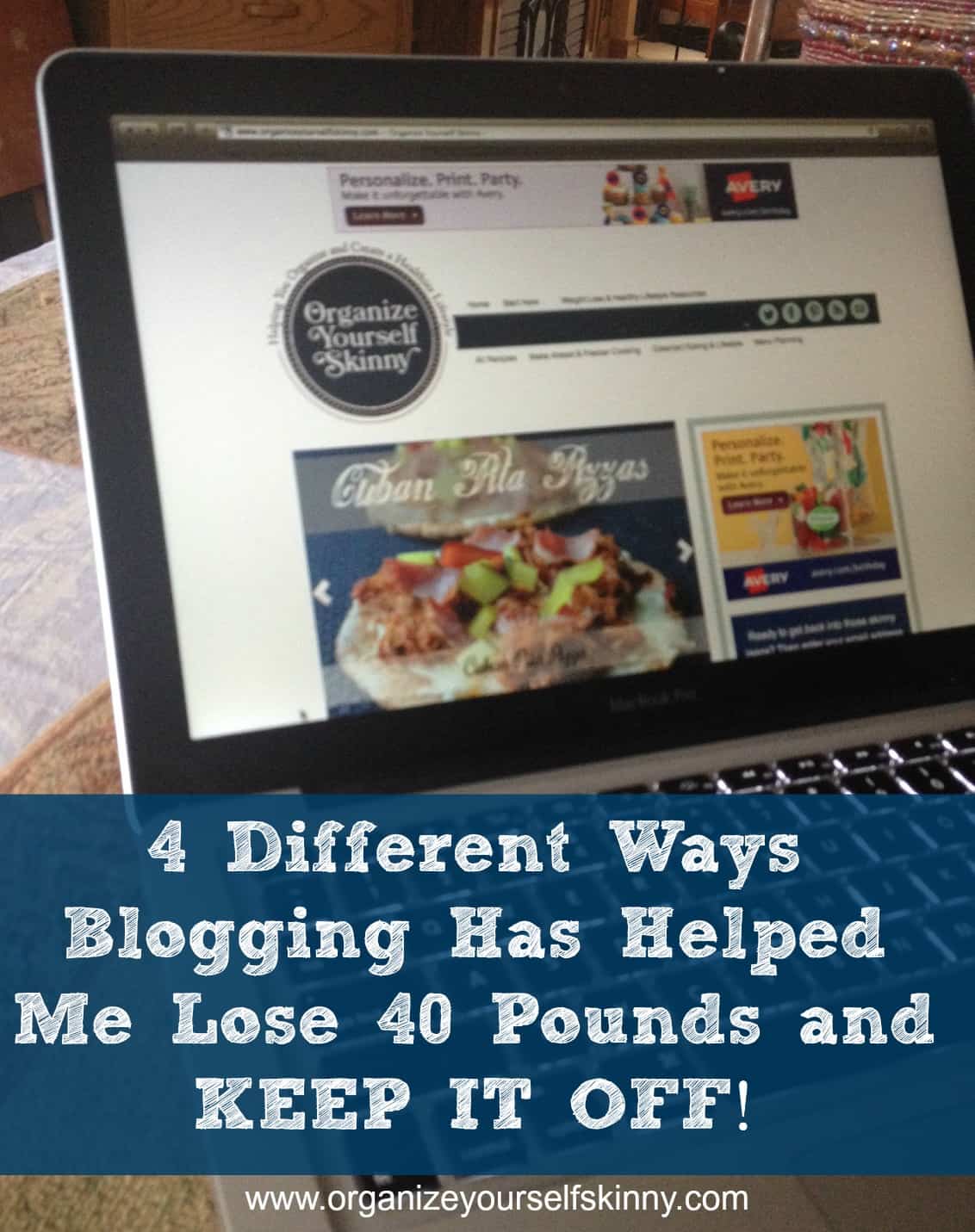 I started blogging about 7 months after I decided to change my life, get healthy, and lose weight – 40 pounds to be exact. At that time it was pretty noticeable that I was losing weight and many people were starting to ask me "how I did it". Actually, even today I have people come up to me and comment about my weight loss. It feels great and I love talking to others about my experience – especially moms like me. Losing weight is a battle that many people struggle with so it makes me feel good when my story and experience can bring a glimmer of hope to someones day.
Food journaling, freezer cooking, menu planning, and all the strategies that  changed my life were the topic of many of these conversations. Obviously, I could sit all day and chat about making and freezing homemade pizza dough but I really didn't think anyone else would care. Well they did, especially when I mentioned the weight loss part. Most people were shocked that I was able to lose weight by eating real food and not weird diet junk. I think it is safe to say that after the shock wore off their reactions turned to excitement and jubilation. Think about it I just told them they can continue to eat the foods they love and still lose weight. That is very liberating. After telling my story numerous times and seeing everyone's reaction I decided to start a blog and write about it. I felt this would be the best way organize my thoughts and share my experience with others.
It has been over two years since my first blog post and I have not looked back. I have learned – and continue to learn – so much about food, myself, and losing weight.
People still ask me about my weight loss, but now I get another question – how do you keep the weight off? Good question. I have sustained my weight loss for about 2 years now. I think that is a great accomplishment because, in my opinion, keeping the weight off is whole other challenge. The first thing I talk about are the routines and habits I have put in place to help me sustain my weight loss. I really believe weight loss is not about some magic potion, pill, and/or drastic diet plan. It is not going to happen overnight and may even take weeks or months to see results. But as healthier habits and routines are created you will start to see a change. Trust me.
Beyond the habits and routines, when I think about what has helped sustain my weight loss, it is this blog. When I started blogging I really did not think it would play such a big role in helping me reach my weight loss goals and more importantly sustain that weight loss. I really just thought I would share my experiences and some recipes. But I quickly learned that blogging would play a bigger role in creating and maintaining a healthy lifestyle. In fact, I often say, if were not for blogging I probably would have regressed back to old habits a long time ago. Now I am not saying you absolutely need to write a blog to lose weight. Many people change their habits, lose weight, and sustain their weight loss without writing one single word down. What I am saying is blogging has worked for me, kept me on track, and has been a huge influence in keeping my healthy lifestyle a priority.
See my "How to Start a Blog" Page here.
4 Different Ways Blogging Has Helped Me Lose Weight and Keep it Off
Accountability
Accountability is so important to weight loss. It helps you track progress, stay focused and intentional, and make changes as needed. When you are held accountable to your actions then you are much more likely to make healthier choices. Blogging has held me accountable. For example, each week I post my weekly weigh in. At first, I was scared to put myself out there and my sister thought I was nuts. Seriously, who would get on a scale, take a picture, and then post for the world to see. That would be me. As crazy as it sounds posting my weight on my blog has been one of the best things I ever did to keep me motivated with losing weight – even when I don't see the results I want. This weekly weigh in alone makes me think about the foods I am eating and motivates me to get on the treadmill. So simple yet so powerful.
Beyond the weigh in I also feel that many of my readers look to me as a mentor and role model and this also holds me accountable. I know the struggles of being a busy parent and the difficulty to try and change habits in the midst of surviving the daily grind. It's not easy. But it can be done. I did it and want to encourage others through my blog to do the same. That keeps me going. You keep me going.
Community
Before blogging, when I tried to lose weight it was always on my own. I never thought to get a weight loss buddy or enlist the support of others to help keep me motivated. For some reason I just did not think that was necessary. Well it might not be necessary but having a group of people to offer advice, motivate each other, and just be there to share ideas with has been very helpful in losing weight. It is encouraging to know that there are many others out there in the same exact boat as you. Blogging has provide a community that I absolutely cherish. Again, this is something I did not expect when I started blogging, but now that I have it I can't imagine going through this journey without all my readers – that would be you. Of course, it takes time to build a readership but even having a few people on your side to listen can make a world of difference.
Always a Student
When I started blogging I had basic cooking skills; never heard of clean eating; and thought I knew everything there is to know about menu planning and freezer cooking. Well as I continue to blog I realized that I still had so much more to learn about food, weight loss, and everything in between. Blogging has kept me a student. There is always more to learn and room to grow.
Organize and Work Through My Thoughts
Blogging is therapeutic. It helps me work through my own weight loss struggles and challenges in a productive way. Before blogging all of those thoughts would just stay in my head unless I was venting with a friend or colleague. But now blogging gives those thoughts a home and allows me to use them in a way that can possibly help other people. Using my experiences and knowledge to help others has helped me more than I would have ever imagined.
I know when you are focused on losing weight starting one more new thing – like a blog – may be the farthest thing from your mind. I totally understand. However, I really feel that blogging can have such a positive impact on your success with weight loss. I know it has for me. Like I said, I don't think I would be where I am today without blogging.
Now I don't want you to think that if you decide to blog you need to grow it to 1000s of followers and make a business out of it. Most people that blog do so as a hobby. The great thing about blogging is you can do whatever you want because it is yours.
If you want to give blogging a shot but not really sure where to start then check out the How to Start a Blog page I put together a few months ago. I put this page together because I was getting many emails from readers about starting a blog and I also suggest it as a strategy for weight loss all the time. I found that most people see the value in blogging but don't have a clue how to do it. If you start a blog I hope you find my page helpful in getting you started.
Do you already have a weight loss or healthy lifestyle blog? Or are you going to start one after reading this? If so then leave your link below. I would love to check it out.
Get Instant Access to My Best Weight Loss Tips & Strategies!
Sign up now for a free step-by-step 7-day email course that I created exclusively for my email subscribers! That's you. I will teach the best habits, strategies, and insider tips so you can enjoy a lifestyle that encourages and supports weight loss! Stop relying on willpower and take control back over your life! You can do this. Let me help!