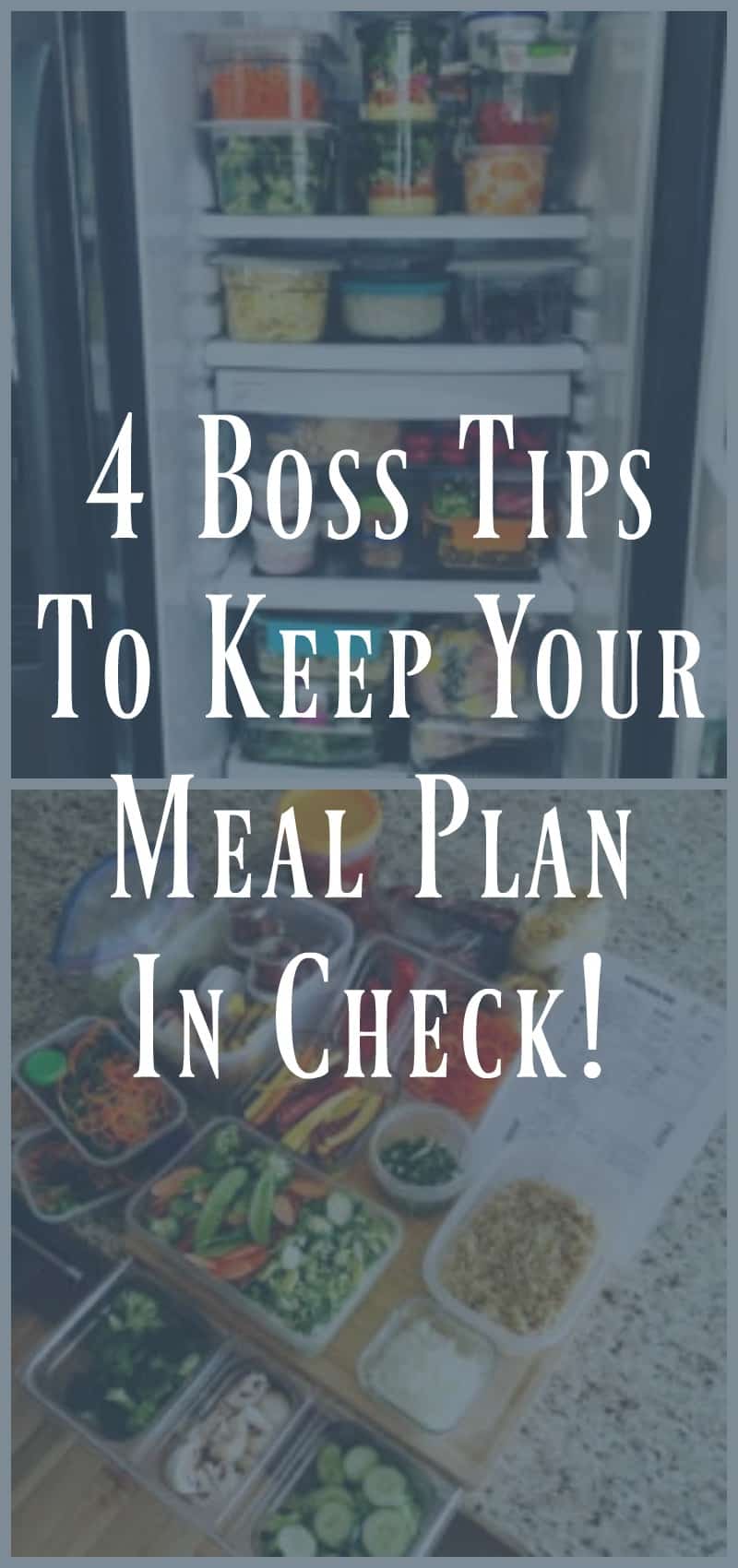 This post is by OYS writer Steph from Confessions of a Meal Plan Addict! Being a busy mom, wife and full time career woman, she has mastered once a week meal prep to organize her week, her life, and her health. You can read more about her on the OYS Team Page. You can find Steph on her blog, Facebook, and Instagram.
---
It's one thing to make a weekly meal plan, but it is a whole new animal to actually stick to a meal plan!
I have been using weekly meal prep for just over 2 years now to lose weight and organize my week. Here are my tips on how to actually stick to your meal plan.
#1. Pick meals you actually like.
Eating is something you have to do everyday, so you might as well enjoy it.
I'm a huge advocate for trying new things – especially if you are on a weight loss journey. If you have made the decision to get healthier and lose weight then more than likely your eating habits need to change.
But at the end of the day, if you don't like cottage cheese, don't put it on your meal plan. If you load up your plan with foods you are not interested in, you won't stick to it.
Having a hard time swapping your family favorites for lighter options? Try "take out fake out" recipes to find lightened up versions of your favorite foods. Weight Watchers also has many options for classic dishes that are made more calorie wise.
My go to prep ahead friendly, "take out fake out" recipes are:
#2. Make a plan – but be flexible.
While I am pretty diligent about making a weekly plan, I don't follow it exactly as it is written.
Life happens and that is ok. The key is to be flexible. You are running late after work and the dinner you planned for tonight has too long of a cook time, that's ok, swap it out for something else you had planned for the week with shorter cook time.
Maybe you had Taco Casserole on the meal plan, but instead tonight, you want the Ginger Beef and Pepper Skillet you had planned for another day.
Success is if you stick to the overall plan and swap in Thursday's meal on Monday, and not order takeout!
Need help making your plan? I use this template to create my weekly (flexible) plan!
Note from Tammy – I love using Plan to Eat to organize my recipes, meal plan, and grocery list. This helps streamline the meal planning process and keeps things easy. Use my link to get a free 30-days!
#3. Chop and Prep ASAP
It is amazing how you will notice that produce fly out of your fridge if it is prepped and ready to go.
If I buy a bag of grapes, and put that bag of grapes into the fridge, there is a good chance they are going to be there at the end of the week. But, if I wash them up, and put them in a container in my fridge, they are gone in 2 days.
Having healthy ready to go food, makes dinners less daunting as well. When its all prepped and ready all you need to do is spend 10-15 minutes putting it together in a pan, oven… or instant pot, you're more likely to follow through.
My tip is to chop and prep right after grocery shopping, before you even put your produce away.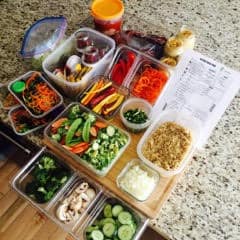 #4. Clear Containers
Every Sunday, I post a picture of my prepped fridge on my Instagram, and I post the links to what I have prepped, in my Confessions of a Meal Plan Addict Facebook Community.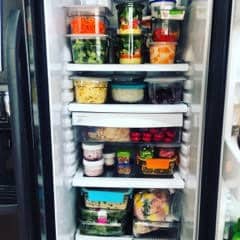 My array of containers get A LOT of attention. This just proves to me the power of organizing your fridge in clear containers. When you can see all of your beautiful food, you are more likely to be interested in it, and use it! You also won't forget what is in there, and pull it out weeks later!
Need some advice on containers, here are the containers I use , and here are the containers Tammy uses!
What other tips and tricks do you have to help you stick to your weekly meal plan?


Get Instant Access to My Best Meal Prep Tips & 20 Delicious Make-ahead Recipes!
Sign up now to receive your FREE ecookbook that I created exclusively for my email subscribers! That's you!