While my family eats as healthy as possible, we have pizza nights at home, just like everyone else. I prefer to make my pizza at home to have better control of the ingredients and save some money too. Here are three methods I use for a great make-ahead pizza, plus how to freeze pizza dough.
Pizza is one of my favorite foods and can always be found on our weekly menu plan. In my early days of breaking bad habits, I knew I would have to find a way to keep pizza a part of my new healthy diet. Honestly, there was no way I could ever give up my beloved dough smothered with sauce and gooey cheese. Yum!
I know it seems like an oxymoron to put pizza and healthy diet in the same sentence – is that even possible? Of course, pizza ordered from the local pizza joint is not going to qualify as healthy without some major modifications, but with portion control you can still fit it in once in a while. However, to fit pizza into your diet on a regular basis you have to learn to make homemade pizza.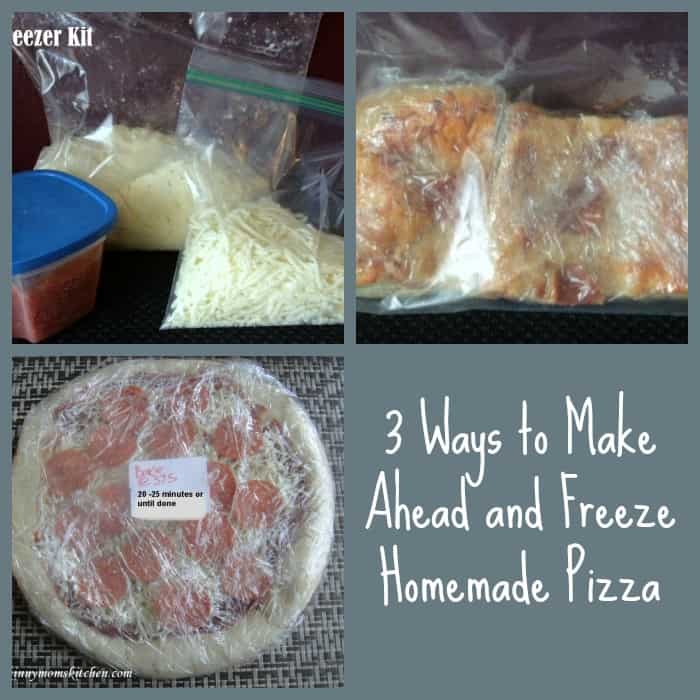 Why You Should Learn How to Make Pizza at Home
Making pizza at home has become part of our family ritual. Everyone looks forward to pizza night! The good news for all us pizza lovers out there is that you really can have your pizza and eat it too!
Control Ingredients for More Nutrition and Flavor
With making pizza at home, you have control over the ingredients. This means you can use a high-quality sauce with real tomatoes instead of the mass-produced sugar-filled ones most pizza joints use. You could also load up your pizza with fresh veggies or herbs.
I also often make other healthy swaps to help boost nutrition and cut calories in my pizza at home. I'll swap out turkey bacon instead of the regular variety, or use seasoned ground turkey rather than a fatty sausage.
Cut the Cost
Of course, making your own pizza at home will also save you lots of money. Every time we would order pizza it would easily cost us about $25 or more. A homemade pizza cost about $4.00 and tastes so much better too. My kids actually prefer my homemade pizza to take out now, which is a major mom win!
How to Make Pizza at Home (the Easy Way!)
You are probably thinking that you are busy during the day and don't have time to make pizza from scratch, right?
I understand. I totally get it, in fact!
Making the dough and/or sauce from scratch does take time and is certainly not a task I would be able (or want) to do after I get home from work.
Therefore, I take time a couple days a month, usually on the weekends, to prepare homemade pizzas ahead of time.
How to Freeze Pizza
In case you're wondering wait…can you freeze pizza?  The answer is a resounding YES! I've been doing it for years.
Below are 3 different ways I make and freeze homemade pizzas to eat for future meals. Which method I use depends on what my family's needs are in the upcoming weeks.
Make-Ahead Pizza Toppings
First, a quick note about toppings. I should also say that the toppings I use are rather basic, consisting of pepperoni, chicken sausage, and banana peppers.
I am sure most toppings would work, but you might need to test them out to see which method would work best. For example, vegetables like peppers and onions tend to get watery when put on a homemade frozen pizza. To get around that, I tend to cook those first on the stove then put on the pizza before going in.
Experiment with different toppings and have fun!
1. DIY Frozen Pizza Kit
This is actually my favorite way to stock my freezer with pizza essentials. It is a great way to guarantee I have all the ingredients I need when I am ready to put together a fresh homemade pizza.
I also like pizza freezer kits because it does not commit me to pizza just in case I want to use the ingredients for something else like stromboli or homemade hot pockets.
How to Make Pizza Freezer Kits
Here is how I make pizza freezer kits:
First, I make a batch of pizza dough and pizza sauce.
I freeze both of those ingredients separately and store them in a larger bag. I also include a bag of cheese that is portioned out to be used on the pizza.
I will take the kit out the night before I want to prepare the pizza and let the ingredients thaw in the refrigerator. If the dough is still a little frozen I will let it thaw on the counter for an hour or so. If the sauce is frozen I will warm that up in the microwave.
Once all components are thawed I will stretch our pizza dough, assemble ingredients, and bake.
If you don't make your own pizza dough, don't worry! You can still easily make this kit with the fresh pizza dough you purchase from the grocery store.
2. Prepared Frozen Pizzas
If you love the convenience of having boxed frozen pizzas in the freezer, making your own homemade frozen pizzas will appeal to you. I wrote step by step instructions in this post should you need more detailed information.
However, to quickly summarize the process, you stretch the pizza dough out and par-bake it for 5-7 minutes. Then, let it cool and put your sauce and toppings on.
Flash freeze the pizza, and then completely wrap it up and place it back in the freezer. It is really easy to make and I have found these homemade frozen pizzas so nice to have on hand when you just want to grab a meal out of the freezer and pop it in the oven.
I always try to have 1 or 2 in the freezer, especially on weeks when I know I need to work at night and my husband will be in charge of dinner. After all, he's a one-step cooking kind of guy. 😉
3. Freeze Pizza Fully Cooked
Think of this one like a diet freezer meal that you just need to heat up in the microwave or oven. What I do is make a whole pizza and bake it completely, let it cool, cut into squares, and then wrap individually and freeze.
I find myself making these more for quick weekday lunches. In the morning, I will put a slice of the frozen pizza into lunch bags. By the afternoon, it is thawed and ready to warm up and eat.
Usually, I don't give these to the kids because they don't have access to warm up their food. So these end up in my or my husband's lunches.
These are also nice to have for quick weekend lunches or dinner when I don't feel like making anything. They warm up real nice in the oven or toaster oven.
You Can Freeze Pizza!
That's it! These are the three ways I prepare ingredients ahead of time so I can eat a fresh, wholesome, delicious homemade pizza when I am running low on time and energy.
Which method you choose will depend on what your needs are. If you have a little more time to spare, a freezer kit might work. If you are running from work to soccer practice then a homemade frozen pizza might better fit your schedule.
No matter which you choose all three would be healthier than ordering take out from your local pizza joint – it will also save you a lot of money too. Plus, it's practically guaranteed to be enjoyed by the entire family, which is a rarity!
Do you make homemade pizza? What are some of your make-ahead and freezer tips?