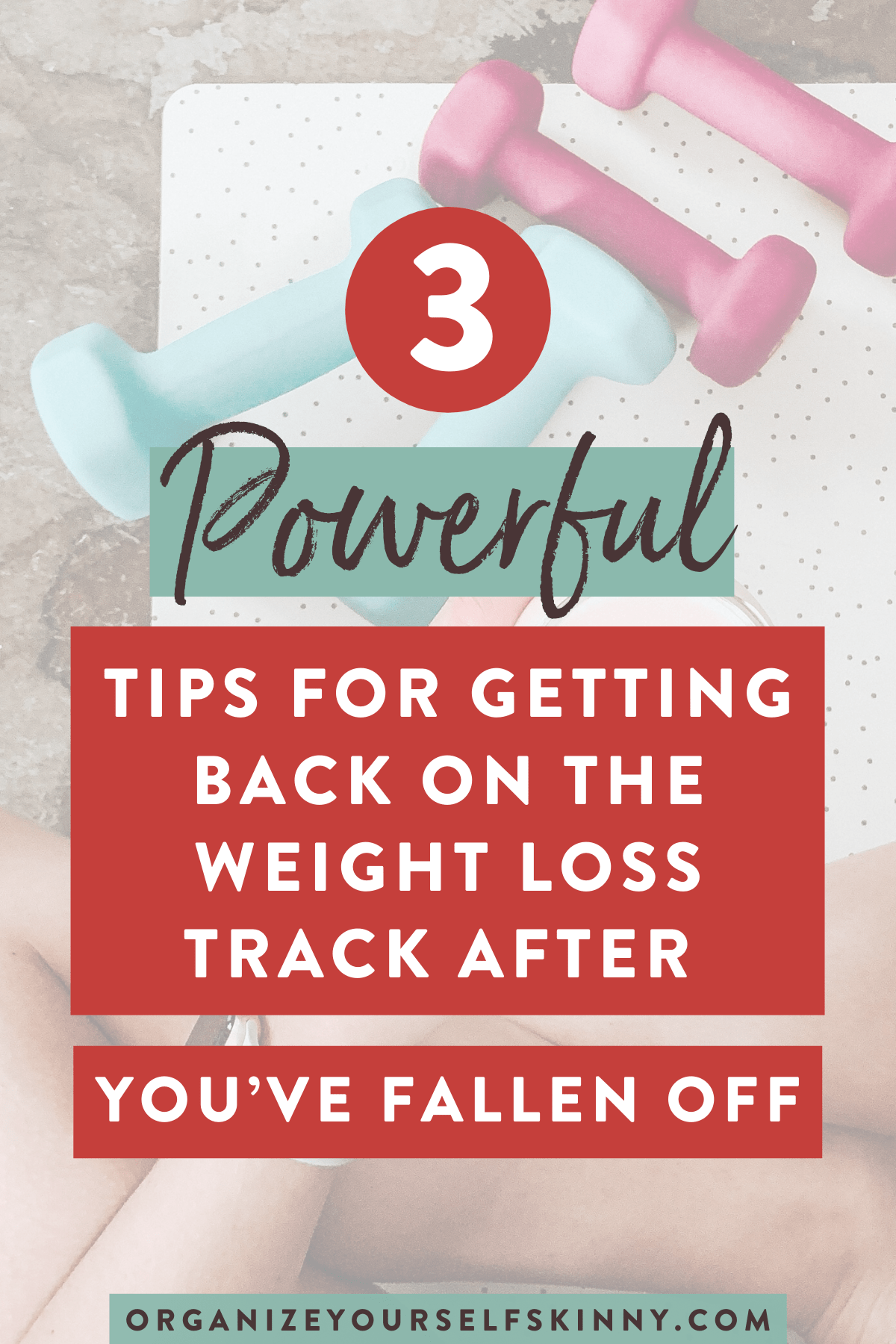 No matter how much you try to prevent it from happening getting off track on your quest to get healthy and lose weight is going to happen. Sorry to break the news. Well maybe this will come more as a sign of relief to you?
We all go through different seasons of life. There are times you will be totally focused and motivated to keep moving forward with eating healthy, exercising regularly, and just doing what needs to get done. During these times creating a healthy lifestyle won't seem like work or a challenge that can't be met. Then…there will be the times you are tired, stressed out, and have a million other things you need to worry about. Those are the times you want pizza, chocolate, and to just veg out on the couch. Or it could be as simple as going on vacation and getting out of your routine. Whatever the reason there will also be something to get you off track. That's life.
Creating a healthier lifestyle and losing weight is a lifelong process – getting off track is part of that process. Unfortunately, weight loss does not come in a pill, potion, body wrap, weird deprivation eating plan, or freeze dried diet meal. It does not stop once you reach your goal weight either. Nope it is a lifestyle; one you will always have to think and act intentionally with.
But here is the good news. If you get off track that means you are trying…right? Say yes. Think about it this way if you are not trying or working towards a healthier lifestyle then you can never get off track. I know… I am always the glass half full – I get that from my mom. But seriously, don't be afraid of failure or getting off track – failure happens because people are trying. Maybe failure is too strong of word but I factor failure into everything I do. Not that I expect to fail or set myself up for failure. I just know if I am afraid to fail I will never try. Make sense?
Here are some tips for when you find yourself getting off track with your eating and lifestyle goals.
Examine your method
I put this first because I think it is really important that your weight loss method be sustainable. Meaning what you do on the first day (or week) of your weight loss journey needs to be done the rest of your life. So if you are always trying the latest diet craze or gimmick then most likely you will find yourself getting off track quite a bit because these methods are rarely sustainable. Losing weight is about habits not products – keep that in mind. Your focus should always be on creating healthy sustainable habits that fit into your busy lifestyle. Slow and steady changes over time will lead to big sustainable results.
Get back to basics
A lot of times when I find myself getting off track it is because I am not regularly menu planning, preparing my foods, or tracking – basically everything I talk about here. Obviously, this does not happen too often because of my blog but believe me I am not immune to falling off the weight loss wagon. When I do find myself slipping a bit I always go back to the basics. I set aside time and create a menu plan so I know what to eat; make ahead my meals so I have healthy foods ready to eat; and I start using My Fitness Pal regularly to keep my calories in check. Once I get back into it I begin to see the rewards again of keeping everything organized. I then experience a sign of relief and this gives me the motivation to keep moving forward.
Hold yourself accountable
Accountability is so important to the process. It helps to measure progress, identify problems, and keeps you moving forward.  Nothing catapults me into reality like stepping on the scale – especially when I am getting off track. I know it is scary to do this and many people don't like scales but this is what works for me. If you don't want to get on the scale then do something else to hold yourself accountable.
As you move forward, create healthy habits and become more comfortable with them you will find getting off track having much less of an impact on your overall lifestyle. Sure it will still happen but you will be able to recognize and bounce back much faster.
Other posts to help you get back on track:
More tips for getting back on track with your weight loss goals
15 habits of people who have successfully lost 20 – 30 lbs and kept it off
What other tips do you have for getting back on track with your weight loss goals?
Get Instant Access to My Best Weight Loss Tips & Strategies!
Sign up now for a free step-by-step 7-day email course that I created exclusively for my email subscribers! That's you. I will teach the best habits, strategies, and insider tips so you can enjoy a lifestyle that encourages and supports weight loss! Stop relying on willpower and take control back over your life! You can do this. Let me help!