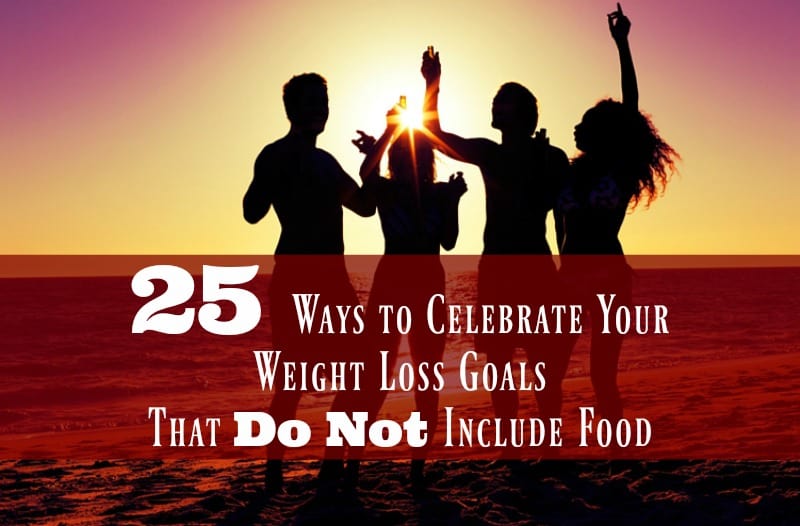 This post is by OYS writer Alexis from Trading Cardio for Cosmos. You can also find her on Facebook and Instagram sharing her awesome weight loss tips and motivation!! She's lost over 100lbs so she has lots to share!
---
"Mazel tov on your wedding! Now let's eat cake!"
"Congratulations on your promotion! Let's go for cocktails!"
"You scored the game-winning homerun, son. Yay! Let's go for ice cream!"
"Happy Holidays! Let's eat 3,000 calories in one sitting. And then have PIE!"
Does anyone else feel like all of their celebrations focus around food? It's an easy way to gather and celebrate the kids' accomplishments, our work achievements, a birthday, a Tuesday (hey, don't judge), you name it! But as I progressed on my weight loss journey, I realized it was a little silly to celebrate losing -1.8lbs by eating something indulgent and setting myself back.
I've developed this list of "25 Ways to Celebrate Achieving Your Weight Loss Goals That Do Not Include Food" to give us some alternatives for when we still want to celebrate and be festive! Once you're read my list, I'd love to hear how you celebrate achieving your weight loss goals in the comments below!
#1. Buy yourself a corkboard and create a weight loss vision board with posters, stickers, cut-outs and inspiration quotes.
#2. Get a fresh manicure or do a Jamberry manicure at home!
#3. Treat yourself to a Redbox movie. Or better yet, don't leave the house and get a pay-per-view movie!
#4. Buy a fruit-infuser water bottle for your infused water!
#5. Treat yourself to a long bubble bath, uninterrupted by man, children or pets.
#6. Hit up the local thrift shop for the next size clothing down. Check out what day the shop does their weekly or monthly discount sales and get tons of fun options for even less money.
#7. Plant a tomato plant or herb garden in your backyard. It gives you something to tend and cultivate, and will give you something delicious to sample in a few weeks' time!
#8. Put $1 in a jar for every 1lb lost, and $5 for every 5lbs. You'll have some serious shopping money saved up when you hit goal.
#9. Buy yourself a fun workout shirt (I'm partial to my "Trading Cardio for Cosmos" tanks) or a fun pair of running shoes for to brighten up your workouts.
#10. Pick yourself a bouquet of wildflowers for your nightstand.
#11. Purchase an adult coloring book, crossword or sudoku book you can do in the evenings when you are looking for a little "me time."
#12. Get a tattoo! This one is a little permanent, but I have known people who got to goal and rewarded themselves with some ink!
#13. Sleep in!
#14. Treat yourself to a new yoga, Zumba or dance class.
#15. Reward yourself with a Fitbit, Jawbone or other activity monitor. See here, here, here, and here for more posts on using a Fitbit.
#16. Treat yourself to a car wash and mini detailing.
#17 Register for a color run, obstacle course race or other fun walk/run. Read more about running a 5k here and here.
#18. Treat yourself and your family to a portrait session. Many local photographers who are just starting out offer some great back-to-school deals or last minute mini-sessions.
#19. Reward yourself and your hubby with a date night! You could go bowling, to an old-fashioned drive in movie or go hear some live music.
#20. Buy yourself a new set of Tupperware, like these awesome containers from Fitpacker, to make your meal prep easier and more organized!
#21. Get a massage. Bonus points if you go for the athletes' or deep tissue massage after a #SweatySaturday!
#22. Dance Party! I love to start a dance party in the kitchen, the living room or anywhere the mood strikes me. All you need is a little Pandora and you're off!
#23. Try a new hair cut or color to go with your new you!
#24. Take a cooking class at your local community college, Williams & Sonoma or other local restaurant.
#25. Take a day off from work. No really. Take a day off and do the things you really like to do!
What do you do when you want to celebrate a weight loss milestone without food? Please share your suggestions in the comments below!