Most weeks I share my 1500 calorie meal plan, meal prep pictures, exercise schedule, along with the progress (or not) I've made on my weight loss journey. My goal with these posts is to give a little glimpse into my week and for you to see I'm human and have good and bad weeks just like everyone else.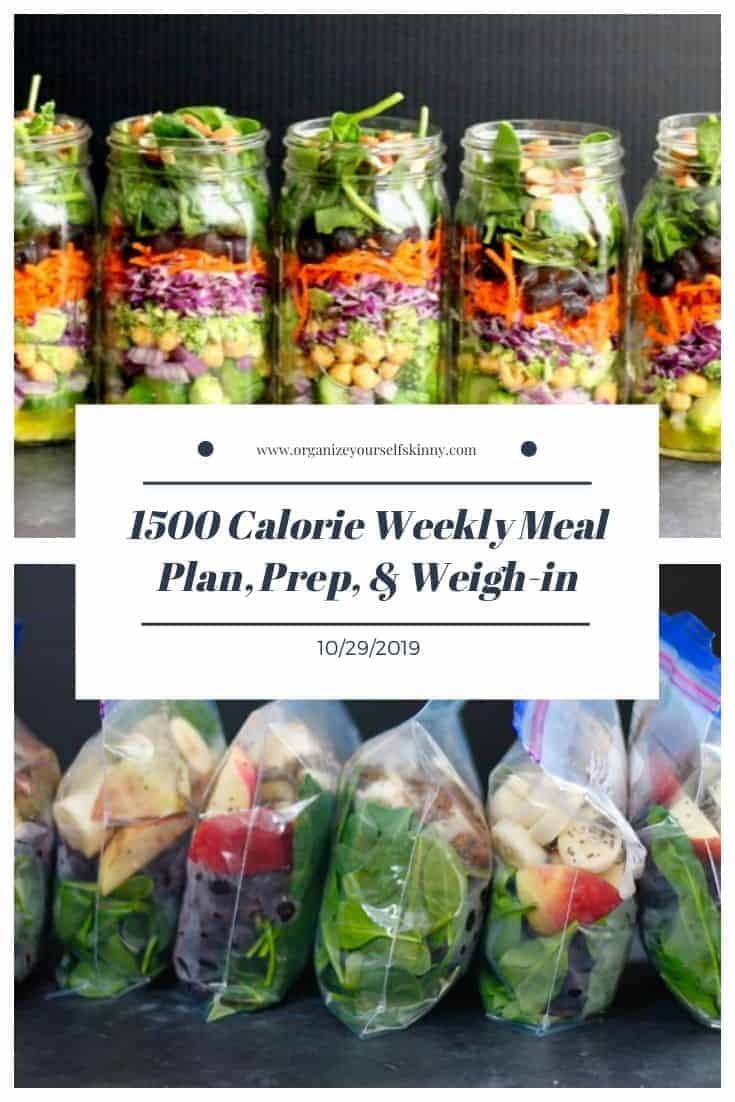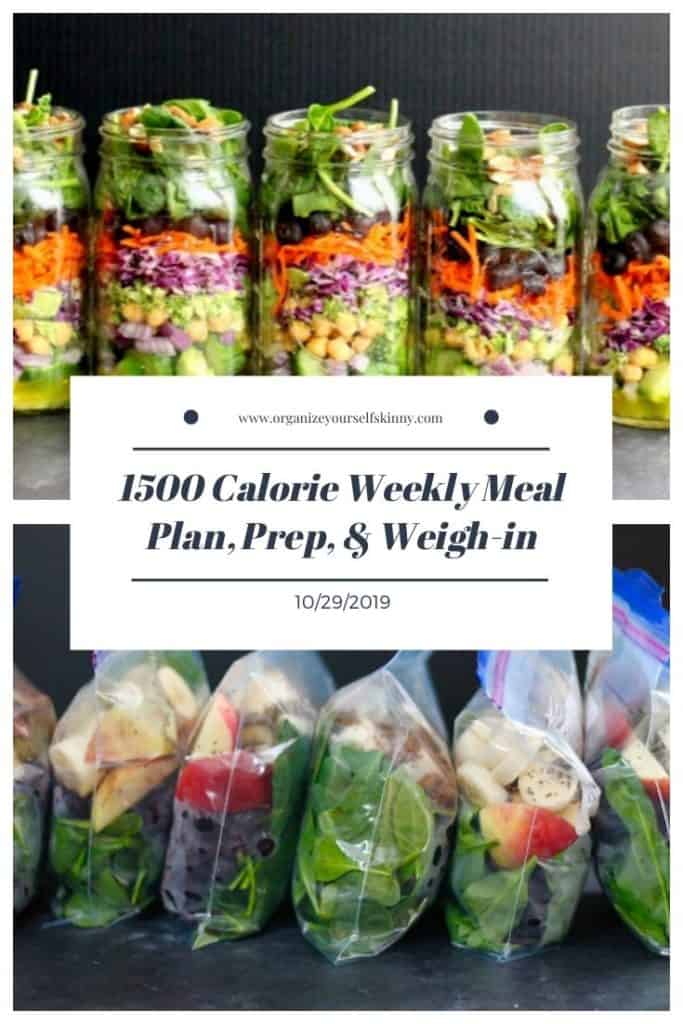 Omigosh….where do I start?!
I seriously can't believe it's the end of October AND I haven't shared a meal plan post since September 9th. First, let me say I'm good. Whenever I go too long without sharing a meal plan post I ALWAYS get emails, and messages, asking if I'm okay. It makes me feel good that many of you look out for me but then I feel bad that I've been totally MIA.
Okay, let's do a quick recap of my life over the last two months – just in case you're interested.
Well, in the middle of September I got married. You know, just a little ole life change over here. It was such a beautiful day. Here are a couple pictures.
This is Mike, myself, along with our immediate family and closest friends walking to the spot at the Buffalo waterfront we wanted to say our vows. Just a little history. Last year, Mikes best friend since childhood died in a tragic boat accident at the Small Boat Harbor in Buffalo, NY. We decided that was the place Eric loved to be at the most, and that's where he spent his last day, so that's were we wanted to get married. It was truly beautiful.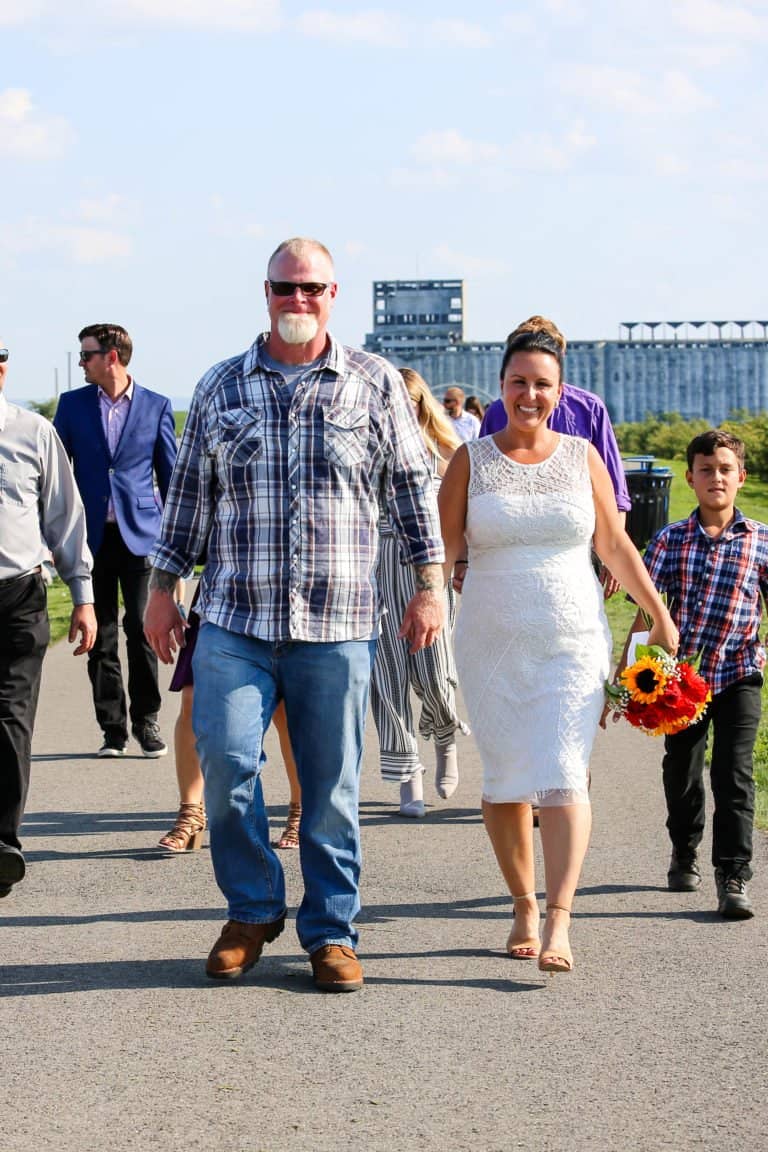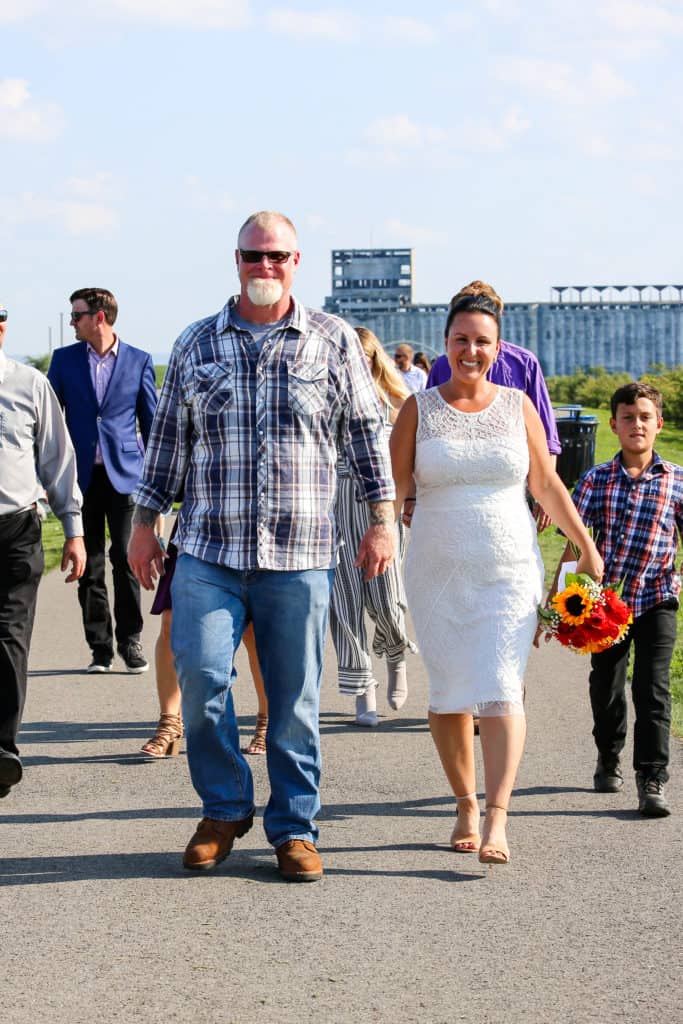 This is right after we said our vows. We were truly blessed with a beautiful day. Eric was shining down on us for sure.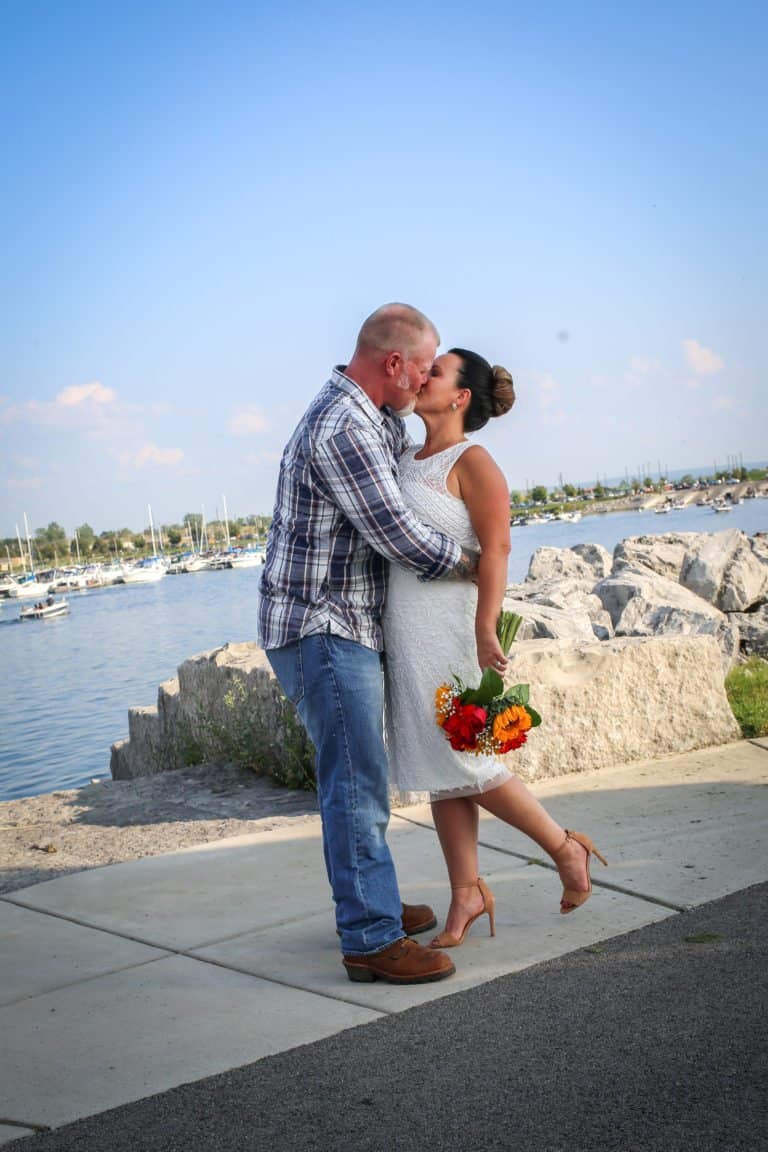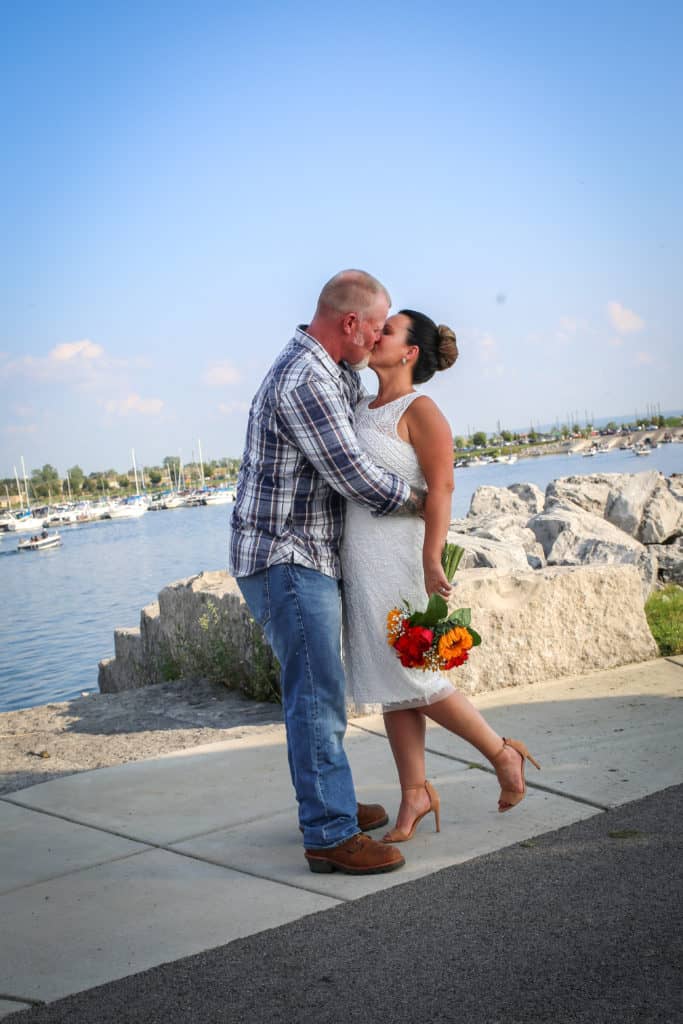 This day was a long time coming and we couldn't be happier.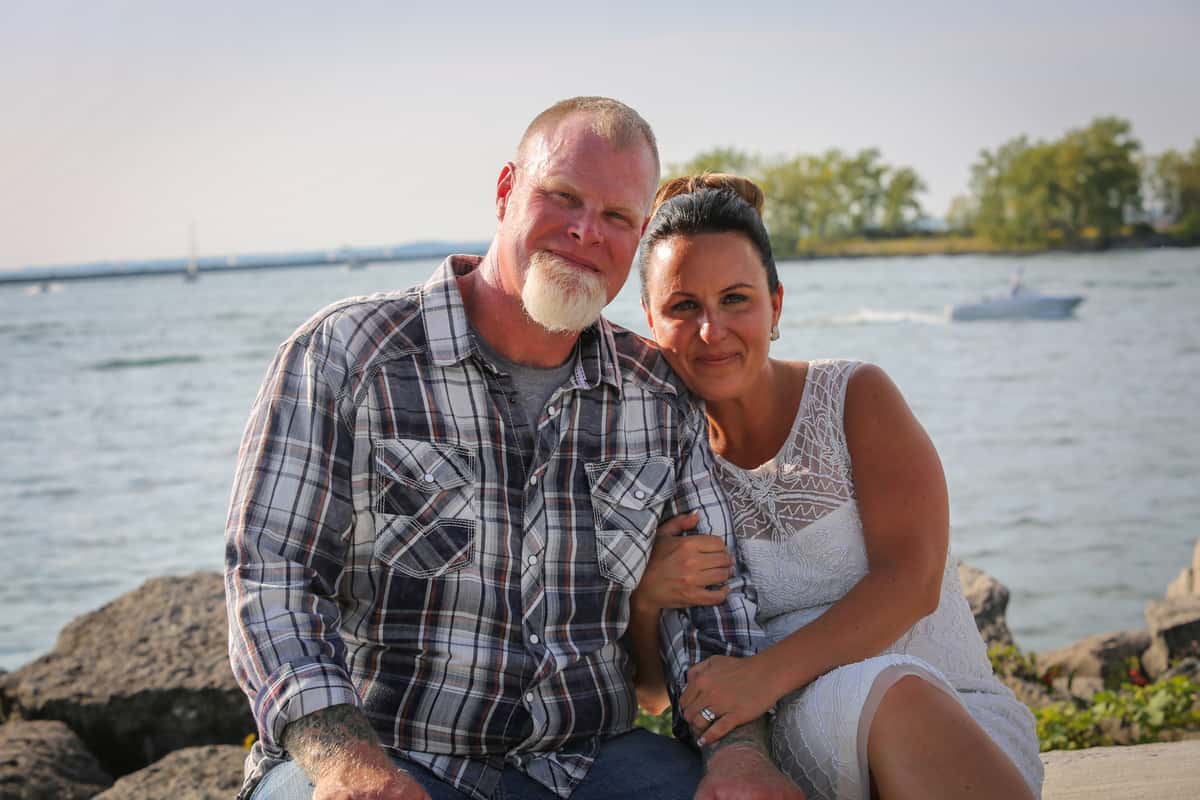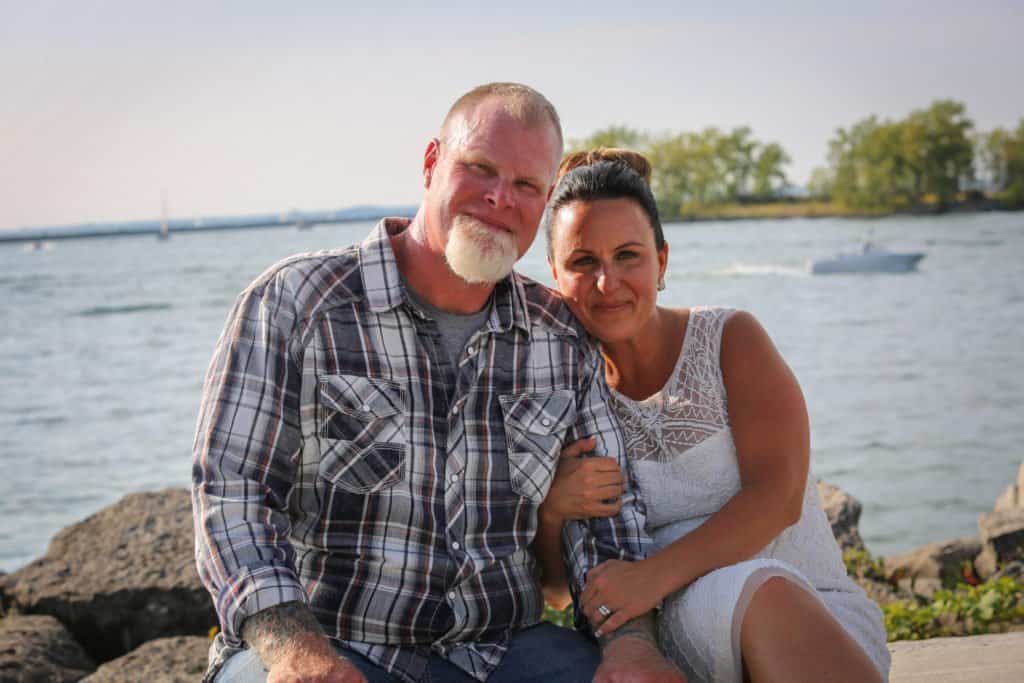 Even though we wanted a SUPER simple wedding…like beyond simple…it still took planning. And, one of the many things I've learned about getting married the second time around is the world does not stop just because I'm getting married.
Nope.
Kids still need to get to volleyball, cheerleading, and dance. Everyone still needs to be fed, house cleaned, and I still need to run a business. It's not like back in my 20s when the only thing I had to worry about was me and then planning a wedding. So, it was a lot to manage.
But I survived!
Life is good. I have a wonderful husband, a beautiful blended family, and couldn't be happier.
Also, one of the things that became crystal clear, in the last 2 months, is I NEED HELP running my business. There's a lot that needs to get done – little tasks to big projects – and I can't do it all. I used to think I could but I'm learning if I want my business to continue to grow then I need to bring on staff. Not that you care about the business end of my blog but with more help I can provide more content and services so, in the end, this is much better for my readers.
Okay, what else?
Well in the last few weeks I've been a meal kit review queen. There are so many new companies coming onto the scene and establish ones are starting to add more to their menus. So, I've been busy testing out boxes of meal kits to provide the most up to date information so you can decided whether or not meal kits are a good fit for your lifestyle. Think of me as you meal kit guinea pig. Of course, meal kits aren't for everyone but I think they can really work for some people. You can see my latest meal kit review here.
Let's get to my weigh-in.
Of course, I'd like to say I lost 10lbs this past month but…..unfortunately, that's not the case. Here are my stats.
Starting weight (October 2010) : 177 lbs
Goal weight: 145lbs
Last month's weight: 155
Current weight: 156.8
Pounds lost: +1.3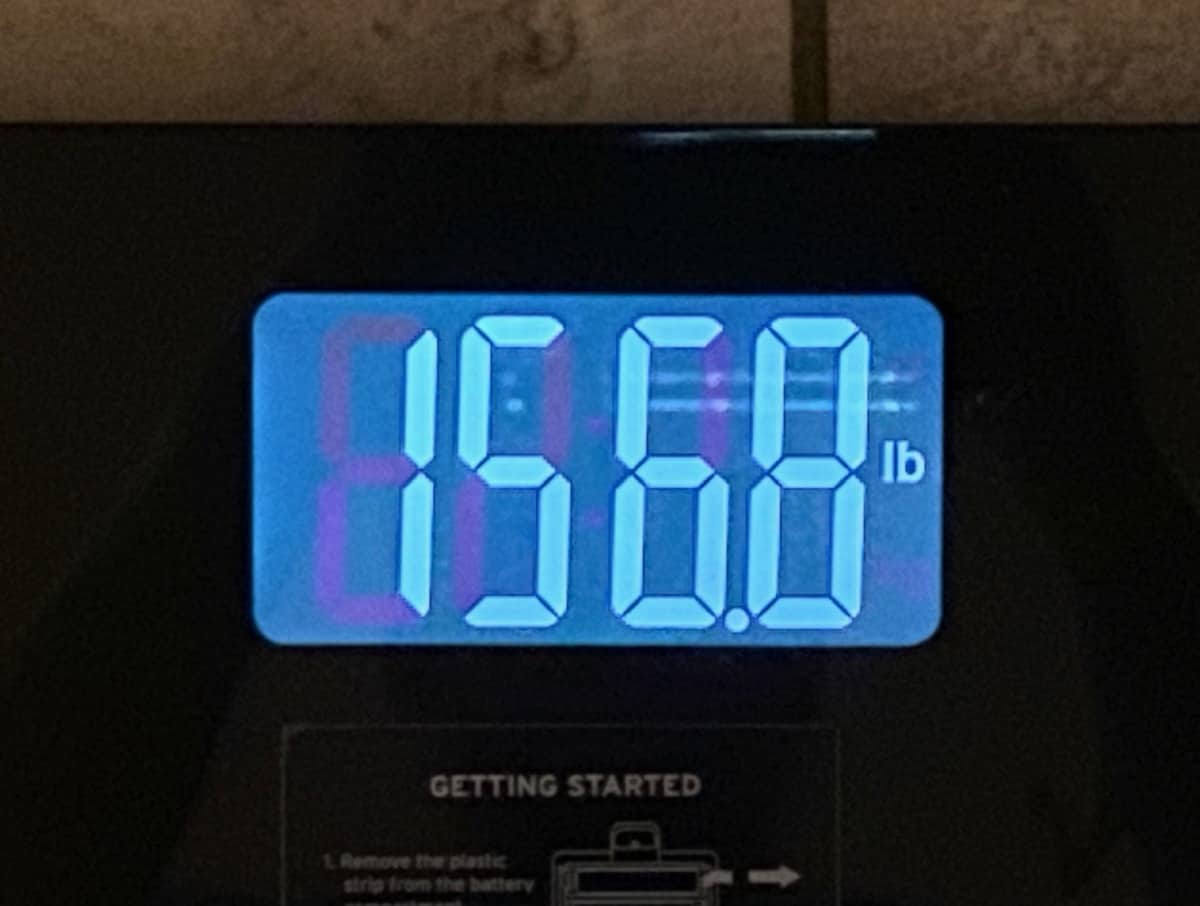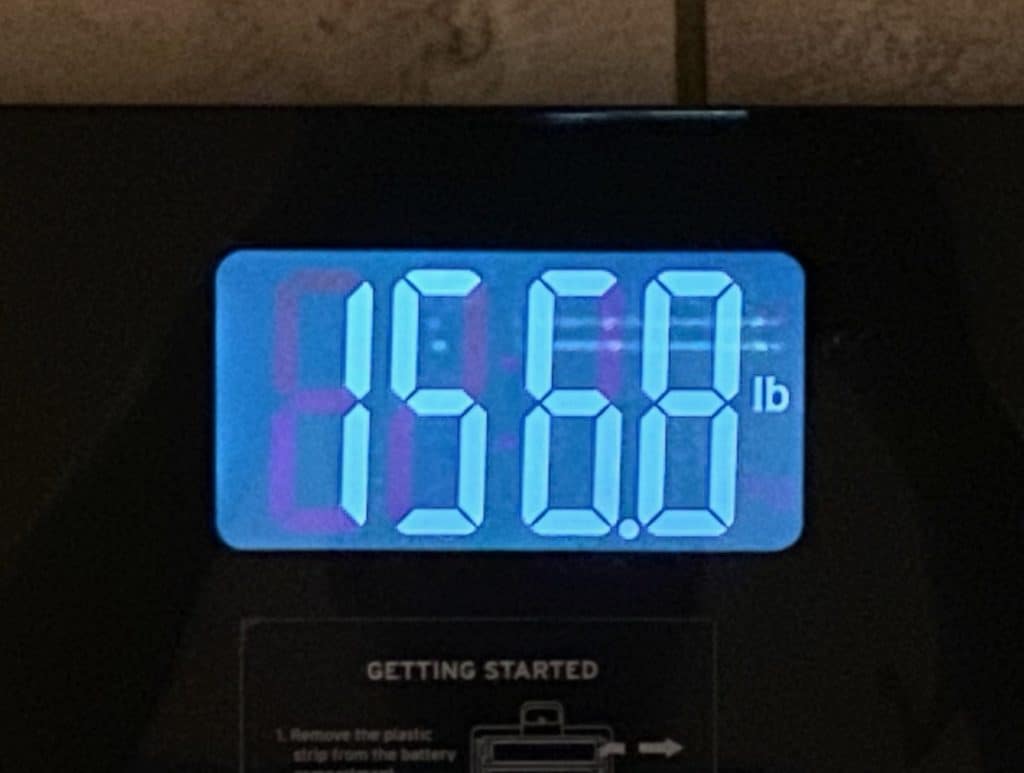 Getting out of the 150s has been quite the struggle for me. On one hand I feel happy with the way I look and feel buuuttttt, on the other hand, I know I can do better…because I have. So I'm always going back and forth between I'm happy with my weight and I want to lose 10lbs. Ugh…anyone else?
However, when I look back over the last 9 years of my weight loss journey I can honestly say that I felt my absolute best between 140 – 145 pounds. At that weight I was a very comfortable size 6 (I'm a 8 now) and didn't carry a lot of extra weight in my tummy. My stomach has always been my problem area but at 145lbs it was under control. At 156lbs I feel that I'm carrying most of that extra weight in my stomach area – and I hate it. Just being totally real with you.
I know a lot of this has to do with getting older and hormones but it also has to do with the fact that my body reacts much differently to food and exercise now. Also, if I'm being totally honest, I'm not as disciplined as I was at 145lbs. Yes, I still exercise, meal plan, and prep food for the week. However, I'm not tracking like I used to. Yes, I do it sometimes – even every week – but not every day…and that's something I need to do.
I think I got burnt out with tracking or felt I had it all under control. Clearly, that's not the case. It's so easy for calories to sneak in and those little bites can easily sabotage any progress. Over the years I guess I feel that I don't need to be as strict with tracking. I was wrong.
So why am I telling you this? Because I want you to see that I'm human. I have successes and struggles just like every other person on this planet trying to keep up with a healthy lifestyle in a world filled with temptations and distractions.
I'm also telling you this because I want you to see that it's totally normal to have ups and downs when trying to lose weight. So if you've reach a plateau, or got off track, with your weight loss journey I don't want you to get discouraged. I want you to get up and keep going.
We have about 8 more weeks until the New Year. My goal is start 2020 under 150. This means I need to lose 7 pounds in 8 weeks – this is completely realistic and doable.
The #1 thing I'm going to do is TRACK. I'm going to track every bite, lick, and sip. No more eyeballing it for this girl. Oh and I'm going to keep my daily calories at 1500. I might go down to 1300 calories for the first couple weeks.
Second, I'm going to strength-train 4-5 times a week. Yes I'm going to still run for 30 – 45 minutes but strength-training is essential for woman over 40 <– and that's me.
Third, I'm going to drink 64 ounces of water a day and will track that using 32 ounce mason jars. I'll fill them up every morning.
Fourth, I'm not going to eat past 6pm. Having a cut off time for eating helps keep calories under control.
Last, I'm going to put all of this into an 8-week check-off accountability calendar. Nothing fancy just something to help keep me focused.
I'm starting all this now but also plan to take time this weekend to plan and organize so I can be set up for success.
Okay, here's my exercise plan for this week
Here's my exercise schedule:
Monday, Tuesday, Wednesday, Saturday, and Sunday
45 minutes – power-walk on treadmill with inclines.
Arms (W and Sat)
24 bicep curls with 5lb resistance bands
12 bicep curls with 8lb hand weight
24 lateral raises with 3lb weight
24 front lateral raises with 3lb weight
24 tricep extensions with 5lb hand weight
Core (everyday)
125 crunches
3 (30 second) planks
50 Bicycle Crunches
Combo Strength-training (everyday)
30 Squats with overhead raises using 8lb weight
Legs (Tues, Sunday)
50 squats
50 plie squats
25 lounges on each leg
Here's the exercise equipment I use:
3, 5, and 8lb hand weights. 
Weekly Meal Plan & Prep
Breakfast – 409 calories
Blueberry Detox Smoothie – 339 calories
Coffee with 2 tablespoons creamer – 70 calories
Meal Prep Tips
I put together 7 frozen smoothie packs to make sure I have all the ingredients ready to blend every morning this week. This is a new green smoothie recipe and I must say it's going to quickly become a favorite.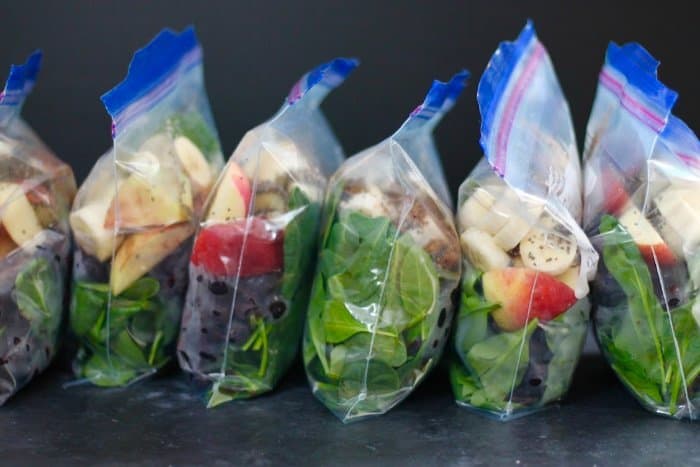 Mid-morning snack – 89 calories
Jalapeno Cheddar Egg Bites – 89 calories
Meal Prep Tips
I made the egg bites on Sunday and then stored in the refrigerator using a glass meal prep container. These warm up great in the microwave.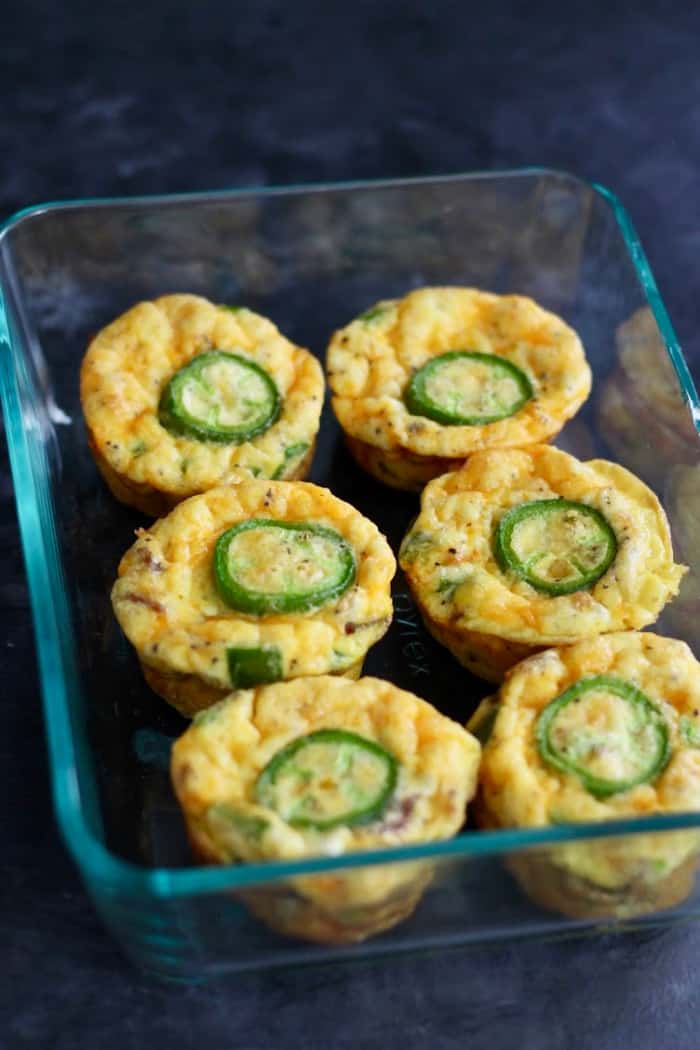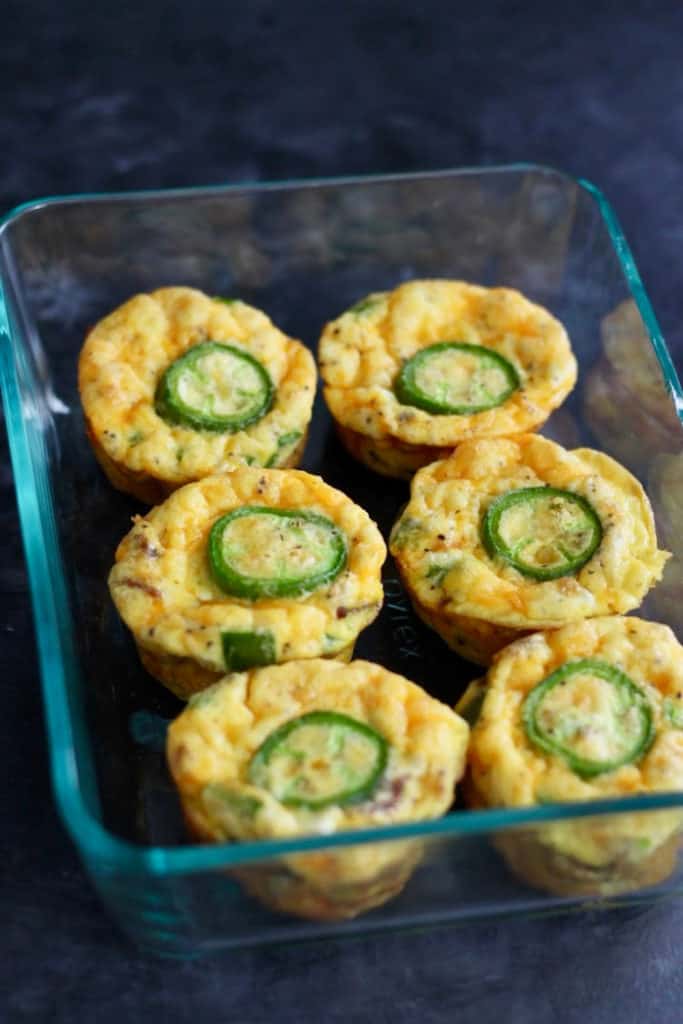 Lunch
Detox Mason Jar Salad – 430 calories
Meal Prep Tips
I made 5 salads on Sunday to eat this week.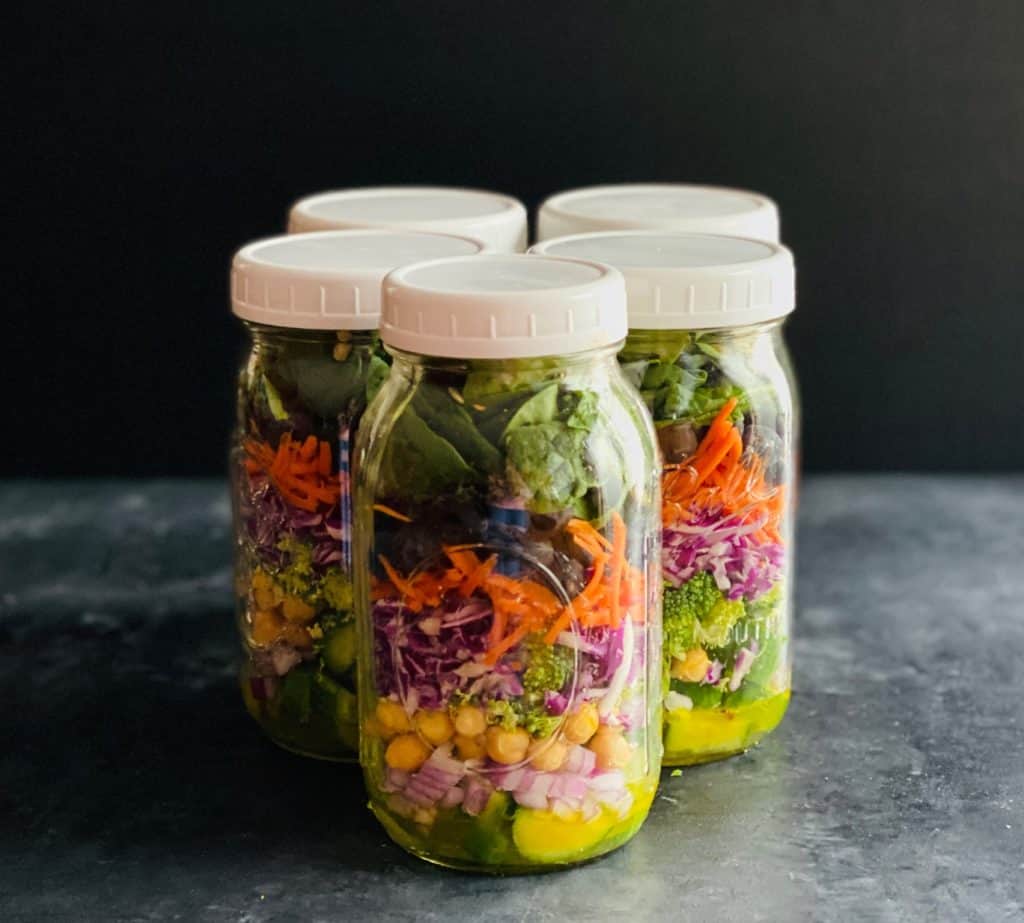 Dinner 225 – 490 calories
Buffalo Chicken Macaroni and Cheese with Roasted Broccoli – 338 calories
Pizza Soup – 317 calories
low carb Chicken Soup – 225 calories
Buffalo Chicken Subs – 490 calories
**I also made some chili roasted sweet potatoes to enjoy as a side.
Leftovers
Meal Prep Tips
I made the Slow Cooker Buffalo Shredded chicken over the weekend. Today, I whipped up some Buffalo Chicken Macaroni and Cheese. This makes quite a bit so, most likely, I'll freeze some for dinner in a couple weeks. I'll use the rest of the shredded buffalo chicken for subs this week.
Pizza soup I made late last week.
Detox chicken soup I made today.
I made the roasted sweet potatoes today and will store them in the refrigerator using glass meal prep containers. These also keep great in the refrigerator all week and warm up nicely using the microwave.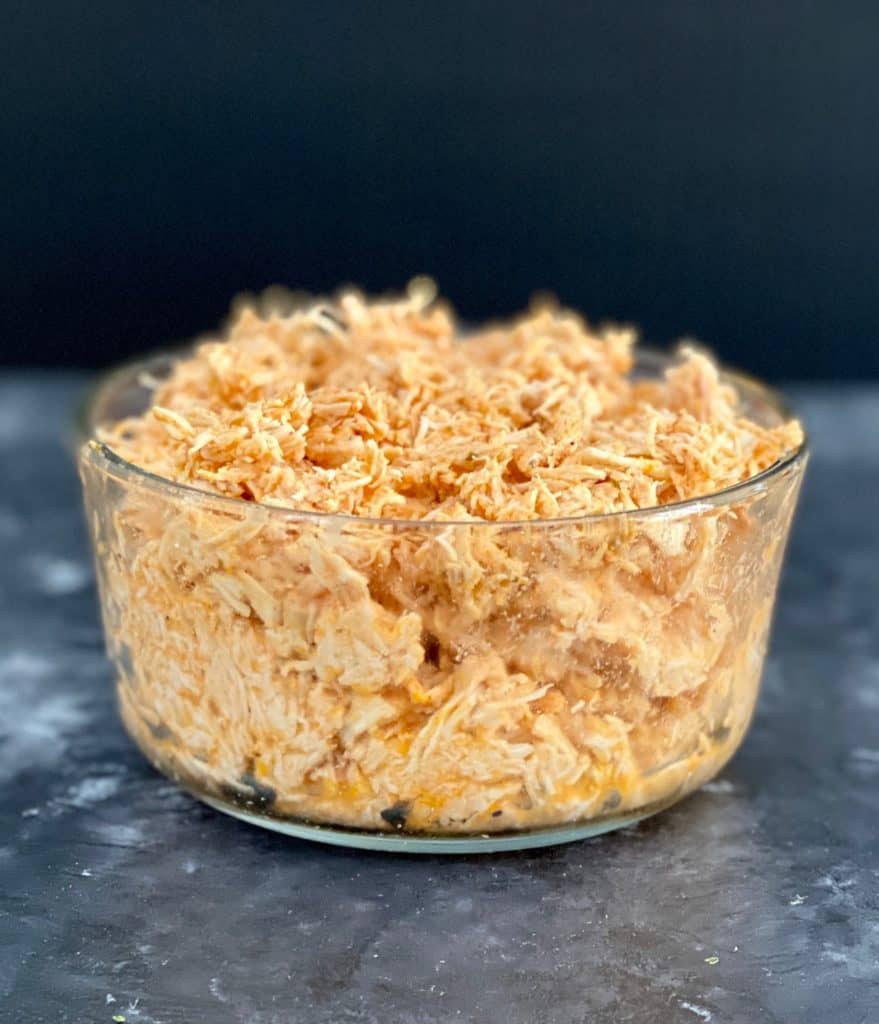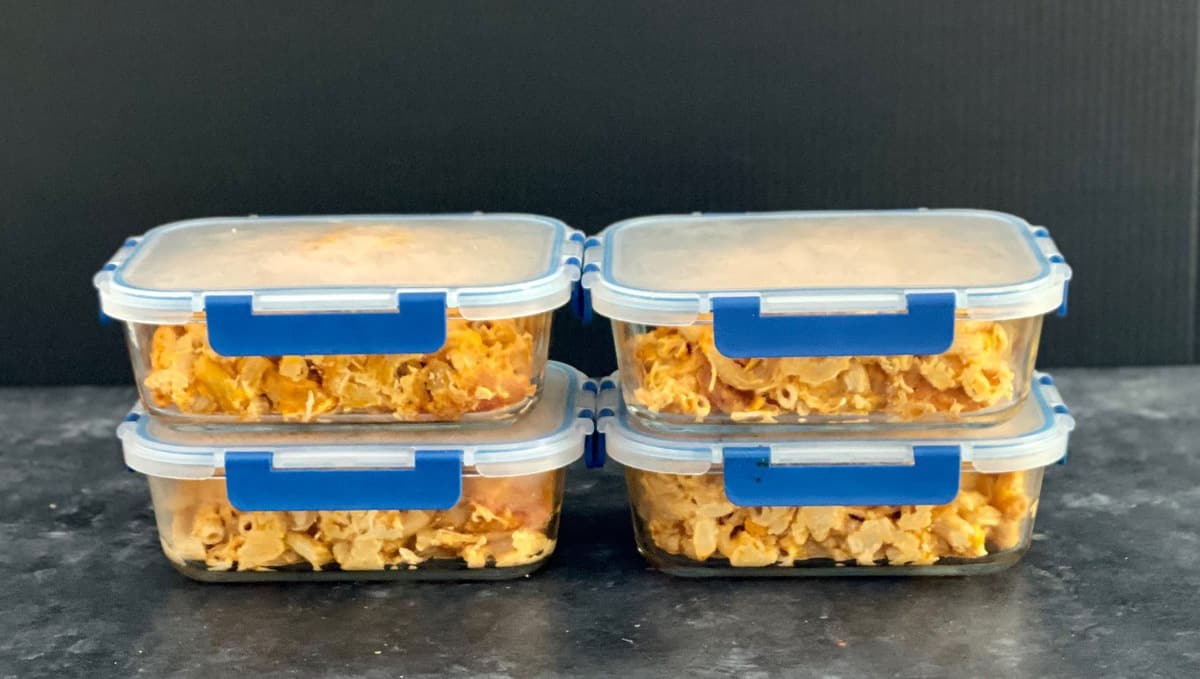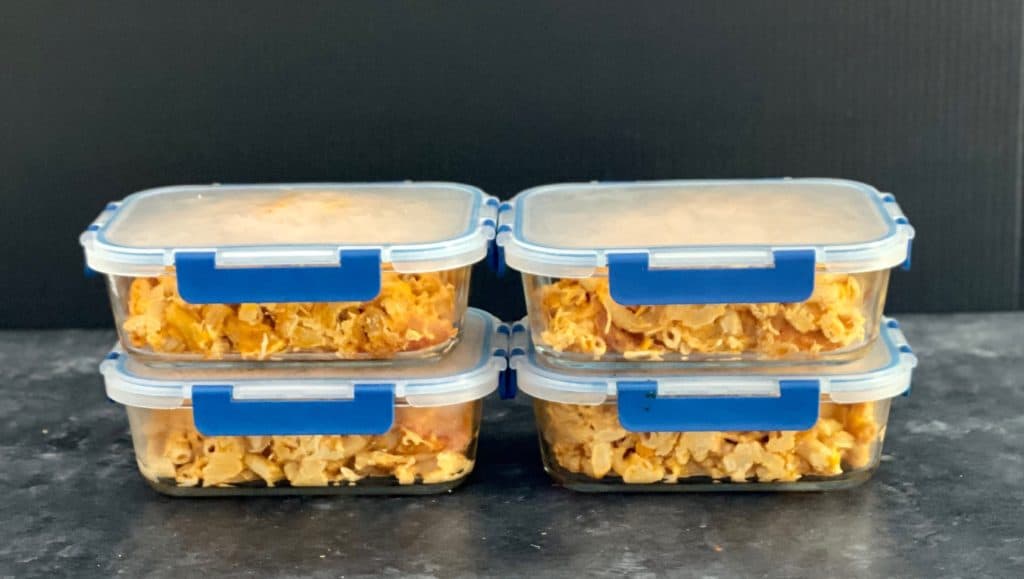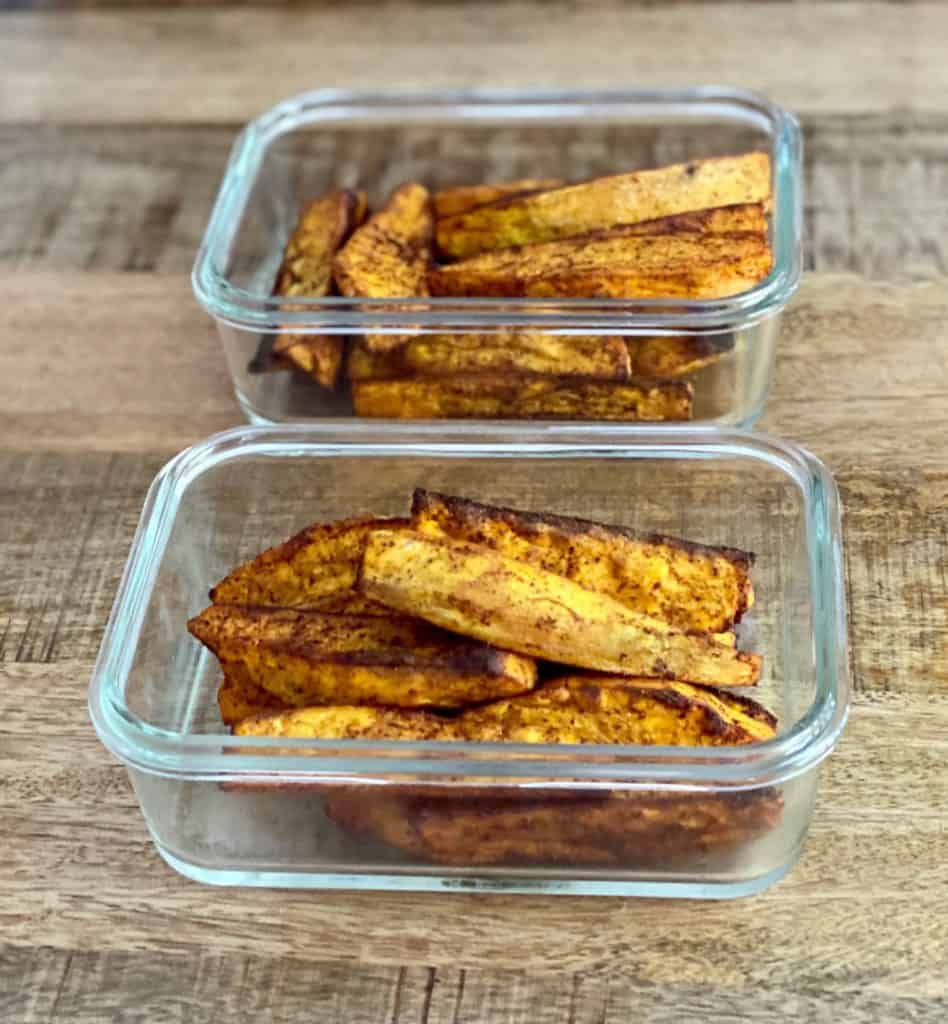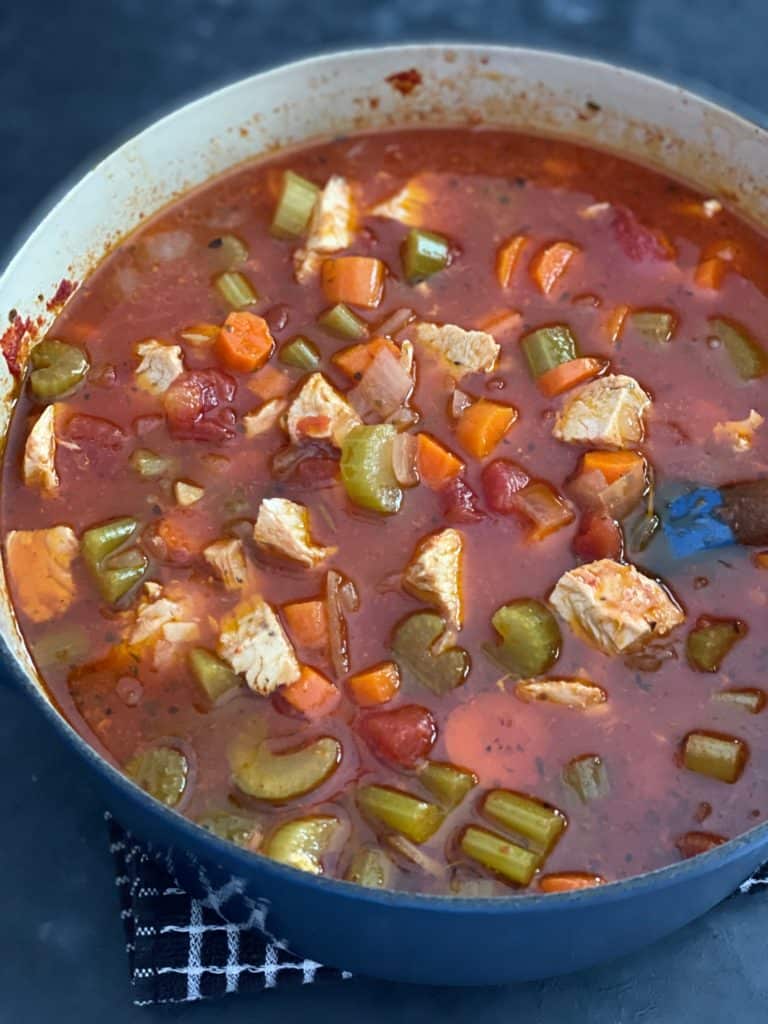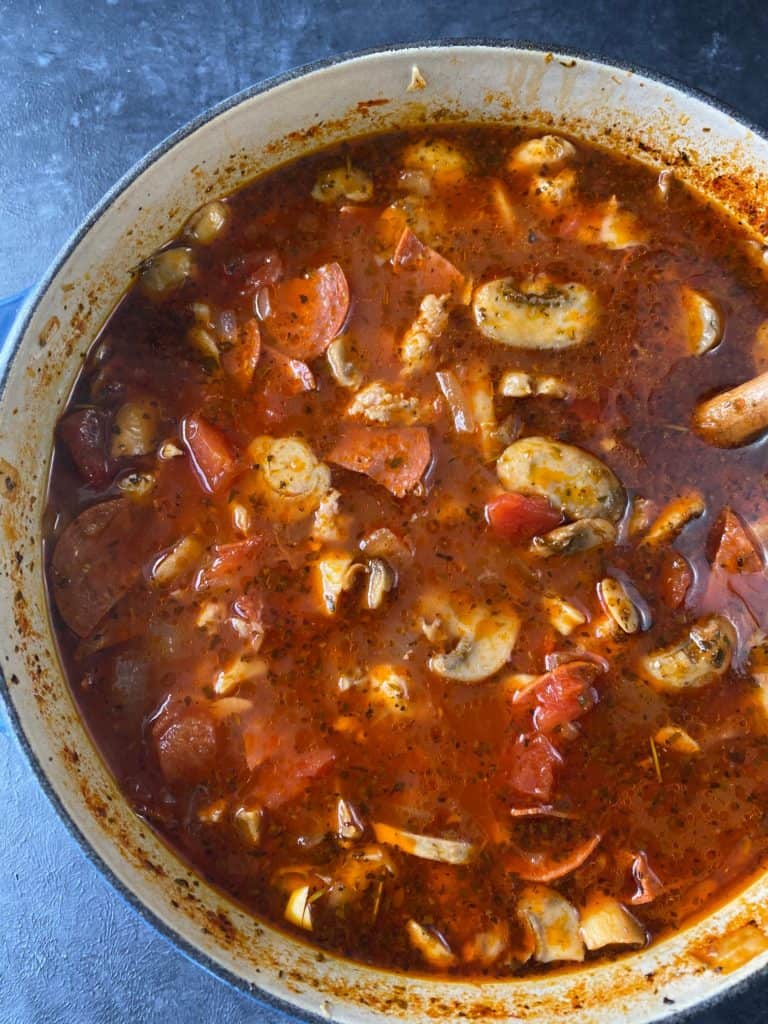 Meal Prep Supplies I used this week:
5 1/2 qt Le Creuset Soup Pot – I love this pot! Honestly, I probably use this more than another pot or pan in my kitchen. I know it's a little pricey but if you can swing it I recommend grabbing one. I often see them at HomeGoods for a discounted price. Or you can get it on Amazon.
32 ounce Wide Mouth Mason Jars – I use these for salads, keep track of water, and to store my smoothies. You can get these just about anywhere but if you don't feel like leaving the house then grab some from Amazon.
36 ounce rectangle glass containers with snap lids -These have quickly become my favorite meal prep container. use them to store everything from salad ingredients to macaroni and cheese.
Pyrex Simply Store containers – I use these for just about everything too. This week my leftover Buffalo shredded chicken was stored using these containers.
If you're looking for meal planning guidance then check out my free ultimate healthy meal planning guide.
Other meal planning resources:
Sun Basket – Sun Basket is the original organic meal kit delivery service. In the last few months it's become a full-service meal company offering just about everything to help you sustain a healthy lifestyle. See my Sun Basket Review for all of their latest offerings.
Hello Fresh – The best meal kit to feed the whole family.
Purple Carrot – The only vegan meal kit service. See my Purple Carrot review
Daily Harvest – vegan grab n go meals in a cup. See my Daily Harvest review.
Hungryroot – This isn't a meal kit company but more of a grocery delivery service that offers organic ingredients to stock your kitchen with so you can create quick healthy meals. See my Hungryroot review.
Something else you might like:
If you're looking for some fashion guidance then check out my Trunk Club Review or Stitch Fix Review. Or if you're on the fence with both then check out my Trunk Club vs Stitch Fix comparison.