Most weeks I share my 1500 calorie meal plan, meal prep pictures, exercise schedule, along with the progress (or not) I've made on my weight loss journey. My goal with these posts is to give a little glimpse into my week and for you to see I'm human and have good and bad weeks just like everyone else.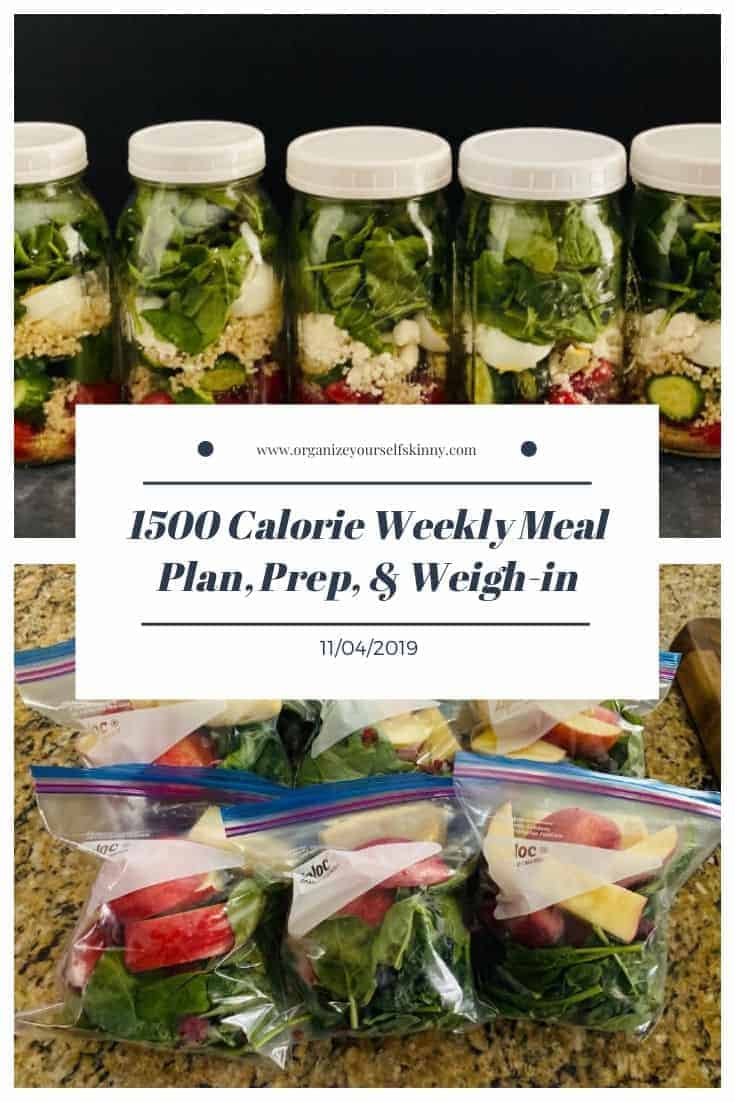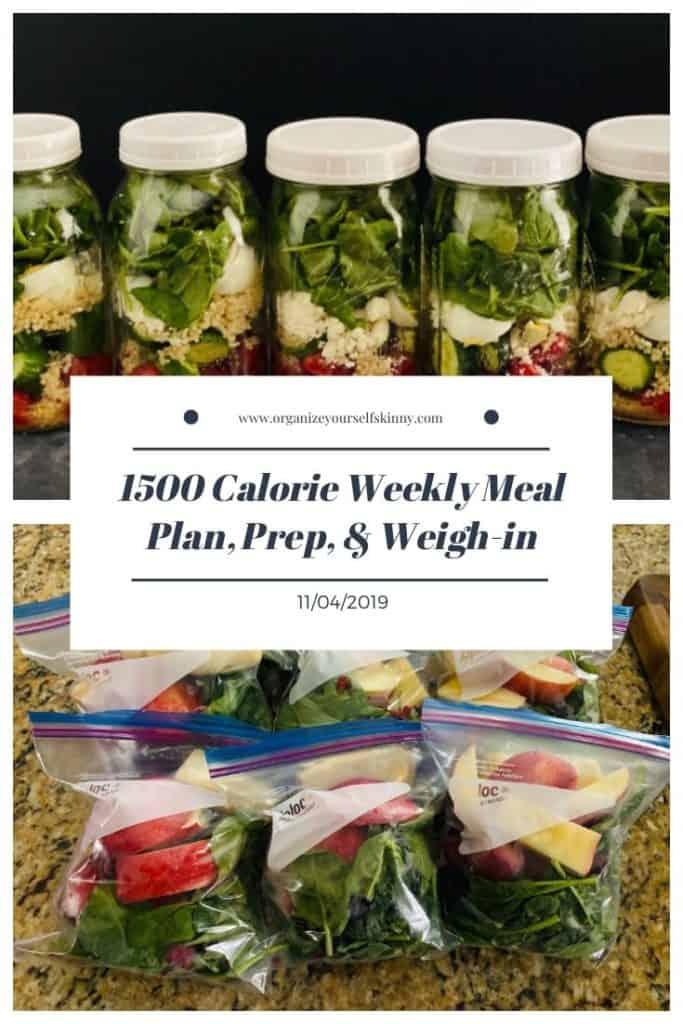 Woohoo, I'm here with my weekly meal plan. Yes, a day late, but I still made it! The one thing that's difficult about being a blogger, that shares her weekly meal prep, is I need to document it all. It's not like I can just breeze through it. Nope, I have to take pictures and, sometimes, even a video. So, what takes a normal person an hour to do might take me two hours.
I'm not complaining because, trust me, I'm forever grateful that all of you enjoy reading these posts week after week but I just wanted to share a little behind the scenes.
Actually, I've been sharing a lot more on Instagram. Even a quick video of the mason jar salads I made this week. It's on my story. Don't worry if you miss it I'm going to share many more videos.
Here's a quick picture of my hot mess kitchen, and Kenny poo waiting for something ANYTHING to fall on the floor, as I make our salads for the week.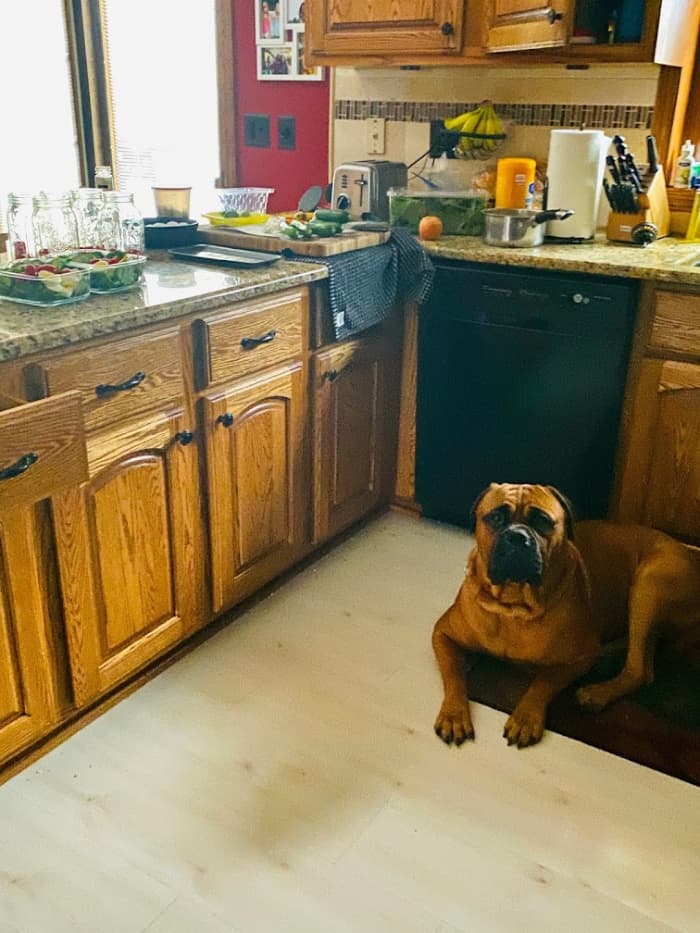 And my salads complete! Again, follow my Instagram if you like all the behind the scenes stuff and want to get to know me a little better. Okay, I'll talk more about mason jar salads in a minute.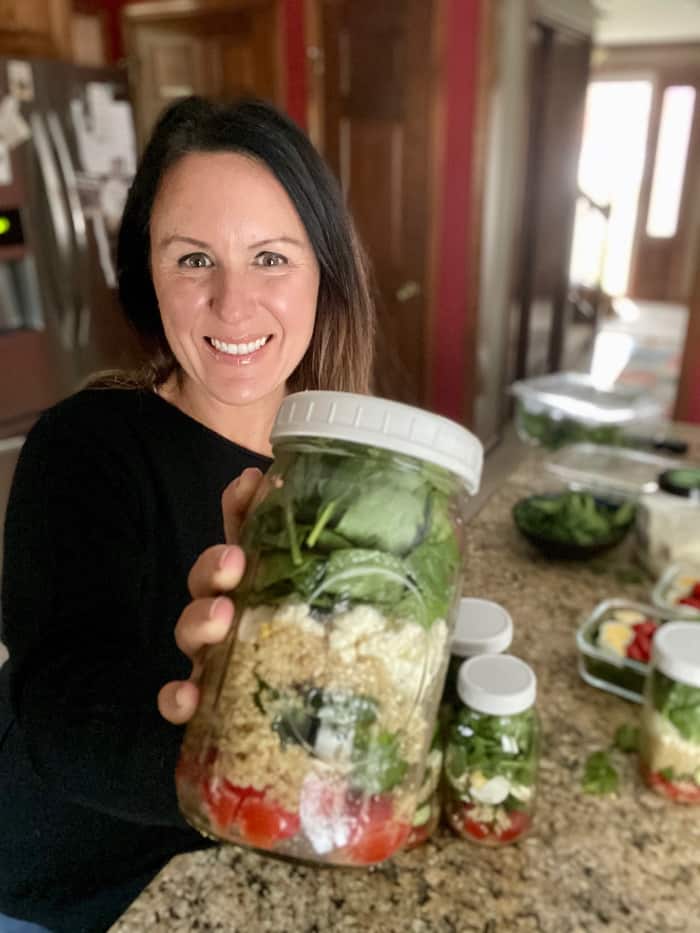 Let's first chat about my weigh in.
Starting weight (October 2010) : 177 lbs
Goal weight: 145lbs
Last month's weight: 156.8
Current weight: 154.8
Pounds lost: -2lbs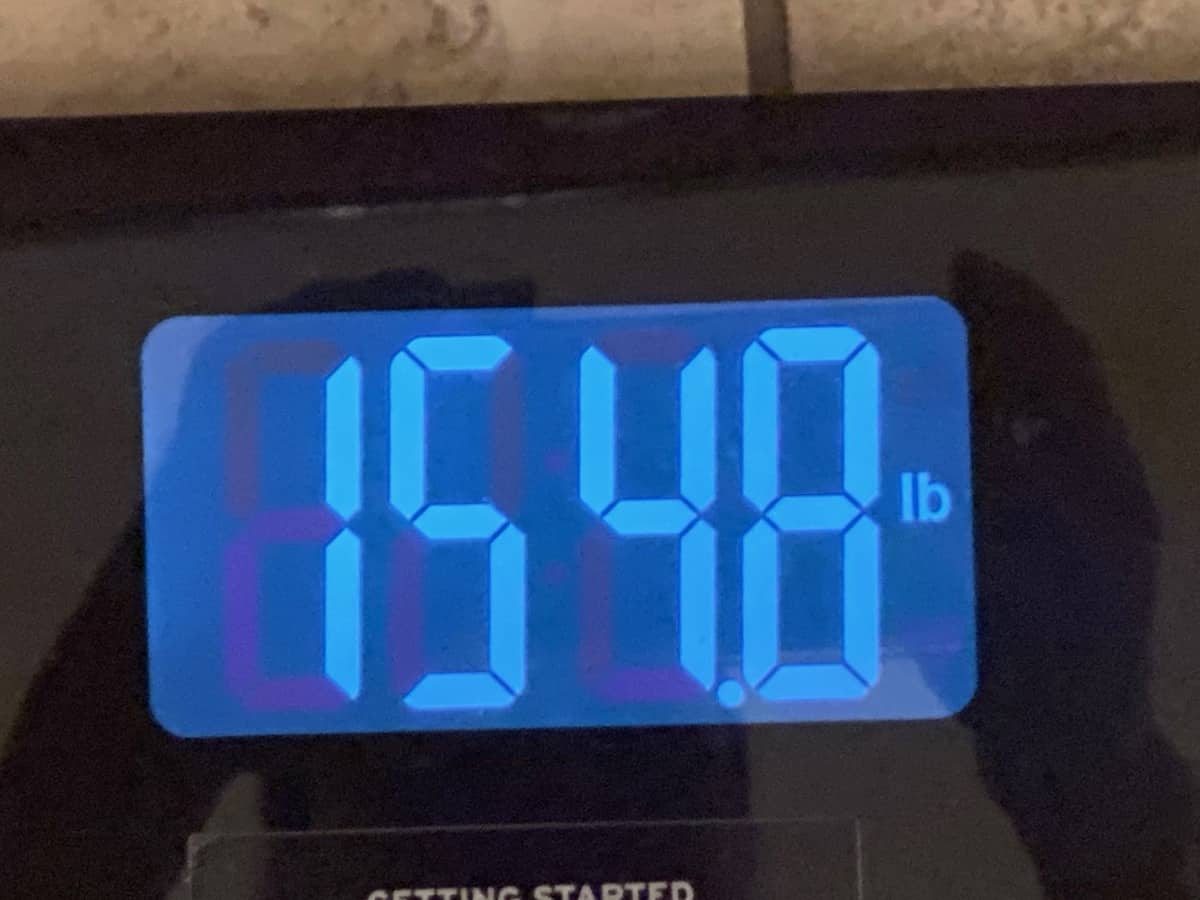 Last week, I committed to getting to under 150 by New Years! Well, this week, I lost 2lbs.
In case you missed last week post, this was my plan.
Track all my foods and drinks. My goal is to keep daily calories to 1500 or lower.
How did I do? While I was intentional with food I was't as discipline with actually plugging everything into My Fitness Pal as I need to be. I plugged in some things but then got distracted and forgot. Just keeping it real. I'm positive this allowed many extra calories to slip through. Anyway, with that said, I had all my food planned out and prepped ahead of time so it was easier to keep portions under control.
Strength-train 4-5 times a week.
How did I do? I strength trained 3 days last week. My goal was to do Monday, Tuesday, Wednesday, Saturday, and Sunday. I was able to do Tuesday, Wednesday, and Sunday. It's better than nothing but I need to exercise more days than I don't, With that said, I love working out with weights and have upped my hand weights to 8lbs and do more reps. So, I felt the 3 workouts I did.
Drink 64 ounces of water a day. I did this everyday. And honestly, this made such a HUGE difference. I didn't feel bloated during the week and I think this helped with my weight loss.
Don't eat past 6:00pm. I did this 4 out of 7 days, but the other 3 days I didn't eat past 7pm.
Also, I decided to do a no alcohol challenge this month. The only day I'm allowing myself to have 2 glasses of wine is on Thanksgiving.
I drink about 2-3 drinks each weekend. Nothing crazy, just a glass of wine while hanging out with Mike and/or our friends. However, I feel like it's enough to hinder my weight loss progress. So, I decided to give it up. This isn't a hard challenge for me because, like I said, I'm not a big drinker but I 'm curious to see if this makes a difference. Now, giving up coffee….that's a whole other story!
How did I do? This weekend I didn't have 1 drink! I almost slipped up at my daughters volleyball banquet, when offered wine, but I quickly caught myself. I'll let you know how it goes moving forward.
This week I'll continue to do all 4 of things plus no alcohol. I'll keep ya posted.
Before I get to my meal plan here's my exercise schedule
Tuesday, Wednesday, Thursday, Saturday, and Sunday
45 minutes – power-walk on treadmill with inclines.
Arms (W and Sat)
24 bicep curls with 5lb resistance bands
12 bicep curls with 8lb hand weight
24 lateral raises with 3lb weight
24 front lateral raises with 3lb weight
24 tricep extensions with 5lb hand weight
Core (every workout day)
100 crunches
3 (30 second) planks
50 Bicycle Crunches
Combo Strength-training (every workout day)
30 Squats with overhead raises using 8lb weight
Legs (Tues, Sunday)
50 squats
50 plie squats
25 lounges on each leg
Here's the exercise equipment I use:
3, 5, and 8lb hand weights. 
Weekly Meal Plan & Prep
This week I'm testing out the meal kit company Dinnerly so we'll eat those meals later in the week.
Breakfast
Detox smoothies – 222 calories
Coffee with 2 tablespoon french vanilla creamer – 70 calories
Meal prep tips
I made 9 smoothie freezer kits today.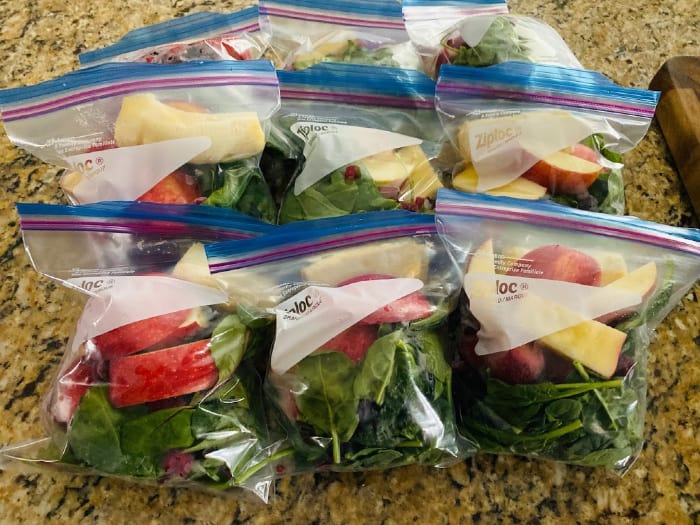 Morning Snack – 80 calories
Cheese stick – 80 calories
Lunch – 415 calories
Protein Power Mason Jar Salad – 415 calories
Meal prep tips
All the salads were made today.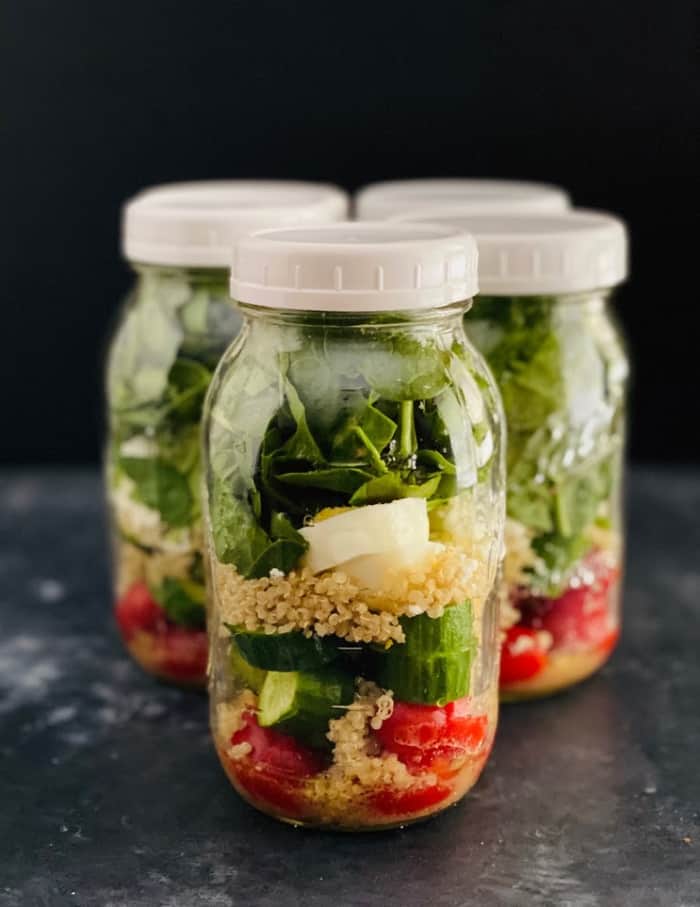 Afternoon snack – 130 calories
Siggi yogurt
Chicken Quesadillas –435 calories
Every Bagel Chicken Stuffed with Cheese with Chili-spiced Sweet Potatoes – 431 calories
Baked Ziti with a salad – leftover from the weekend – 500 calories
Louisiana Shrimp – Dinnerly meal – 470 calories
Seared Chicken and Gravy – 580 calories
Everything Bagel Burgers with Homefries – 850 Calories (YIKES) – I'll taste this for my review but I think this recipe will be for Mike and the kids.
Pizza Soup – 317 calories
Meal prep tips
I made the slow cooker salsa chicken yesterday for the quesadillas.
Baked ziti was made over the weekend.
Chicken will be made tomorrow.
Dinnerly meals will be made the night the box comes in.
Leftover Pizza soup is in the freezer.
Meal Prep Supplies I used this week:
32 ounce Wide Mouth Mason Jars – I use these for salads, keep track of water, and to store my smoothies. You can get these just about anywhere but if you don't feel like leaving the house then grab some from Amazon.
36 ounce rectangle glass containers with snap lids -These have quickly become my favorite meal prep container. I use them to store everything from salad ingredients to macaroni and cheese.
Pyrex Simply Store containers – I use these for just about everything too.
If you're looking for meal planning guidance then check out my free ultimate healthy meal planning guide.
Other meal planning resources:
Sun Basket – Sun Basket is the original organic meal kit delivery service. In the last few months it's become a full-service meal company offering just about everything to help you sustain a healthy lifestyle. See my Sun Basket Review for all of their latest offerings.
Hello Fresh – The best meal kit to feed the whole family. See my Hello Fresh Review.
Purple Carrot – The only vegan meal kit service. See my Purple Carrot review
Daily Harvest – vegan grab n go meals in a cup. See my Daily Harvest review.
Hungryroot – This isn't a meal kit company but more of a grocery delivery service that offers organic ingredients to stock your kitchen with so you can create quick healthy meals. See my Hungryroot review.