Most weeks I share my 1500 calorie meal plan, meal prep pictures, exercise schedule, along with the progress (or not) I've made on my weight loss journey. My goal with these posts is to give a little glimpse into my week and for you to see I'm human and have good and bad weeks just like everyone else.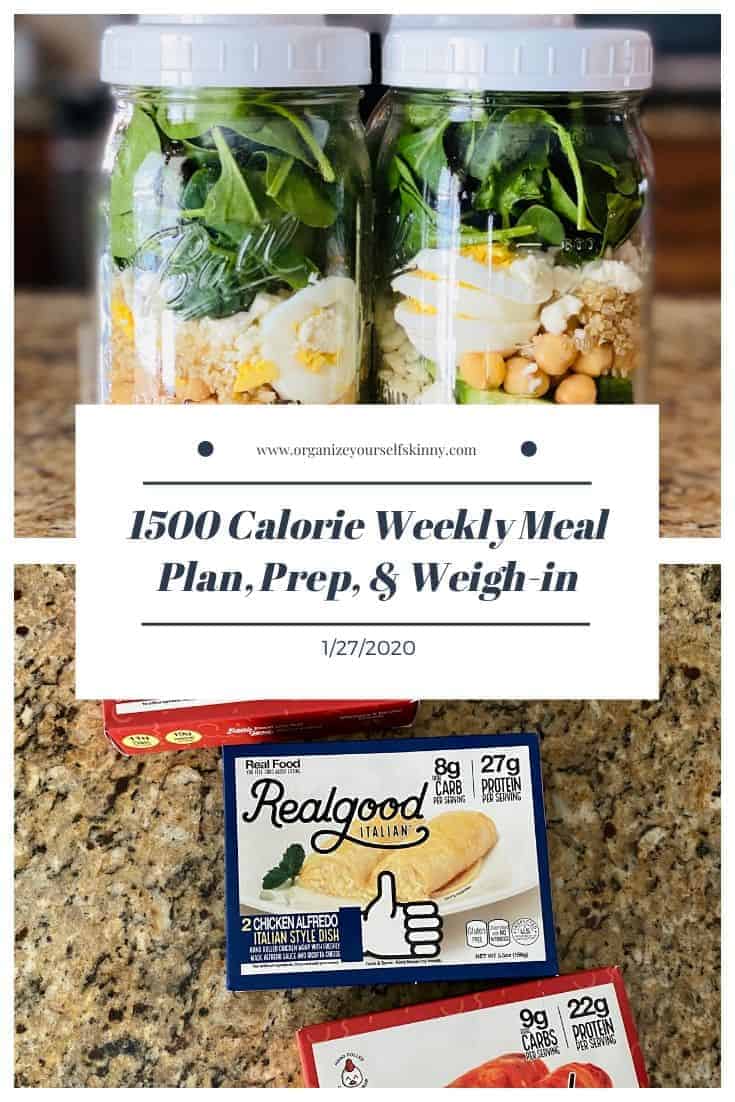 Happy New Year! Ha! Yep, I know I'm just about 3 weeks overdue with a "first of the year" meal plan post. Actually, I know it's been a couple months since the last time I shared a meal plan on the blog. However, if you follow me on Instagram then you know I'm alive and still plugging along with weekly meal prep. I share all my meal prep shenanigans in my Instagram stories.
Anyway, it's not that I don't want to share a weekly meal plan post on my blog. Trust me, I take pictures every single week of everything. The issue is I've been super busy with other projects I'm trying to get done. I've been working on updates to the OYS eCourse which include new meal plans and other helpful things.
I'm completely updating the Organize Yourself Skinny eBook AND working on a new meal prep eBook. I'm also finishing up the brand new Organize Yourself Skinny Meal Prep eCourse. There's a lot of moving parts going on right now so I'm trying to focus on getting these projects done so I can move on with blog life.
On top of all that I'm working on brand new content and meal prep recipes for the Organize Yourself Skinny blog and Youtube Channel. It's amazing the amount of work that goes into putting together a simple 5 minute Youtube video. My big 2020 goal is to build my Youtube Channel. I just hired an video editor because, let's be honest, I know my limits. Something that'll take me hours to do, someone else can get done in less than 1. So, it's my hope to have weekly Youtube videos dropping in the next few weeks. You can subscribe to my channel here.
Okay, let's get to the good stuff.
First up, my weekly weigh-in
Starting weight (October 2010) : 177 lbs
Goal weight: 145lbs
Last week's weight: 154.8
Current weight: 155.4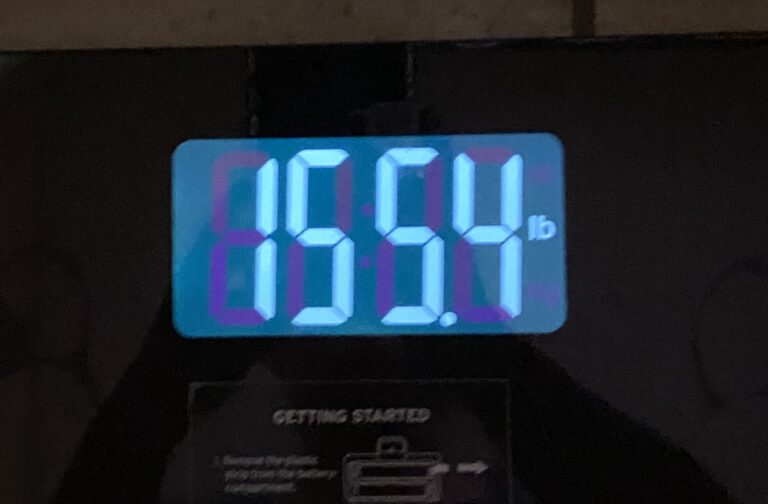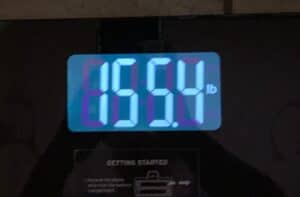 My goal was to be below 150 by January 1st. Obviously, that didn't happen. Sometimes I think I'm destined to be in the 150s for the rest of my life and other times I think I need to work harder. Do you feel me?
But then I realize it's a little of both.
First, I need to have realistic expectations. But, honestly, I don't think it's unrealistic to get to 145lbs – and stay there. I did it before so I know I have it in me. The thing I need to be realistic about – or more aware of – is my body is changing. I've experienced a lot of hormonal changes in the last few years that have made it harder to lose weight. Not impossible, just a little harder. I need to be aware of that.
Second, I do need to work harder at amping up my exercise routine and staying consistent with both food and exercise. 80% of the time I'm on point with food. I meal plan and prep everything. But, I lose sight of the little sips and bites I take during the week and, as we all know, that can add up. Also, I need to increase the amount of weight I'm using and really focus on strength-training.
I've said 100 million times that I love to work up a good sweat on the treadmill but now that I'm heading into my mid-forties I need to focus more on weights. Of course, I'm still going to run because that helps to stay energized and focused but strength-training 4-5 times a week needs to be consistent.
Here's my exercise plan for this week.
Tuesday, Wednesday, Friday, Saturday, and Sunday
45 minutes – power-walk on treadmill with inclines.
Arms (W and Sat)
24 bicep curls with 8lb hand weight
24 lateral raises with 5lb weight
24 tricep extensions with 5lb hand weight
Core (every workout day)
100 crunches
3 (30 second) planks
Combo Strength-training (every workout day)
30 Squats with overhead raises using 8lb weight
Legs (Tuesday, Friday, Sunday)
50 squats
50 plie squats
25 lounges on each leg
Here's the exercise equipment I use:
3, 5, and 8lb hand weights. 
Okay let's get to my meal plan.
One of the things I'm going to start doing is testing out different healthier convenience options that you can purchase at the grocery store. I plan to try everything from energy bars to cereals to frozen meals. This was an idea my daughter and I talked about earlier in the month. I think it's silly to think people have time to cook from scratch every single week – sometimes we just want easier healthy more convenient options. I know it makes my life easier to have convenience foods in freezer and pantry.
Not to mention trying new products gets us out of a rut. I tend to purchase and eat the same things every week. So, this little experiment will open us up to new foods.
It's kind of funny because right when we were talking about doing this I was contacted by Real Good Foods to try some of their new frozen meals. Of course, I said SURE! So this weekly meal plan is being sponsored by Real Good Foods. They compensated me for my time but please note all of my opinions are my own.
All Real Good Foods products are high protein, low carb, grain-free, gluten-free, and keto. Also, everything is made from scratch and uses high quality ingredients. You can read all about the Real Good Foods company, and view the products, on their website. 
They asked me to try their new enchiladas and stuffed chicken breasts but I couldn't find those in the stores – I'm hoping they'll send me some to try out for next week. Speaking of which, you can order everything off their website and they'll ship it straight to your doorstep.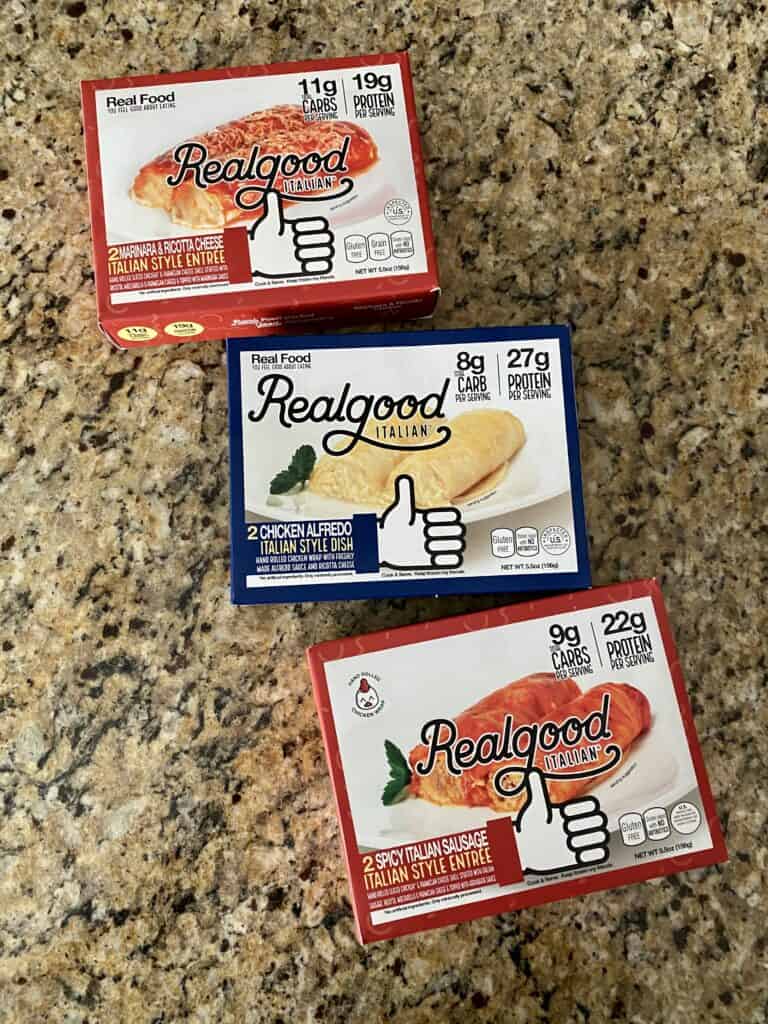 I think these frozen meals are just nice to have on hand for a "just in case" meal or when you need something fast and healthy. Also, if you're looking to have better high protein lunch options to bring to work I think these would work great.
This week my daughter and I will give these a try for dinner. I tried the Chicken Alfredo Italian style dish yesterday and was pleasantly surprise.
My thoughts:
Flavor is delicious. The filling and sauce taste fresh and homemade.
Was ready in under 3 minutes.
Consistency was good.
I couldn't figure out what the shell was made from. I thought maybe it was a low-carb grain free shell but when I looked at the ingredients it seemed to be made from chicken. This seemed a little odd but it was good.
At first glance, I thought the portion was small. However, after eating it I thought the meal was quite  filling. Plus it's only 260 calories for the entire package so if you want to enjoy a salad with it you could. If I was bringing this for lunch I would pack some fruit or yogurt to go with it.
This brand was really hard to find in the grocery stores. I went to 3 stores and Wegmans only carried the pizzas. I found the Italian-style frozen meals at Walmart. However, you can order frozen meals from the Real Good Foods website. So, this makes it super convenient for those of you that want low-carb Keto frozen meals delivered to your door.
Overall, this was tasty, easy to make, and provides a nice low-carb keto option.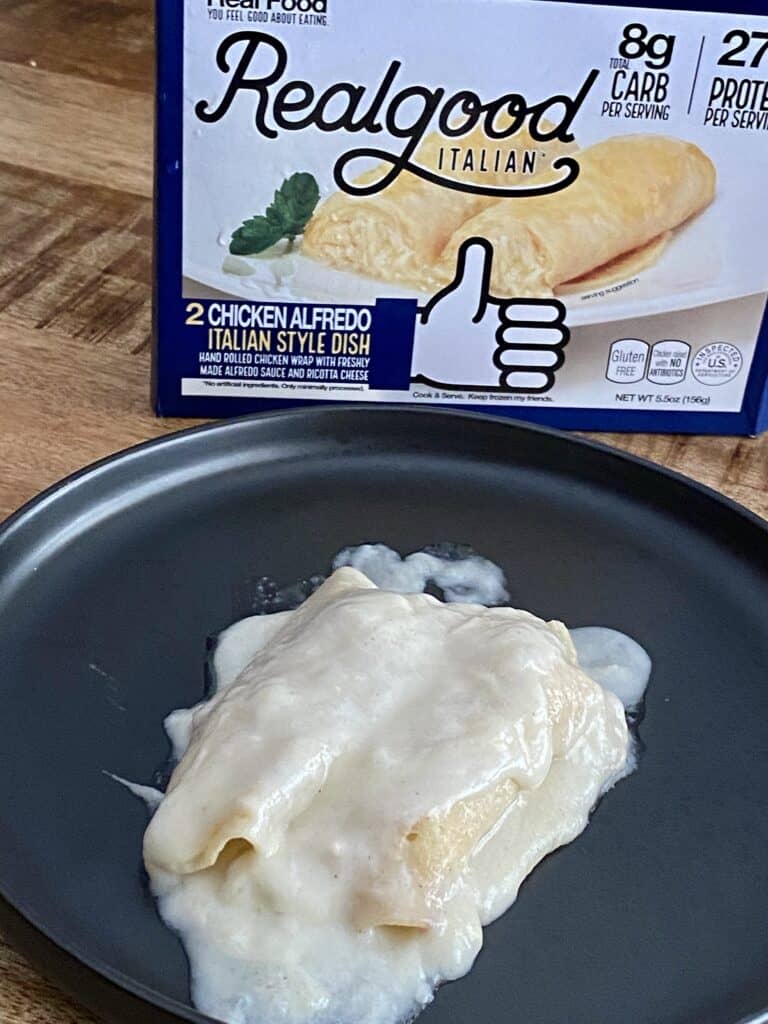 Here's the rest of my meal plan.
Breakfast – 398 calories
Steel cut oats 1/2 cup with 1 teaspoon pure maple syrup and 1 tablespoon almond butter
Meal prep tips
A couple weeks ago I made a big batch of steel cut oats to freeze. So, this morning all I needed to do was warm up a couple cups. Breakfast was ready in less than 3 minutes with minimal mess. Here's a list of my favorite easy freezer meals to stock up on.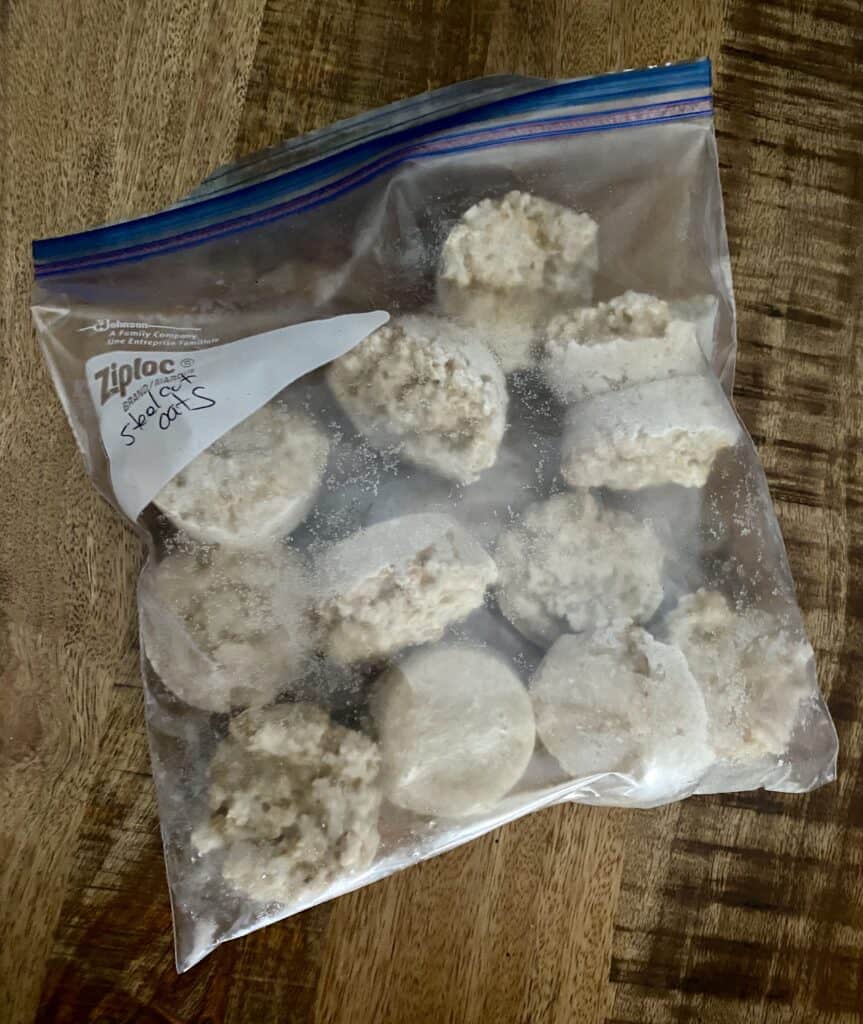 Morning snack – 80 calories
1/2 cup cottage cheese – 80 calories
Lunch – 415 calories
Protein Power Mason Jar Salad – 415 calories
Meal prep tips
I made these salads for the week on Sunday.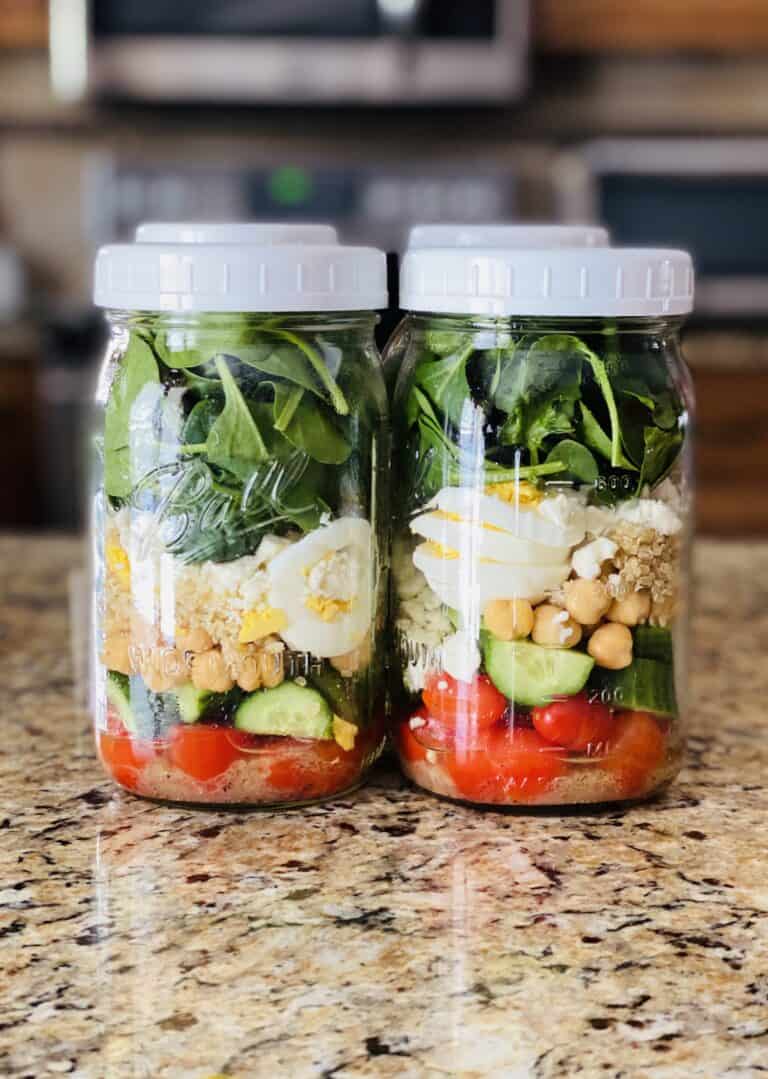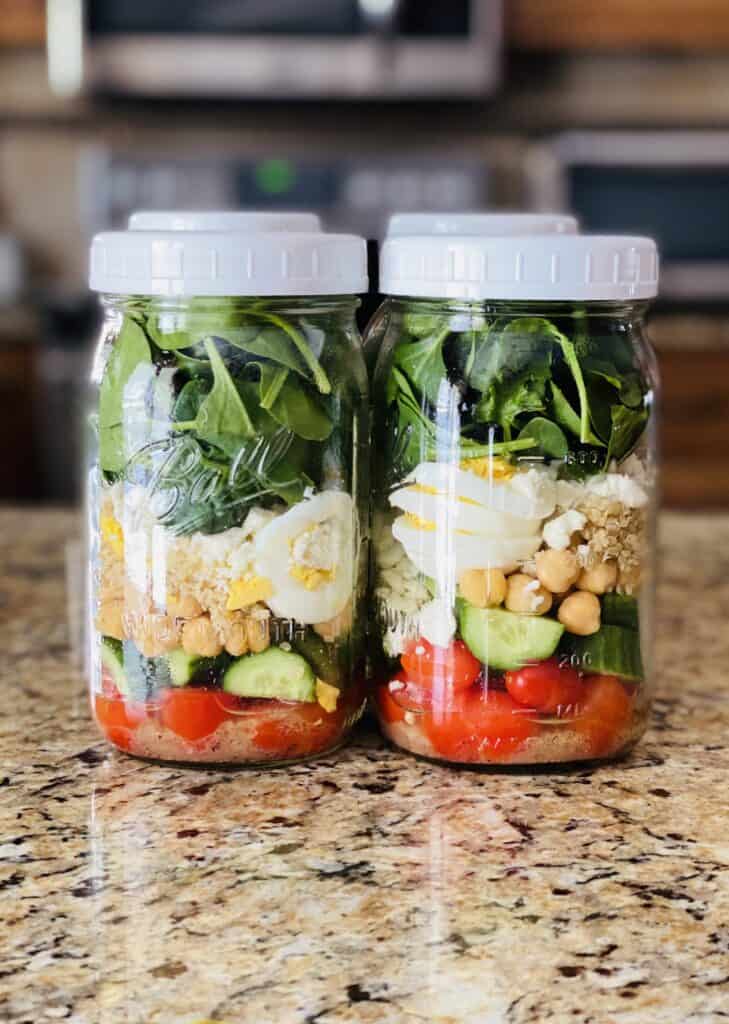 Afternoon snack – 80 calories
Cheese stick – 80 calories
Meal prep tips
I keep these in a refrigerator bin for easy access.
Dinner – 600 and under calories
Italian turkey meatloaf with roasted sweet potatoes and broccoli – 526 calories
Broccoli, Pasta, and Shrimp – 527 calories
Chicken Quesadillas – 435 calories
Meal prep tips:
On Saturday I made the chicken for quesadillas and will prepare them the night we eat.
On Sunday I made the meatloaf, sweet potatoes, and broccoli. I stored everything in glass meal prep containers.
On Sunday I made the shrimp and pasta dish and stored in glass meal prep containers.
These meals should last us until Friday. If we need other meals then I'll grab something from the freezer. I have some classic chili and detox chicken soup in there.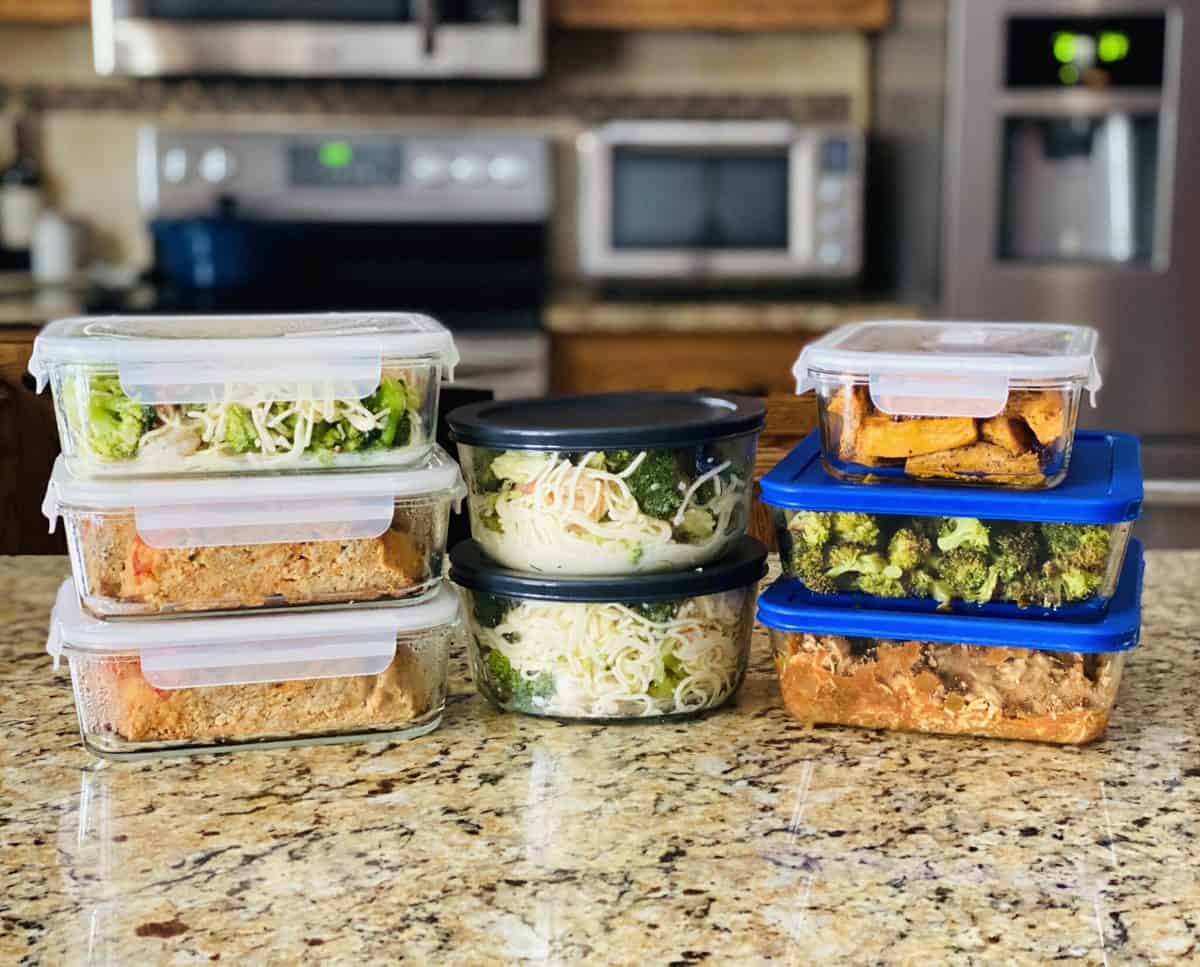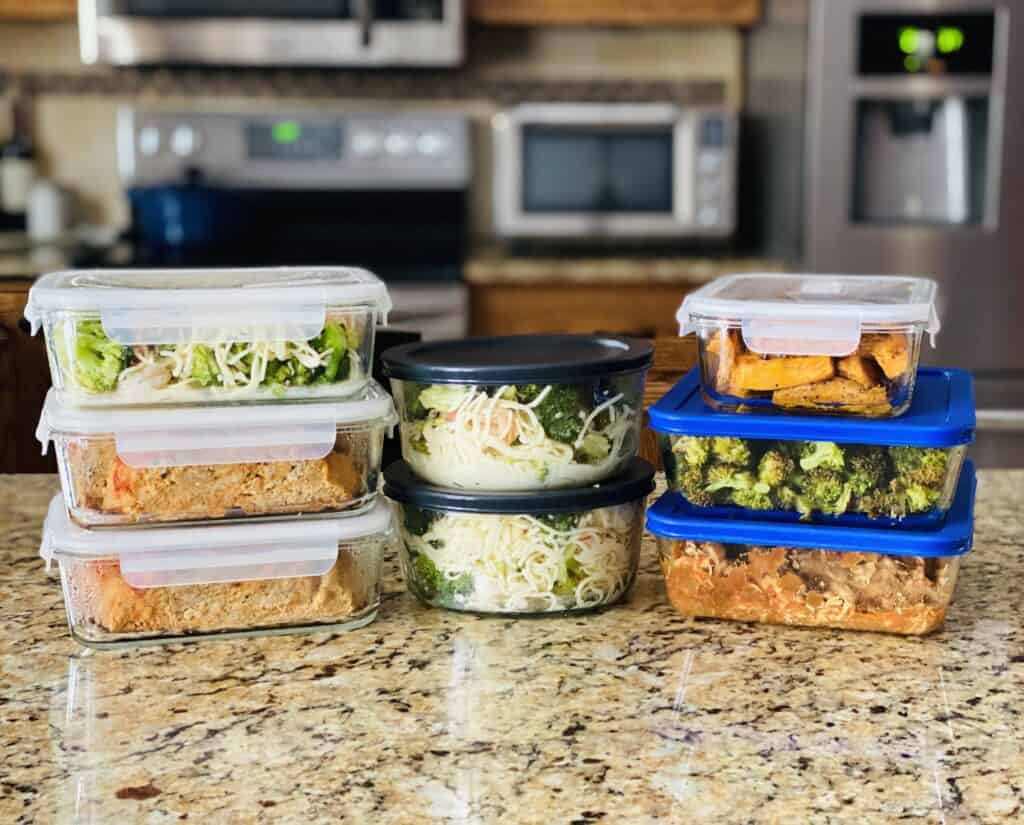 Meal Prep Supplies I used this week:
32 ounce Wide Mouth Mason Jars – I use these for salads, keep track of water, and to store my smoothies. You can get these just about anywhere but if you don't feel like leaving the house then grab some from Amazon.
36 ounce rectangle glass containers with snap lids -These have quickly become my favorite meal prep container. I use them to store everything from salad ingredients to macaroni and cheese.
Pyrex Simply Store containers – I use these for just about everything too.
If you're looking for meal planning guidance then check out my free ultimate healthy meal planning guide.
Other meal planning resources:
Sun Basket – Sun Basket is the original organic meal kit delivery service. In the last few months it's become a full-service meal company offering just about everything to help you sustain a healthy lifestyle. See my Sun Basket Review for all of their latest offerings.
Hello Fresh – The best meal kit to feed the whole family. See my Hello Fresh Review.
Dinnerly – This is another family-friendly meal kit company that markets itself as the most affordable meal delivery service. See my Dinnerly review.
Purple Carrot – The only vegan meal kit service. See my Purple Carrot review
Daily Harvest – vegan grab n go meals in a cup. See my Daily Harvest review.
Hungryroot – This isn't a meal kit company but more of a grocery delivery service that offers organic ingredients to stock your kitchen with so you can create quick healthy meals. See my Hungryroot review.