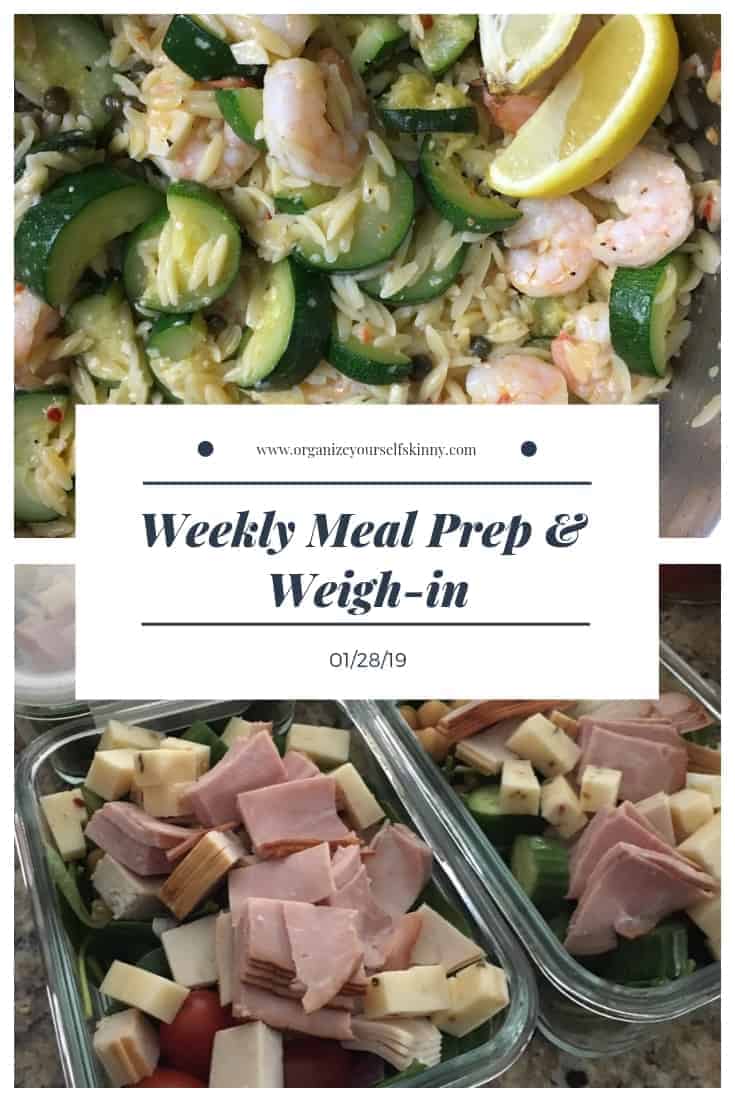 Hey there! It's been about a month since I shared a weekly meal plan and weigh in post. To be honest, I toyed around with the idea of phasing them out because I didn't think anyone would miss them. I felt like I was writing the same things week after week and I have a bunch of other post ideas I want to share with all of you.
Well, I was wrong.
Last week, I got 6 messages asking about my weekly meal prep posts. More than one reader actually said they enjoyed reading about my life updates and missed seeing these posts on the blog.
Alright, let's get to it.
First some news and updates.
Many readers are asking me when the next enrollment period will be for the Organize Yourself Skinny Ecourse. This is going to open up again in the beginning of April. I had a thought at the end of 2018 to keep the course open year-round but it didn't work out. It's so much easier, and better for students, to bring everyone in during an enrollment period.
Also, I'm starting to put more on Youtube so if you like videos then subscribe to my channel. You'll see recipe tutorials (ex mason jar salads), educational/motivational chats, and reviews on the OYS Channel. There's a little bit of a learning curve so be patient as I get videos up and going. You can subscribe here.
Okay, a quick life update. Mike and I are doing great. We went out to dinner last weekend to our favorite restaurant Russel's. We go there 2-4 times a year to celebrate our birthdays and other things. This time we were having a late celebration for his birthday. It was a great time. However, I felt like I needed to be rolled out of there. Sooo much good food!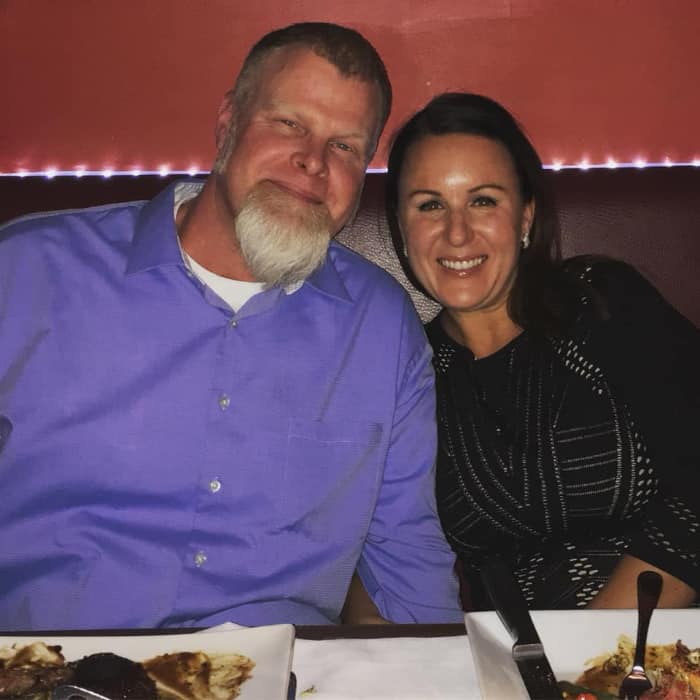 Kids are doing great too. My oldest daughter turned 14 this past week. A part of me feels old (of course) but a bigger part of me feels so proud because she really has become an amazing young woman. I love watching her grow up. I know a lot of people love the baby years but I have to say the teenage years are some of my favorites so far. Here we are having a little mommy/daughter time last weekend.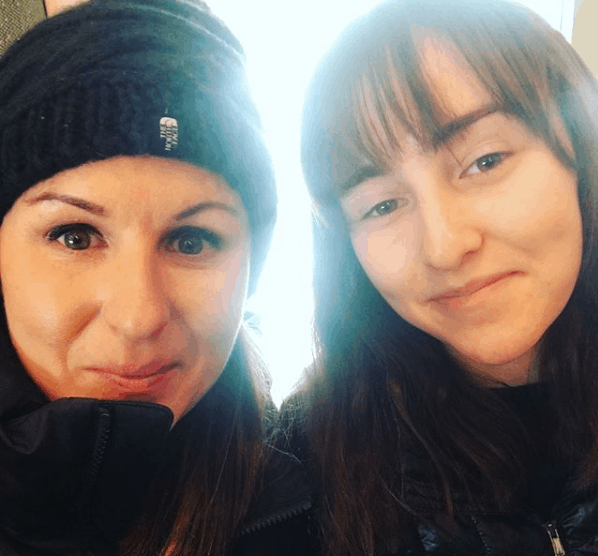 Okay, totally random, but before I get to my weigh-in I just want to give an update on the collagen peptides I've been taking. On Instagram, a couple weeks ago, I mentioned I was going to give collagen a try. Collagen peeked my interest a while back when I saw it being advertised as a smoothie ingredient in the new meal kit service Smoothie Box. So, I started to read up on it. From my research collagen does wonders for skin, hair. nails, joint, and gut health. I decided to give it a try.
Of course, you can't purchase any ole collagen – for it to be truly effective it needs to be high quality. I saw that Thrive Market had grass-fed 100% pure collagen under their Thrive label. It had awesome reviews and was priced under $25 for a 20 ounce pouch – this is a great price compared to some of the other brands available.
So what are my preliminary thoughts? Now, I've only been using it for a couple weeks so I don't want to make all these "miracle" claims because I think I need to use it for at least a month to really see any difference.
However, I will say this….
In the last few days I've received 3 comments specifically complimenting me on my hair and 1 person said something about my skin. One of those hair comments came from my sister who I haven't seen in a few months (she lives in Colorado). She noticed right away my hair looked thicker and shinier. I think it feels softer and looks fuller myself. I also think my skin looks good too. Hormones were getting the best of my skin and since I've been taking collagen my skin is smooth and the redness has decreased substantially.
But like I said I've only taking it for 2 weeks or so. I'll give more of an update in another couple weeks.
The last thing I want to say is collagen peptides are super easy to take. I started putting it in my smoothies but I didn't like the consistency it gave them. So, I just stir it into an 8 ounce glass of water. It dissolves completely and has zero taste.
If you have a Thrive Market subscription I recommend giving the Thrive Label Collagen Peptides a try. If you're not sure about Thrive Market then read my Thrive Market review for more information.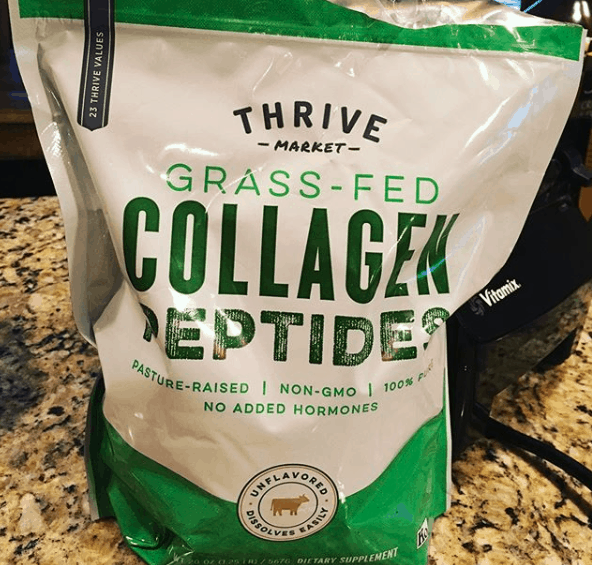 Let's get to my weigh in – I'm sure this is what you've been waiting for!
Starting weight (October 2010) : 177 lbs
First goal weight: 145lbs
Final goal weight: 135 lbs
Last week's weight:153.2 lbs
Current weight: 155.6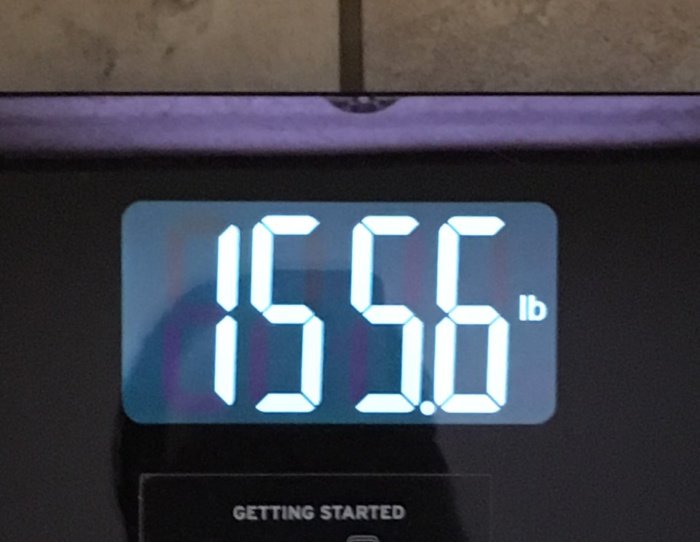 I haven't shared a weigh-in since 12/18/2018. However, I've still weighed myself weekly. Unfortunately, I never got below 150. I came close…but no deal.
Of course, I'd be lying if I said I wasn't disappointed in myself. When I first started my weight loss journey it seemed so much easier. I got into the 140's and stayed there without a huge amount of effort – at least it seemed that way. But now it seems like if I eat one thing over my daily calories I gain 5 pounds. Ugh!
Anyway, enough with the pity party. If there's one thing I learned over the last 8 years it's losing weight is in my control. Sure I'm older, and more hormonal now, but at the end of the day it's all on me.
Another lesson I learned is I need to stay persistent and consistent. This means I need to keep going no matter what, and that's what I do. I never give up. Sure I stumble, or fall flat on my face, but I always get up and keep going. Here's a post I wrote awhile back on staying consistent.
With that said here's my plan for this week.
Exercise schedule
Monday – 6:30am
Wednesday – 6:30am
Thursday – 6:30am
Saturday – 7:30am
Sunday – 7:30am
Exercise routine
I'm going to do 45 – 60 minutes on the treadmill. Working up a great sweat on my treadmill keeps me focused and sane so it's important to keep this workout in my routine.
Next, I'm going to do more combo strength training to get the most bang for my buck.
My routine will consist of:
30 plie squats with tricep press
30 squats with bicep curls
30 lunges with rows
3 (30 second) planks
3 (30 second) russian twists
100 crunches
Okay, let's get to food for the week. We all know food is more important than exercise so my goal is go back to basics and track everything! My meal plan this week will stick to 1500 calories a day. I listed all the calories in this meal plan so you can get an idea what a 1500 meal plan looks like.
I also plan to stop eating by 6:00pm (no later than 7:00pm) and drink 64 ounces of water a day.
Breakfast – 294
Breakfast Sandwich
Ezekiel Muffin

2 egg whites

2 ounces organic sliced Ham

1 slice ultra thin cheese slices
Meal prep
I'm going to make this every morning.
Mid-morning snack – 120 calories
½ cup of cottage cheese
Lunch – 415 calories
Meal prep tips
I made my mason jar salads (and Mike's salads) on Monday for the week.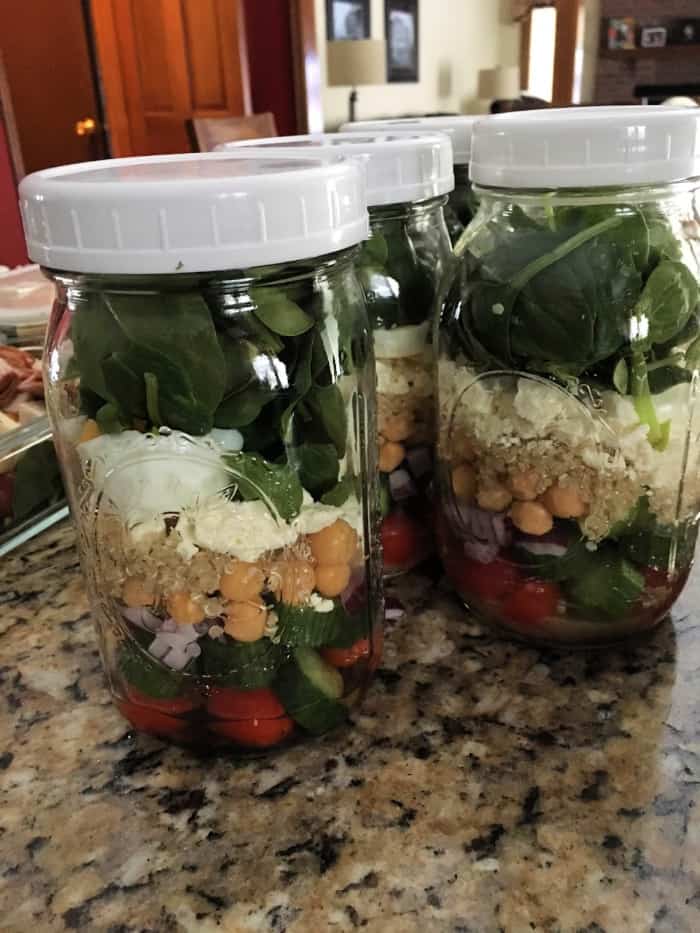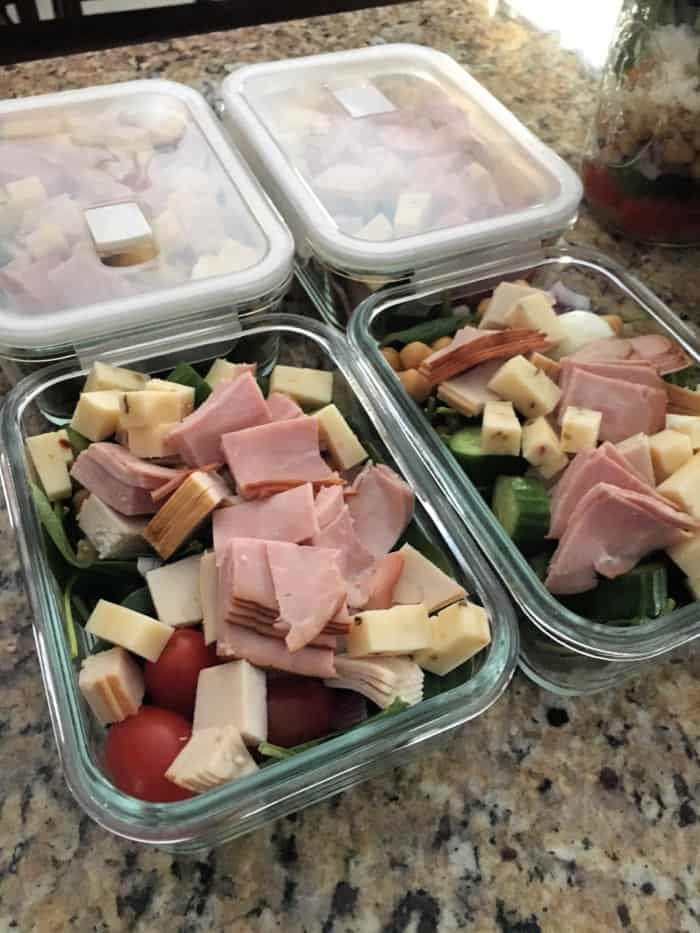 You can purchase the mason jars, plastic lids, and glass meal prep containers on Amazon.
Mid-afternoon snack – 240
Apple
¼ cup raw almonds
Meal prep tips
I portioned out the almonds into snack size bags.
Dinner
For dinners this week I have 3 Blue Apron WW Freestyle Dinners. I have between 450 – 500 left for dinner each day so these meals will fit in perfectly. On my workout days I can have a little more flexibility.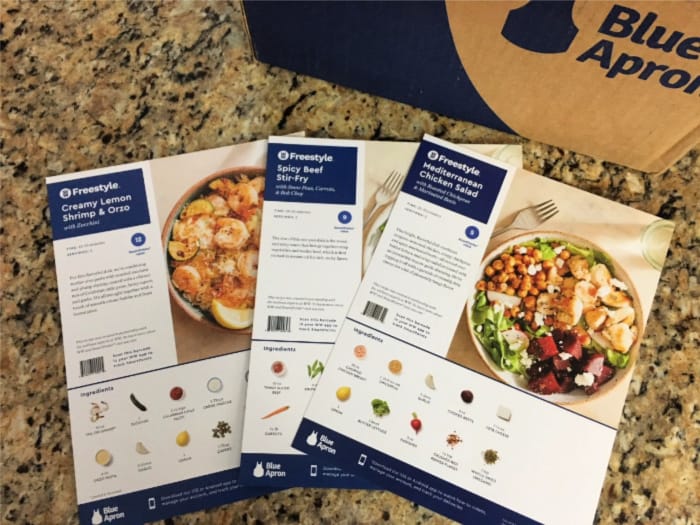 I'm going to do a review specifically on the Blue Apron WW meals but I'll just say this for now. I tried the shrimp dish yesterday and it was delicious and super easy to make. If the other two are like that one I'll be hooked. I think Blue Apron found something pretty good partnering with WW. If you're on WW I highly recommend taking a look at this meal kit.
Here are some of my other meal kit reviews:
Creamy Lemon Shrimp and Orzo
Mediterranean Chicken Salad
Spicy Beef Stir Fry
Other dinners I'll have this week. These are freezer kits I made a couple weeks ago
Turkey Meatball Subs – 351 calories
Cheeseburger Wraps – 329 calories
Meal prep tips
I'll make the Blue Apron meals the night we eat it. Here's a picture of the shrimp recipe.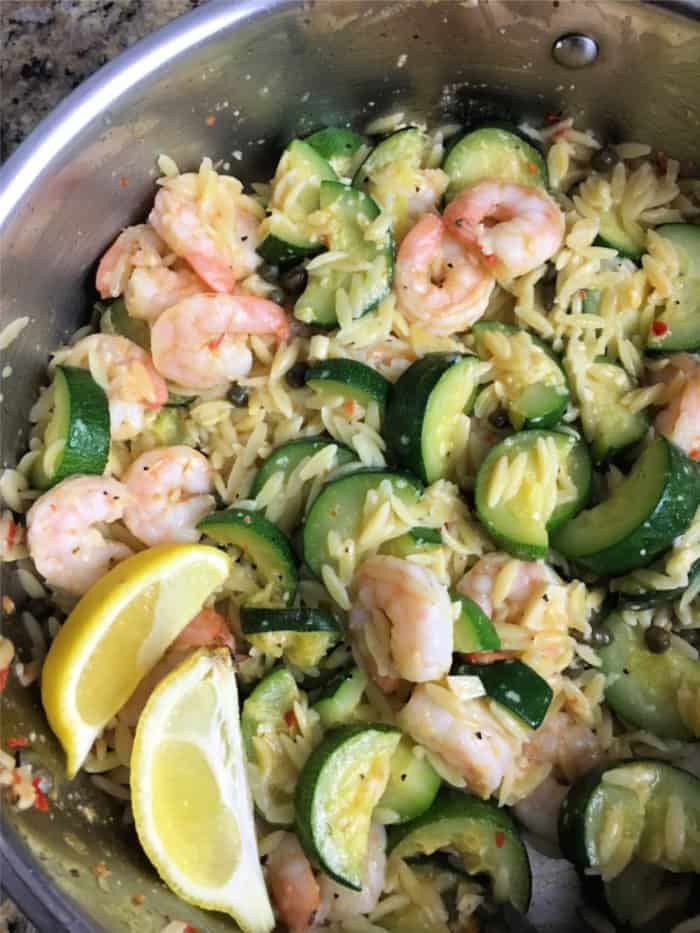 The other dinners are in the freezer
That's my 1500 calorie meal plan and prep for the week.
What's on your menu?
Get Instant Access to the 7-Day Getting Started With Meal Prep Email Series
Are you ready to learn how to meal prep? Awesome! Sign up now for a free 7-day Getting Started Meal Prep email series that I created exclusively for email subscribers! That's you. I will teach you my favorite meal prep methods and provide lots of delicious easy recipes to get you started with weekly meal prep. You got this, I can help!