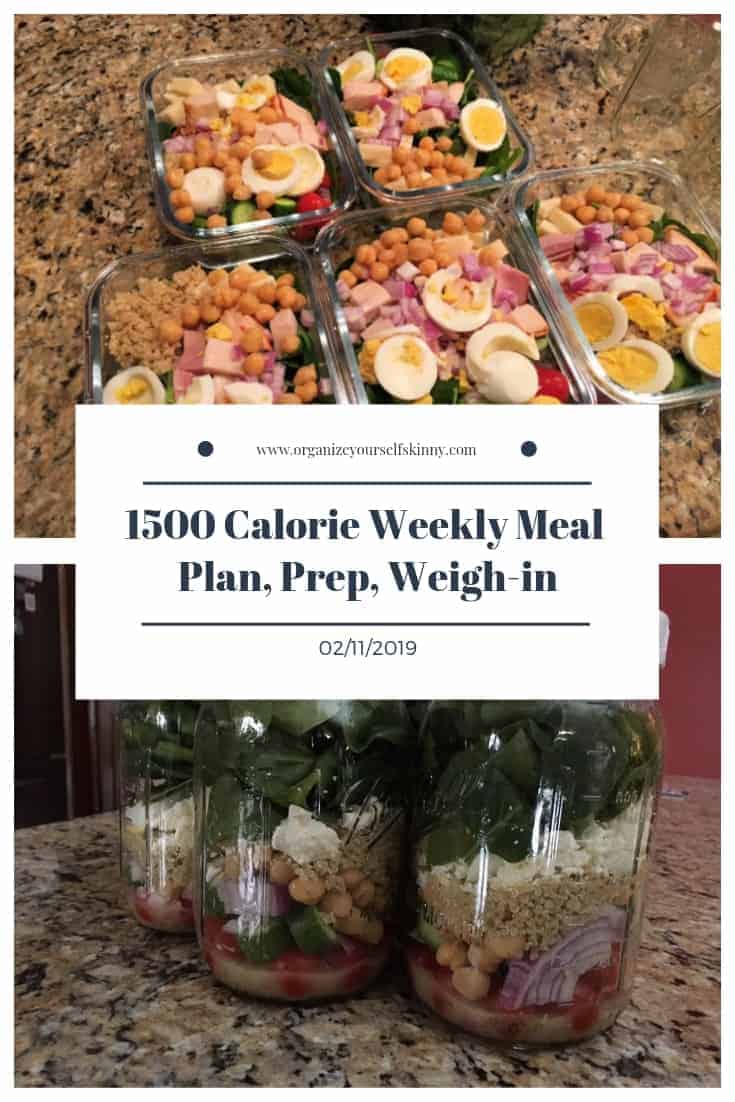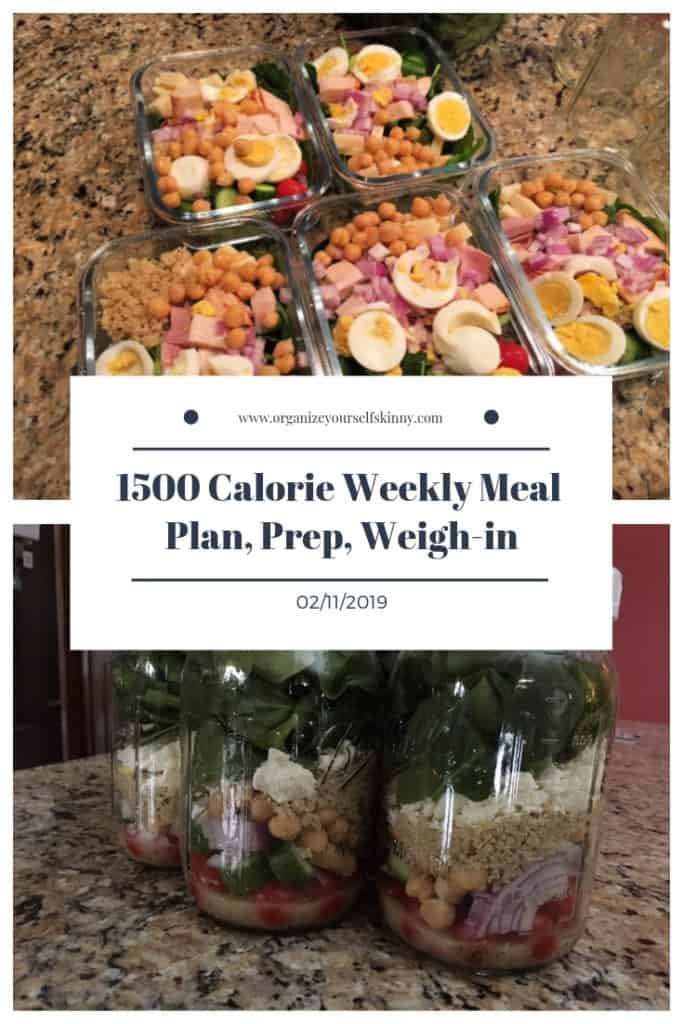 Hey there! Well, it's time for my weekly meal plan and such. I hope this past week was good to you. I have to say, I'm feeling much better about February than January. The last couple weeks I've stayed on top of exercise and paid attention to the food I was eating. Now, that's not to say I didn't have slip ups – unfortunately, I did. However, I'm starting to understand better the times I struggle with meals.
For example, on Thursday and Friday I didn't exercise. I already planned to have those 2 days off but I definitely felt different on those 2 days. I felt off-balanced and craved junkier foods. On the days I exercised it was easier for me to stay on track. This just proves the point that if I start the day with a healthy choice I'm more likely to continue with healthier choices.
I also went into the weekend with my mind wrap around the fact that I needed to stay on track. I exercised a little extra on Saturday because I knew we had a birthday party to go to. Also, having mason jar salads and smoothie packs made for the weekend kept me on track with food. Sunday I didn't get in exercise because we had a brunch for Mike's mom and I woke up too late. So, it was my fault but I did pay special attention to keeping portions under control.
Overall, between exercise and food, I feel good about last week. I know I say this all the time but the key to sticking with a healthy diet is most definitely meal prep. It's so much easier eat healthy when everything is ready to eat. It also takes the stress out of worrying about what to eat. All I need to do it open the fridge (or freezer).
If sticking to a healthy diet is an area you struggle with then I highly recommend giving meal prep a try. Here's a beginner meal prep post I put together.
Okay, let's get to my weekly weigh-in.
Starting weight (October 2010) : 177 lbs
First goal weight: 145lbs
Final goal weight: 135 lbs
Last week's weight: 157.6
Current weight: 155.4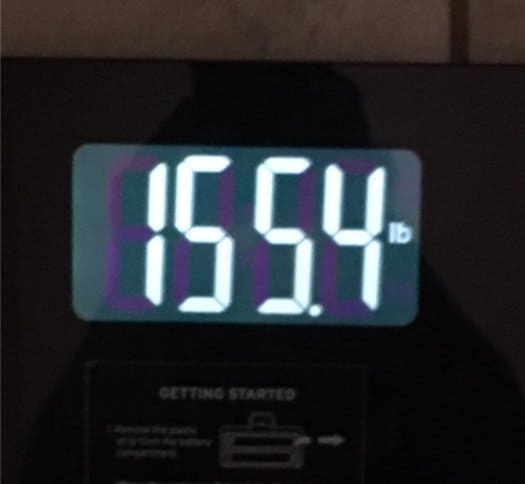 This week I saw a 2lb weight loss. I'm not going to get too excited because I think I've lost the same 2lbs about 100 times now. However, I do want to recognize that when I stay focused the weight comes off – haha, imagine that!
So , the key is consistency. To lose weight, and keep it off, it's important to stay consistent with meal planning, prep, portion control, and exercise. I can't expect to do those things when I feel like it and expect results. Unfortunately, it doesn't happen that way.
Here's an entire post I wrote on staying consistent that you might find helpful.
Let's go over my exercise plan for the week.
Monday, Tuesday, Wednesday, Friday, and Saturday.
45 – 60 minutes on the treadmill
30 plie squats with tricep press
30 squats with bicep curls
30 lunges with rows
3 (30 second) planks
3 (30 second) russian twists
100 crunches
I got my new hand weights last week so I've been using those instead of my resistance bands. It's not that I don't like bands but I prefer to use weights with the above toning exercises. This is the set I bought from Amazon.
Can I just say doing squats and curls/presses at the same time really gets the heart pumping?! I sweat like a hog on the treadmill, but that's after 20 minutes or so, doing combo strength training gets me huffin and puffin almost immediately. My goal is to stay consistent with the strength training because that's where I'm going to see the most results.
Alright, let's get my weekly 1500 calorie meal plan.
A couple things I want to mention first…
I'm in total review mode this month so I'm testing out a few different services. Again, consider me your guinea pig. This week I have 12 meals from Daily Harvest coming. An OYS student recently tried them and mention she thought the bowls were good. So, I decided to give them a shot.
Also, I have another box of meat coming from Butcher Box. I'm super excited about this because I absolutely loved the meat I got a few months ago. Check out my Butcher Box review to learn more. In my box, I added Salmon and Filet Migon so I'm looking forward to some tasty dinners this week. This means most of our dinners will be made the night we eat them.
Here's my menu.
Breakfast – 222 – 275 calories
Power Breakfast Sandwich (new recipe) – 275 calories
Detox Smoothie – 222 calories
or
Daily Harvest Oat bowl or Smoothie – 250/240 calories
Meal prep tips
I have one more frozen smoothie pack in the freezer.

Egg bake was made over the weekend.

Daily harvest bowls come ready to mix and eat.
Mid-morning snack – 120 calories
½ cup of cottage cheese
Lunch – 415 calories
Meal prep tips
Salads were made yesterday. I've been making 7 instead of 5 to get me through the weekend.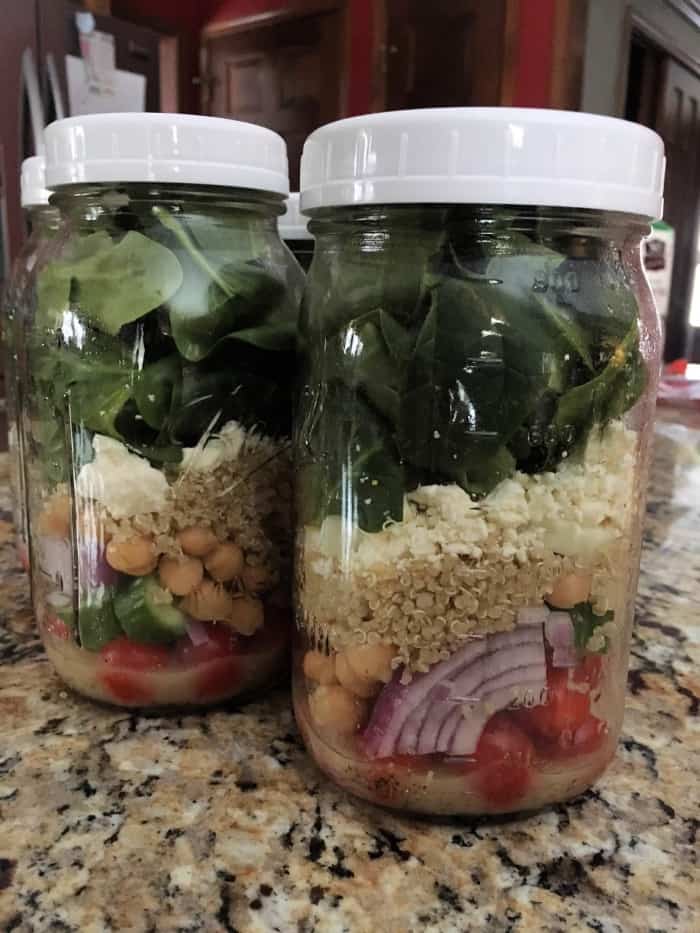 Afternoon snack – 240 calories
Cheese stick
¼ raw almonds
Dinner – 372 – 600 calories
Filet Stroganoff – 372 calories
Teriyaki Glazed Salmon with ½ brown rice and roasted green beans (1-cup) – 385 calories
Chicken Florentine with ½ cup gluten-free pasta – 575 calories
Tacos – 429 calories
Homemade pizza (2 slices) plus bagged chopped salad – 600
Leftovers – keep calories under 600
**for the days that I have a higher calorie dinner I'll remove almonds or cheese stick from snacks.
Meal prep
I'm using up the last of the taco and pizza freezer kits. You can see all the make ahead freezer meals I made here.

Everything else will be made the night we eat it.
That's my 1500 calorie meal plan for this week.
Here are some other posts/reviews you might find helpful:
7 Sheet Pan Dinners for Lazy People Who Want to Eat Healthy
Weight Watchers Meal Delivery: Blue Apron's New WW Freestyle Menu Review