Every week I share my 1500 calorie meal plan, meal prep pictures, along with the progress (or not) I've made on my weight loss journey. My goal with these posts is to give you a little glimpse into my week and for you to see I'm human and have good and bad weeks just like everyone else.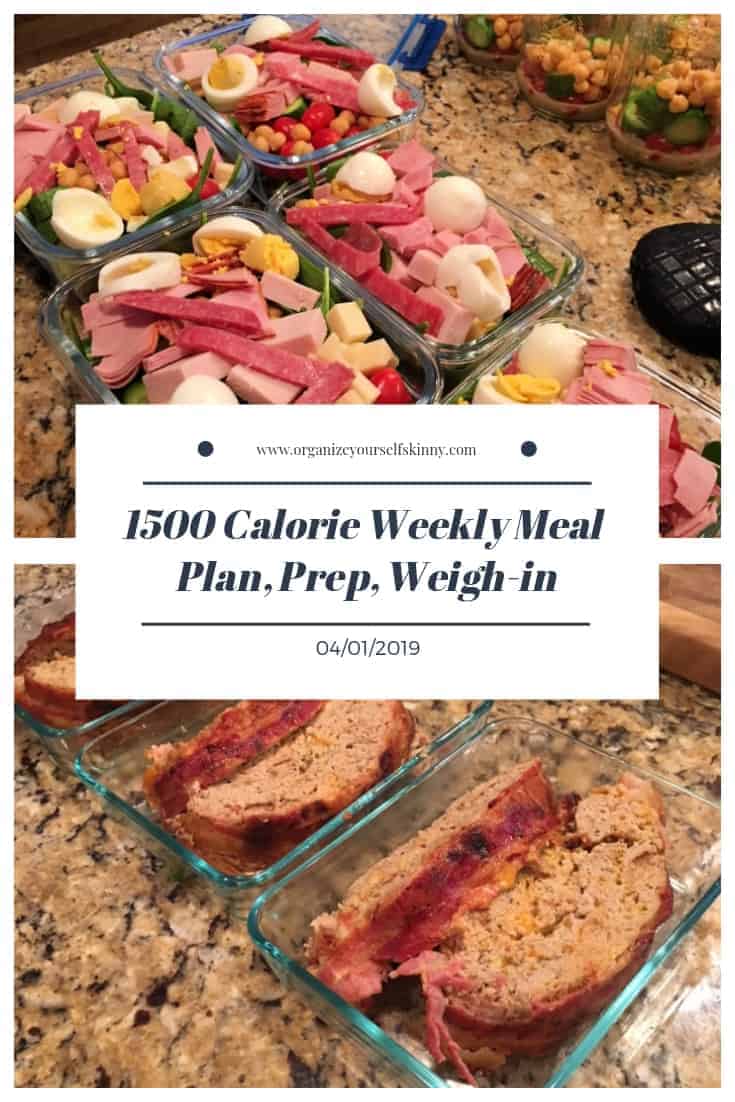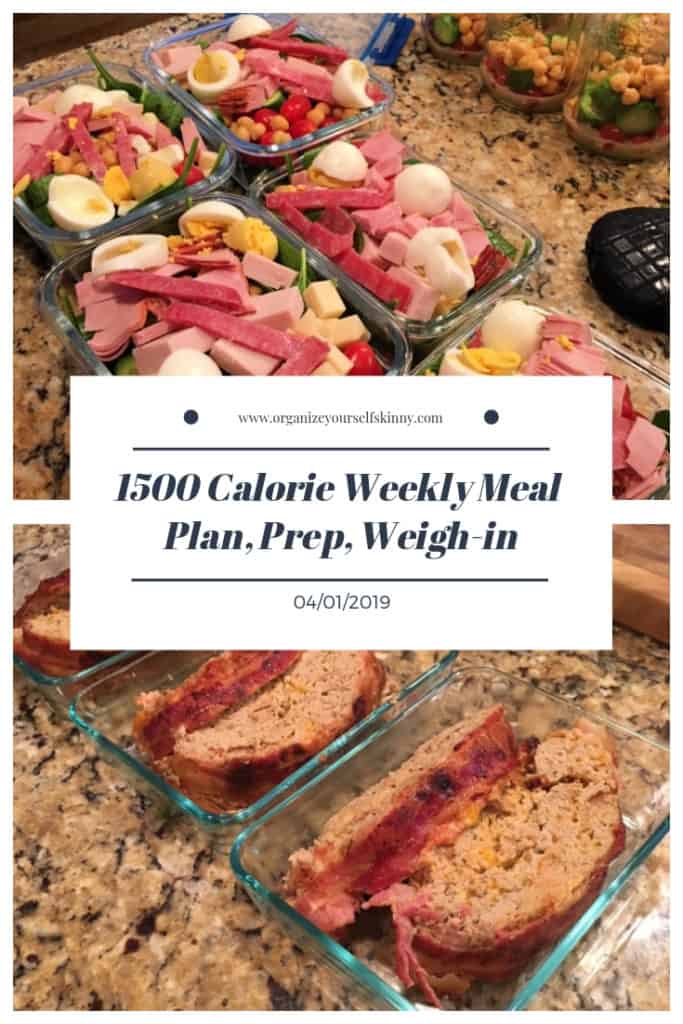 The beginning of April is here! That means warmer weather is just around the corner. If we want to get specific we have about 12 more weeks until the official start of summer. I know, crazy! If you've been working hard since the beginning of the year then you're ready for summer clothes and bathing suits. Keep it going!
Or maybe, you've been working hard but had a few weeks, here and there, where you fell off track because life threw some curve balls. Don't worry, I'd be willing to bet, 90% of us are in this boat and can relate. Trust me, I get it.
Or maybe, you're just getting started. You finally had your a-ha moment and finally ready to make some life changes. You got this!
Regardless where you're at, the good news is, you still have plenty of time to be your best for summer. 12 weeks is a good amount of time.
Think about it…
If you lost 1 pound a week, that's 12 lbs by summer.
2lbs a week is 24lbs! <— that's life-changing!
So if you're getting married, in a wedding, or just want to wear shorts this summer then you still have plenty of time.
I'm in a wedding this summer, and those pictures are forever, so that's my motivation to stick to my meal plan and exercise schedule. Besides falling off track with exercise these last few weeks, because I was sick, I do feel good about my overall habits. I'm drinking lots of smoothies, keeping portions under control, and not eating past 6pm or 7pm.
Also, I've been focused on other habits to keep my hot zones under control. For example, keeping up with laundry, making sure my bed is made every morning, cleaning the kitchen before bed, and staying up to date with my calendar. I know it might not seem like these habits would make a huge difference but they definitely do for me.
Alright, let's get to my weekly weigh-in.
Starting weight (October 2010) : 177 lbs
First goal weight: 145lbs
Final goal weight: 135 lbs
Last week's weight:153.0
Current weight: 153.4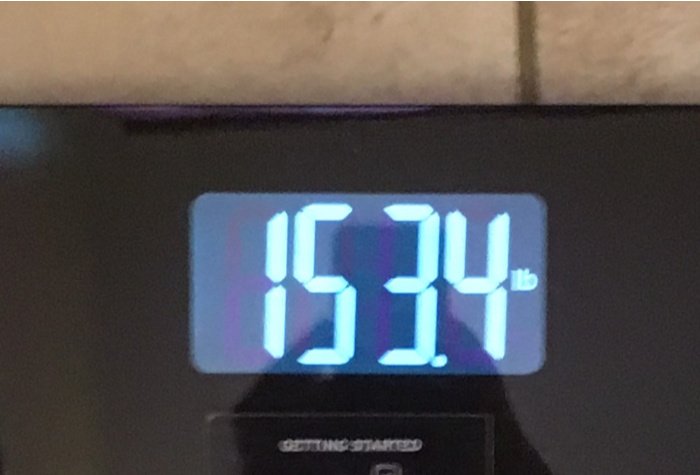 This week I didn't see a loss, but I didn't see a huge gain either. Last week, I still struggled with getting back into an exercise routine, although I did take a few walks with Mike and my dog. Also, yesterday I ate more sodium than I'm used too so I'm pretty sure that played a role with my weight. Besides yesterday, I feel good about my eating habits. I enjoyed a daily smoothie, got back into my mason jar salads, and kept dinner portions under control
A challenge I'm going to face in the next couple weeks is I'm getting surgery so I'm not go to be able to do any heavy exercise – it's minor surgery but nonetheless I won't be able to run like I'm used to or use weights. I'm a little worried about this but it just means I'm going to have to pay extra close attention to the food I'm eating.
In a way, I'm going back to the basics because when I first started on my weight loss journey I didn't exercise at all. In fact, I lost my first 30lbs by simply changing my eating habits. So I'm going to use this "no strenuous" exercise time to refocus in on my eating habits. That doesn't mean I'm not going to walk, I just can't do anything crazy.
Here's my exercise plan for this week (Tuesday, Wednesday, Saturday, and Sunday):
45 – 60 minutes on the treadmill. I do a mixture of power-walking and running. I increase the incline throughout.
100 crunches
50 – 75 russian twists holding a 5lb weight
2 – 3 (30-second) planks
25 squats with overhead press using a 5lb weight
25 plie squats
24 lateral raises using a 3lb weight
24 overhead tricep extension with a 5lb weight
24 bicep curls with 5lb weight
Here's my food (and prep) for the week.
Yesterday (Sunday), I spent a few hours getting food ready for the week and it felt awesome. I woke up this morning to a stocked refrigerator and clean kitchen. Over the last couple weeks I haven't meal prepped until Monday or Tuesday and, with being sick a couple of those weeks, I did the bare minimum. So having food totally prepared made me feel confident to take on the week.
Just like with previous weeks, I'm keeping my daily calories to 1500 a day. Also, I'm going to stop eating by 6:00pm. This habit is one of my favorites for keeping calories under control. Personally, I think it feels good to go to bed with a somewhat empty stomach. If you struggle with late night snacking then I recommend giving it a try.
Here's my menu for this week.
Breakfast – 292 calories
Coffee with 2 tablespoons creamer
Meal prep tips
I wanted to make frozen smoothie packs this weekend but didn't get around to it. I purchase all my smoothie ingredients from BJ's wholesale and I wasn't able to make it out there. BJ's has awesome prices on organic frozen fruit, coconut milk, and greens so when I want to make a bunch of freezer smoothie packs I like to buy in bulk from BJ's. My plan is to get there today or tomorrow. However, I still have some fruit in the freezer so today I made a smoothie with what I had on hand.
Mid-morning snack – 133 calories
1/2 cup Simple Coconut Steel Cut Oats
Meal prep tips
I still have oatmeal leftover from last week so I'll eat that today and tomorrow then make more. I don't know what it is but I've been craving oatmeal a lot lately. My favorite steel-cut oat brand is Bob's Red Mill. I get this at Wegmans but I've purchased it from Thrive Market too. If I can't find that brand I head to the bulk section at Wegmans or Whole Foods – you can get a better price by purchasing it in bulk.
Lunch – 415 calories
Meal prep tips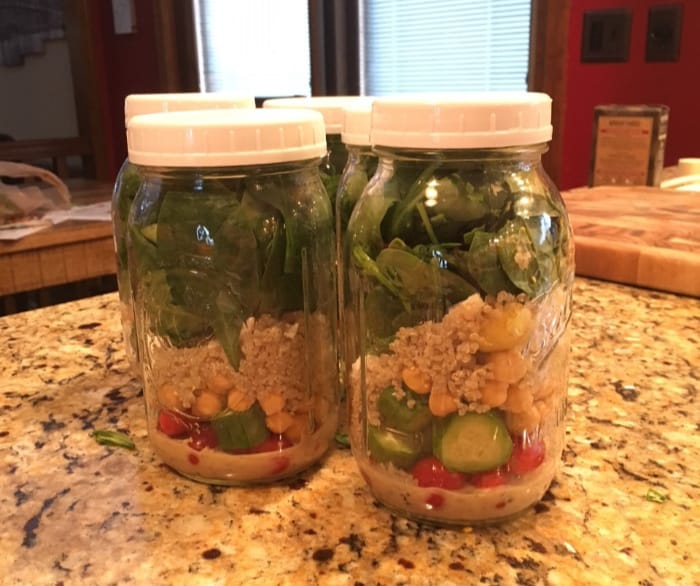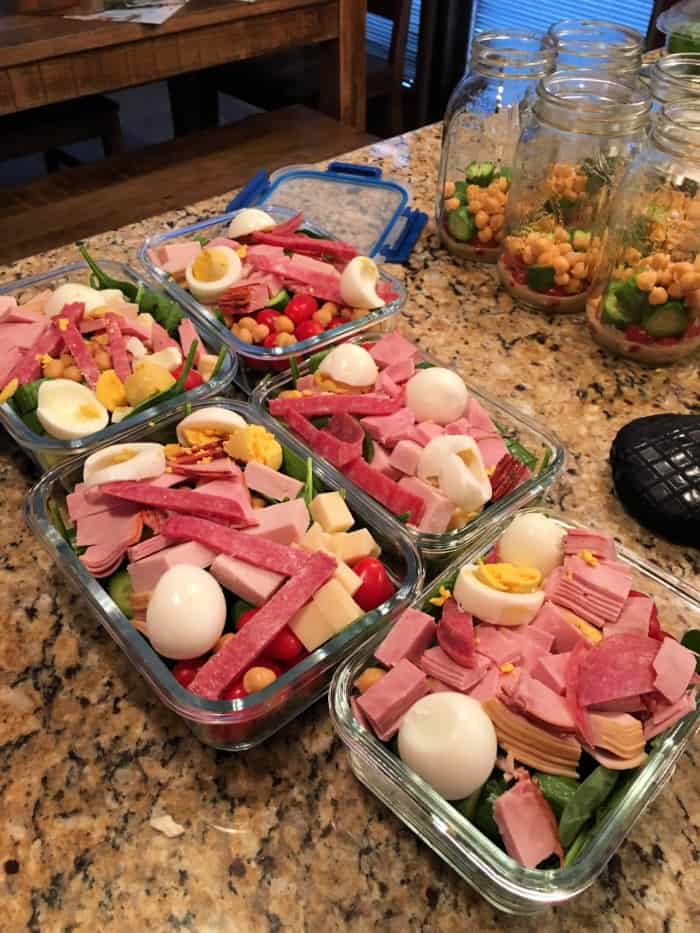 I also made these salads for Mike. They are filled with tons of protein. I put baby spinach on the bottom and then add sliced turkey, ham, salami, cheese, egg, chick peas, tomatoes, and cucumber. He prefers these larger meal prep glass containers over mason jars and just brings a bottle of salad dressing to work.
Mid-afternoon snack – 215 calories
1/2 cup cottage cheese
grapes or apple
Dinner
Bacon Cheeseburger Meatloaf & roasted asparagus- 320 calories
Buffalo Chicken Subs using slow cooker buffalo chicken– 490 calories
Buffalo Chicken Macaroni and Cheese (1-cup)- 298 calories
Leftover Taco Pizza (1 slice) – 228 calories
Leftovers
Meal prep tips
I prepared and cooked the meatloaf yesterday. After it was cooled I put it into glass meal prep containers and stored it in the refrigerator.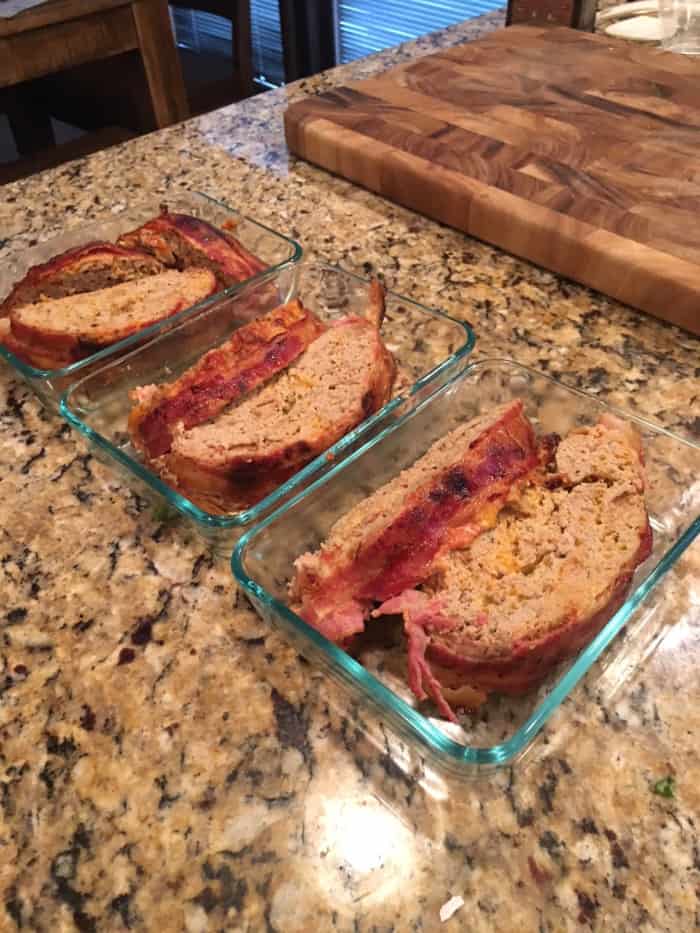 Keep in my mind, if you don't want to cook it, you could prepare it like below and then cover it with foil and store in the refrigerator for 1-3 days and then cook it ordering to instructions. You can even freeze meatloaf.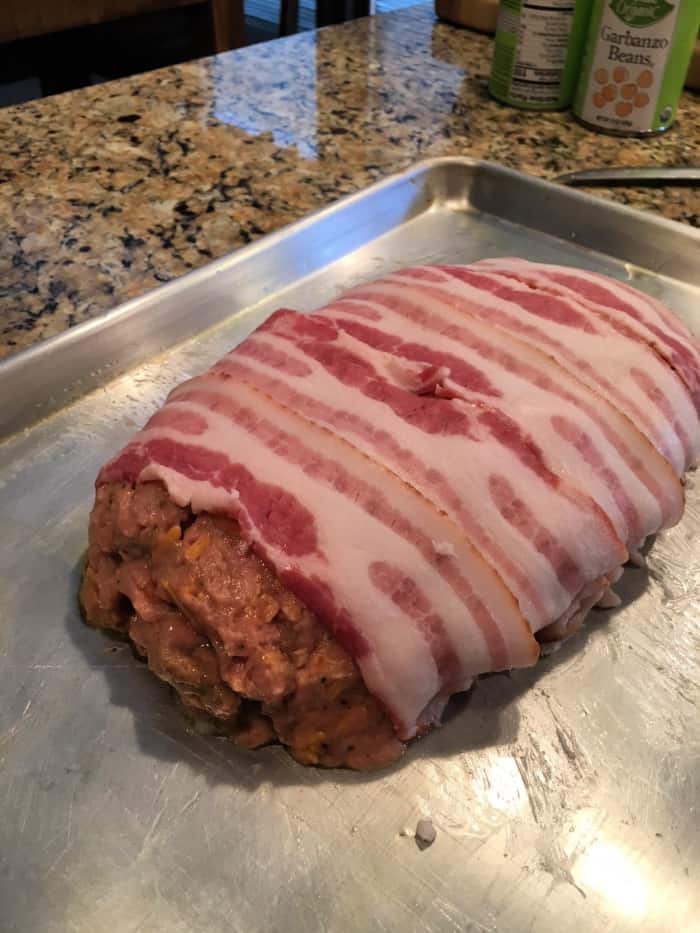 I purchase dough (instead of making it) for the leftover taco pizza. The leftover taco meat is from last week's menu.
I made the slow cooker buffalo chicken yesterday, using the slow cooker function on my Instant Pot. Not sure how I feel yet about using my Instant Pot as a slow cooker. I'd love to read your thoughts in the comments.
I put together the buffalo chicken macaroni and cheese, cover it, and stored in the refrigerator. I'll cook it on Tuesday. I put the rest of the shredded chicken in the refrigerator to use for subs later in the week.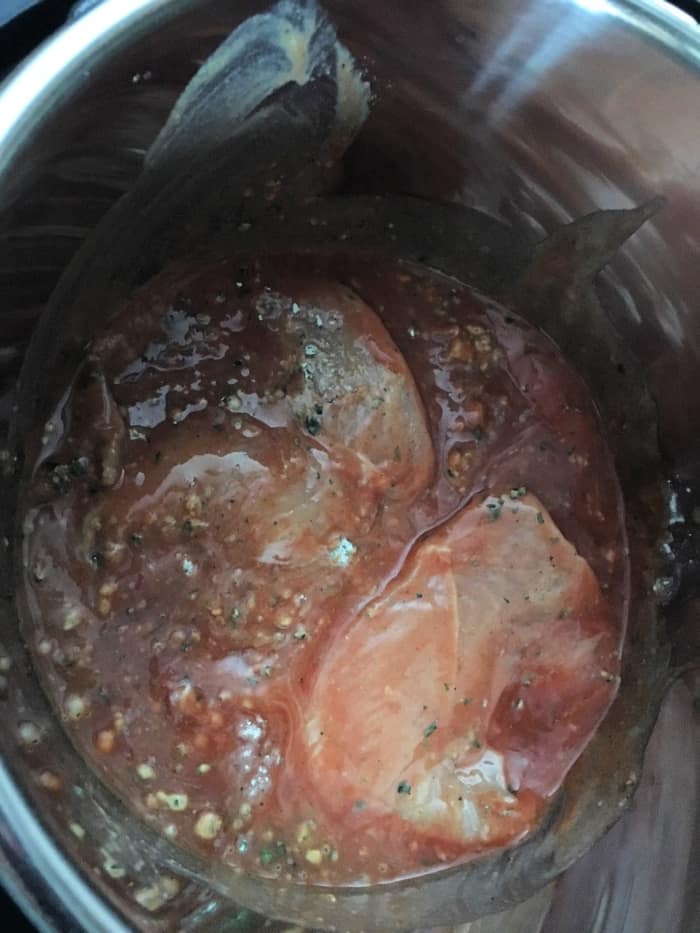 That's my 1500 meal plan for this week.
Meal Prep Containers, Tools, and Supplies Used This Week
36 ounce rectangle glass meal prep containers
Pyrex Simply Store meal prep containers
Check out my meal prep and healthy meal planning pages for more information to get you started.
Other Meal Planning Services
Sun Basket – Organic meal kit delivery. See my updated Sun Basket review
Purple Carrot – The only vegan meal kit. See my Purple Carrot review
Emeals – If you're looking for a Keto meal plan then definitely check out eMeals. Here's my eMeals review.
Plan to Eat – One of the top meal planning websites to help you organize your recipes, create meal plans, and generate grocery shopping lists.