Every week I share my 1500 calorie meal plan, meal prep pictures, along with the progress (or not) I've made on my weight loss journey. My goal with these posts is to give you a little glimpse into my week and for you to see I'm human and have good and bad weeks just like everyone else.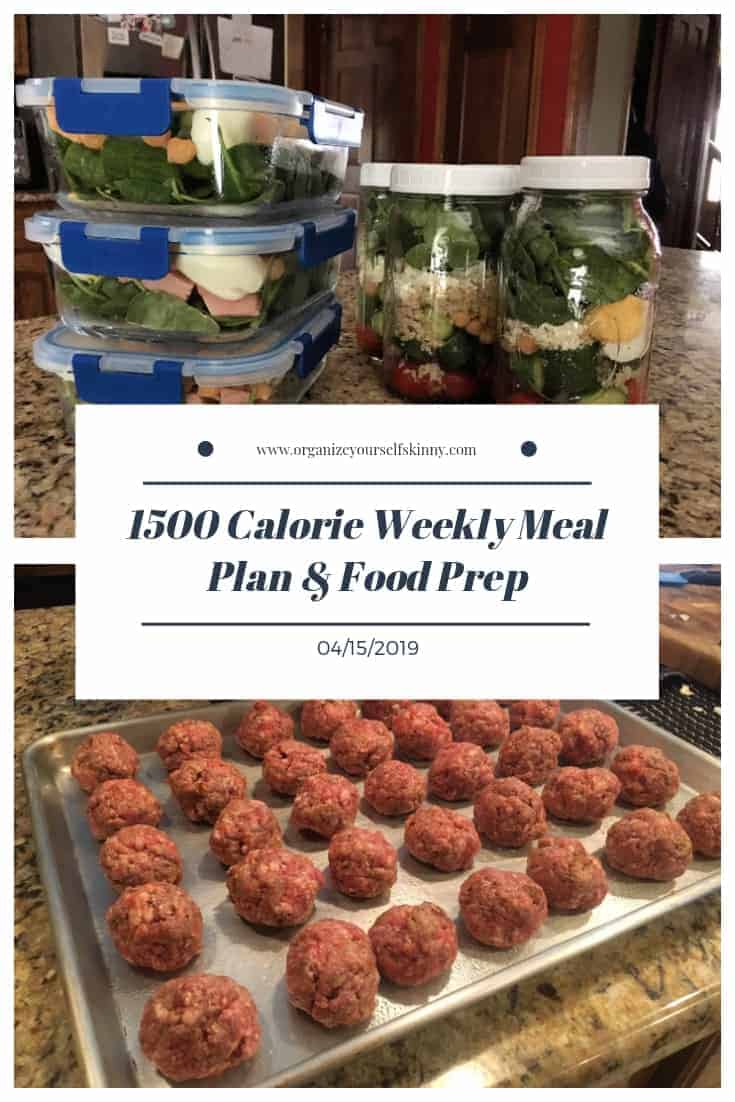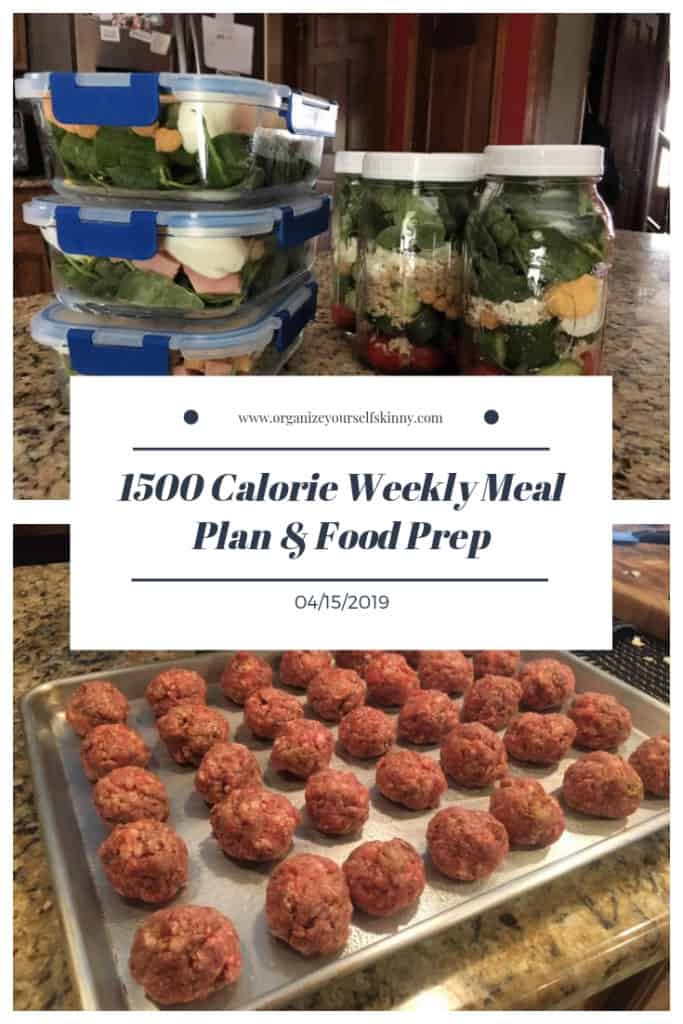 Hey there! Hope you had a nice weekend. Sorry for not sharing my meal plan post last week. I had minor surgery and had every intention to get my meal plan up beforehand but it just didn't happen. I actually did a bunch of meal prep, took pictures, and then ran out of time (and energy) to share everything. Anyway, I'm back in action today. Well I wouldn't say I'm 100% but I definitely found the energy to get some food prepped done for this week.
You know I love meal prep. I've said a million times over that it's the best way to change your eating habits to healthier ones. However, I fell in love all over again with meal prep last week. It was beyond helpful to have homemade food ready to eat in the refrigerator all week. I didn't have to worry about cooking or cleaning. I could just imagine the stress I'd feel, and junk I'd eat, if I didn't take a few hours to make sure meals were ready for the week.
So if you know you're going to be out of commission for a little bit, or maybe having a baby, then I highly suggest you take some time to fill your fridge and freezer. Trust me, you'll be happy you did.
Here are the meals I made last week:
Baked Pasta with Turkey Italian Sausage
Protein Power Mason Jar Salads – of course!
A bunch of frozen smoothie packs
All the dinners kept great all week. All we needed to do was heat and eat! I loved having my smoothies and salads ready to go too.
I'm going to share a post in the next week or so with more recipes to make, and tips, for when you need to get prepared ahead of time because of surgery or a new baby.
Okay, let's get to my meal plan for this week.
Wait! No weigh-in.
Sorry no weigh in this week. I totally forgot to get on the scale today and I like to weigh in at the same time every week. Also, I like it to be before I eat or get dressed for the day. So, no worries, I'll be back with my weigh in next week.
I can say this – which I guess is a non-scale victory – I feel good about sticking with my eating habits even though I've been totally off routine. Of course, this all has to do with meal prep.
These next few weeks I'm going to have to stay very focused on the foods I eat because I can't exercise the way I like too. I'll be able to start walking on my treadmill next week (thank god!) but nothing strenuous. I wouldn't say I'm overly concerned because when I first started my weight loss journey I lost my first 30lbs without any exercise – all I did was track my calories. This just proves the point that losing weight is more about food than exercise. Of course, exercise is important but if you're serious about losing weight then tracking the foods you eat is key. I wrote more about that in this post.
Anyway, no exercise for this week but starting a week from today I'll be back a walking queen 🙂
Alright, NOW let's get to my 1500 calorie meal plan for this week.
Breakfast – 292 calories
Cup of coffee with 2 tablespoons creamer
Meal prep tip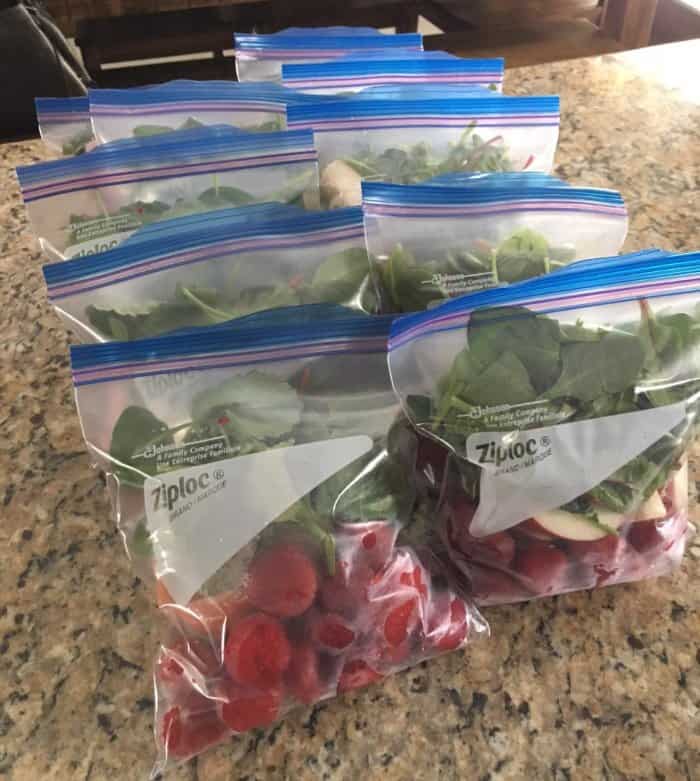 Morning Snack – 180 calories
1/4 cup raw almonds
Lunch – 415 calories
Meal prep tips
I made 5 mason jar salads yesterday. I also made Mike's salads for the week.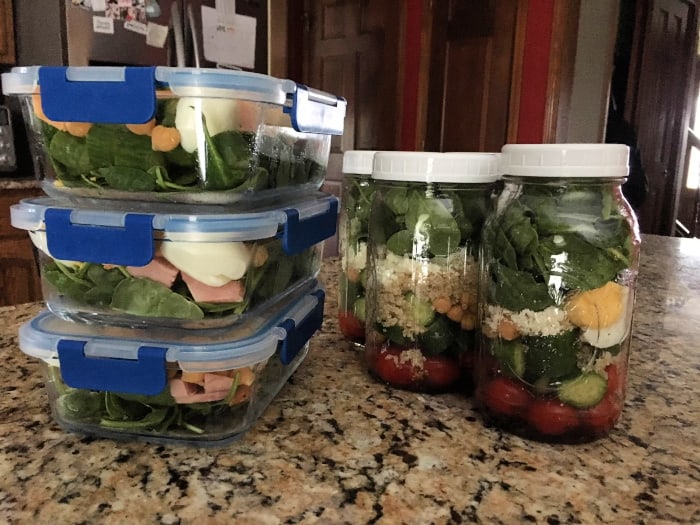 Mid-afternoon snack – 215 calories
1/2 cup cottage cheese
grapes or apple
Dinner – 309 calories – 550 calories
I received my 3rd box of meat from Butcher Box a couple weeks ago. This is why you'll see more ground beef (instead of turkey) in recipes this week. Of course, this is going to increase the calories so I just need to make sure to account for everything.
In this box I received ground Italian sausage and 4lbs of ground beef so I was super excited to whip up some meatballs and sauce along with easy enchiladas. Next week I plan to make some shredded beef with the chuck roast I got. I also received 3lbs of chicken breast and sirloins I trying to decide what to do with. If you have some ideas let me know in the comments.
If you want to learn more about Butcher Box see my Butcher Box review. Right now they are giving free bacon and breakfast sausage to new subscribers. You can get that deal here.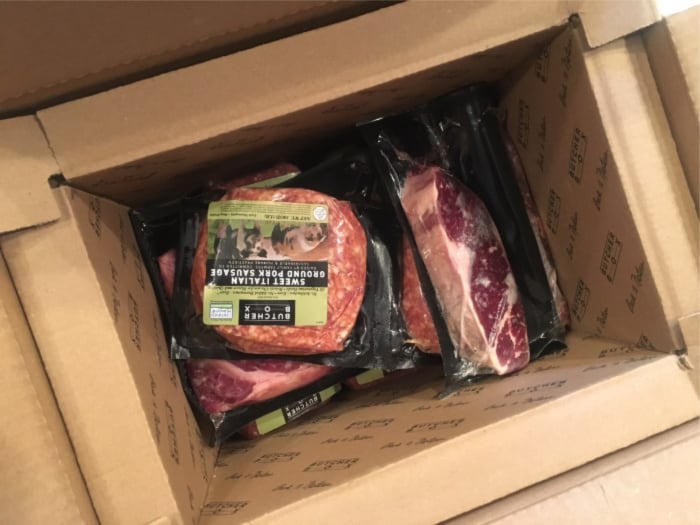 Spinach and Feta Stuffed Shells (3 shells) – 309 calories
Spaghetti and Meatballs (1 cup cooked pasta and 3 meatballs) -550 calories
Meatball Subs (1 roll and 3 meatballs) – 450 calories I used this recipe but made with beef and pork so the calories are a little higher.
Beef and Cheese Enchiladas (1 enchilada) – 440 calories (new recipe)
Leftovers – 309 calories – 550 calories
Meal pre tips
I made close to 40 meatballs yesterday.
Then after they baked for 20 minutes I threw the into a pot of sauce and let it simmer for a few hours. My house smelled amazing.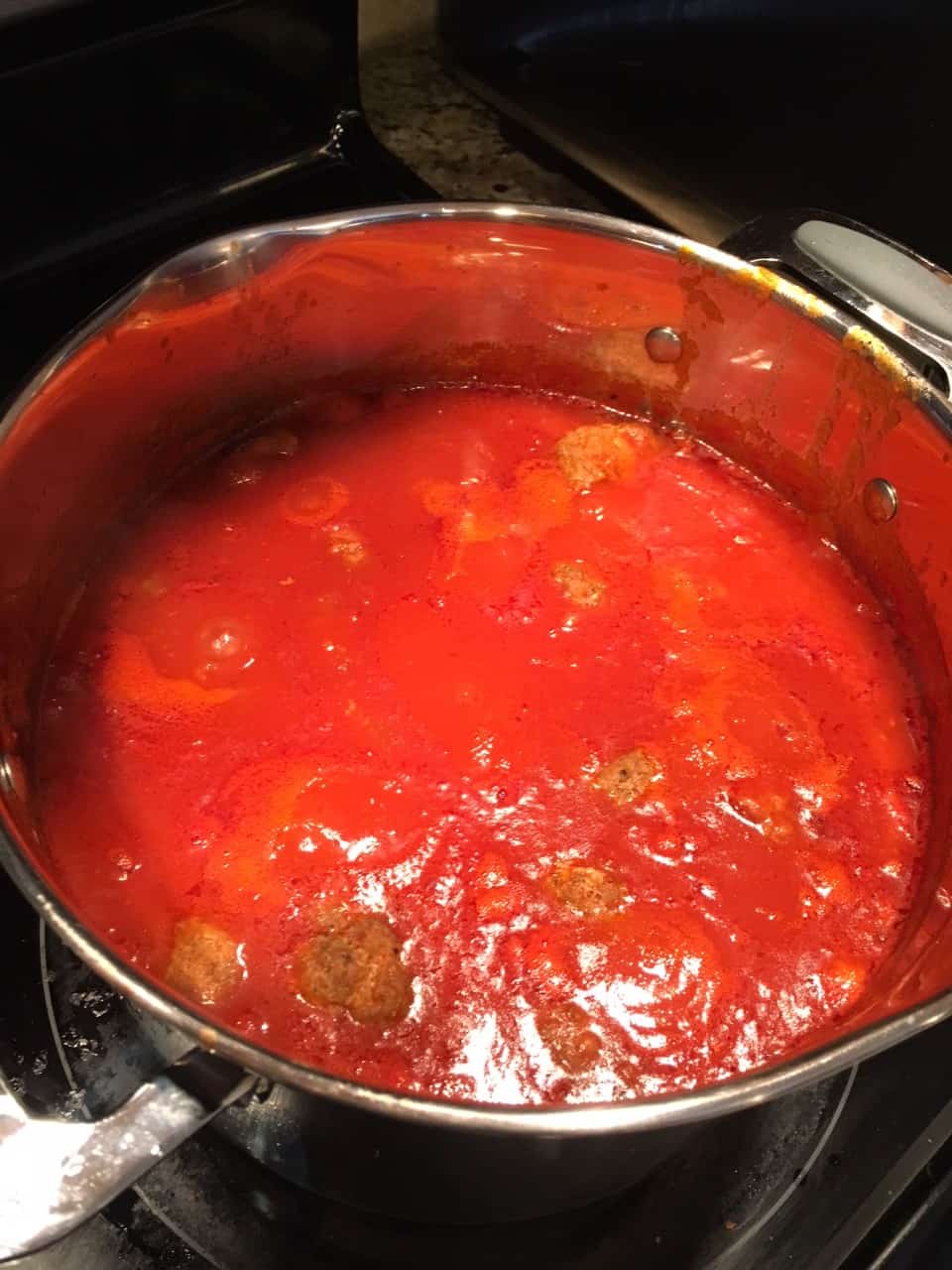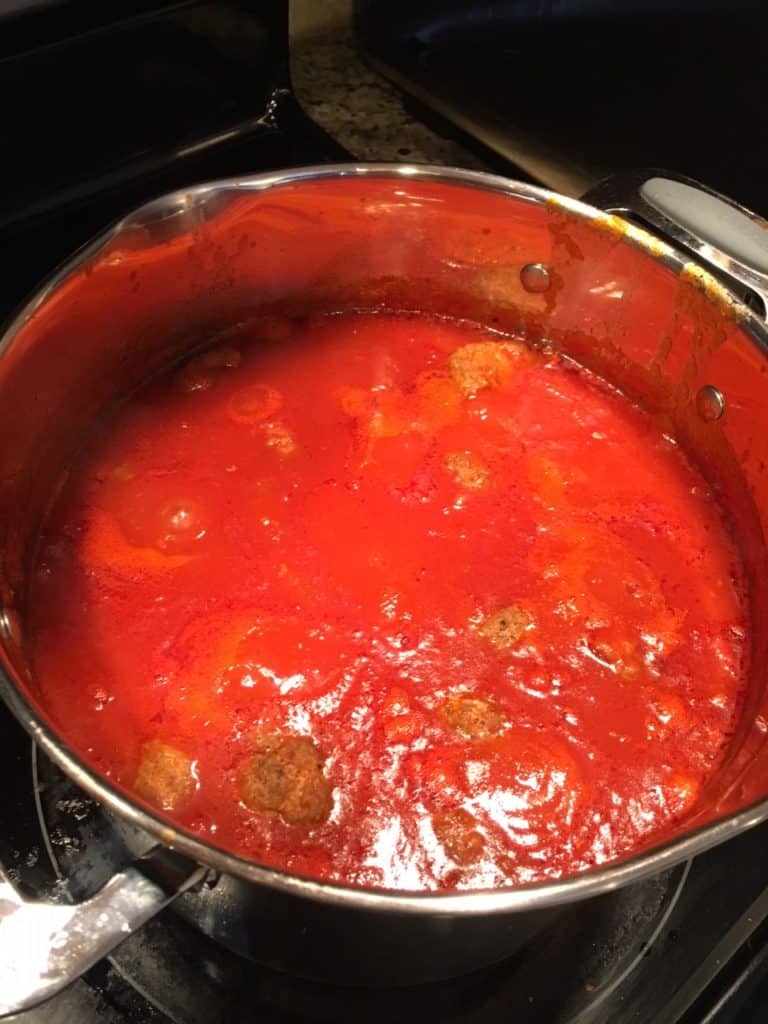 While that cooked I made the stuffed shells. I put some in a 9×13 pan to make this week and the rest I divided between 2 8×8 disposable pans to bake a later time.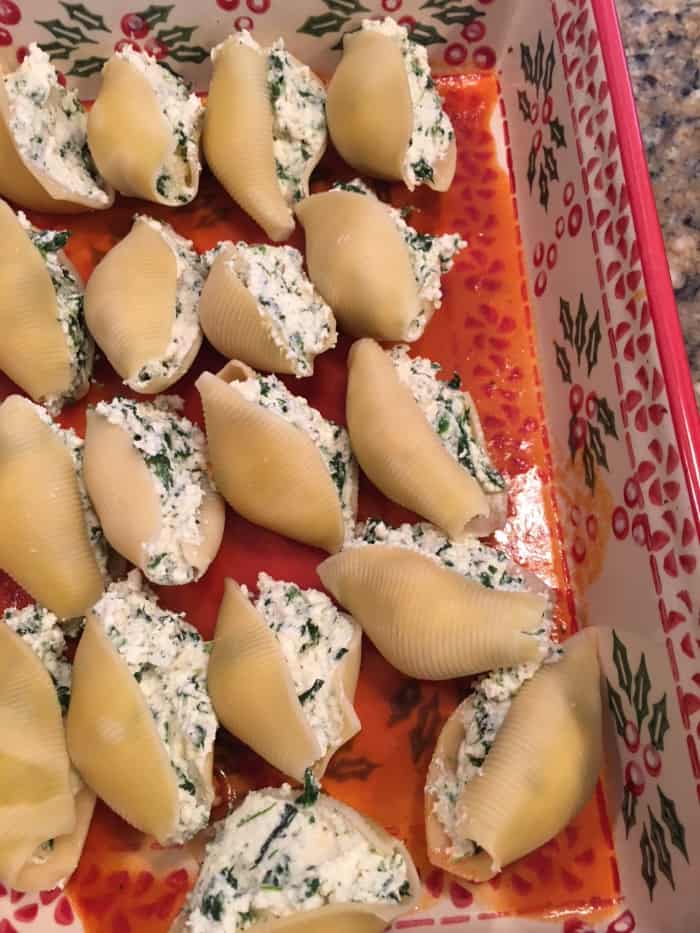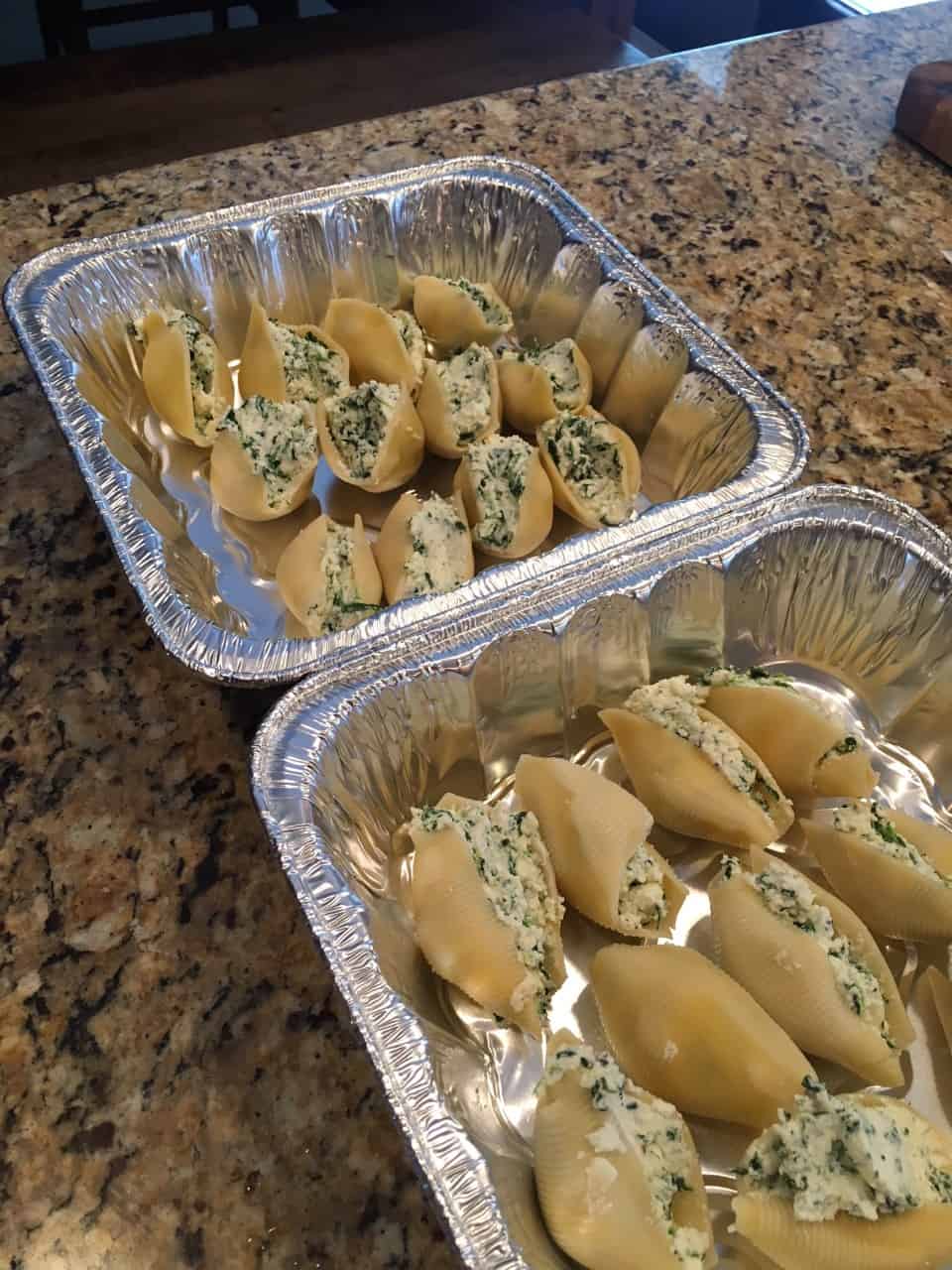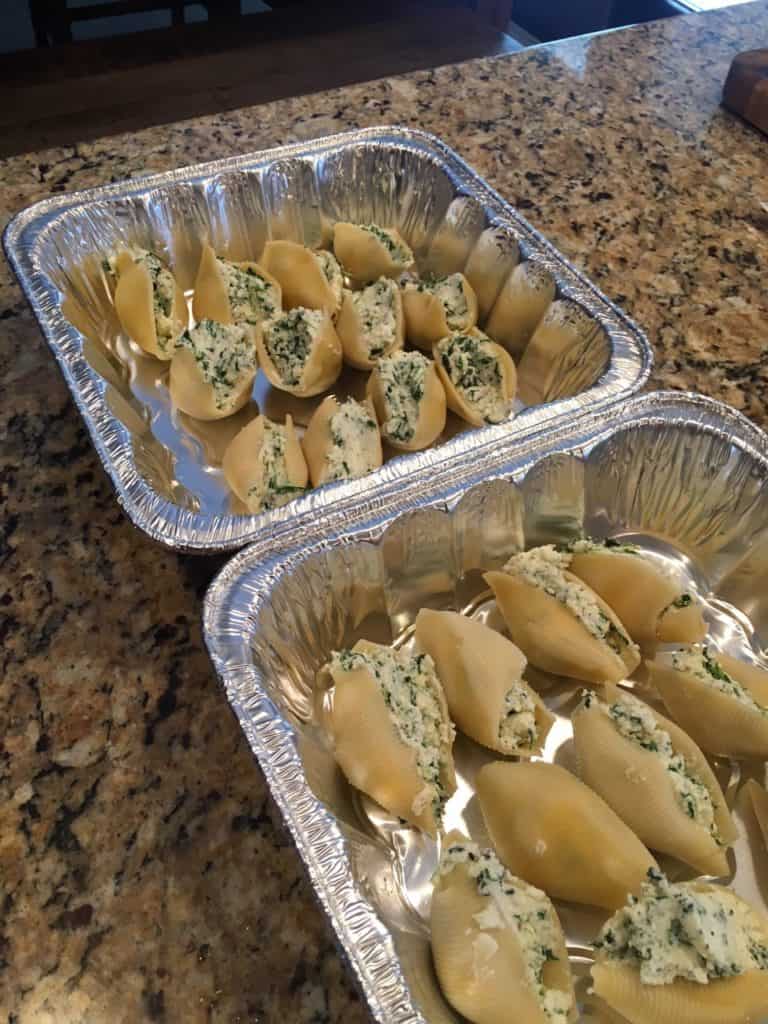 Then I put together beef, bean, and cheese enchiladas. This recipe is so easy. All I do is cook up some taco meat then put it into a tortilla with 1/4 cup cook beef, 2 tablespoons refried beans, and 2 tablespoons shredded cheese. I roll it up and then put it into a 9×13 pan coated with a little red chili sauce. I've also used salsa or taco sauce before. Then I dump the rest of the sauce over top and sprinkle on about a cup or so of cheese. Then I cover it and put it into the refrigerator until we are ready to cook it. This can also be frozen too. I cook it for about 40 minutes at 375 degrees. I might need to add a few minutes if it was cold and about an extra 20 minutes or so if I cooked it frozen.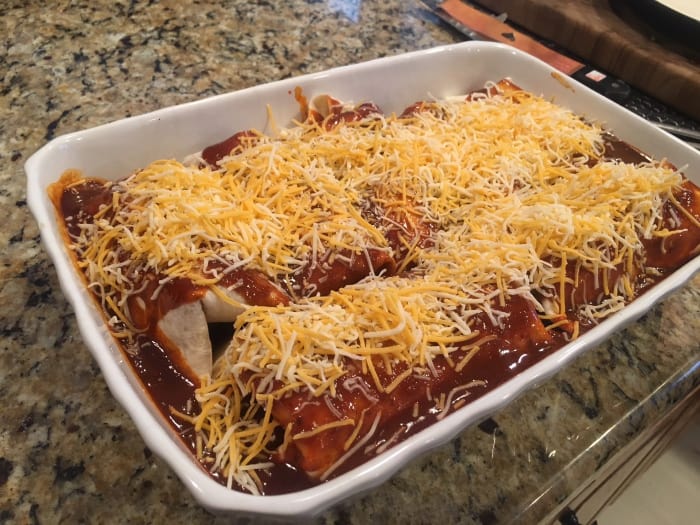 To keep dinner easy we are going to double dip the meatballs this week and have meatball subs. I just need to make sure to have rolls on hand.
That's my week! Here are some other meal prep resources I use and recommend.
Meal Prep Containers, Tools, and Supplies Used This Week
36 ounce rectangle glass meal prep containers
Pyrex Simply Store meal prep containers
Check out my meal prep and healthy meal planning pages for more information to get you started.
Other Meal Planning Services
Sun Basket – Organic meal kit delivery. See my updated Sun Basket review
Purple Carrot – The only vegan meal kit service. See my Purple Carrot review
Emeals – If you're looking for a Keto meal plan then definitely check out eMeals. Here's my eMeals review.
Plan to Eat – One of the top meal planning websites to help you organize your recipes, create meal plans, and generate grocery shopping lists.