Every week I share my 1500 calorie meal plan, meal prep pictures, along with the progress (or not) I've made on my weight loss journey. My goal with these posts is to give you a little glimpse into my week and for you to see I'm human and have good and bad weeks just like everyone else.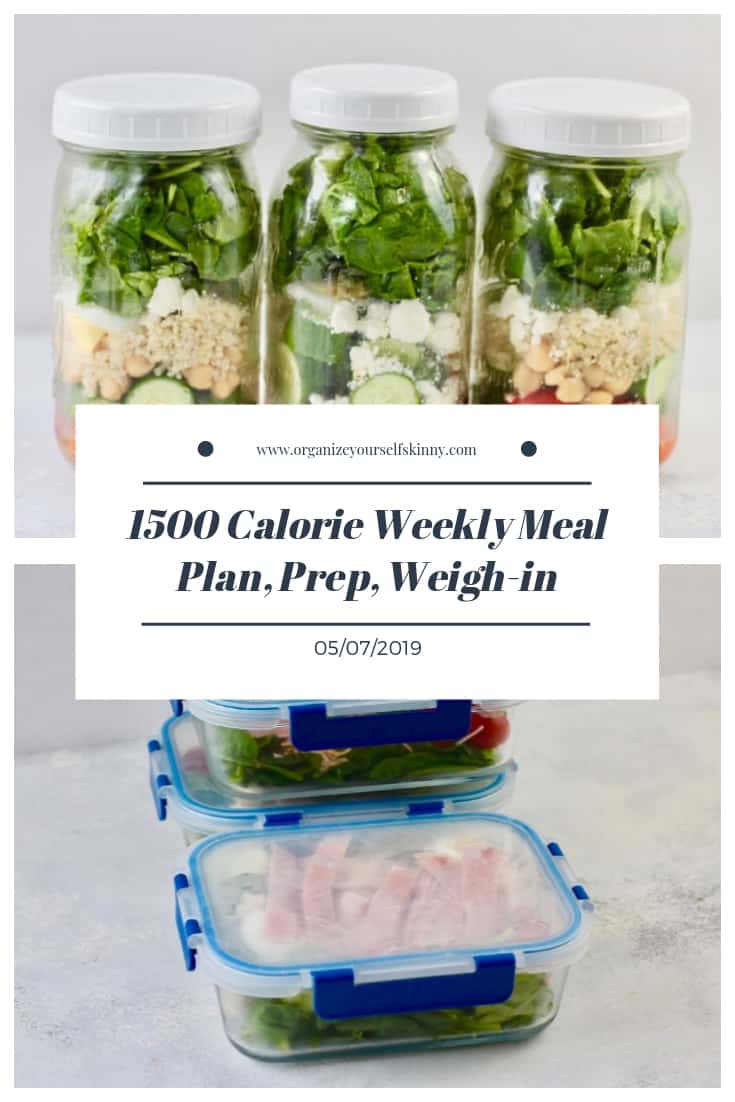 Well hello there! I haven't shared a weekly meal prep posts since April 15th and haven't done a weigh-in since April 1st! Yikes! I'm apologize that I've been absent with these posts.
It's crazy, because I was going so strong in February and March. Everything was on point and I was feeling good. Then, out of nowhere I got sick. Then a couple weeks after that I had minor surgery. Nothing crazy but enough to keep me from exercising for a few weeks. So, needless to say I completely fell off track. I haven't been this out of routine in a super long time.
I guess this is one of those "see, I'm human posts".
Anyway, I'm finally back into the swing of things. Last week, I focused on getting back into my morning exercise routine. I wanted to exercise 5 days but only got in 4. I can't complain because it's better than zero. This week I'm focusing on 5 days and so far I'm on track. Honestly, it feels good to sweat.
As for food, I kept up with meal prep – especially, mason jar salads. I can't live without my salads. I even had dinners prepped most weeks. My issues is the extra bites. Those extra bites get me every single time. It's amazing how a handful of triscuits and a few mini twix bars can throw off a whole day. Those extra bites do make a difference – at least they do with me. So, my goal is to keep those extra bites under control. How am I gonna do this? Back to the basics, baby! Track, track, and track some more.
Okay, let's get to my weigh-in.
Starting weight (October 2010) : 177 lbs
First goal weight: 145lbs
Final goal weight: 135 lbs
Last week's weight:153.4
Current weight: 158.4
Pounds lost: +5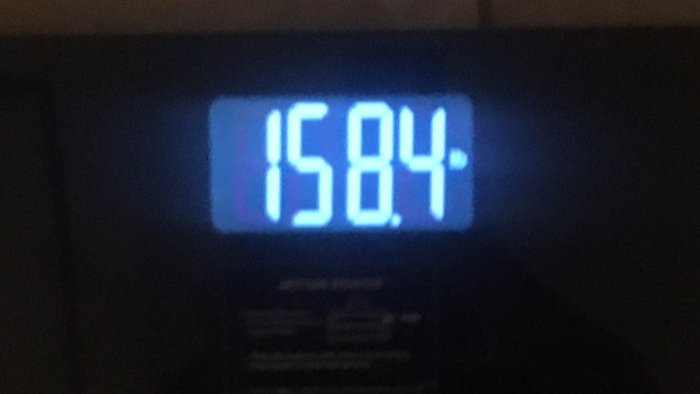 Ugh. 5lbs weight gain in the last month. Excuse me while I go into the corner and have pity party. I hate seeing the scale at this number. But honestly, I have nobody to blame but myself. Like I said, with the extra bites, not measuring coffee creamer, eating more carbs than I should, and not exercising it's a miracle I didn't gain more.
If there's one thing I've learned on this journey is everyone gets off track. Unfortunately, it's part of the journey. Life happens and we're human. Sometimes getting off track is minor – like a few extra slices of pizza over the week. Other times life knocks ya down for a couple months. The key is to keep going – even if you have to crawl, keep moving forward.
That's what I'm doing. I'm moving forward. Summer is right around the corner and I want to feel comfortable in all of my cute summer outfits.
Here's my plan for this week –
Like I said, I'm going to exercise 5 times this week. 45 minutes on the treadmill, 25 squats, 25 plie squats, and 100 crunches. Next week I'll start back on arms.
Keep daily calories to 1500. More importantly, control the little bites.
Replace my afternoon coffee with a black tea. I need to get rid of the afternoon sugar. This might be the hardest thing I do all week so please wish me luck!
Drink water. I feel 500% better when I drink 64 ounce of water a day. That's my plan.
Stop eating past 7:00pm. For the most part I'm pretty good with this habit but there have been times here and there I slip up.
Overall my focus it to get better disciplined and stay consistent.
Here's my 1500 calorie meal plan for this week.
Breakfast – 292 calories
Detox Smoothie – 222 calories for 3 cups
coffee with 2 tablespoons creamer
Meal prep tips:
Morning Snack – 315 calories
Meal prep tips:
I made a bunch of these sandwiches for the freezer last week.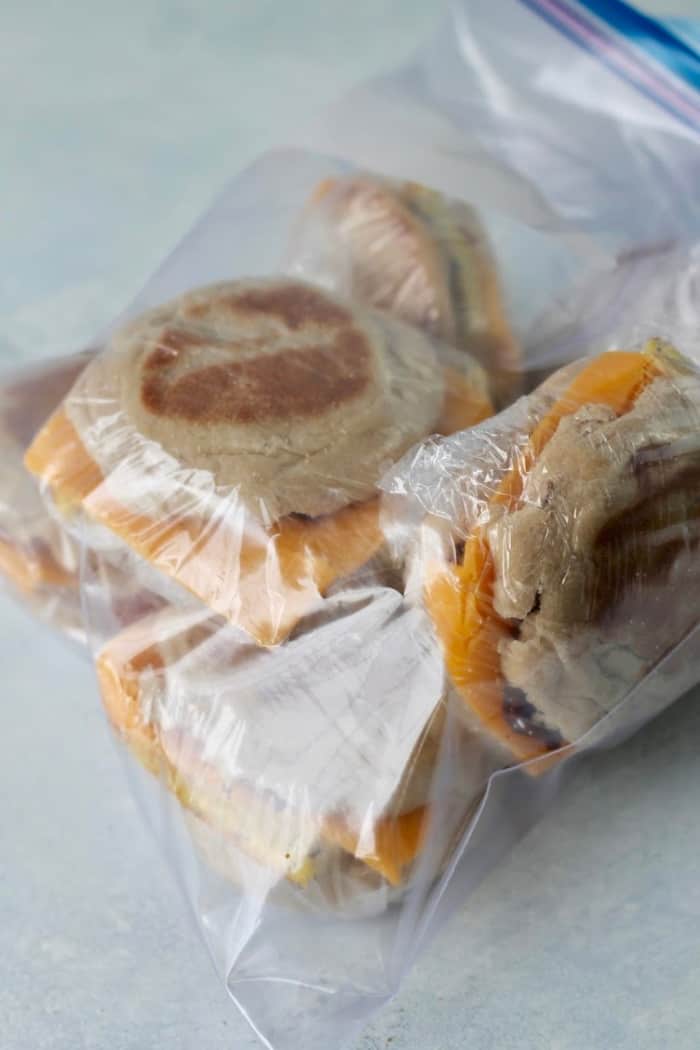 Lunch – 415 calories
Protein Power Mason Jar Salads
Meal prep tips
I made all of our salads on Sunday.
These are Mike's salads.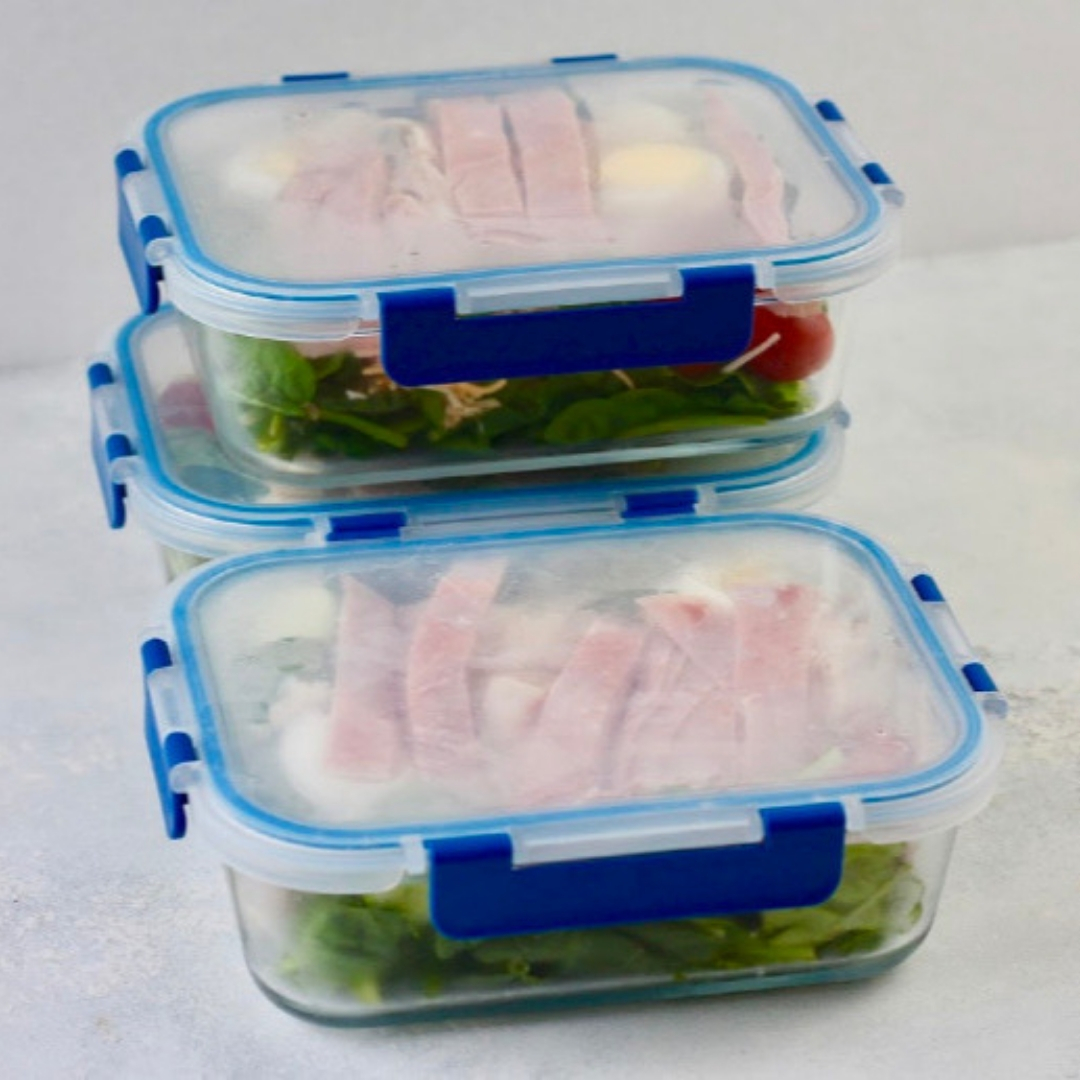 Afternoon snack – 80 calories
cheese stick
Dinner -up to 450 calories
Italian meatloaf with roasted asparagus – 310 calories
Taco Lettuce Wrap (2) – 400 calories
Shrimp and Broccoli with Quinoa – 321 calories
Baked Balsamic Chicken with Roasted Green Beans (I'll make potatoes for kids) – 416
Grilled Steak Salads – 414 calories
Meal prep tips:
I made the taco meat and meatloaf on Sunday. Everything thing else I'll make the night we eat it.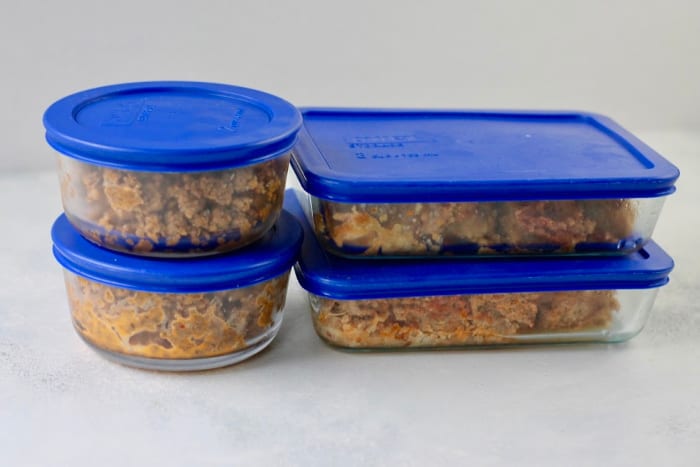 Meal Prep Containers, Tools, and Supplies Used This Week
36 ounce rectangle glass meal prep containers
Pyrex Simply Store meal prep containers
Check out my meal prep and healthy meal planning pages for more information to get you started.
Other Meal Planning Services
Sun Basket – Organic meal kit delivery. See my updated Sun Basket review
Purple Carrot – The only vegan meal kit service. See my Purple Carrot review
Emeals – If you're looking for a Keto meal plan then definitely check out eMeals. Here's my eMeals review.
Plan to Eat – One of the top meal planning websites to help you organize your recipes, create meal plans, and generate grocery shopping lists.