Every week I share my 1500 calorie meal plan, meal prep pictures, along with the progress (or not) I've made on my weight loss journey. My goal with these posts is to give you a little glimpse into my week and for you to see I'm human and have good and bad weeks just like everyone else.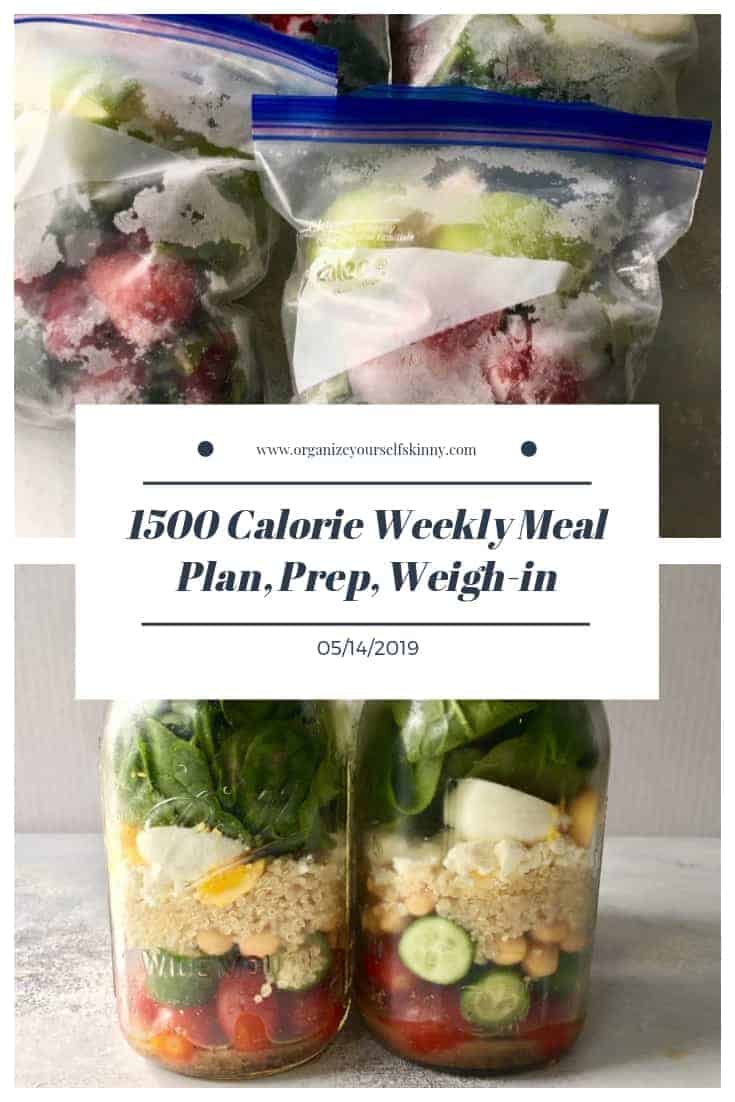 Hey there! It's that time again! Time to share my weekly weigh-in and everything I'm doing this week to try to reach my goals.
Last week was a good week. My main goal was getting back into a morning exercise routine. The last couple months I've completely fallen off track with exercise and can feel it all over.
Not only am I starting to feel squishier but my entire mood and daily routine has been off. Exercise keeps me energized, focused, and sane. When I don't exercise I feel off. Exercise also keeps me on routine. I wake up, drink a cup of coffee, exercise, and then get my day started. Without exercise I flounder in the morning.
Anyway, last week I got in 4 solid works out and finally feel back to normal. This week is starting off strong too!
Also, I did good on the other goals I made last week, although giving up my afternoon coffee continues to be a problem. Ugh, coffee. I get to 1:00pm and CRAVE caffeine. Seriously, I feel like I can pass out without it. I really need to come up with a plan for this. If you have any pointers please let me know.
Other than coffee, I did good. I drank water every day, watched the little bites, and didn't eat past 7pm.
Even though I'm not perfect I do feel a lot more disciplined that I did a couple weeks ago.
Okay, let's get to my weigh-in.
Starting weight (October 2010) : 177 lbs
First goal weight: 145lbs
Final goal weight: 135 lbs
Last week's weight:158.4
Current weight: 156.8
Pounds lost: -1.4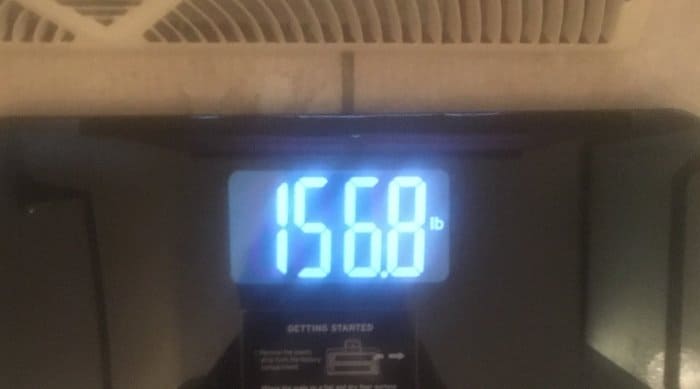 This isn't a big weight loss but at least the scale is going down.
Can I be honest here? When I first started my weight loss journey (8 years ago) it seemed easier. The weight came off easier. Or maybe it was just easier for me to stay disciplined. I don't know, but now that I'm over 40 (gonna be 44 in August) it just seems like more of a struggle to get under 150lbs.
Anyway, I could blame my age all I want but I'm sure the extra coffee creamer in the afternoon and the slip ups here and there don't help. I just wanted to share some thoughts I'm having.
Basically, if I want to get to my first goal weight of 145lbs then I need to stay disciplined. Unfortunately, I can't mindless eat and work out when I feel like it. If I want to meet my weight loss goals then I need to work for it and, more importantly, stay disciplined.
Here are my goals for this week.
I'm going to exercise 4-5 times this week. 45 minutes on the treadmill, 25 squats, 25 plie squats, and 100 crunches, 25 bicep curls, and 25 tricep extensions.
Track! I need to remember that I lost my first 30lbs by tracking my daily calories. No exercise and I didn't even really change the food I ate, all I did was track it.
Continue to drink 64 ounces of water a day.
Stop eating at 7:00pm.
Alright, let's get to my weekly meal plan.
Breakfast, lunch, and snacks mostly stay the same every week. I don't mind eating the same things and it keeps meal prep simple. Dinners are little more work this week because I'm working on some new recipes and also doing another review for Hello Fresh.
My last Hello Fresh review was back in 2016 and a lot has change with their offerings since then so I want to write an updated review. So, over the next couple weeks, Hello Fresh will be on the menu. This makes my kids very happy because they love Hello Fresh. It's so funny, because I make a meatloaf and my kids are like nope, I make a meatloaf from Hello Fresh and my kids are all about it. Maybe it's the novelty of it, but whatever, they eat it and that's a win for me.
The only issue with Hello Fresh, is many of their meals are higher in calories so I need to adjust the meal for me or reduce something else I'm eating during the day. Just something to consider.
Here's what I'm eating this week.
Breakfast – 292 calories
Green Smoothies – I'm making a variation of this detox smoothie kit – 222 calories
Coffee with 2 tablespoons creamer – 70 calories
Meal prep tips
I made 8 frozen smoothie packs this weekend. The great think about smoothie kits is you can use up the fruits and/or veggies that are on their last leg. I had some leftover cucumbers, older apples, and almost too ripe strawberries that made their way in these kits.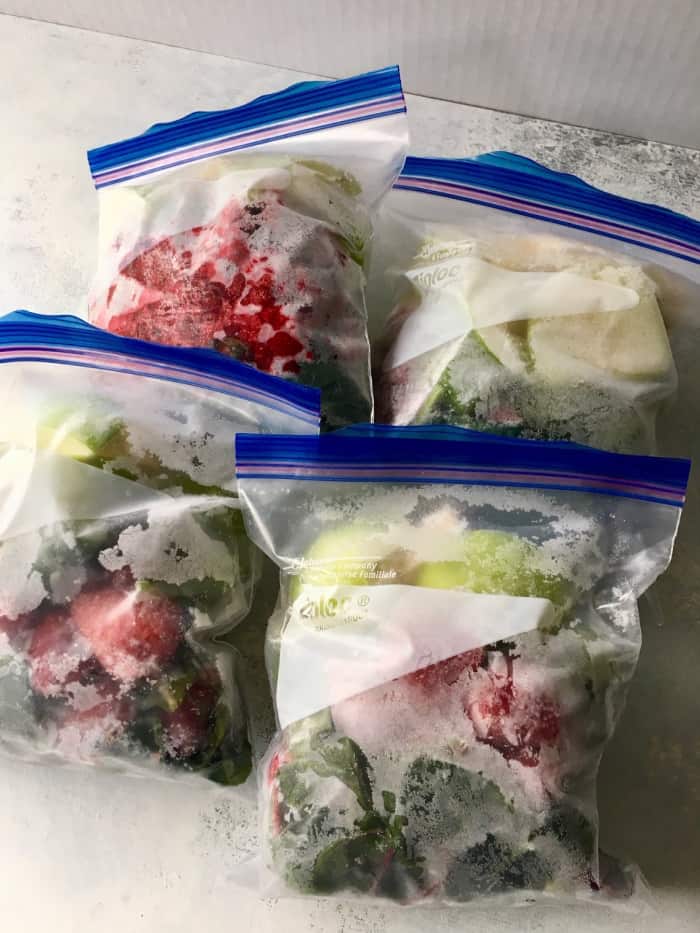 Morning Snack – 80 calories
Cheese stick
Meal prep tips
I put all the cheese sticks into a refrigerator bin, along with other snacks, for easy access.
Lunch – 415 calories
Protein Power Mason Jar Salad – 415 calories
Meal prep tips
I made 5 salads yesterday. I had every intention of making them on Saturday but it was a busy weekend so that didn't happen.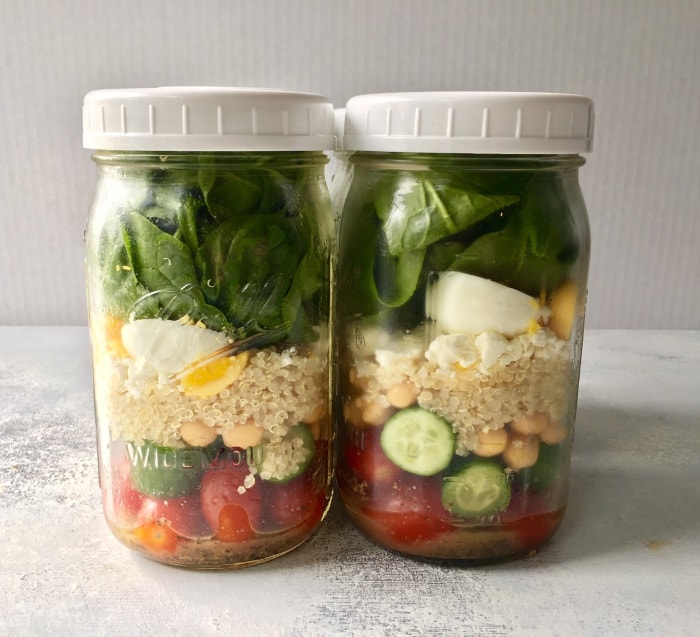 Mid afternoon snack – 215 calories
1/2 cup of cottage cheese
Apple
If you need more ideas for clean eating snacks then check out this post.
Dinner – 610 – 700 calories
Creamy Chicken skillet with mushrooms and spinach – 447 calories
Easy Beef Enchiladas – 440 calories. I've been making these for a long time but never wrote up the recipe. My goal is to do that this week.
3 Hello Fresh Dinners (Bacon Caprese Chicken, Gorgeous Greens Farro Bowl, and Grilled Onions Cheeseburger No Bun) 610 – 700 calories
Meal Prep tips
The chicken skillet will be made tonight and the beef enchiladas will prepped tomorrow during the day. Typically, I'd get these meals prepped on Sunday but ran out of time.
Hello Fresh meals will be made the night we eat them.
Meal Prep Containers, Tools, and Supplies Used This Week
36 ounce rectangle glass meal prep containers
Pyrex Simply Store meal prep containers
Check out my meal prep and healthy meal planning pages for more information to get you started.
Other Meal Planning Services
Sun Basket – Organic meal kit delivery. See my updated Sun Basket review
Purple Carrot – The only vegan meal kit service. See my Purple Carrot review
Daily Harvest – vegan grab n go meals in a cup. See my Daily Harvest review.
Freshly – Healthy fully-cooked chef prepared meals delivered to your door. See my Freshly Review here.
Emeals – If you're looking for a Keto meal plan then definitely check out eMeals. Here's my eMeals review.
Plan to Eat – One of the top meal planning websites to help you organize your recipes, create meal plans, and generate grocery shopping lists.
And….
For some style advice you gotta check out my Trunk Club Review.
What are your goals for this week?