Every week I share my 1500 calorie meal plan, meal prep pictures, along with the progress (or not) I've made on my weight loss journey. My goal with these posts is to give you a little glimpse into my week and for you to see I'm human and have good and bad weeks just like everyone else.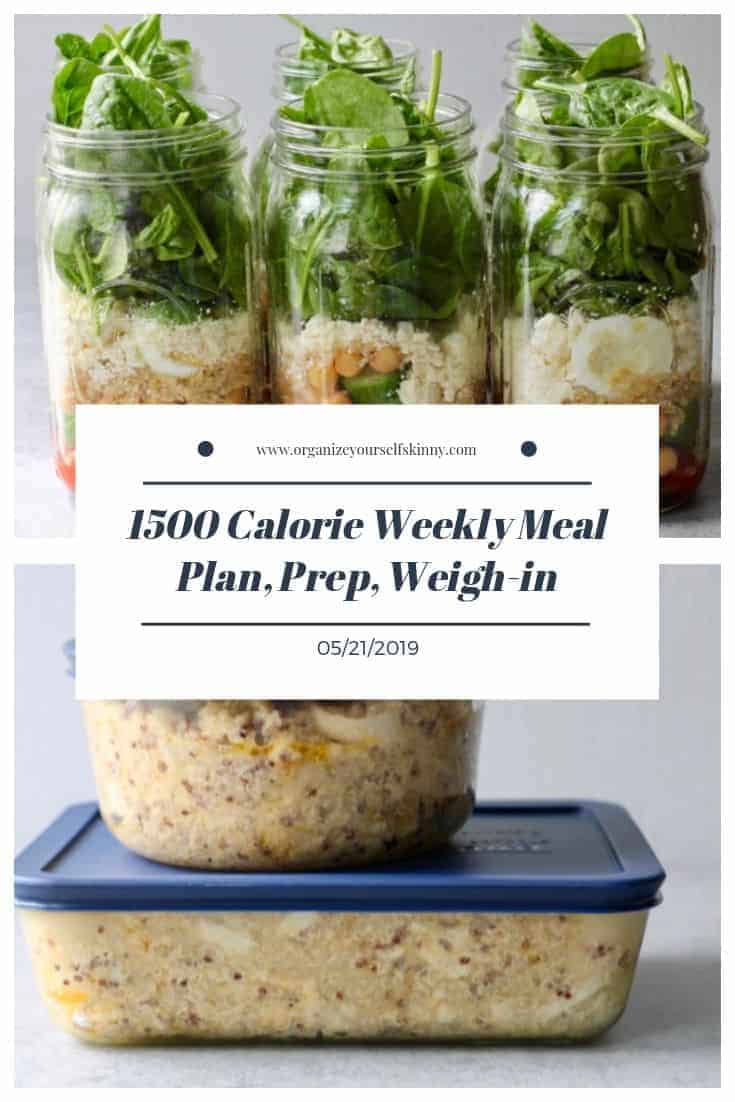 Hey there! So, as I was putting together this weekly meal plan post I had to do a double take when I saw it was MAY 21st!! Seriously, how's that possible? How is the end of May already here?! Craziness.
It's going to be summer before we know it. Do I feel ready? Ummm, not really. If I had one wish it'd be for time to stand still for about 2 weeks. Then I truly can get ahead of the game with work, life, and everything in between. Even though I do my best to stay productive I still feel like I could work for a month straight and STILL have a million things to get done. Can you relate? I'm sure!
Okay, so instead of complaining about things I can't control (time in a day) I need to focus on the things I can control (managing my time).
For the most part, I have routines and do well with keeping a schedule. However, this time of year has a lot of extras that take me out of routine. For example, chorus concerts, field trips, and dance recitals, are all things that are happening in the next few weeks.
I need to plan for all the extras so I can keep moving forward on my other goals. Just because I have to get daughter ready for her dance recital doesn't mean I can't exercise, meal prep, or getting in a solid amount of work time. I just need to plan ahead.
Here's my plan to survive the next few weeks:
Write out EVERYTHING that needs to get done. For example, we want to plant a garden so I need to go get the plants this week. This sounds easy enough but, again, it's something that I need to fit into my schedule or it won't get done.
Plan meals, exercise, and my entire schedule, around the extras that are coming up. This means writing it out in my planner and adding it to my google calendar with reminders, if needed.
Take time to stock freezer with dinners this weekend. Nothing crazy but a few make ahead freezer meal dinner kits will come in very handy. This is the time of year I stock my freezer for the summer months so I try to do a little every weekend.
Add some work time to the weekends. I try to keep a "normal" work schedule but I can already see personal obligations messing with my work schedule. So, to keep the work flow going I'm going to add in a few hours on Sunday mornings. Again, nothing crazy but enough to keep life moving.
Stick to my morning routine. I know I say this a million times but morning routines are life. When I get my exercise complete by 7:00am and ready to start work by 8:30am I feel like I can accomplish anything.
Put together my to-do list before bed and make sure life is set up to get moving on tasks right away. This simply means makes sure kitchen is clean, lunches are made, and any other loose strings are tied up. Basically all the habits I talk about in this post. The goal is not to waste any time and make the most of the time I have.
Get to sleep on time. This shouldn't be too difficult because I'm in bed no later than 9:00pm during the week anyway. Mike and I go to bed super early and we're up super early.
Okay, what else? What do you do to get through the last few weeks before summer vacation starts? Write it in the comments.
Let's get to my weekly weigh-in.
Starting weight (October 2010) : 177 lbs
First goal weight: 145lbs
Final goal weight: 135 lbs
Last week's weight:156.8
Current weight: 156.
Pounds lost: -.8

Not a big loss, but at least the scale went down. Which, if I'm being honest here, I should be thankful because this weekend wasn't my best weekend with food. I did a lot of grazing and wasn't as disciplined as I had been during the week. However, I did get in 4 days of solid exercise, drank a smoothie every day, and kept up with water. So all those things definitely saved me from seeing a gain this week.
The next 4 months I need to kick it in high gear with minimal slacking. Why? Because in 2 months I'm in a wedding and then in September (which is 4 months away) I'm getting married. I want to look back on those pictures and know that I felt and looked my best.
The good thing is I'm not starting at the beginning. I only have 11 pounds to my first goal weight and 21 pounds to my second – both are completely doable by September. The key is to stay focused and on track. I know easier said than done, but if I want to look back with a smile at my wedding pictures then it's up to me to keep it going.
Alright here's my exercise plan for this week.
Monday, Tuesday, Wednesday, Saturday, and Sunday
45 minutes on treadmill – I'll do a mix of power walking and running.
25 combo squats with overhead press.
25 plie squats
25 bicep curls
25 tricep extensions
100 crunches
50 russian twists with 3-5 lbs weight
2 (30-second) planks
Now let's get to my meal plan. This is where the real change happens. One of the lessons I've learned is you can't exercise away a bad diet. So even if I run till my legs fall off if I eat like crap then it won't matter. You can read some of my other lessons here. Keeping my calories at 1500 or below is going to be key.
Breakfast – 292 calories
Cup of Coffee with 2 tablespoons creamer – 70
Meal Prep tips
I still have some frozen smoothie packs that I made last week.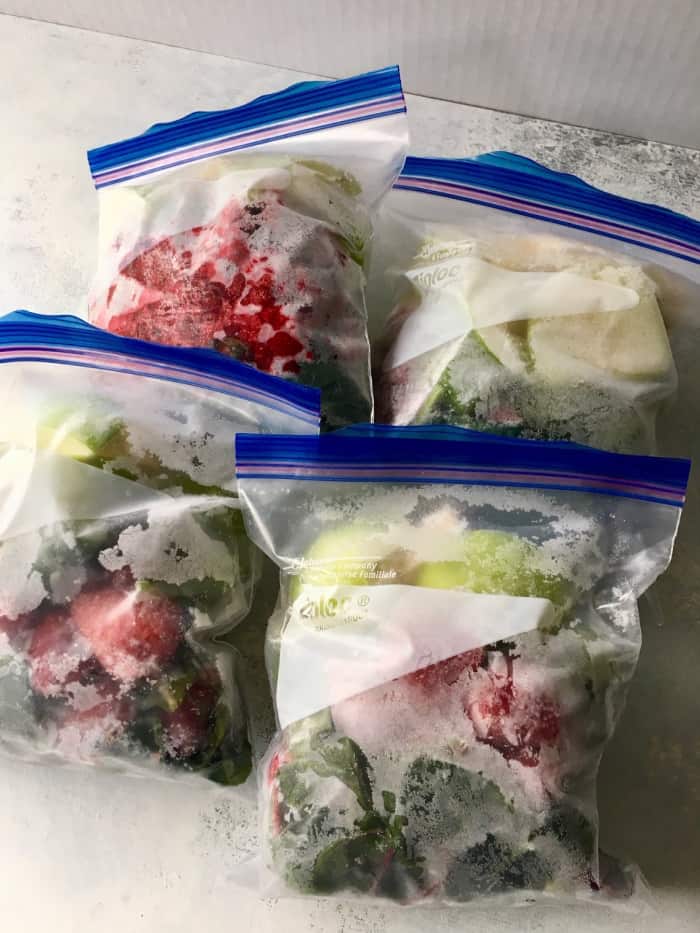 Mid-morning snack – 169 calories
Meal prep tips
Typically, I'll have a cheese stick or nuts for a morning snack but I had a ton of ripe bananas to use up and everyone wanted banana bread so that's what I made. I cut this into 8 slices and then cut those slice in half to make 16 pieces.
Lunch – 415 calories
Meal prep tips
I made these salads on Monday.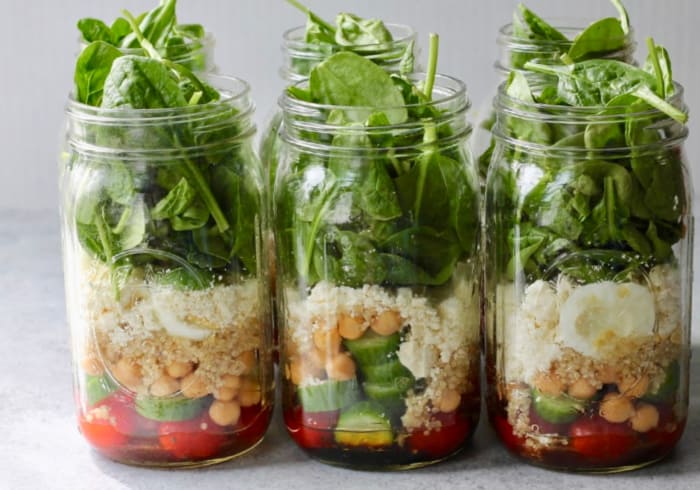 Afternoon snack – 80 – 180 calories
Apple and peanut butter – 180 calories
or cheese stick – 80 calories
Dinner – 440 – 650 calories
Cajun chicken quinoa bake (2 cups) – 564
Leftover enchilada – 440 calories
Leftover Creamy Chicken skillet with mushrooms and spinach – 447 calories
Gorgeous Greens Farro Bowl – 650 calories (Hello Fresh) –
Hello Fresh Meal – we have another box of Hello Fresh Meals coming this week. Those meals include Bruschetta Chicken (760 calories), Korean-style chicken and rice bowl (660 calories), Pepper Jack Burgers (990 calories). The burgers will be for Mike and the kids but I will eat the other meals minus some of the carbs. You can see my original Hello Fresh review for more information.
Meal Prep tips
Enchiladas and chicken skillet were made last week. I portioned out the skillet into glass meal prep containers. I found this to be super helpful in keeping dinner calories under control. I'm going to share this recipe later in the week. Enchiladas I put into a glass container as well.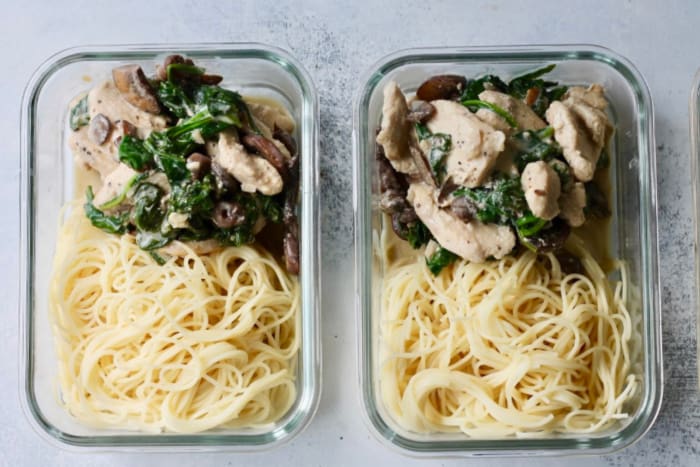 Cajun chicken bake I made yesterday and stored in glass containers.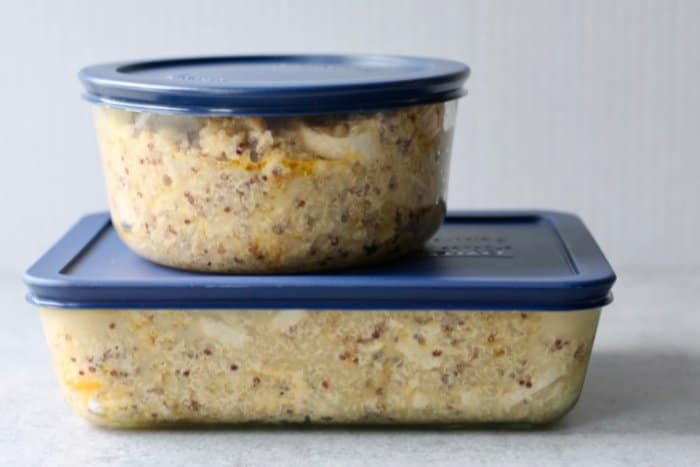 I made the Hello Fresh farro bowl recipe and also stored it in glass containers. Please note, recipe was leftover from last week.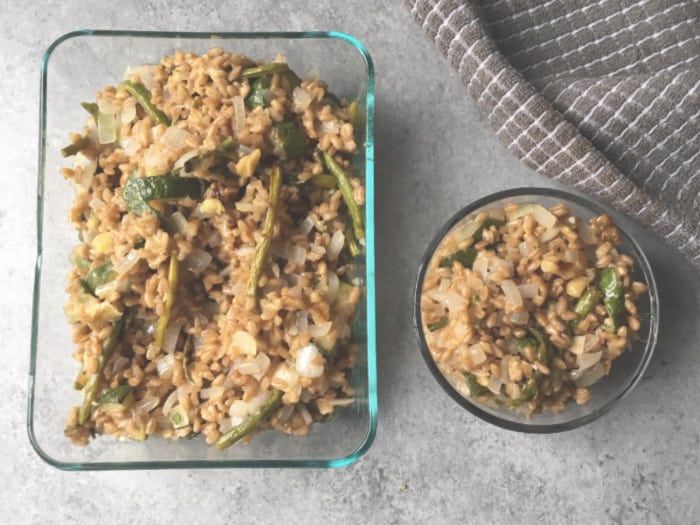 The other Hello Fresh recipes will be made the night we eat them – the box gets here on Wednesday.
Meal Prep Containers, Tools, and Supplies Used This Week
36 ounce rectangle glass meal prep containers
Pyrex Simply Store meal prep containers
See the other glass meal prep containers I recommend here.
Check out my meal prep and healthy meal planning pages for more information to get you started.
Other Meal Planning Services
Sun Basket – Organic meal kit delivery. See my updated Sun Basket review
Purple Carrot – The only vegan meal kit service. See my Purple Carrot review
Daily Harvest – vegan grab n go meals in a cup. See my Daily Harvest review.
Emeals – If you're looking for a Keto meal plan then definitely check out eMeals. Here's my eMeals review.
Plan to Eat – One of the top meal planning websites to help you organize your recipes, create meal plans, and generate grocery shopping lists.
Hello Fresh – A meal kit to feed the whole family. See my updated Hello Fresh review here.
And….
For some style advice you gotta check out my Trunk Club Review.
What are your goals for this week?