Every week I share my 1500 calorie meal plan, meal prep pictures, along with the progress (or not) I've made on my weight loss journey.  My goal with these posts is to give you a little glimpse into my week and for you to see I'm human and have good and bad weeks just like everyone else.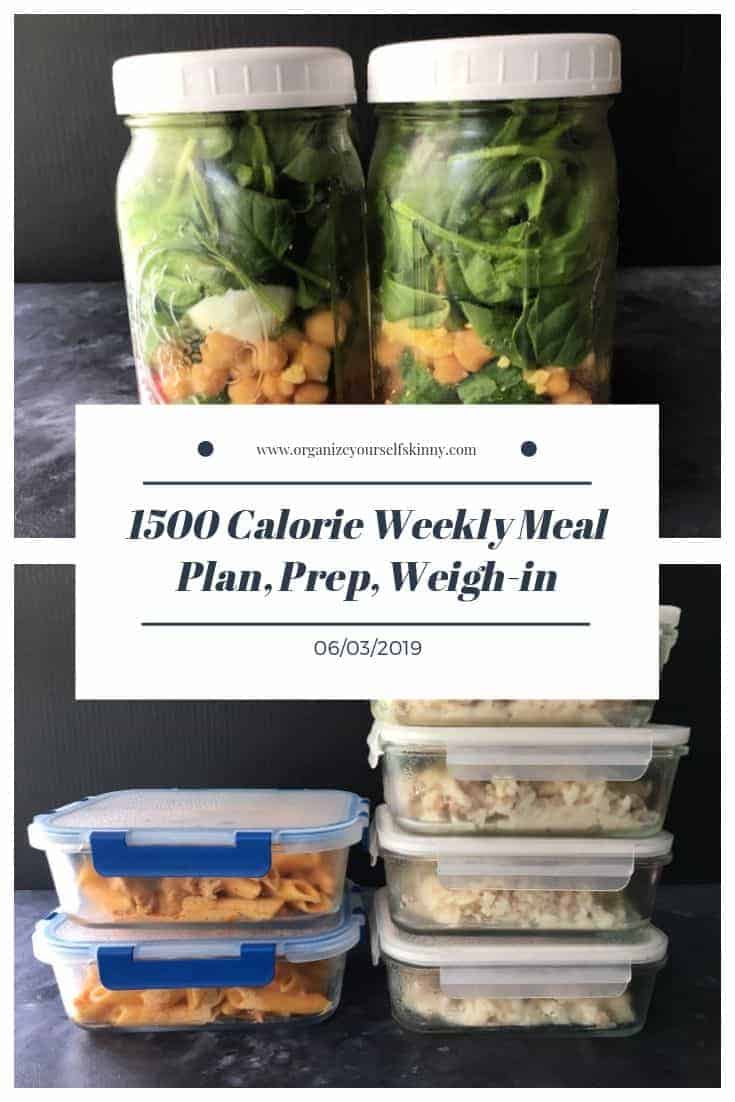 Hey there! Well, we're officially into June. You know what that means? Yup, summers just a few short weeks away. I know for many of you it's been summer-like for a while, but for us here in the B-lo (that's Buffalo, NY in case you didn't know) we're still in sweatshirt and jean weather. I'm not joking. There was one day I got to wear a cute strapless jumper, but mostly I've been dressed for Fall. Ugh.
I guess on the positive side this gives us Buffalonians a little more time to get summer ready. What can I say? I'm a glass half full kinda girl.
Anyway, sorry I didn't get a meal plan post up last week. Of course, I had every intention (and even took pictures) but I was trying to get some new posts up AND it was also my busiest week of the year – dance recital week! I actually call this hell week! Hahaha…but seriously.
Hell week wasn't as crazy as previous years because my oldest isn't on the dance team anymore and my youngest is only in 3 dances. Back in the day I'd have like 12 costume changes between my girls. It was insane. Now it's a little more manageable. It's still busy because we have 2 nights of rehearsals and then a full day for the recital. It's fun but also exhausting at the same time. But I do have to say I love seeing my youngest shine on stage. This is her 9th year of dance and it's awesome to see the progression from her early days of shuffle shuffle ball change 🙂 So even though I don't look forward to the week leading up to the recital it's worth it in the end. Isn't it always?
Despite last week being my busiest week of the year I still managed to get in 5 days of exercise – WOOT WOOT! And, since I knew I wouldn't have the time or energy to do a full day of meal prep on Sunday I spent some time on Friday night preparing meals for the week. I also managed to find time during the week to stock up on breakfast burritos. Let's just say, I felt pretty proud of myself.
I still need to prepare some dinner freezer kits so I'm gonna work on that this week (or weekend).
Okay, let's get to my weekly weigh-in
Starting weight (October 2010) : 177 lbs
First goal weight: 145lbs
Final goal weight: 135 lbs
Last week's weight:156
Current weight: 155.6
Pounds lost: -.4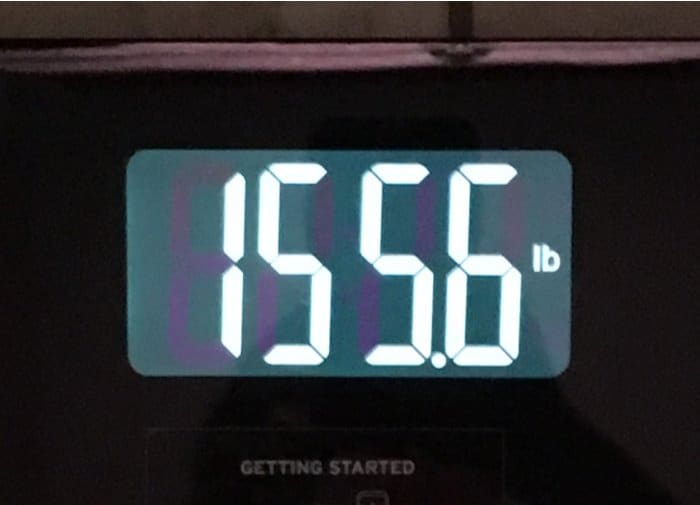 Of course, I want to see a bigger weight loss but I'm also happy not to see a gain. A few issues I had this week was I didn't drink enough water and I grazed way too much over theweekend.
Typically, I jumpstart my daily hydration with a smoothie but last week I was kind of burnt out on smoothies. Most weeks I'll force myself to drink a smoothie because I know it makes me feel so much better and less bloated, but not last week. Instead, I started my day with a breakfast burrito – which was soooo tasty. I figured I'd just drink 64 ounce of water to make up for the smoothie but that didn't happen. I drank some water but not enough.
That on top of my weekend grazing really didn't help my weight loss efforts at all. To be honest, I do get very frustrated with myself because I know better…which means I should do better. I work hard all week sticking to my eating plan, exercising, and just doing my best to stay intentional. Then a few extra handfuls of pretzels, cheese, and a glass of wine (or 2) and I undo all my work during the week. I need to work on this.
Here are some goals for this week:
Stick to my eating plan and track every single bite, lick, and taste, paying extra attention to Friday – Sunday.
Exercise 5-6 days this week. I'll go over my exercise plan below.
Drink a daily smoothie and an extra 40 ounces of water.
Keep 3 dinners low carb this week. I actually got this idea from a reader in the Organize Yourself Skinny facebook group. She mentioned that she plans 3 low-carb dinners a week. This way, she can find a balance and doesn't feel deprived of carbs. She says this has really worked for her so I thought to give it a try. Of course this doesn't mean the other nights I'm going hog wilded on fettuccine Alfredo. I'll portion it out and keep it healthy 🙂
Here's my exercise schedule:
Monday, Wednesday, Saturday
45 minutes – treadmill. I power walk and add in various inclines.
Arm exercises.
24 bicep curls with 5lb resistance bands
12 bicep curls with 8lb hand weight
24 lateral raises with 3lb weight
24 front lateral raises with 3lb weight
24 tricep extensions with 5lb hand weight
24 rows with 5lbs hand weight
24 combo overhead press/squats with 5lb hand weights
Core
100 crunches
75 russian twists holding 5lb weight
Tuesday, Friday, and Sunday
45 minutes – treadmill. I power walk and add in various inclines.
Legs
50 squats
50 plie squats
50 lunges (on each side) using my weight bench
Core
100 crunches
75 russian twists holding 5lb weight
Here's the exercise equipment I use:
3, 5, and 8lb hand weights. I bought this basic set from Amazon for under $30
Resistance bands – I purchased mine years ago from Target. You can also get them off Amazon.
Basic weight bench – I just purchase this one from Amazon a couple months ago. It's super basic but all that I need to do simple toning exercises. It's under $90 on Amazon.
Here's my meal plan.
Breakfast – 327
Detox smoothie – 222 calories
Coffee with 3 tablespoons creamer – 105 calories
Meal prep tips: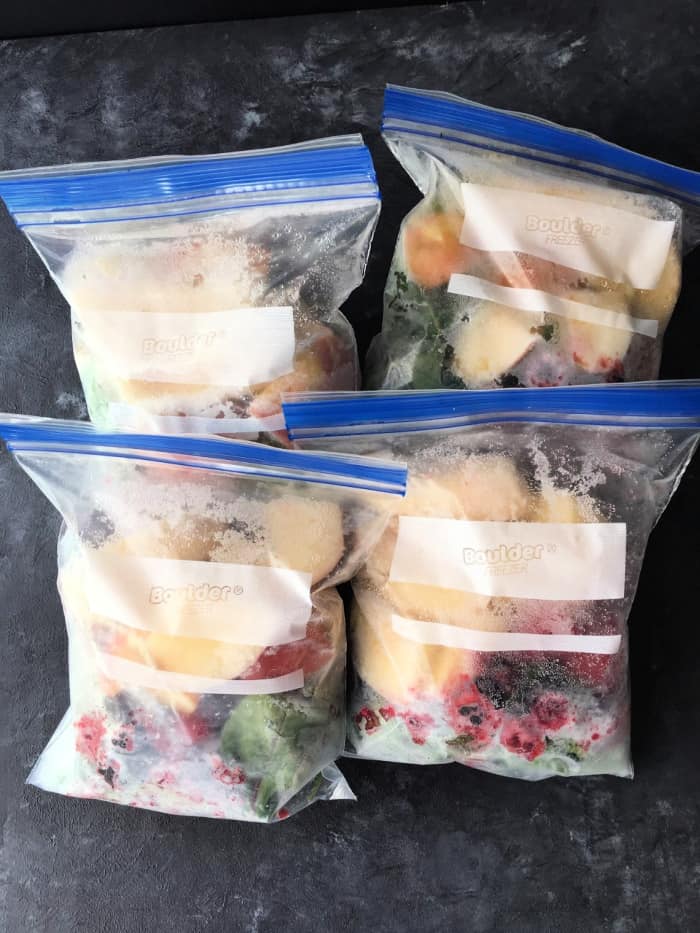 Mid-morning snack – 160 calories
1/4 cashews – 160 calories
Lunch – 359 calories
Protein Power Mason Jar Salad (no quinoa) – 359
I made 5 mason jar salads on Friday.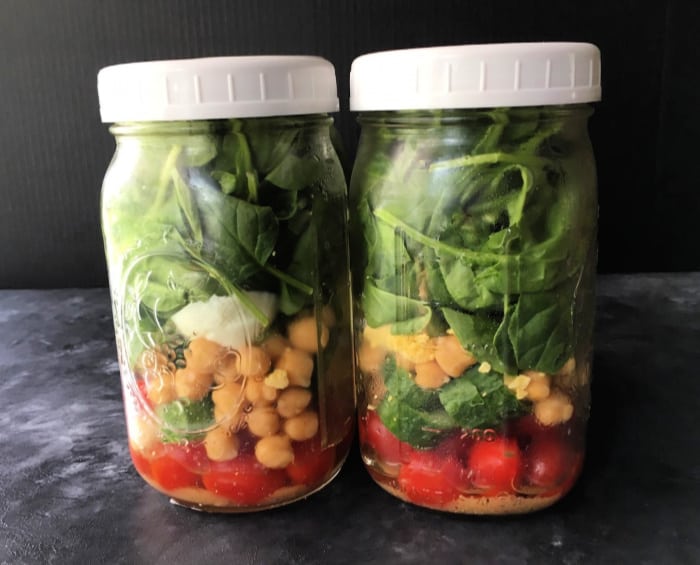 Mid-afternoon Snack – 220 calories
2 Deli roll-ups (Turkey, Ham, and mustard)
Dinner – 270 – 640 calories
Pesto Shrimp with Fresh Mozzarella and Tomato Salad (new recipe) – 383 calories
Grilled Sweet and Spicy Asian Chicken with Chopped Bagged Asian Salad (wegmans) – 394 calories
Chicken Parmesan "bunless" Burgers with Grilled Asparagus (new recipe)- 270 calories
Grilled Chicken Sausage Hoagies – 347 calories
Hello Fresh Meals (Blackened Chicken with Penne, Cajun Chicken and Rice Bowls, and Sausage with Risotto) – between 500 – 640 calories
Meal prep tips:
Pesto shrimp will be made the night we eat it.
Chicken will be marinaded and burgers prepped tomorrow.
Hoagies will be made the night we eat them.
I prepped the Hello Fresh meals on Friday (we got the box on Thursday). These meals are a little higher in calories than I like so I'll eat less and add in some extra vegetables. My kids love Hello Fresh so they chow these meals right down! Prepping these meals ahead of time help to keep portions under control. My new Hello Fresh review will be up this week. You can see my original Hello Fresh review for more information. If you're ready to give Hello Fresh a try then here's $80 off ($20 off your first 4 orders).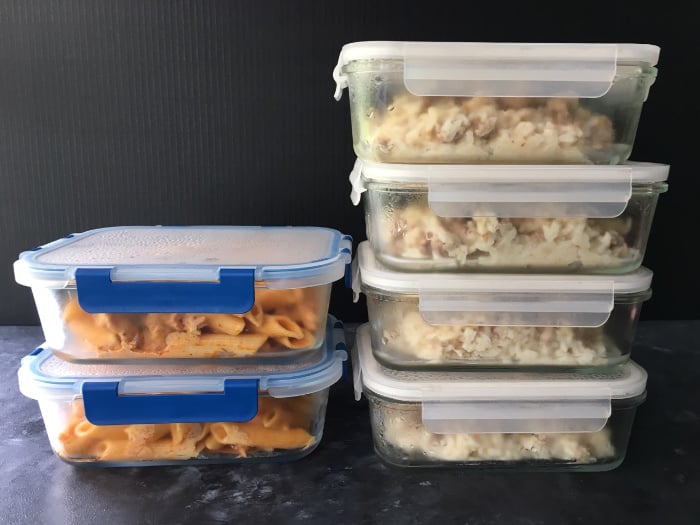 Meal Prep Containers, Tools, and Supplies Used This Week
36 ounce rectangle glass meal prep containers
See the other glass meal prep containers I recommend here.
Check out my meal prep and healthy meal planning pages for more information to get you started.
Other Meal Planning Services
Sun Basket – Organic meal kit delivery. See my  Sun Basket Review.
Hello Fresh – The best meal kit to feed the whole family. See my updated Hello Fresh Review.
Purple Carrot – The only vegan meal kit service. See my Purple Carrot review
Daily Harvest – vegan grab n go meals in a cup. See my Daily Harvest review.
Emeals – If you're looking for a Keto meal plan then definitely check out eMeals. Here's my eMeals review.
Plan to Eat – One of the top meal planning websites to help you organize your recipes, create meal plans, and generate grocery shopping lists.
And….
For some style advice you gotta check out my Trunk Club Review.
What are your goals for this week?
Get Instant Access to My Best Weight Loss Tips & Strategies!
Sign up now for a free step-by-step 7-day email course that I created exclusively for my email subscribers! That's you. I will teach the best habits, strategies, and insider tips so you can enjoy a lifestyle that encourages and supports weight loss! Stop relying on willpower and take control back over your life! You can do this. Let me help!