Every week I share my 1500 calorie meal plan, meal prep pictures, exercise schedule, along with the progress (or not) I've made on my weight loss journey. My goal with these posts is to give you a little glimpse into my week and for you to see I'm human and have good and bad weeks just like everyone else.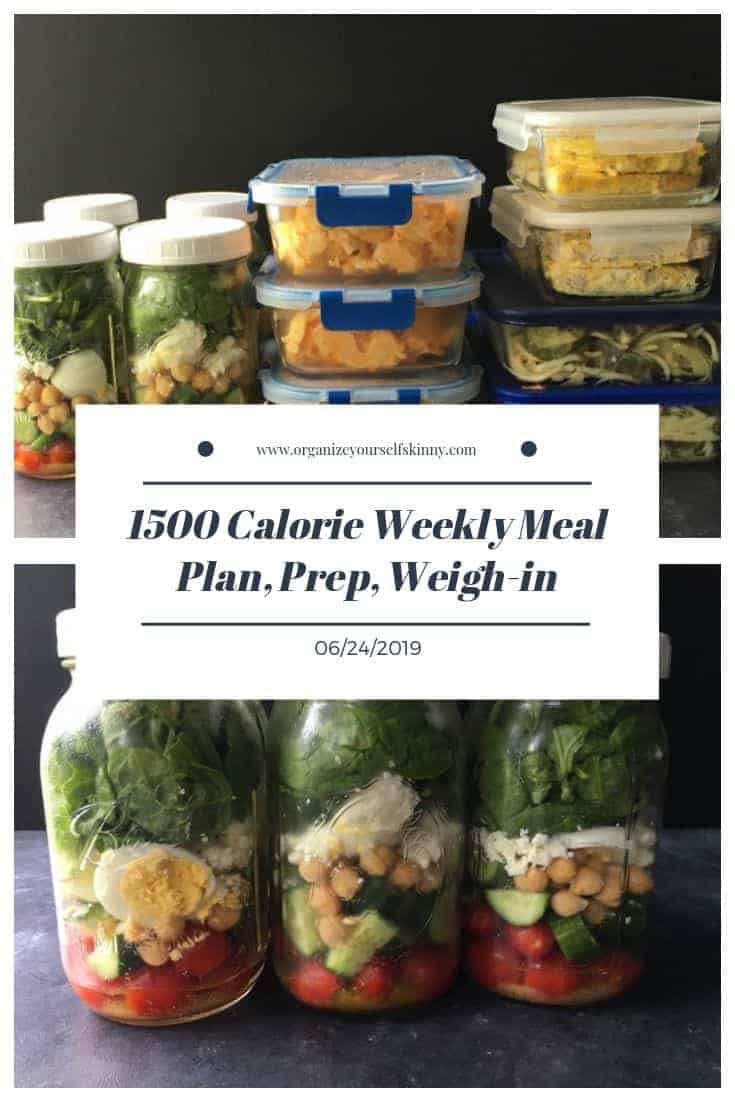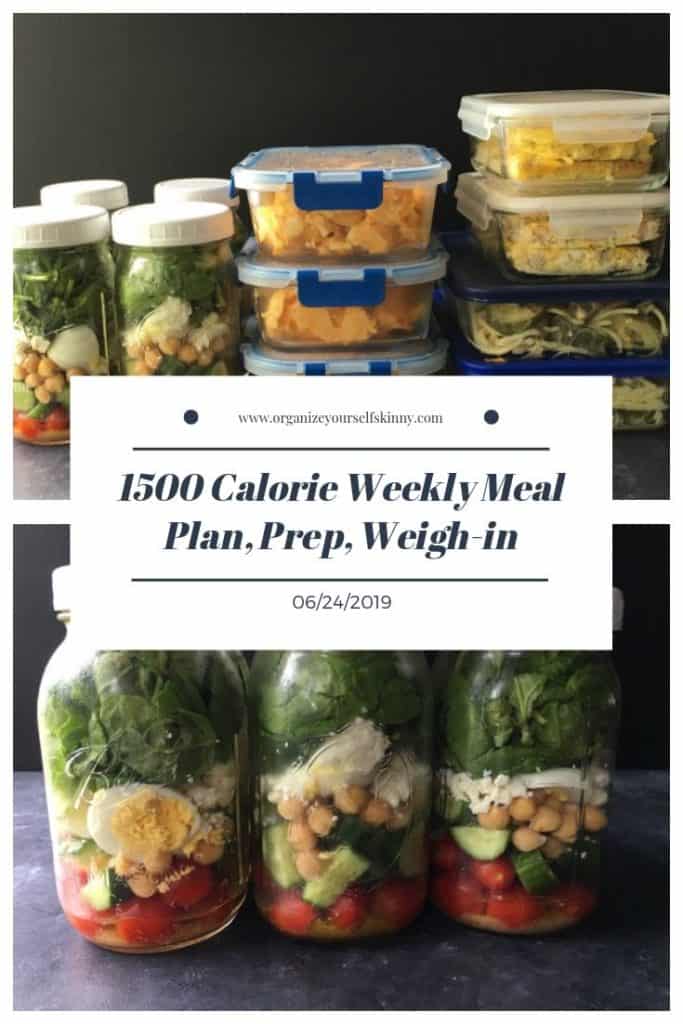 Happy meal plan Monday! I'm mighty proud of myself that I'm on time with sharing my weekly meal plan 2 weeks in a row! It's all about prioritizing and just getting it done. Trust me, I was tired yesterday and didn't feel like doing much of anything. But I pushed through it and got everything done. Last week I had a very productive week and I know a lot of that had to do with starting the week with meals in the refrigerator so I wanted to keep it going.
Before I get to my meal plan and prep there are a few other things I want to mention.
I just posted my brand new Trunk Club review. I try not to get all giddy about service because I want to give just the facts, and my honest experience, so you can decide for yourself whether or not the service I'm reviewing would be a good fit. Anyway, I had a great experience using Trunk Club. I absolutely loved working with my stylist and super happy with some of the outfits she sent. I definitely plan to use Trunk Club again when I need (or want) to add new clothes to my closet. If you're trying to update your wardrobe, and need a little guidance, then Trunk Club could work for you. The clothing comes from Nordstrom so some of the items are a little pricier but overall I was super happy with the items I got. You can see all the outfits from my last trunk, and read my full trunk club review, here.
Okay, let's get to my weekly weigh-in.
Starting weight (October 2010) : 177 lbs
First goal weight: 145lbs
Final goal weight: 135 lbs
Last week's weight:154.8
Current weight: 153.6
Pounds lost: -1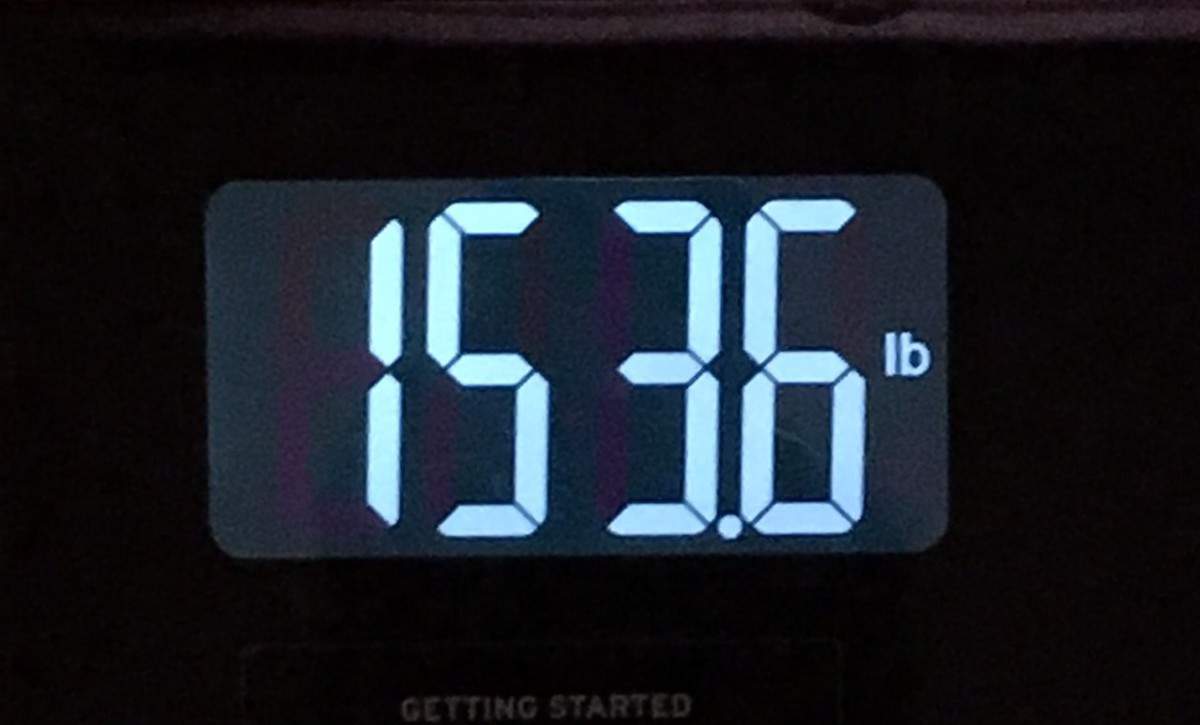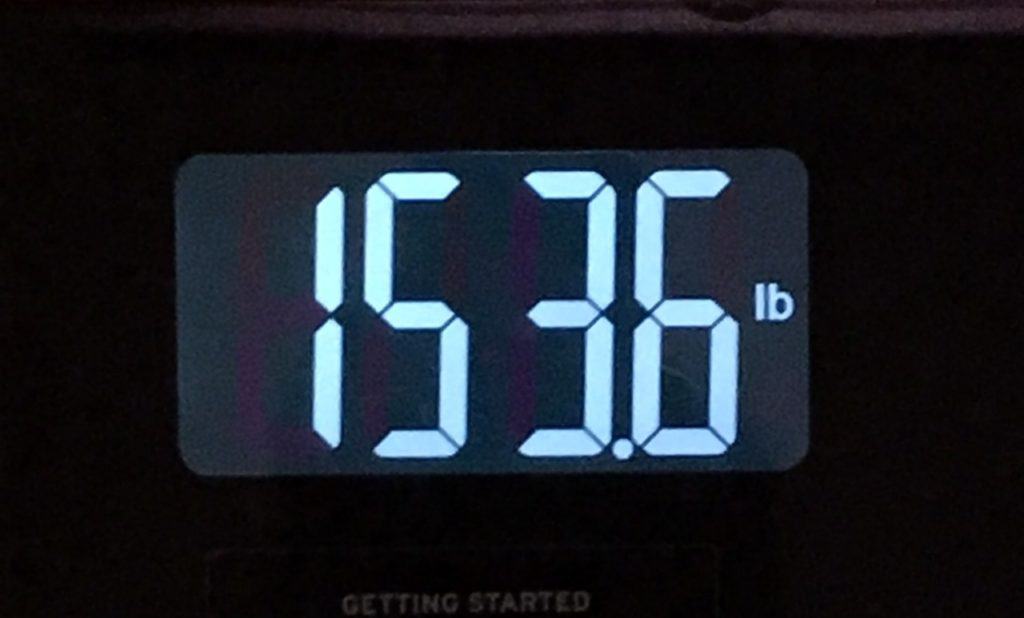 This week I lost 1 pound. I know this isn't alot but as long as I see the scale go down I'm good. Plus, I got another compliment this weekend on my weight. My one friend, who I haven't seen in weeks, said "wow, Tammy you look amazing". It's so crazy, because the scale has barely budge but apparently my body is starting to look different….in a good way. Just like I said last week, I attribute this to keeping up with toning exercises.
Last week I exercised 4 days and went for 2 extra 3-mile walks with my doggy. So, technically I got in 6 days of exercise. On 4 of those days I did 15-20 minutes of toning. My toning routine is exactly what I post in these weekly meal plans.
Oh and another thing I did is start getting up with Mike at 4:30am. He leaves for work super early and I decided to start my day that early too. I'm a morning person anyway, but I really wanted to start adding more time onto my mornings for work so I decided to get my workout started by 5:00am. Last week, I did this and felt really accomplished…tired by 1:00pm..but accomplished nonetheless. Mike says we're like farmers. And I guess we do kind of have a farmers schedule, but I like it. This week I'm sticking to the same schedule.
Here's my exercise plan for this week.
Monday, Tuesday, Wednesday, Friday, Saturday, and Sunday
45 minutes – treadmill. I power walk and add in various inclines.
Arm exercises (M, W, Sat)
24 bicep curls with 5lb resistance bands
12 bicep curls with 8lb hand weight
24 lateral raises with 3lb weight
24 front lateral raises with 3lb weight
24 tricep extensions with 5lb hand weight
24 rows with 5lbs hand weight
Core (everyday)
125 crunches
100 russian twists holding 5lb weight
3 (30 second) planks
Combo (everyday)
30 combo overhead press/squats with 5lb hand weights
Legs (Tues, Friday, Sunday)
50 squats
50 plie squats
Here's the exercise equipment I use:
3, 5, and 8lb hand weights.
Resistance bands – I purchased mine years ago from Target. You can also get them off Amazon.
Basic weight bench – I just purchased this one from Amazon a couple of months ago. It's super basic but all that I need to do simple toning exercises.
As for food, I did good…but can always do better. It was super helpful to have meals ready to eat and I love eating all the healthy food I make…but I love eating chips on the weekend and having a few Trulys too. At least that was the issue this past weekend. I do try to keep it under control but Saturday I definitely had a little more than I should've. Hmmm, maybe I should change my weigh-in day to Fridays. Hahaha…but seriously.
Here's my meal plan (and prep) for this week.
Breakfast – 282 calories
Coffee + 2 tablespoons creamer
Meal prep tips
I made this yesterday, cut into 8 squares, and stored into glass containers.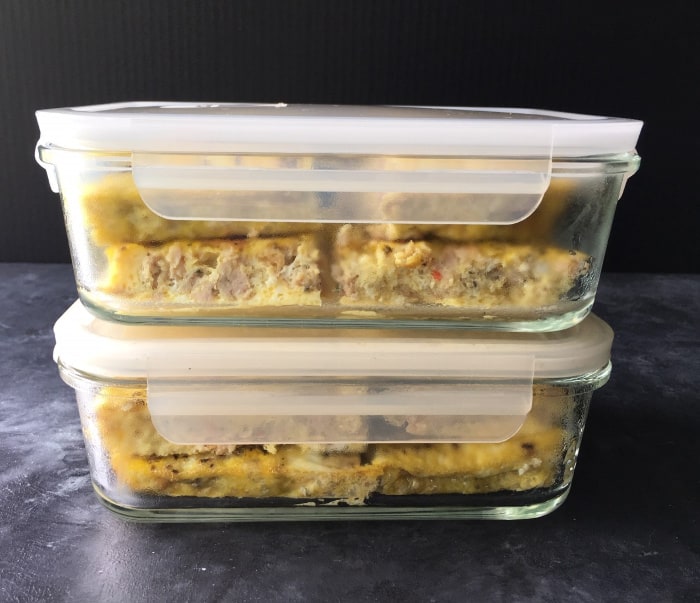 Morning snack – 80 calories
Cheese stick
Lunch
Lunch – 415 calories
Meal prep tips
I made these yesterday for the week.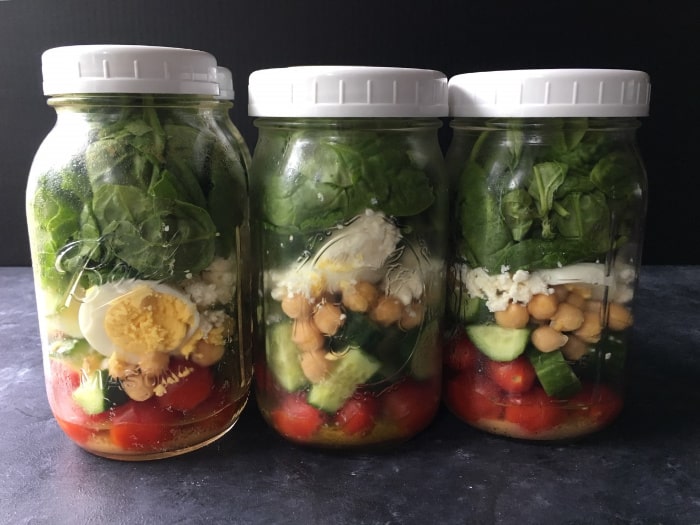 Mid-afternoon Snack – 220 calories
2 Deli roll-ups (Turkey, Ham, and mustard)
Meal prep tips
These can be made ahead of time but I'm going to make them the day of.
Dinner – 342 – 600 calories
Baked Chicken Parmesan with roasted green beans- 342 calories
Buffalo Chicken Macaroni and Cheese with roasted asparagus- 398 calories
Buffalo Chicken Subs -490 calories
Chicken and Zucchini Pasta (Hello Fresh meal) – 600 calories (I reduced the pasta in this recipe to keep the calories at 600) See my Hello Fresh Review for more info about this meal kit service.
Meal prep tips
I made Slow Cooker Buffalo Chicken yesterday. I used half of it to make Buffalo Chicken Macaroni and Cheese and the other half I put in a glass container for subs later in the week.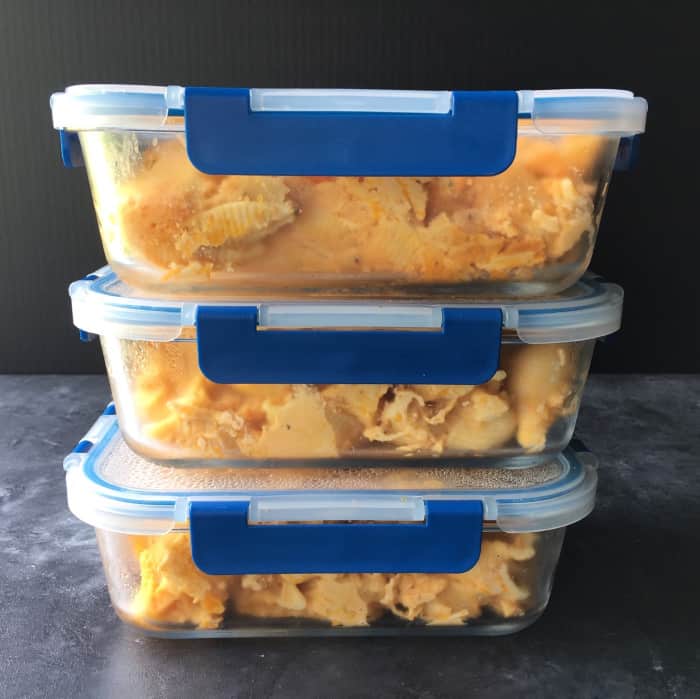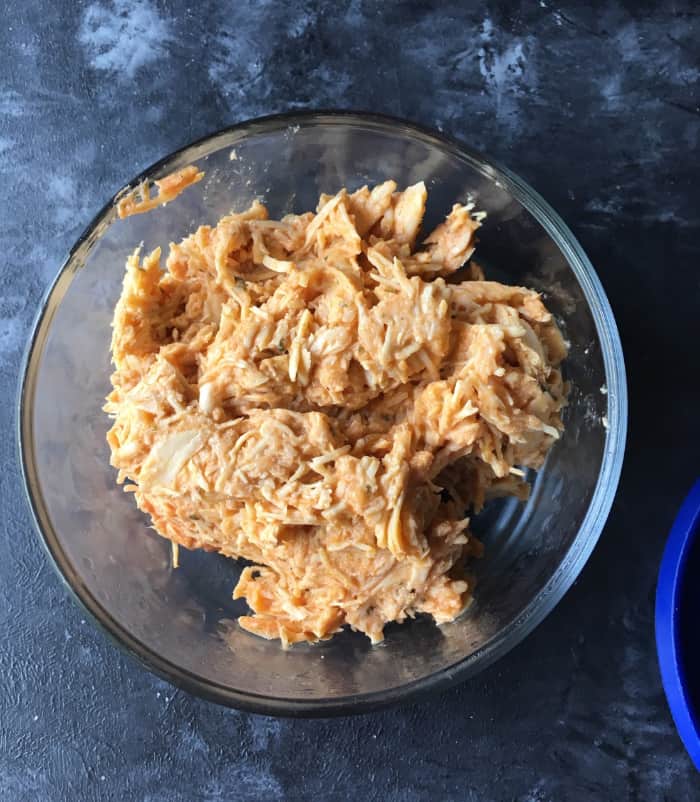 I prepared the Hello Fresh meal yesterday and stored it in the refrigerator using glass containers.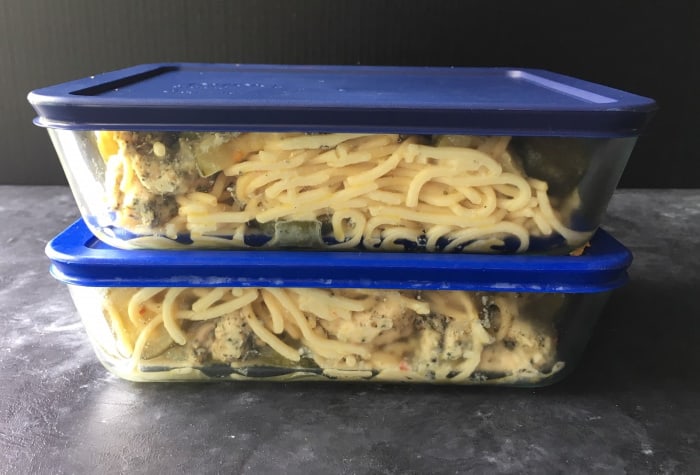 The chicken parmesan I'll make the night we eat it.
Here's everything I prepped for this week.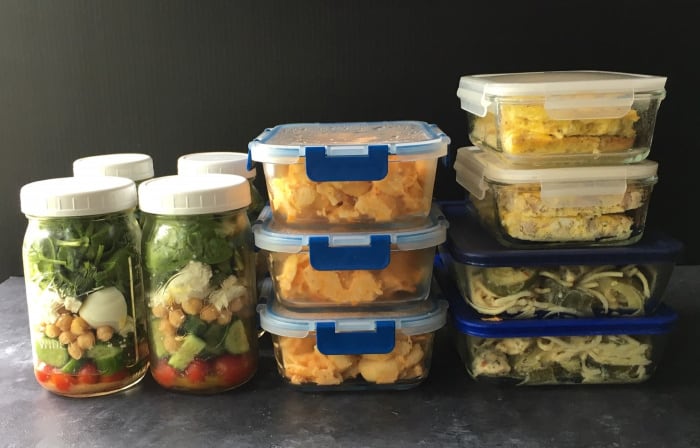 Meal Prep Containers, Tools, and Supplies Used This Week
36 ounce rectangle glass meal prep containers
2-cup round Pyrex glass containers
See the other glass meal prep containers I recommend here.
Check out my meal prep and healthy meal planning pages for more information to get you started.