Every week I share my 1500 calorie meal plan, meal prep pictures, along with the progress (or not) I've made on my weight loss journey. My goal with these posts is to give you a little glimpse into my week and for you to see I'm human and have good and bad weeks just like everyone else.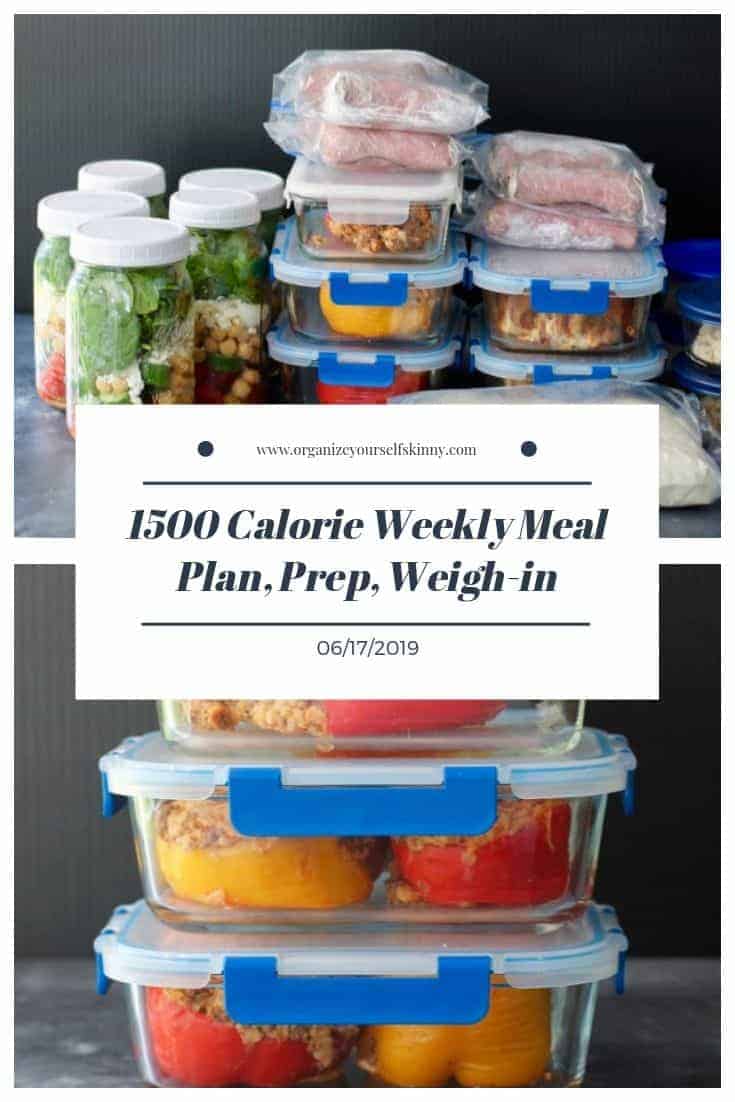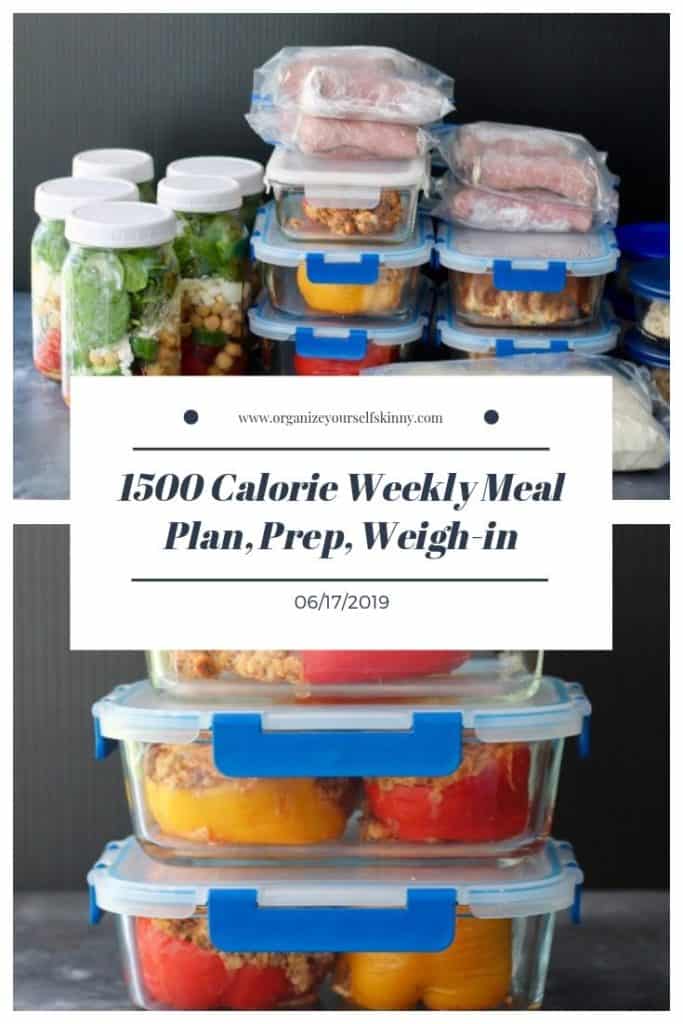 Hey hey! I hope you had a fantastic weekend. I know it seems I just shared a meal plan post but last week I was late getting it on the blog and this week I'm on time. Woot woot, here's to having it together this week!
I have to say, I mighty proud of myself for not being a total disorganized mess today. Trust me, I had every excuse to totally slack on meal prep this weekend. But I didn't.
Saturday we went to the Zac Brown Concert. It started at 7:00pm but we got there around 4:00pm to get the party started early. Before the concert I got in an awesome workout AND went to the grocery store to pick up foods for the concert, meal prep for the following week, and Father's day.
Then….
On Sunday, before everyone got here for dinner, I spent about 3 hours preparing food for the week. I didn't get in a workout but I made up for it by prepping breakfast, lunch, and some dinners. Here's a picture of everything but I'll go over the recipes down below.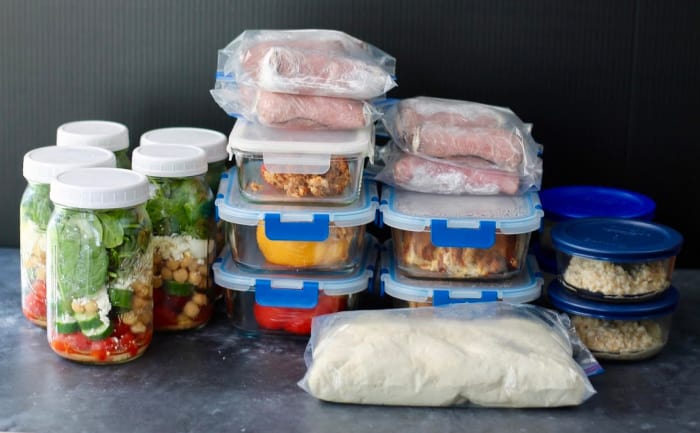 I went to bed feeling accomplished and totally exhausted. And, even though a part of me wanted to slack on meal prep I woke up so happy I didn't. It feels soooo good having meals ready to eat.
This morning I got in a solid workout, got ready for the day, and then got right to work. Hence, why my meal plan is actually on time this week.
One of the main reasons I pushed through to get my meal prep done was I didn't want to worry about dinners this week. I also didn't want to prep on Monday because I have other things I need to focus on. I'm trying to get a head of the game with work so by having dinners ready I'm able to add an extra hour or two to my work schedule.
Okay, before I get to my meal plan I just want to go over one more thing. Enrollment for the Organize Yourself Skinny Ecourse will open this Thursday June 20th and stay open until July 3rd. My original plan was to open it the following week but I've received a bunch of requests to open the course earlier. I get it, Summer's here and we're getting antsy to get a jump start on our healthy summer habits. No worries, I got you! Email subscribers will get first dibs so make sure to check your email for the announcement and a coupon. You can subscribe here.
Also, I will announce enrollment on Instagram, on the Facebook Page, and in the Facebook group.
FYI, this is the only enrollment for Summer. Doors won't open again until the end of August.
Now let's get to my weigh in.
Starting weight (October 2010) : 177 lbs
First goal weight: 145lbs
Final goal weight: 135 lbs
Last week's weight:155.6
Current weight: 154.8
Pounds lost: 1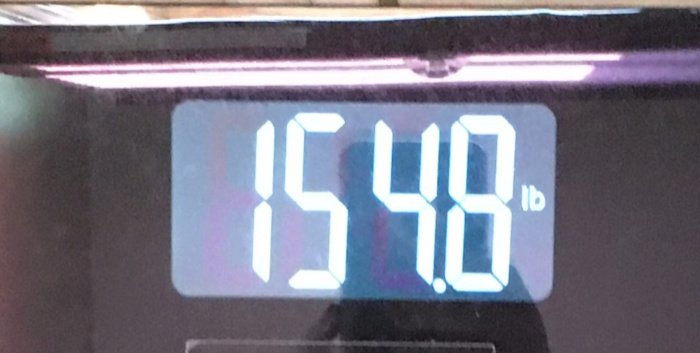 This week I lost a pound. I have mixed feelings about this week's weigh-in. First, I'd love to see a lower number. I want to hit my first goal weight of 145 and stay there. However, I had 2 people tell me this week I look like I've lost weight – one being my dad who'd NEVER says that unless he really thinks it.
Anyway, it felt good for people to take notice. I did admit that I haven't seen the scale budge at all in forever, I just keep losing the same 5-6 pounds. But I guess it didn't seem to matter because I was told on 2 seperate occasions by 2 different people that I look like I'm losing weight. I'll also say that I've notice my clothes fit a little better too.
I attribute this to strength training. I'm by no means a power lifter (and never will be) but toning makes a huge difference with results. Of course, I love my treadmill but picking up some weights or resistance bands is where you'll see your body change, even without the scale changing.
And, honestly, I don't even get crazy. I just do what I post ever week. The key is to stay consistent. We won't see results from working out 2 weeks straight and then never again. Or even from working out only a couple times a week. We need to consistently exercise every single week. And we need to decide on the results we want. I'm not going to get toned walking 2-3 times a week. Nope, I need to lift weights, do squats, and even a combination of both.
Basically, we get out of it what we put into it.
My goal is to keep the toning going because it's clearly working – even if I don't see the results on the scale.
Here's my exercise plan for this week.
Monday, Wednesday, Saturday
45 minutes – treadmill. I power walk and add in various inclines.
Arm exercises
24 bicep curls with 5lb resistance bands
12 bicep curls with 8lb hand weight
24 lateral raises with 3lb weight
24 front lateral raises with 3lb weight
24 tricep extensions with 5lb hand weight
24 rows with 5lbs hand weight
Core
125 crunches
100 russian twists holding 5lb weight
3 (30 second) planks
My core is my biggest problem area and requires the most work. Sometimes, I feel like all my extra weight is sitting right in my stomach. These exercises are starting to feel easier so I added some more time and/or reps to keep it challenging
Combo
30 combo overhead press/squats with 5lb hand weights – I think this is my favorite exercise. My heart rate goes up more from doing 30 of these combo strength training exercises than the entire time on the treadmill. I do these every time I exercise regardless of the day. I feel like a beast!
Tuesday, Friday, and Sunday
45 minutes – treadmill. I power walk and add in various inclines.
Legs
50 squats
50 plie squats
Core
125 crunches
100 russian twists holding 5lb weight
3 (30 second) planks
Combo
30 combo overhead press/squats with 5lb hand weights
Here's the exercise equipment I use:
3, 5, and 8lb hand weights. 
Resistance bands – I purchased mine years ago from Target. You can also get them off Amazon.
Basic weight bench – I just purchased this one from Amazon a couple of months ago. It's super basic but all that I need to do simple toning exercises.
1500 Calorie Meal plan
This week my food goal is to keep calories to 1500 or less a day, drink 64 ounces of water, keep sugar controlled, and stop eating at 6:00pm.
Breakfast – 335 calories
1/2 cup steel cut oats
2 tablespoons almond butter
coffee with 2 tablespoons creamer
Meal prep tips
I made this basic steel cut oats recipe and then divided it between 5 containers – I ate one today before I took the picture which is why you only see 4.
Morning Snack – 80 calories
Cheese stick
Meal prep tips
Cheese sticks are in a plastic bin in my refrigerator.
Lunch
Lunch – 459 calories
Protein Power Mason Jar Salad (no quinoa)
1 (4 ounce) grilled chicken breast
Meal prep tips
I made the mason jar salads yesterday.
I still have a couple more grilled chicken breasts leftover from last week and plan to grill up more tomorrow.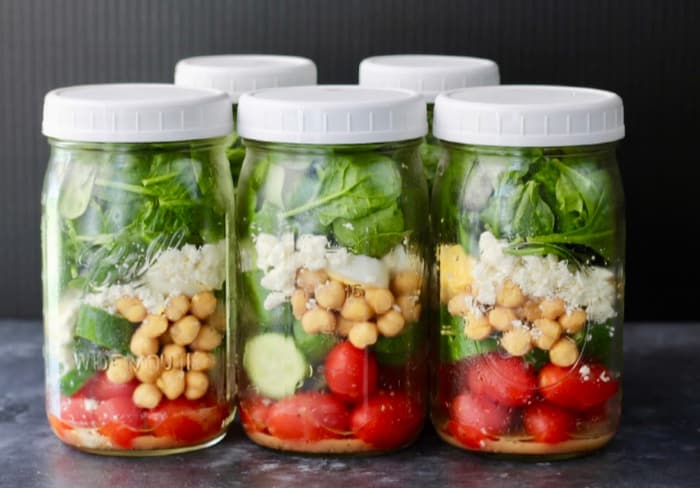 Also, I made a bunch of roll ups for Mike to take to work. He's on the road now and doesn't have time to eat a salad. He needs grab and go. So I made roast beef, turkey, and pepper jack cheese roll ups and ham, salami, and provolone roll-ups. I put 3 to a bag. This isn't part of my meal plan but just wanted to share in case you're looking for some grab and go low carb options.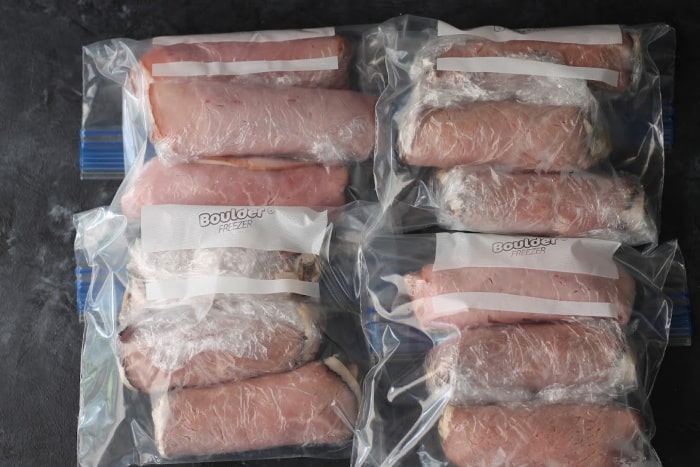 Afternoon snack – 185 calories
Apple and 1 tablespoon peanut butter
Meal Prep Tips
I have a ton of apples so they need to get eaten up. These are in the snack bin with the cheese sticks.
Dinner – 320 – 600 calories
Bacon Cheeseburger Turkey Meatloaf with Grilled Portobello Mushrooms- 320 calories
Homemade pizza (2 slices) plus bagged chopped salad – 600 calories
Grilled Honey Mustard Chicken (4 ounce) with Roasted Small Potatoes (1 cup) and Grilled Asparagus – 506 – we ate this last week but need to eat again this week because my pictures didn't turn out #foodbloggerproblems
Hello Fresh Creamy Spaghetti Parmesan with Chicken – 600 calories
Meal Prep Tips
I made the meatloaf yesterday. After it was cooled cut it up and stored it in the refrigerator using glass containers.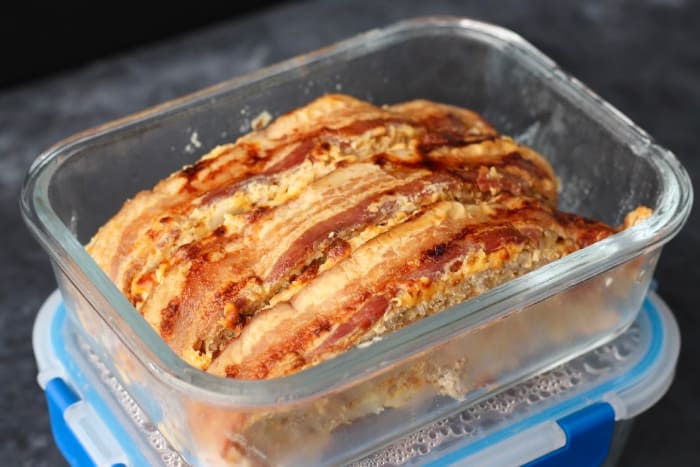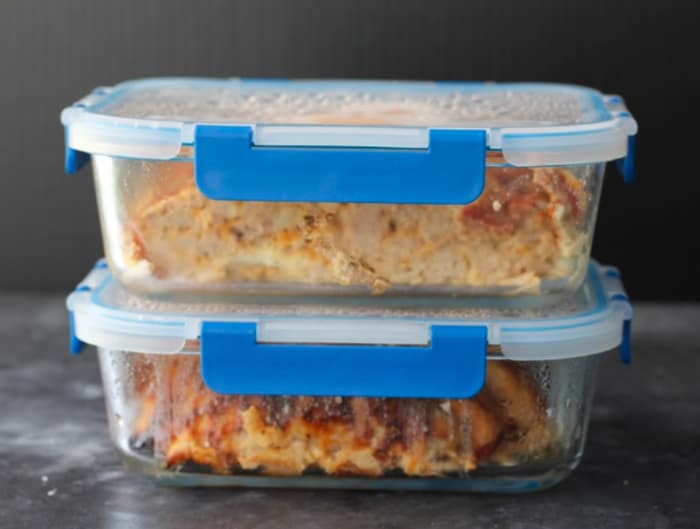 I made the stuffed peppers yesterday too. Just like with the meatloaf, I stored the cool peppers in glass meal prep containers.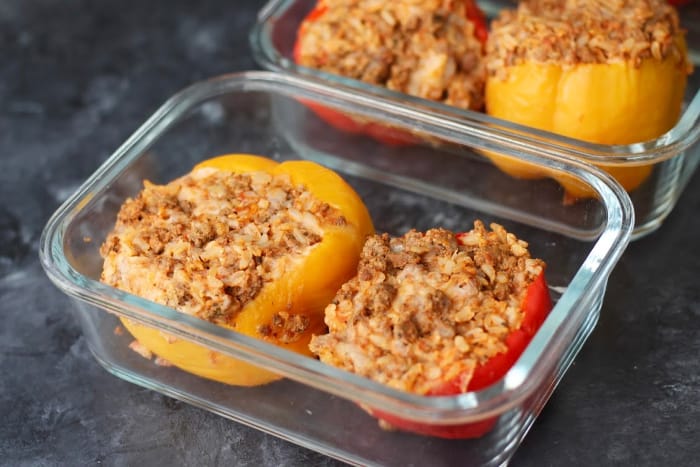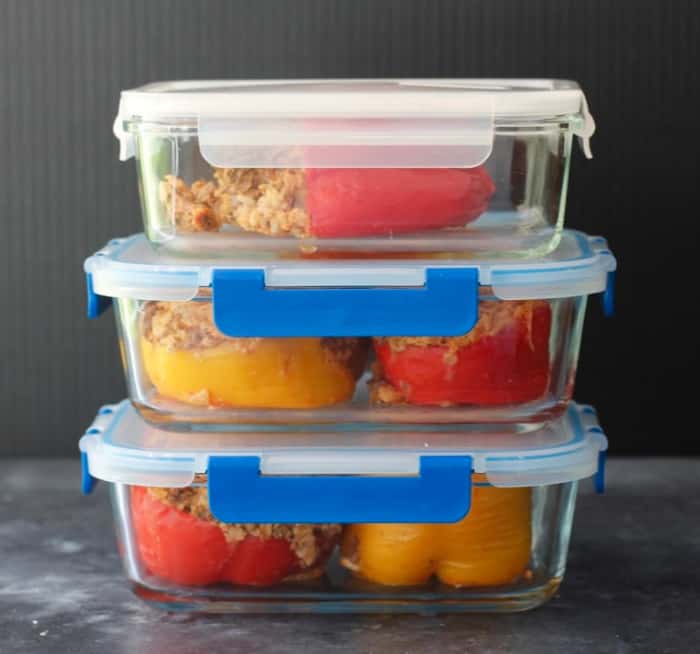 I made the pizza dough yesterday and will freeze it until later in the week.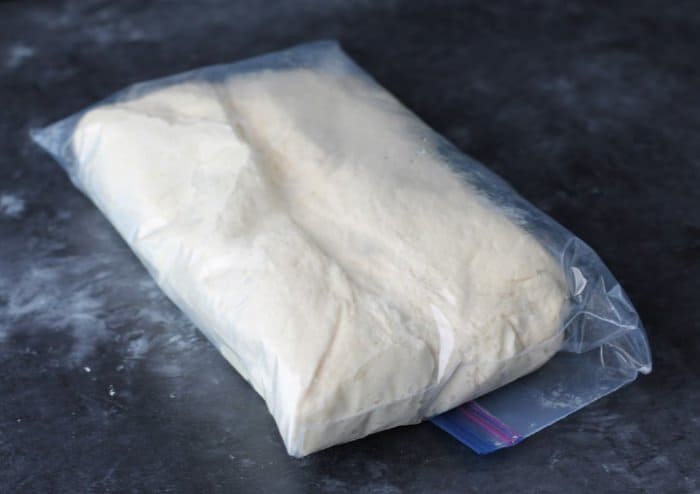 The Hello Fresh recipe is from last week. I'm going to make it tonight (or tomorrow) for dinner. I wanted to make this yesterday but ran out of time.
Chicken will be grilled this week.
Meal Prep Containers, Tools, and Supplies Used This Week
36 ounce rectangle glass meal prep containers
2-cup round Pyrex glass containers
See the other glass meal prep containers I recommend here.
Check out my meal prep and healthy meal planning pages for more information to get you started.
Other Meal Planning Services
Sun Basket – Organic meal kit delivery. See my original Sun Basket Review.
Hello Fresh – The best meal kit to feed the whole family. See my updated Hello Fresh Review.
Purple Carrot – The only vegan meal kit service. See my Purple Carrot review
Daily Harvest – vegan grab n go meals in a cup. See my Daily Harvest review.
Emeals – If you're looking for a Keto meal plan then definitely check out eMeals. Here's my eMeals review.
Plan to Eat – One of the top meal planning websites to help you organize your recipes, create meal plans, and generate grocery shopping lists.
For style advice then you gotta check out my Trunk Club Review.