Every week I share my 1500 calorie meal plan, meal prep pictures, along with the progress (or not) I've made on my weight loss journey. My goal with these posts is to give you a little glimpse into my week and for you to see I'm human and have good and bad weeks just like everyone else.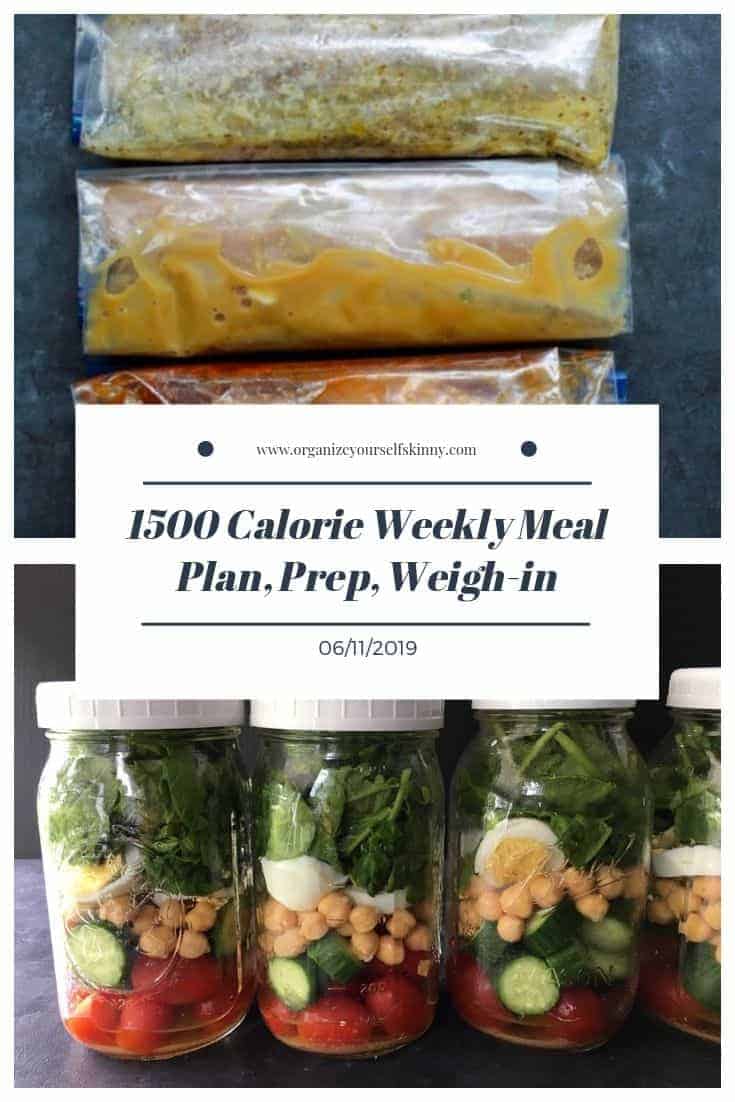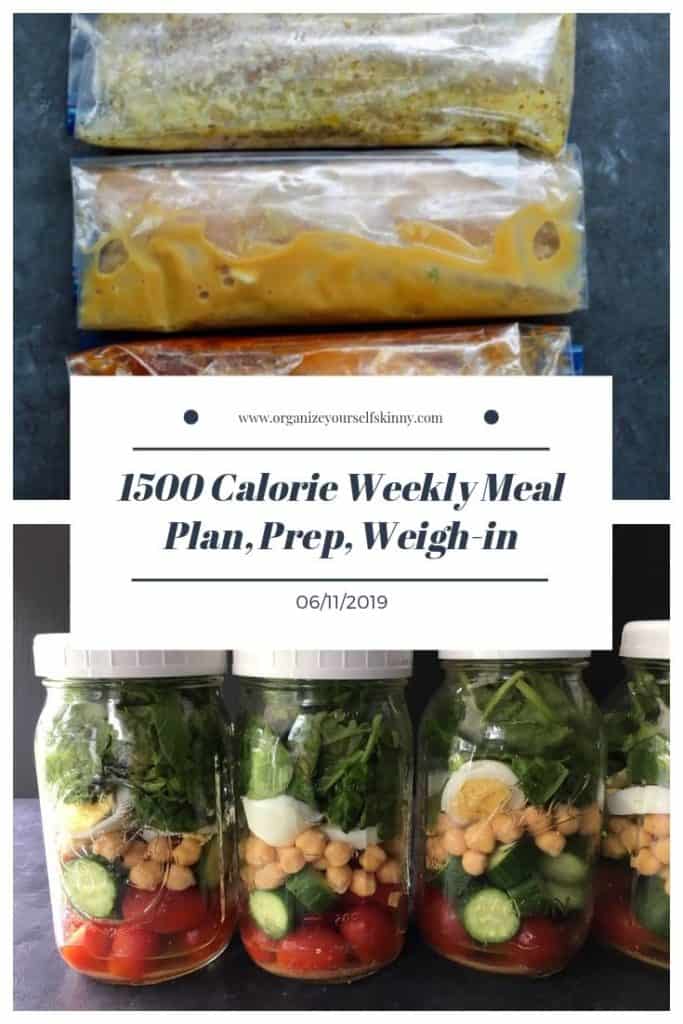 Hey there! Sorry I'm late with my weekly meal plan. I had all my prep done, pictures taken, but then the week got away from me. Before I know it Friday is here!
I promise I wasn't playing candy crush or watching Bravo all week! The problem is I'm trying to fit everything in and then something always falls threw the cracks – this week it was sharing my meal plan – and a few other things.
Basically, what I'm trying to say is I need to work on time management. I keep a to-do list, and calendar, but it seems I never get to all my daily work projects. I was talking to my sister about this and she suggested to track the amount of time it takes me to do certain things. For example, it takes me about 2 hours (I think) to write out this weekly meal plan post. I say I think because I never really tracked it before. She said once you know the amount of time a certain task takes you can block out that time specifically for that task.
Listen, I know that sounds a little "duh, Tammy shouldn't you already know that". Yeah, probably. But sometimes I need a reminder, and kick of accountability, to get myself back in gear. So, one of the things I'm going to do next week is track my work tasks so I can really plan and focus on getting certain projects done.
This is also a good thing to do because I do think we make the beast bigger than it is most of the time. We (I) procrastinate FOREVER because we feel like the task is going to be too hard or take too long. Then when we do it we find out it really wasn't that bad.
Sorry, I kind of went on a rant. My point is if you're feeling like me right now and trying to get everything done, but feeling like nothing is getting accomplish, then go back to some simple time management basics.
Track the amount of time it takes to get a project done.
Block that time and only work on that project.
Limit the to-do list only to the things you have time for.
That's my work life goals right now.
Okay, let's get to my weigh-in and then I'll chat about how my exercise and food goals are going.
Starting weight (October 2010) : 177 lbs
First goal weight: 145lbs
Final goal weight: 135 lbs
Last week's weight:156.6
Current weight: 155.6
Pounds lost: 0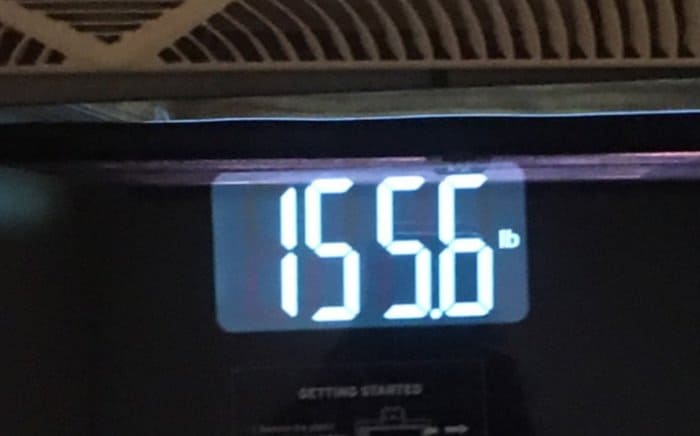 So this week there was zero change on the scale. Even though I didn't see any progress on the scale I feel really good about my exercise routine the last few weeks.
I exercised 5 days last week and 2 of those days took my dog for an extra 2 mile walk. I also stuck to my toning exercises. So, on those 5 days I did 45 minutes on the treadmill and then an extra 15-20 minutes of toning. This week I've already got in 3 days of exercise doing the same routine.
I love being back in a solid exercise routine – I feel so much better mentally and physically. Exercising with weights makes me feel strong and I like that. I feel like a beast when I'm doing squats and overhead presses at the same time. I know a lot of people really focus on toning but I need running too – working up a good sweat on the treadmill keeps me sane.
My plan is to stick with this exercise schedule and routine.
Let's chat about my eating habits. Overall, I'm happy with the way I'm eating. This last week I've been paying close attention to the food and drinks I'm consuming.
This is what I notice…
Breakfast, lunch, and snacks I'm locked on. In fact, I'm like a robot with those meals. I know what I'm eating and that's exactly what I eat everyday. I don't mind eating the same things everyday and actually look forward to it.
My issues are:
Eating extra at dinner time. I need to pay better attention to the portions I'm taking.
Grazing a little while getting dinner together. I do a lot of "tasting" while dinner is get ready or I'll grab a couple crackers or whatever while dinner is cooking. Both of these bad habits add at least 100-200 (if not more) calories a day.
Having extras on the weekend. I'm not a big drinker so it's easy to control the alcohol calories but again self-control is a lot harder for me when I'm in front of snacky food.
Too much sugar. I don't drink pop, or really have a sweet tooth, but the more I read labels the more I see that I'm consuming way to much sugar. Of course, my coffee creamer is the #1 issue and is a constant battle. But it's also the sugar in carbs. This week I really started to pay attention and crack down on the sugar I'm eating.
Those are the 4 ways calories are finding their way into my diet. To see the scale go down (and stay down) I need to control all of these extras.
With all that said, and before I get to my meal plan, I do want to talk about a non-scale victory I had this week. I'm working on a review for Trunk Club. In case you don't know, Trunk Club is a Nordstrom company that provides a personal stylist (for a $25 fee) to help build your wardrobe. In essence, Trunk Club is like Stitch Fix but it's also very different. I'll talk more about the differences in my review. Basically, they send you clothes to try on. Buy what you want and send back what you don't.
Anyway, as I was editing pictures I had a moment. Honestly, I almost got a little choked up. I saw a totally different person than I was 12 years ago.
This was me about 12 years ago. So, I was about 31 or 32 in this picture. I don't have a lot of "before" pictures because I hated getting my picture taken.
Anyway, when I look at this picture I see someone who is just tired, worn out, and struggling. And, seriously, let's not even talk about my style.
But, honestly, it makes me sad looking at this picture.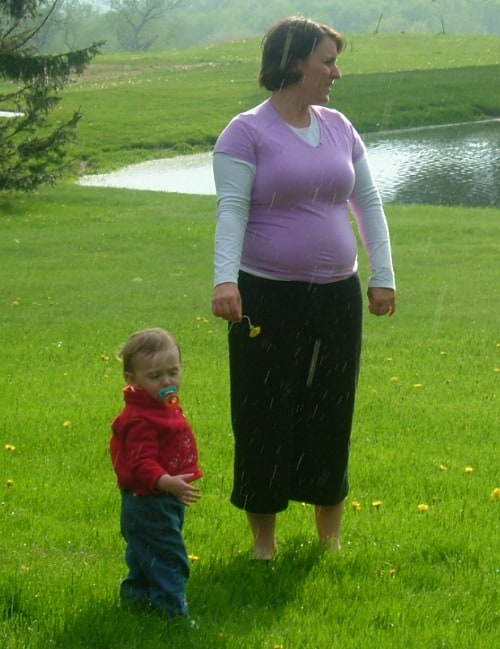 The next 2 pictures were taken a couple days ago – 12 years later. Now, I may not be a size 2, or down to my goal weight, but when I look at these pictures I see a happy confident woman. I see someone who cares about herself.
Not only do I look different but my mind is different. Actually, I have a completely different outlook on life now.
Changing my lifestyle did so much more than help me lose weight.
Changing my lifestyle, and losing weight, taught me to be intentional and disciplined. I learned that just because I want something doesn't mean it's going to magically happen. I needed to create a plan (intentional) and consistently stick to it (disciplined).
Changing my lifestyle gave me the confidence that I can do whatever it takes to create a happier better life. It showed me that even when times are tough, and I don't feel like it, I can still push through and get it done.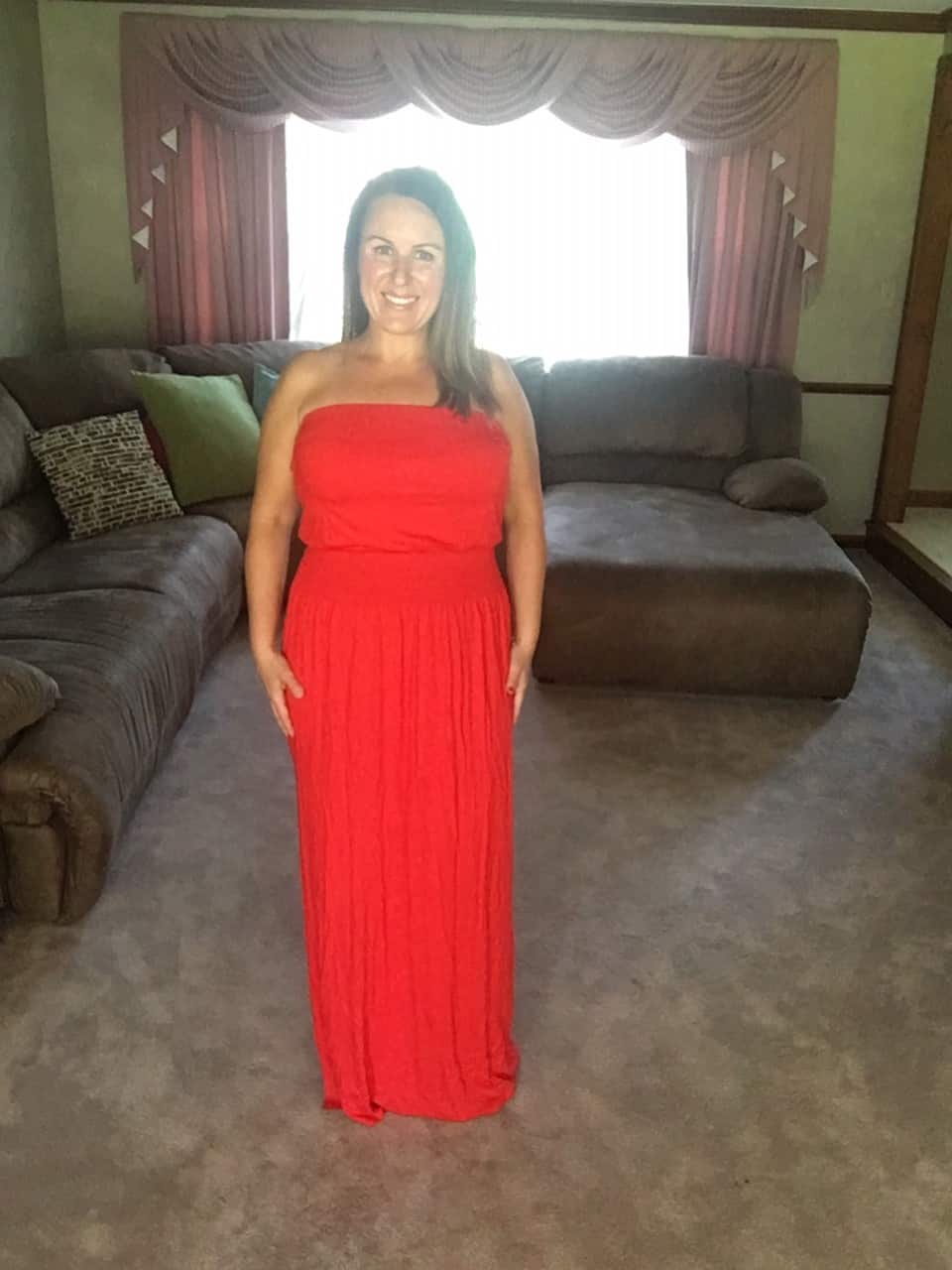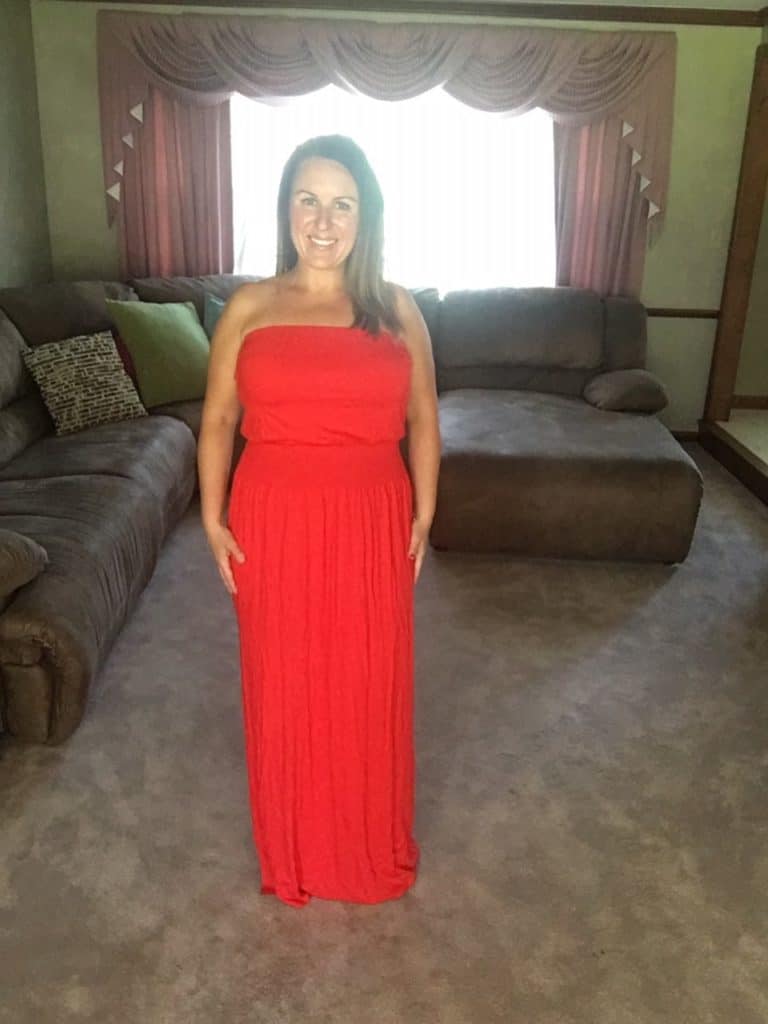 I think the biggest thing changing my lifestyle taught me was that it's about the process…not the destination. The process is what will change you the most. When I first started on my journey I had my eyes set on losing weight. All I thought about was fitting into a smaller size and "looking better". I had no idea that the process of consistently working and pushing through to achieve my goals is what would make me the person I am today. A very strong confident happy woman!
Anyway, these are the thoughts that popped into my head when I was editing pictures. I love the person I am today and I'm happy I believed in myself and kept pushing through.
I know this is a little sappy but I wanted to share this because if I can do this so can you. I mean it. Even if you haven't hit your weight loss goals take a moment and look back at where you started. Or if you're just starting out I hope you're inspired to keep going.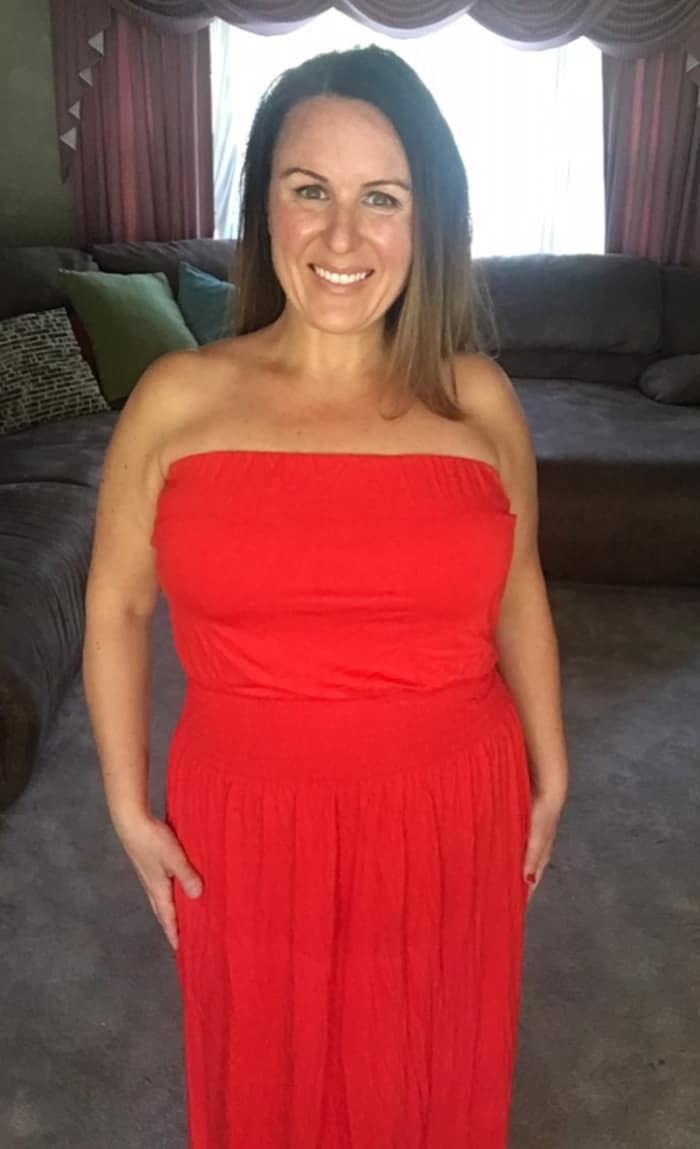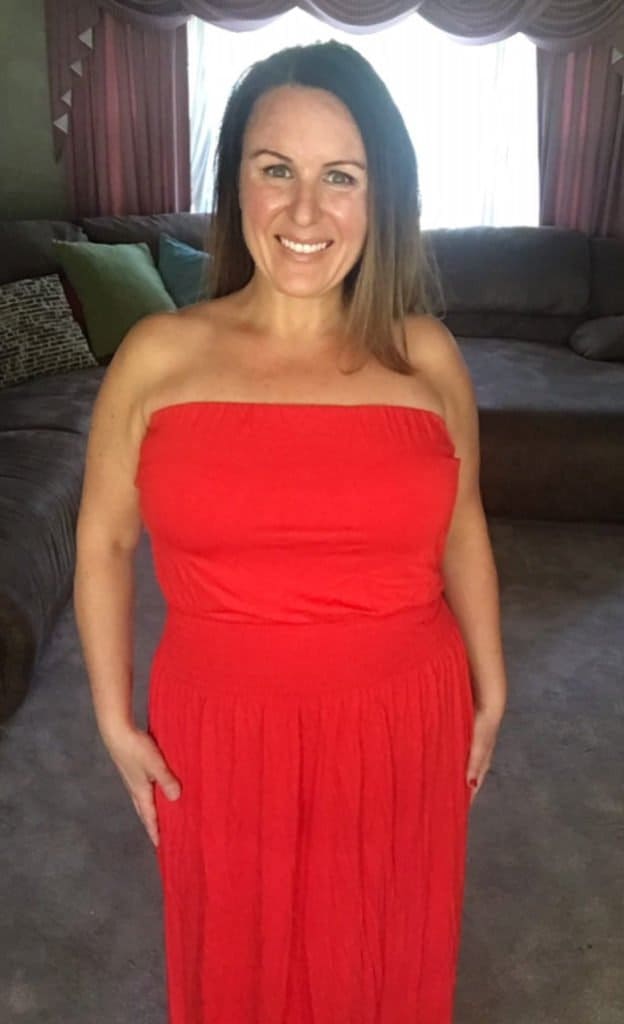 Okay, let's get to my make-ahead meal plan!
Breakfast – 335 calories
1/2 cup steel cut oats
2 tablespoons almond butter
coffee with 2 tablespoons creamer
Meal prep tips
I cooked the steel cut oats on Monday and stored them in round Pyrex glass containers. These work great for a quick heat and eat breakfast. Also, I just want to add that I didn't add any maple syrup to my oats this week because I wanted to keep the sugars under control.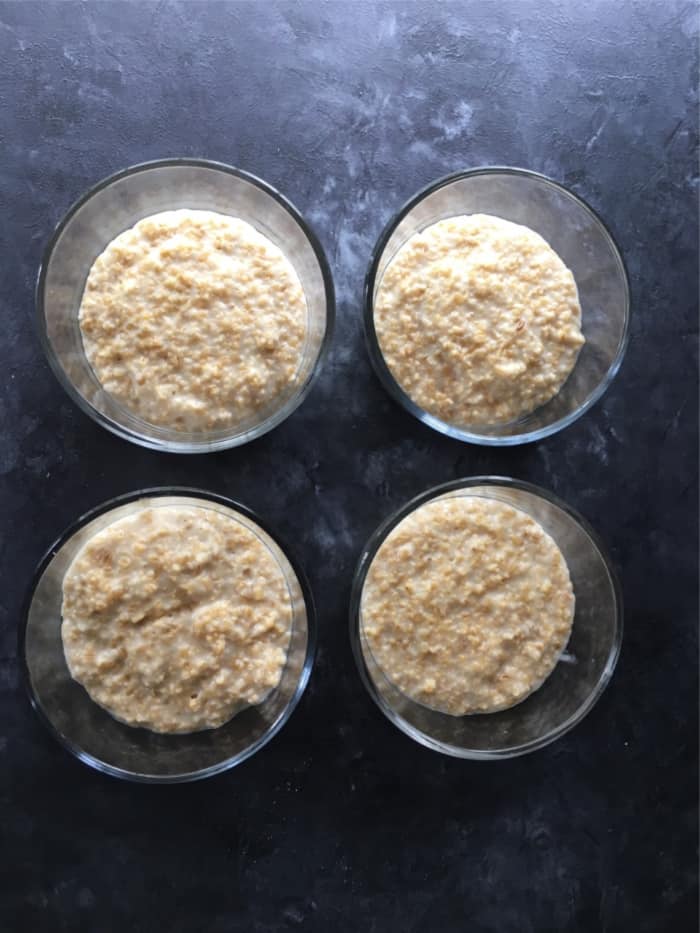 Morning snack – 80 calories
Cheese stick
Meal prep tips
I purchase cheese sticks in bulk from BJ's Wholesale. Then I put them in a plastic bin in the refrigerator.
Lunch – 459 calories
Protein Power Mason Jar Salad (no quinoa)
1 (4 ounce) grilled chicken breast
Meal prep tips
I made all the salads on Monday. Also, I put together some grilled chicken marinades and then grilled up the chicken to use in salads this week.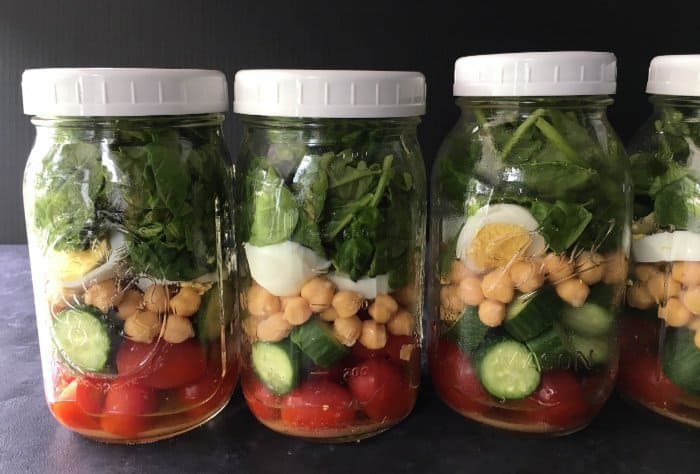 Here are the marinades. I'm going to share all these new chicken marinade recipes over the next couple weeks.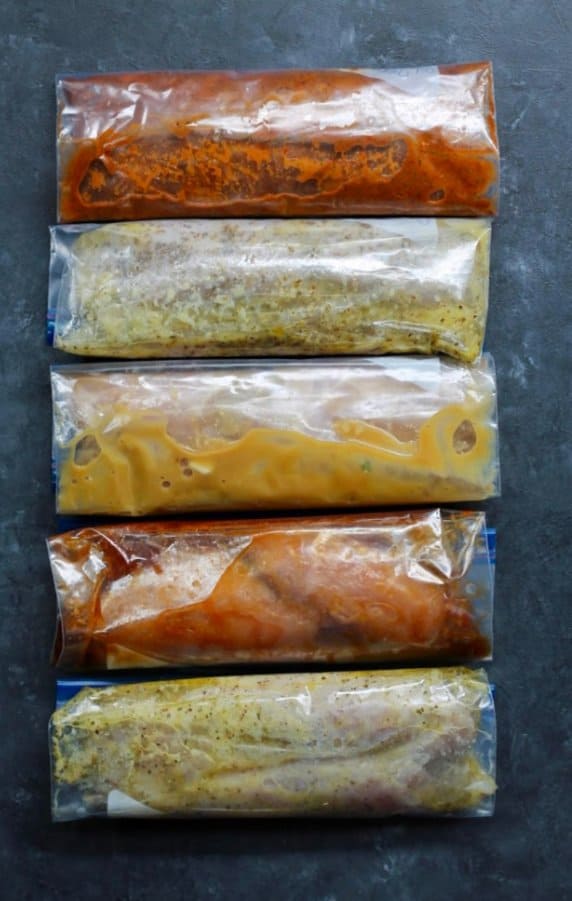 Mid-afternoon Snack – 220 calories
2 Deli roll-ups (Turkey, Ham, and mustard)
Meal prep tips
I made these 1-2 days ahead of time.
Dinner – 476 – 600 calories
Greek Salad with Grilled Greek Chicken (new recipes) – 539 calories
Grilled Honey Mustard Chicken (4 ounce) with Roasted Small Potatoes (1 cup) and Grilled Asparagus – 506
Salad Pita Pizzas – 476 calories
Hello Fresh Dinners (Burgers, Spaghetti Parm with Chicken, Chick-pea Couscous Bowl) 600 calories. I'm going to lightened up the burger recipe by eating it bun-less and keep my portion small with the pasta.
Meal prep tips
All the chicken was marinated on Monday. Some of it was frozen and some was cooked for dinners/lunches.
Everything else will be made the night we eat.
Meal Prep Containers, Tools, and Supplies Used This Week
36 ounce rectangle glass meal prep containers
2-cup round Pyrex glass containers
See the other glass meal prep containers I recommend here.
Check out my meal prep and healthy meal planning pages for more information to get you started.
Other Meal Planning Services
Sun Basket – Organic meal kit delivery. See my original Sun Basket Review or my updated Sun Basket review for more info.
Hello Fresh – The best meal kit to feed the whole family. See my Hello Fresh Review
Purple Carrot – The only vegan meal kit service. See my Purple Carrot review
Daily Harvest – vegan grab n go meals in a cup. See my Daily Harvest review.
Emeals – If you're looking for a Keto meal plan then definitely check out eMeals. Here's my eMeals review.
Plan to Eat – One of the top meal planning websites to help you organize your recipes, create meal plans, and generate grocery shopping lists.