Every week I share my 1500 calorie meal plan, meal prep pictures, exercise schedule, along with the progress (or not) I've made on my weight loss journey.  My goal with these posts is to give you a little glimpse into my week and for you to see I'm human and have good and bad weeks just like everyone else.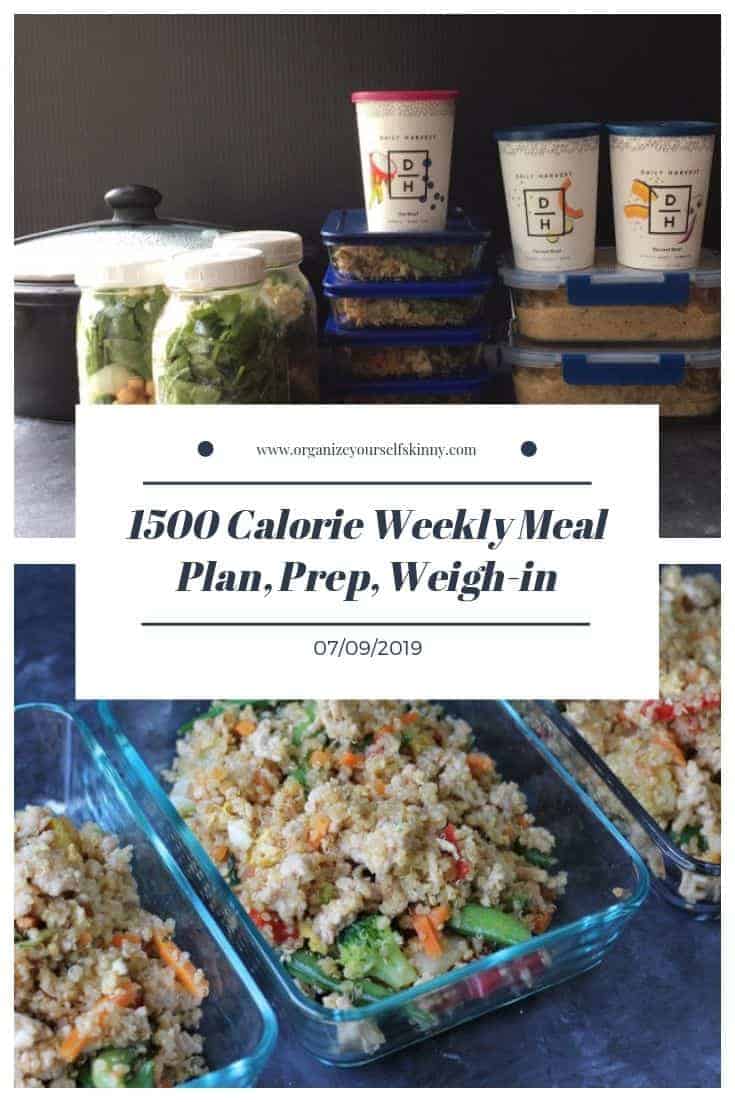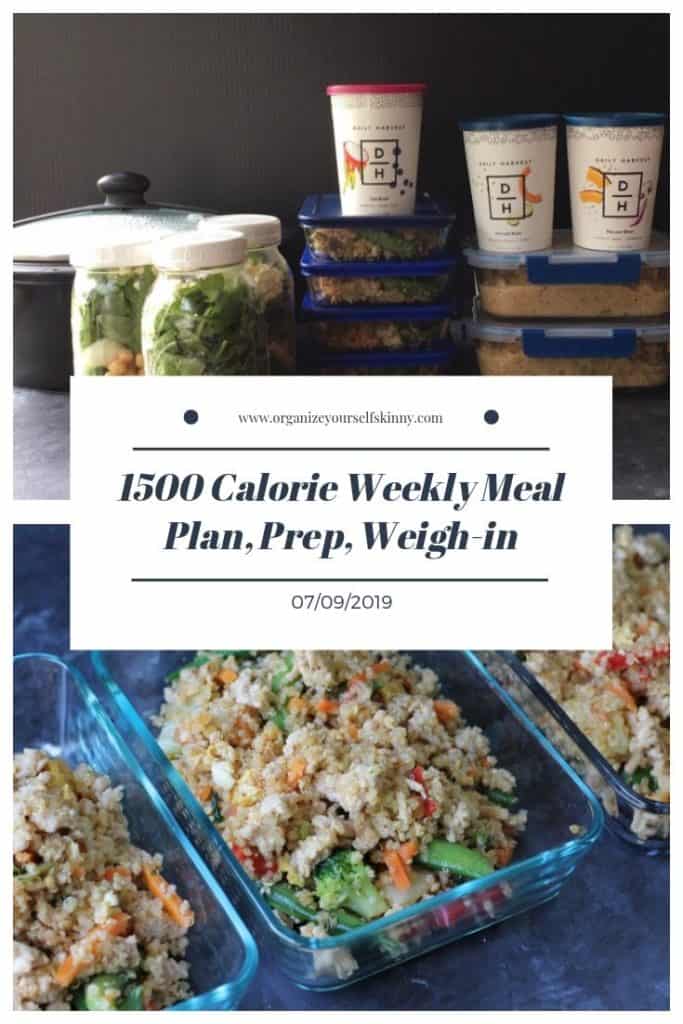 Hey there! Well, I'm a day late with my weekly meal plan. You know what that means? That I broke my 3 week streak of having it posted on time. Grrrrr! Not to bust out with all the excuses…but I was totally exhausted on Sunday and couldn't push through to get my meal prep done. I did prep quinoa to make it easy to prepare meals the next day for the week but I just didn't have it in me to do a full on meal prep session.
The good news is I still had some mason jar salads leftover from the week before so fingers crossed those will last till Thursday! If not, I got a box from Daily Harvest this weekend so I have some healthy already prepared options for breakfast and lunches this week in the freezer. I'll talk more about that in a little bit.
Anyway, since I didn't meal prep on Sunday that means I spent time yesterday doing it which means I'm a day behind with work. I guess I can't complain because that's just the way life goes sometimes. Plus, this holiday weekend was FILLED with get togethers and all kinds of parties. We made a lot of memories spending time with family and friends.
Here's a polaroid picture of my crew! I love love love this picture. I wish it was bigger and more clear but it's still a great snapshot of everyone. We took it with one of the polaroid cameras for a scrapbook during the graduation party we attended on Saturday. It was incredibly hot and humid so my hair was beyond out of control. I probably should've put it up but I just let it go wild.
FYI, you can't 100% see my outfit in this picture but it's one of the outfits sent to me by my stylist Lauren from Trunk Club. You can see all the outfits (including the one pictured below) in my Trunk Club Review. I absolutely loved it and got so many compliments on it. It was perfect for a graduation party.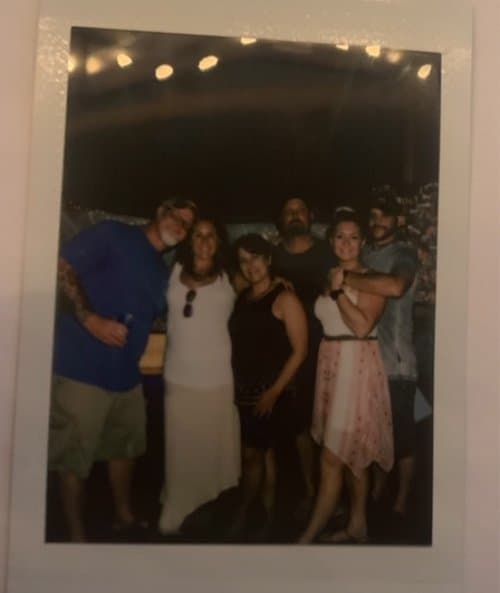 I hope you had a nice 4th of July weekend too! If you didn't get meal prep, or other things done, don't worry…sometimes you just got to put those things aside so you can enjoy the people you're with.
After I woke up Monday morning I got to work on meal prep and getting my house in order. Like I said, this put me a day behind but at least I got it done and have healthy foods in my fridge.
I also got back into my exercise routine which felt awesome! I didn't get in a workout Saturday or Sunday so that was a priority for me yesterday. I'll talk more about this week's exercise routine in a little bit.
First, let's get to my weigh in.
Starting weight (October 2010) : 177 lbs
First goal weight: 145lbs
Final goal weight: 135 lbs
Last week's weight: 154.8
Current weight: 155
Pounds lost: 0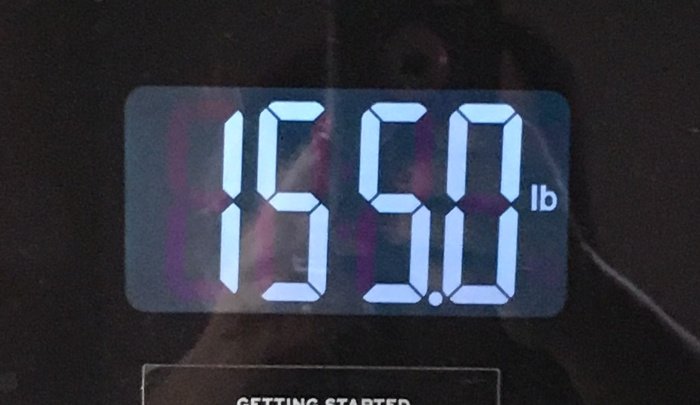 Well, the scale didn't really move this week and I feel very grateful for that. While I tried to keep food and drinks under control I'd be lying if I said I didn't slip up…more than I want to admit. However, I stuck to my toning and cardio routines (during the week), and while I know I can't outrun bad food choices I did feel that sticking with a solid exercise routine kept everything in balance.
Also, I had another person make mention of my "weight loss" this weekend. Remember last weekend when I said 2 people made comments about me losing weight? Anyway, this person said "you look like you lost 15 pounds" Ha! I wish. Again, I said that I'm not seeing any change in the scale but I'm sticking to toning and that it obviously making a difference. It's definitely motivating!
Here's my exercise routine this week.
Monday and Tuesday – walk outside 3 miles
Wednesday, Saturday, and Sunday – treadmill. I power walk and add in various inclines.
Arm exercises (M, W, Sat)
24 bicep curls with 5lb resistance bands
12 bicep curls with 8lb hand weight
24 lateral raises with 3lb weight
24 front lateral raises with 3lb weight
24 tricep extensions with 5lb hand weight
Core (everyday)
125 crunches
100 russian twists holding 5lb weight
3 (30 second) planks
Combo (everyday)
30 combo overhead press/squats with 5lb hand weights
Legs (Tues, Friday, Sunday)
50 squats
50 plie squats
25 lounges on each leg
Here's the exercise equipment I use:
3, 5, and 8lb hand weights. I bought this basic set from Amazon for under $30
Resistance bands – I purchased mine years ago from Target. You can also get them off Amazon.
Basic weight bench – I just purchase this one from Amazon a couple months ago. It's super basic but all that I need to do simple toning exercises. It's under $90 on Amazon.
Let's talk about my meal plan.
This week I accidentally ordered a box from Daily Harvest. At first I was annoyed with myself for not skipping this week but now I'm grateful for having healthy options in the freezer. I have smoothies and oat bowls for breakfast. I also have harvest bowls for lunches if needed.  If you want to give Daily Harvest a try you can use my link to get 3 cups free – code is OYS. Want to learn more? Read my Daily Harvest Review.
Breakfast – 315 – 395 calories
Daily Harvest Mint and Cacao Smoothie – 240 calories for the entire smoothie
Daily Harvest Mulberry Fruit Oat bowl – 32o for the entire bowl
Daily Harvest Cinnamon and Banana Oat bowl – 500 for the entire bowl (I'll eat 1/2 at a time)
Coffee with 2 tablespoons of creamer
Meal prep tips
All the Daily Harvest meals are ready to eat in my freezer/fridge.
Morning snack – 145 – 240 calories
Smoothie days – 1/2 cup cottage cheese and 1 slice toast – 240 calories
Oat days – strawberries or peaches with 1/4 cup vanilla Greek yogurt – 145 calories
Lunch – 415 calories
Protein Power Mason Jar Salad – 415 calores
Meal prep tips
I had a few leftover from last week that should last me until Thursday. If not, I'll have one of the Daily Harvest Harvest Bowls which are about 300 calories.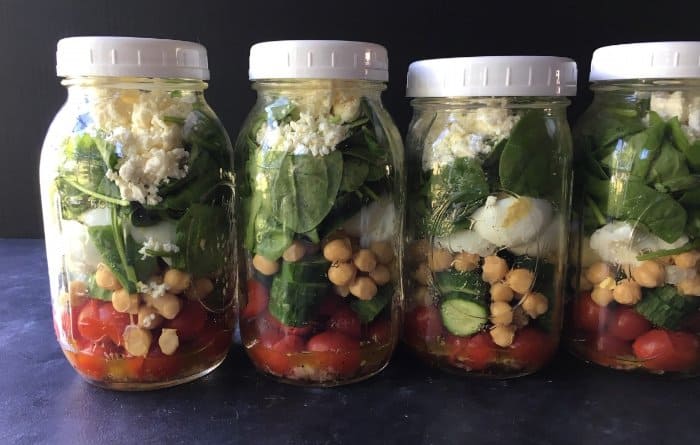 Afternoon snack – 80 calories
Cheese stick
Dinner – 385 – 600 calories
Cajun Chicken Quinoa Bake (1 1/2 cups) – 385 caloires
Chicken Fried Quinoa (new recipe) – (1 1/2 cups) – 435 calories
Beef Enchiladas using slow cooker shredded Mexican beef – (1 enchilada) 383 calories
Homemade pizza plus bagged salad – 600 calories
Leftovers
Meal prep tips
I made the quinoa on Sunday and then prepared the cajun chicken bake and chicken fried quinoa yesterday.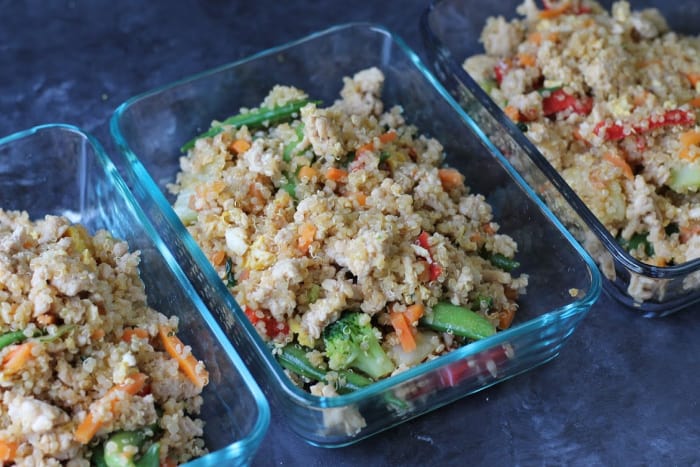 I prepped the slow cooker mexican shredded beef yesterday and will cook it on Wednesday. Will make the enchiladas that night.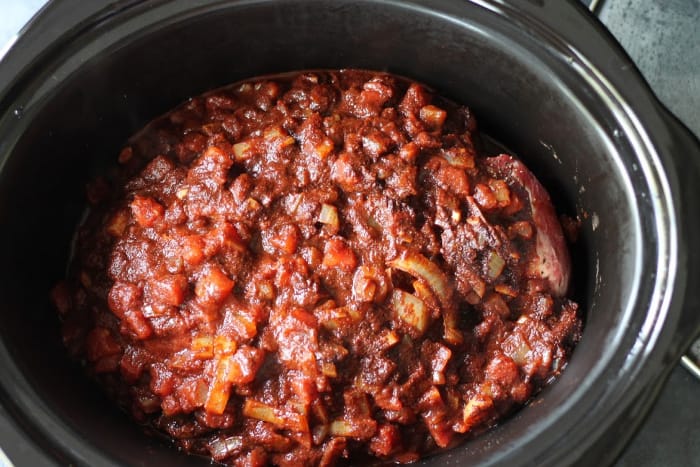 I'm making pizza dough in my bread machine today or tomorrow.
Here's everything.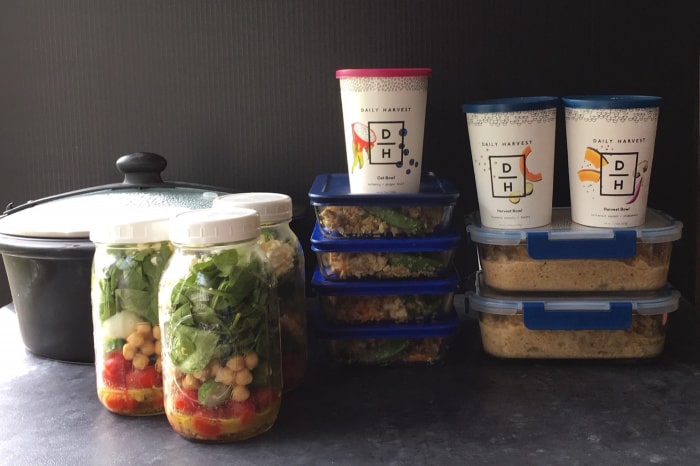 Meal Prep Containers, Tools, and Supplies Used This Week
36 ounce rectangle glass meal prep containers
2-cup round Pyrex glass containers
See the other glass meal prep containers I recommend here.
Check out my meal prep and healthy meal planning pages for more information to get you started.
Other Meal Planning Services
Sun Basket – Organic meal kit delivery. See my original Sun Basket Review or my updated Sun Basket review for more info.
Hello Fresh – The best meal kit to feed the whole family. See my updated Hello Fresh Review.
Purple Carrot – The only vegan meal kit service. See my Purple Carrot review
Daily Harvest – vegan grab n go meals in a cup. See my Daily Harvest review.
Emeals – If you're looking for a Keto meal plan then definitely check out eMeals. Here's my eMeals review.
Plan to Eat – One of the top meal planning websites to help you organize your recipes, create meal plans, and generate grocery shopping lists.
Get Instant Access to My Best Weight Loss Tips & Strategies!
Sign up now for a free step-by-step 7-day email course that I created exclusively for my email subscribers! That's you. I will teach the best habits, strategies, and insider tips so you can enjoy a lifestyle that encourages and supports weight loss! Stop relying on willpower and take control back over your life! You can do this. Let me help!