Every week I share my 1500 calorie meal plan, meal prep pictures, exercise schedule, along with the progress (or not) I've made on my weight loss journey. My goal with these posts is to give you a little glimpse into my week and for you to see I'm human and have good and bad weeks just like everyone else.
I cannot believe it's Friday already and I'm JUST getting my meal plan posted. Trust me, I had all my food prep done on Sunday but this week just got away from me. I had minor surgery in the beginning of the week that had me resting for a few days. Also, the kids are home which is helpful but…the kids are still home soooo you know how that goes.
Anyway, I'm feeling good now and wanted to get this post up because I have things I want to share. I like to to use these weekly posts as a way to capture what's going on with my life as well as everything else I chat about. I've been writing these post since 2011 so it's fun looking back. It also gives you a glimpse into my life so you can see that I'm actually a real person not just a robot sitting behind a computer.
Okay, let's get to it.
This past weekend we attended a wedding for 2 of our closest friends – actually we were in the wedding. It was a great time and lots of fun memories were made. This is Tom and Mary. Honestly, they are one of the best couples I've ever met and everyone was so happy to see them get married.
Here are the newlyweds.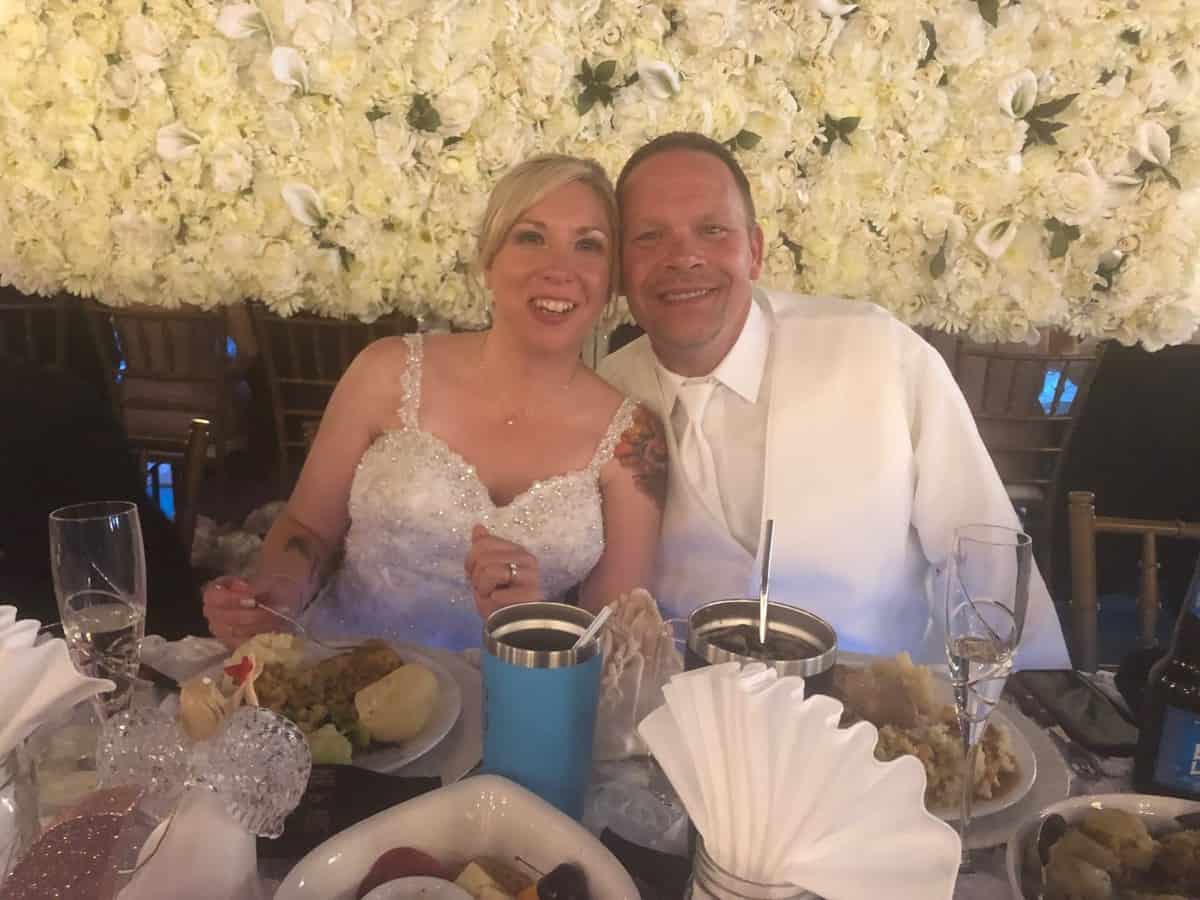 This is Rachel and John, they are our partner's in crime (I call them "our crew"). Fun fact – I've know John since 4th grade. Yep, that's well over 30 years – he's like a brother to me. Mike, I've know since about 13. Rachel it's only been a few years but I feel like I've know her forever. Anyway, we are a tight group of friends and I can't imagine life without them.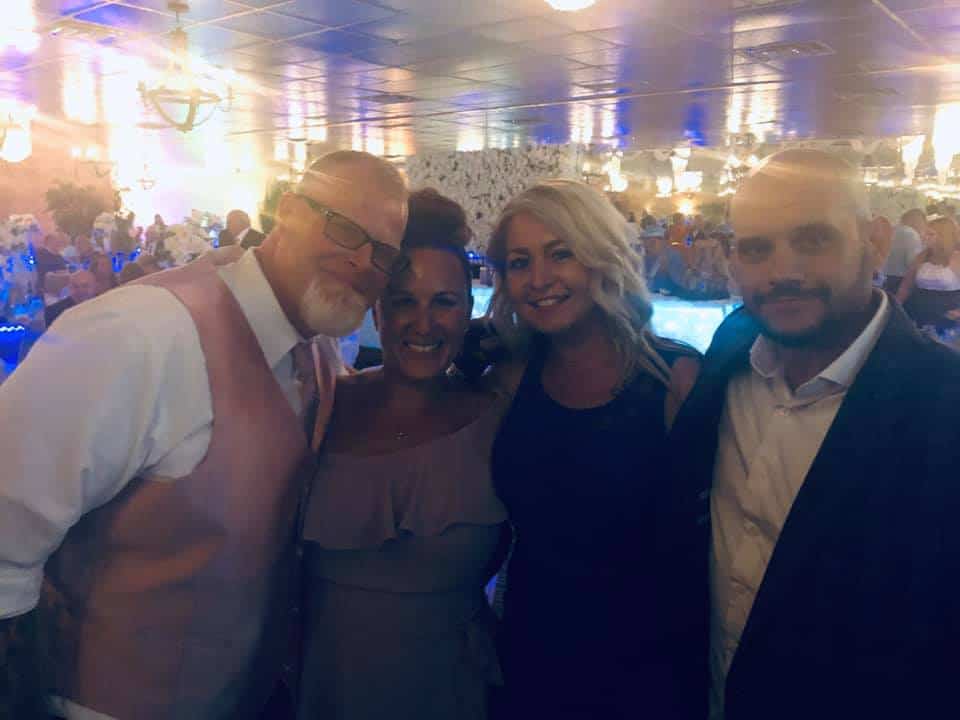 It was so nice getting dressed up with Mike. I don't think I've seen him in a tuxedo since our prom! He looked great. Don't mind the big plate of food seen below…hahahaha…I wasn't exactly counting calories that night.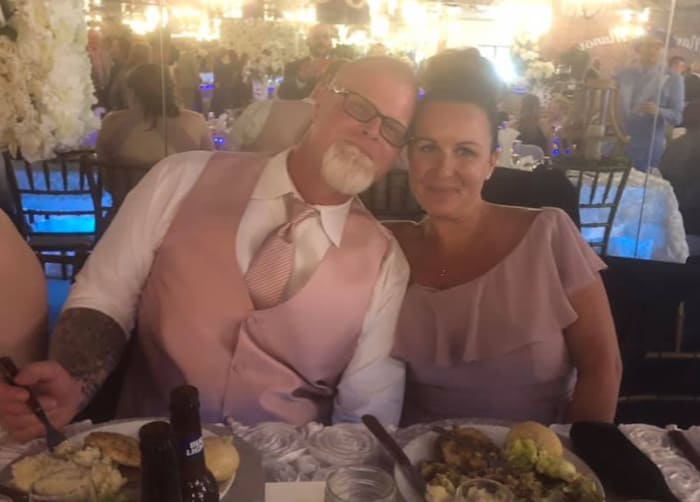 Of course, the tux didn't stay on too long. I should mention that last Saturday was the hottest day of the year. The heat index was in the 100s and for us Buffalonians that's extra HOT so that means layers need to come off.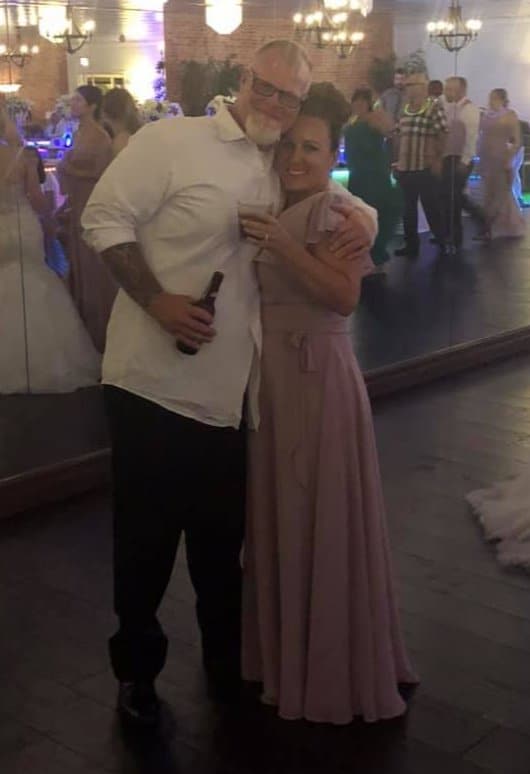 But we still had an amazing time! We might be in our 40s but we can still dance and keep up with the 20 year olds. Well, at least I tell myself that. I love this picture of us! I should mention that Rachel (see above) takes the best candid photos. We call her the family photographer.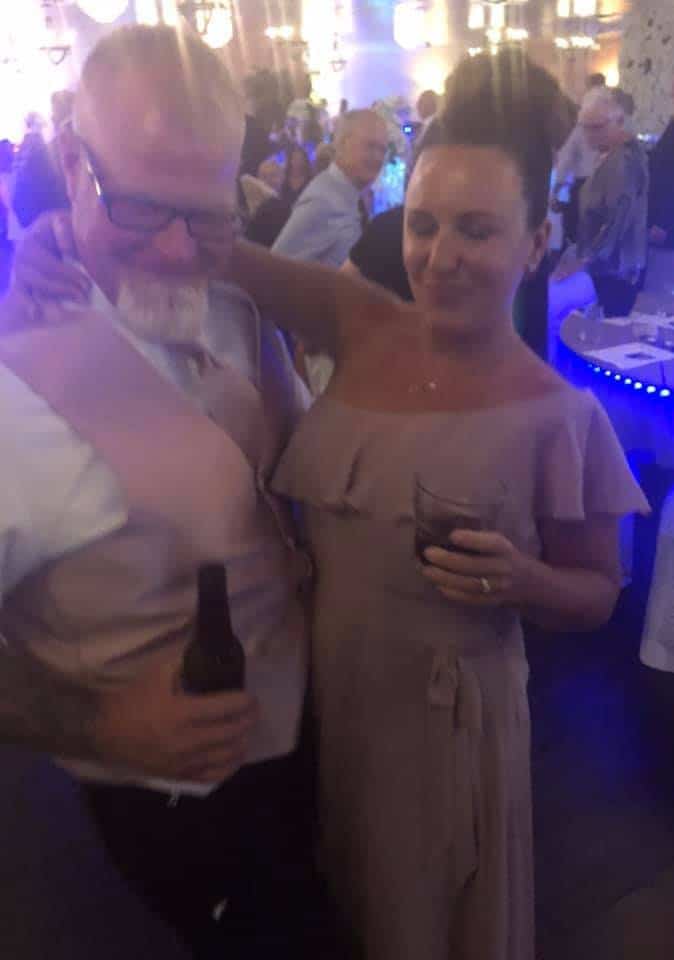 Here's another picture of us I absolutely love. The picture above, and this one, are perfect portrayals of us. Fun and loving. I feel very lucky. Obviously, this was taken prior to the layers coming off!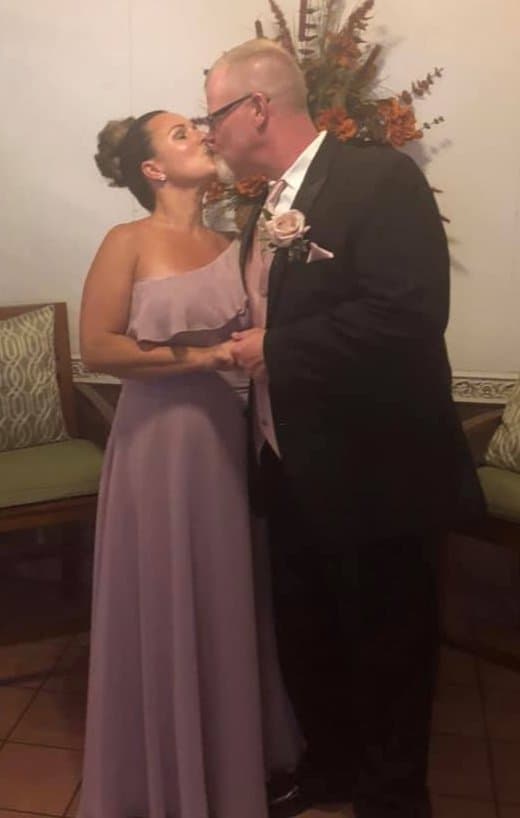 Thanks for letting me share these pictures with you.
Typically, I share my weekly weigh in but since it's Friday already, and my weigh-in day is Monday, I decided to just skip this week. Instead, I'm going to share some non-scale victories.
First, I felt 100% comfortable in my bridesmaid dress. The last few months I focused on toning, especially my arms, and even though I'm not "ripped" I still felt comfortable exposing my arms and shoulders.
Second, like I said, it was beyond hot outside and I didn't feel like a sweaty bloated mess. Prior to losing weight I used to hate hot weather, I felt so uncomfortable. Now, it doesn't bother me at all. In fact, I like it hot. I don't try to hide in leggings or jeans when it's 90 degrees out anymore. Nope, I wear shorts and sundresses and feel completely comfortable. I think that's definitely a non-scale victory.
Moving on to my exercise plan for the week. Unfortunately, this week, I need to put exercise on the back burner. As I mentioned, I had minor surgery earlier in the week so I have to take easy for a week or so. This means I need to be extra focused on food.
Here's my weekly meal plan.
Breakfast – 297 calories
coffee with 2 tablespoons creamer
Meal prep tips
I have one frozen smoothie pack left in the freezer. After I used that up I improvised with fruit I had in the refrigerator and freezer. I made smoothies with peaches, nectarines, and cherries.
Morning Snack – 150 calories
Meal prep tips
Over the last couple weeks I've been craving eggs in the morning. I still like to have a smoothie in the morning so I decided to make an egg bake for morning snack. I made the Greek egg bake in a 9 x 13 baking dish and then cut into 12 squares. Then I stored it in glass meal prep containers. Also, I added some chicken sausage to the egg bake to give it more protein.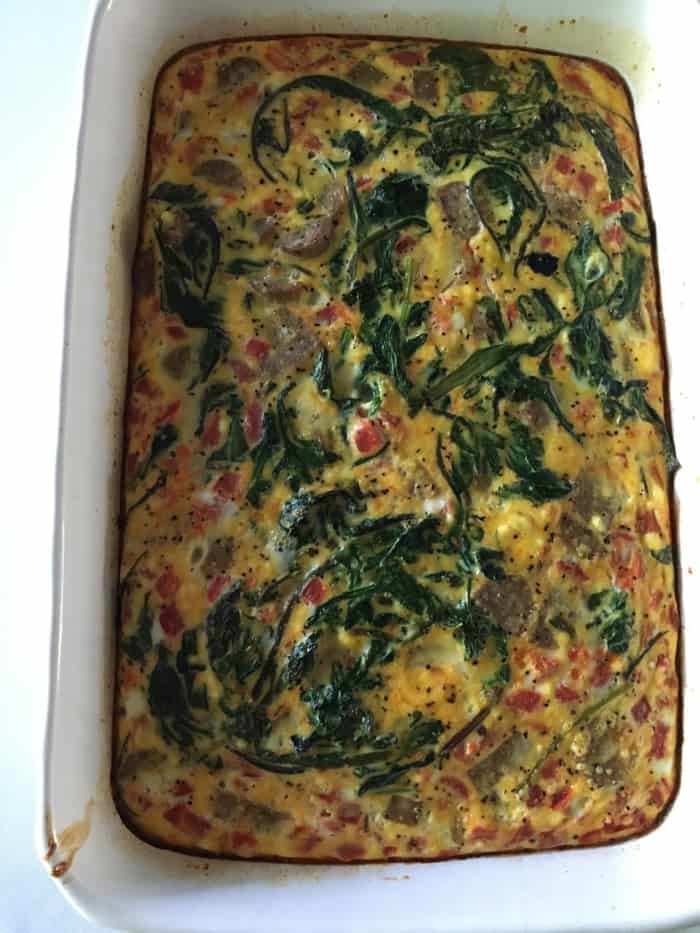 Lunch – 415 calories
Meal prep tips
I made 5 salads on Sunday for the week. I took the picture on Monday which is the reason there's only 4 shown.
Afternoon Snack – 105 calories
Melon and 1/2 cup cottage cheese
Meal prep tips
I cut up the melon on Sunday and stored it in glass meal prep containers.
Dinner – 379 – 550 calories
Linguini and Clam Sauce – 379 calories
Tacos or Nachos – 429 calories
Italian Meatloaf with Caesar Salad – 425
Asiago Chicken Tenders with Rice and Roasted Green Beans – 550
Meal prep tips
I made the clam sauce, taco meat, and meatloaf on Sunday. I store everything in a glass meal prep container.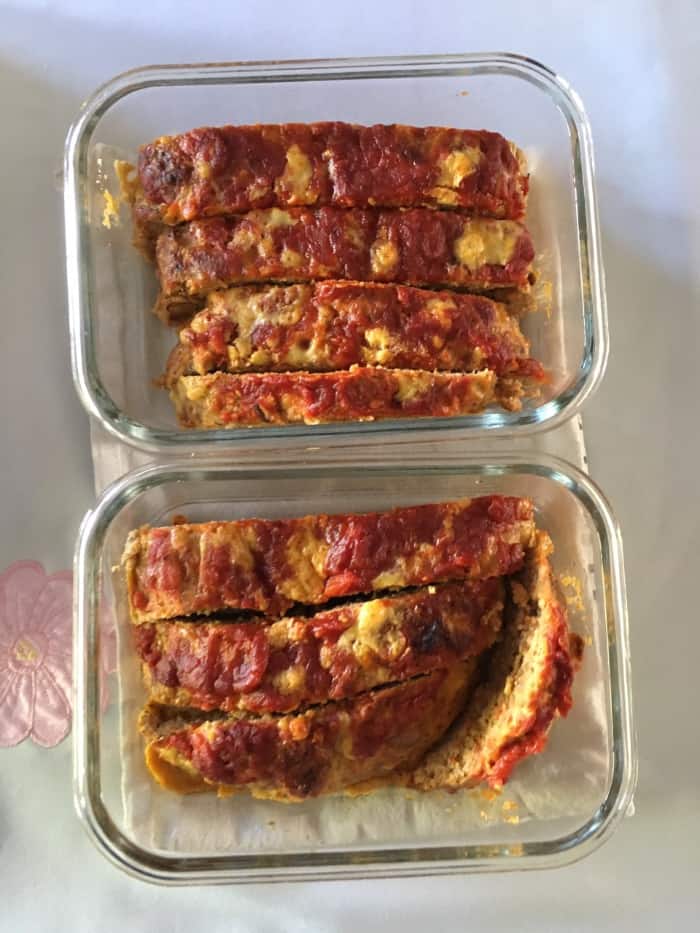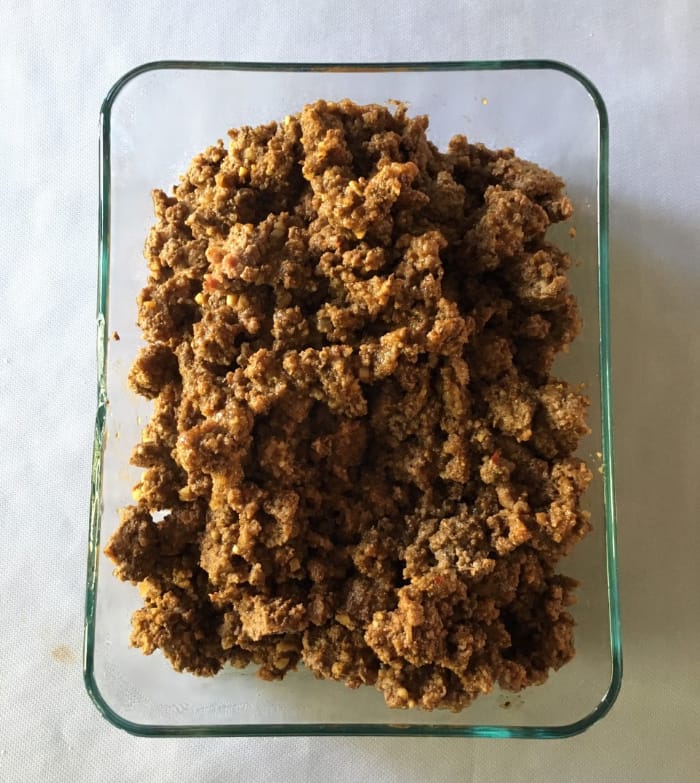 The chicken I made the night we ate it.
Meal Prep Containers, Tools, and Supplies Used This Week
36 ounce rectangle glass meal prep containers
2-cup round Pyrex glass containers
See the other glass meal prep containers I recommend here.
Check out my meal prep and healthy meal planning pages for more information to get you started.
Other Meal Planning Services
Sun Basket – Organic meal kit delivery. See my original Sun Basket Review 
Hello Fresh – The best meal kit to feed the whole family.
Purple Carrot – The only vegan meal kit service. See my Purple Carrot review
Daily Harvest – vegan grab n go meals in a cup. See my Daily Harvest review.
Emeals – If you're looking for a Keto meal plan then definitely check out eMeals. Here's my eMeals review.
Plan to Eat – One of the top meal planning websites to help you organize your recipes, create meal plans, and generate grocery shopping lists.
Other Blog Posts You Might Like
This new Quinoa Fried Rice recipe. Yum! Make it with chicken or keep it vegetarian!
If you have a bunch or strawberries then check out this post on how to freeze strawberries.