Every week I share my 1500 calorie meal plan, meal prep pictures, exercise schedule, along with the progress (or not) I've made on my weight loss journey. My goal with these posts is to give you a little glimpse into my week and for you to see I'm human and have good and bad weeks just like everyone else.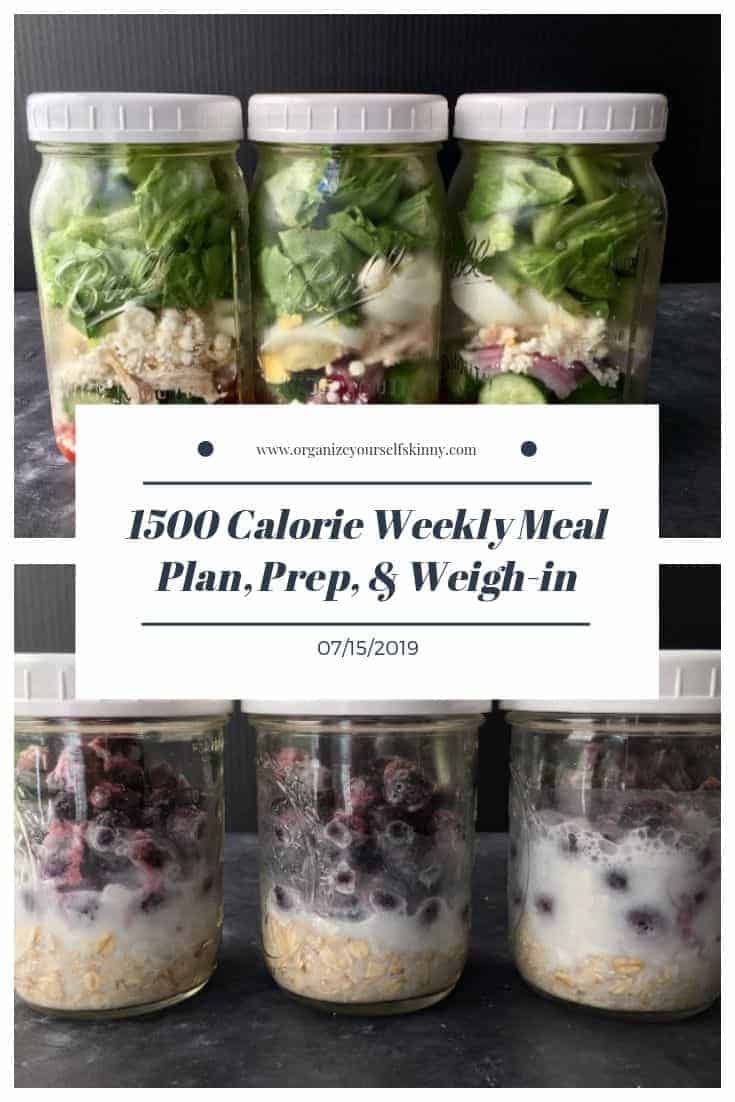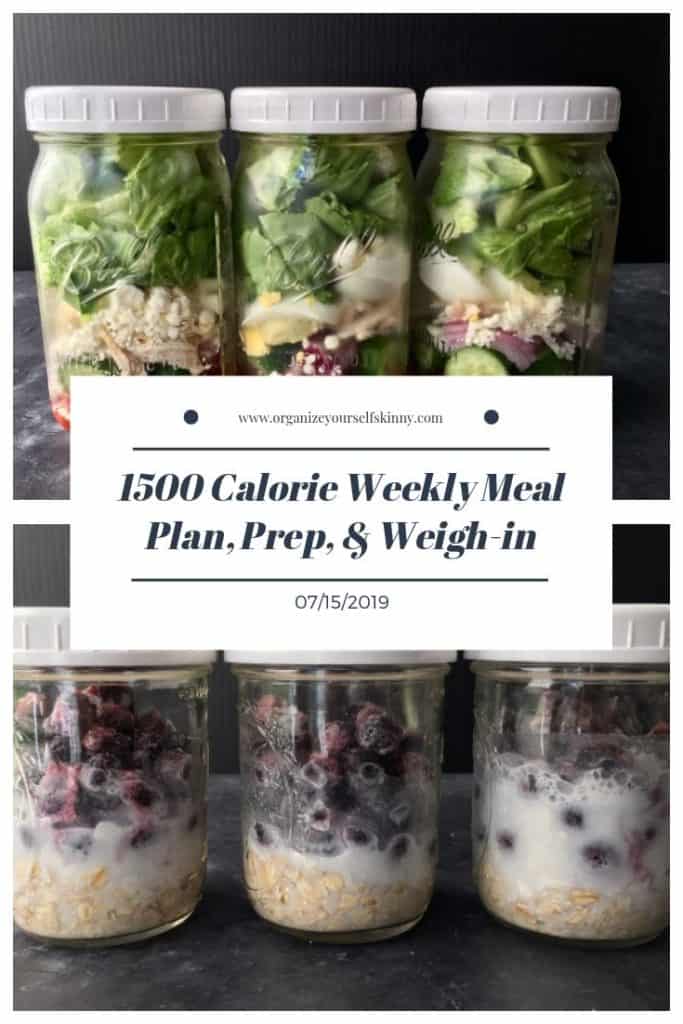 Hey there! It's that time again for my weekly meal plan, prep, weigh-in, and exercise schedule.
This week's extra busy for us because Mike and I are standing up in our good friends' wedding on Saturday. I'm look forward to getting my hair done and dressing up but…to be honest…I'm most excited to see Mike in a tux. I haven't seen him in a tux since our prom. By the way, that was 26 years ago. Dang. I won't break out those pictures just yet, maybe next week with a before and after.
Not only are we in the wedding but we're hosting their rehearsal dinner the night before. We love having parties at our house so I offered our home up for their rehearsal dinner. Why pay for a restaurant when we can have much more fun at our house?!! Anyway, there's a lot to do this week leading up to all the festivities.
My goal this week is to stick to my meal plan and exercise schedule. Also, I need to stay hydrated because it's going to be HOT HOT HOT! In fact, it's going to be 90 on Saturday and I don't even want to think about being bloated and swelled up in that heat. So, I plan to drink a smoothie every morning and then drink lots of water throughout the day every single day this week. I know I should do this anyway but this week it's especially important.
Oh wait..real quick, back to the rehearsal dinner. I have a gorgeous dress I'm super excited to wear. I received it in my last Trunk Club trunk.
Below is the dress. I'll share pictures of myself in my Instagram story and in next week's meal prep post. You can read my full Trunk Club review to learn more about my experience.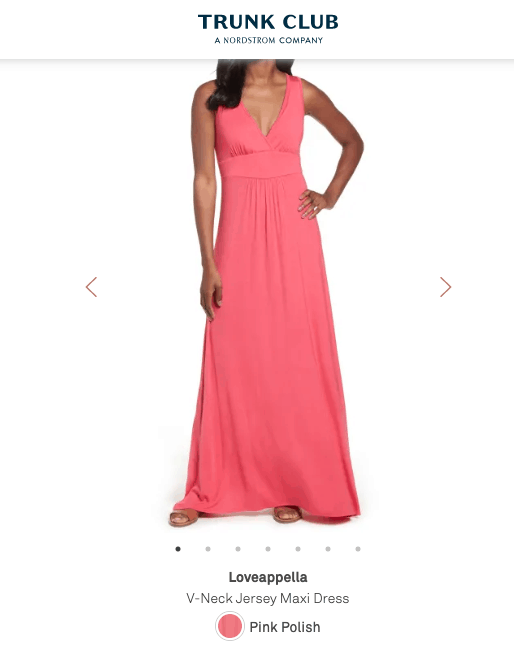 Okay, let's get to my weigh-in
Starting weight (October 2010) : 177 lbs
First goal weight: 145lbs
Final goal weight: 135 lbs
Last week's weight: 155
Current weight: 155
Pounds lost: 0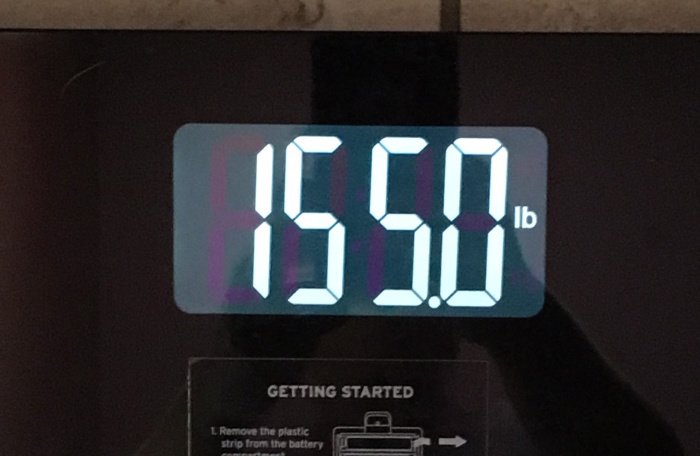 This is the second week in a row with no change on the scale. Of course, I want to see the scale go down but, honestly, I feel good. I feel comfortable in clothes and feel good physically.
I've stayed consistent with my exercise routine, specifically toning and this has made such a difference. And, it's not like I'm lifting a ton of weights or doing 500 squats a day, nope I'm just doing basic toning exercises. You can see my routine below.
My advice, if you're struggling to see any results then start adding toning exercises into your routine. Trust me, if you're a cardio queen (like me) I know it's hard to switch things up. And you don't need to give up the treadmill just add 10-15 minutes of toning onto your routine. After I get in my 45 minutes on the treadmill, I'll actually set my timer for 15 minutes and use that time to do toning exercises.
Here's my exercise routine this week.
Monday and Tuesday – walk outside 3 miles
Wednesday, Saturday, and Sunday – 45 minutes on the treadmill. I power walk and add in various inclines.
Thursday and Fridays are typically break days for me but this week I'm going to try to get in some bonus running.
Arm exercises (M, W, Sat)
24 bicep curls with 5lb resistance bands
12 bicep curls with 8lb hand weight
24 lateral raises with 3lb weight
24 front lateral raises with 3lb weight
24 tricep extensions with 5lb hand weight
Core (everyday)
125 crunches
100 russian twists holding 5lb weight
3 (30 second) planks
Combo (everyday)
30 combo overhead press/squats with 5lb hand weights
Legs (Tues, Friday, Sunday)
50 squats
50 plie squats
25 lounges on each leg
Here's the exercise equipment I use:
3, 5, and 8lb hand weights.
Resistance bands – I purchased mine years ago from Target. You can also get them off Amazon.
Basic weight bench – I just purchased this one from Amazon a couple of months ago. It's super basic but all that I need to do simple toning exercises. 
Now let's chat about my meal plan.
As I said earlier, my main goal is to stay hydrated this week. I also want to keep salt and carbs under control, especially a couple days before the wedding. I don't want to be a bloated mess come Saturday morning.
Also, I'm starting to clear out my freezer to get ready for back to school time. I know school just ended but we all know it comes fast. So for dinners this week I'm going to turn to my freezer.
Here's my menu plan this week.
Breakfast – 292 calories
coffee with 2 tablespoons creamer
Meal prep tips
I have a few smoothie kits left in the freezer. These will last me this week and then I plan to stock up again over the weekend.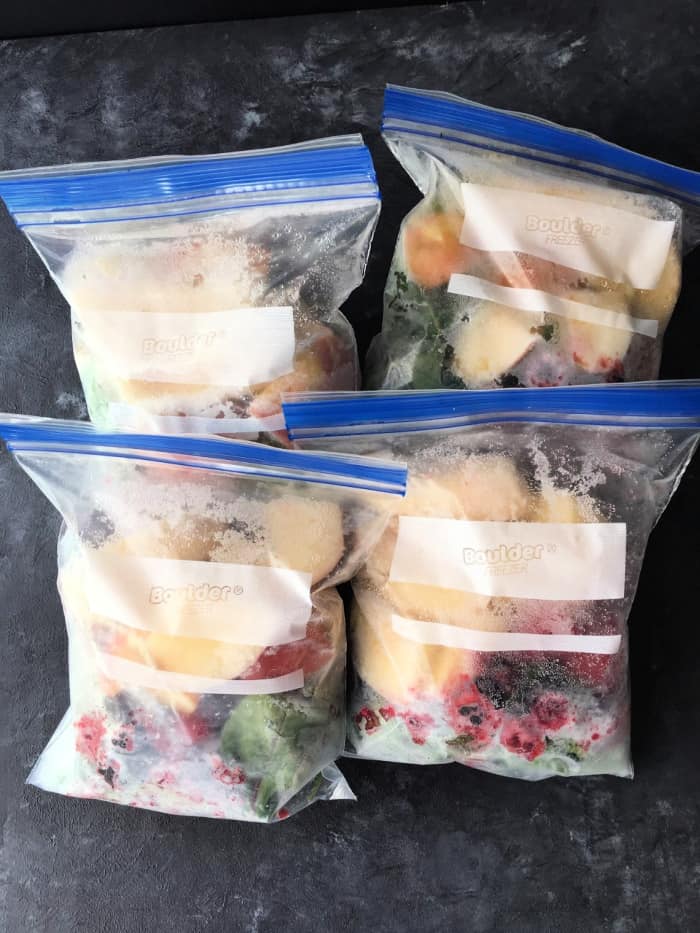 Morning snack – 270 – 275 calories
Blueberry coconut overnight oats
Meal prep tips
I made 3 jars yesterday and will make the rest on Wednesday. Here's my easy overnight oats guide if you need more information on making overnights oats and some recipe inspiration.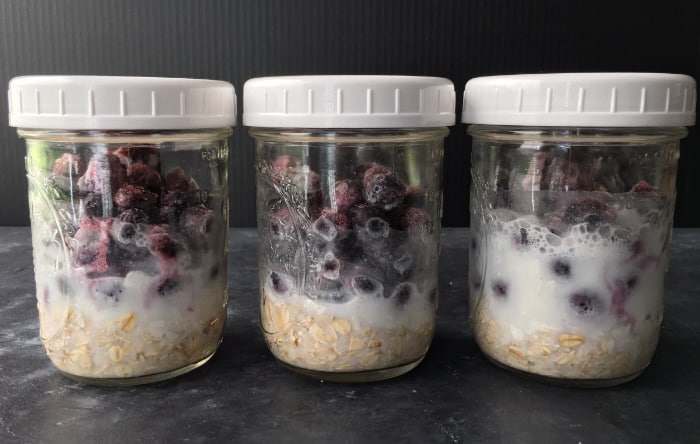 Lunch – 449 calories
Meal prep tips:
I made the mason jar salads yesterday.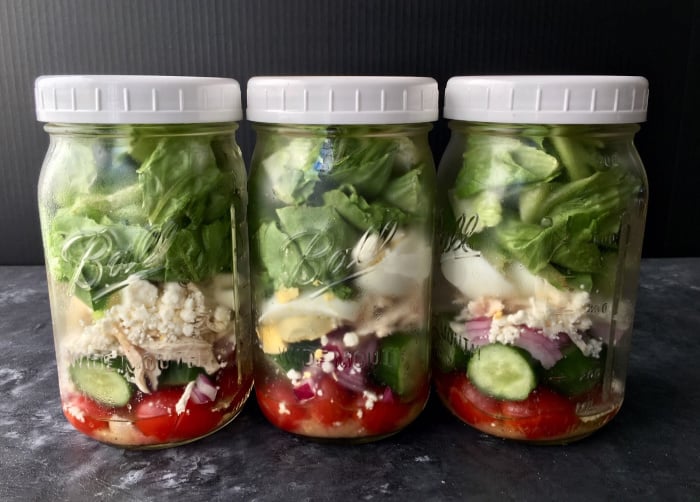 Afternoon snack – 80 calories
Cheese stick
Dinner – 372 – 537 calories
Easy Beef Stroganoff 372 calories
Sun Basket Meal (Black "fried" rice and veggies) – 500 calories
Chicken Caesar Salad Pita Pizza – 476 calories
Chicken Quesadillas using Slow Cooker Salsa Chicken – 537 calories
Meal prep tips
Stroganoff and Sun Basket meal is in the freezer.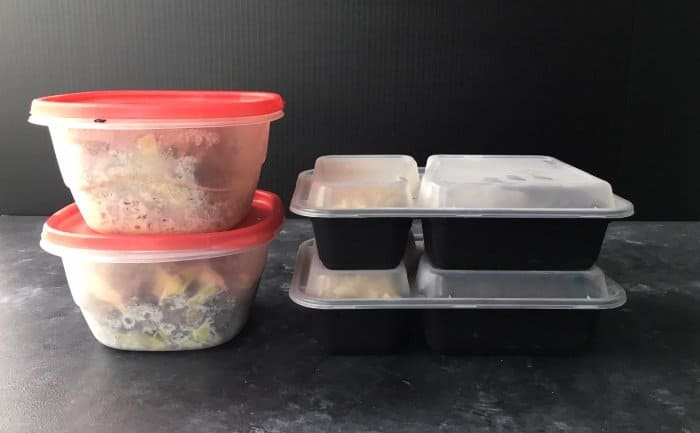 I have leftover Rotisserie chicken from my mason jar salads that I'm using for the salad pizzas.
Slow cooker salsa chicken will cook tomorrow.
Meal Prep Containers, Tools, and Supplies Used This Week
36 ounce rectangle glass meal prep containers
2-cup round Pyrex glass containers
See the other glass meal prep containers I recommend here.
Check out my meal prep and healthy meal planning pages for more information to get you started.
Other Meal Planning Services
Sun Basket – Organic meal kit delivery. See my original Sun Basket Review 
Hello Fresh – The best meal kit to feed the whole family.
Purple Carrot – The only vegan meal kit service. See my Purple Carrot review
Daily Harvest – vegan grab n go meals in a cup. See my Daily Harvest review.
Emeals – If you're looking for a Keto meal plan then definitely check out eMeals. Here's my eMeals review.
Plan to Eat – One of the top meal planning websites to help you organize your recipes, create meal plans, and generate grocery shopping lists.