Every week I share my 1500 calorie meal plan, meal prep pictures, exercise schedule, along with the progress (or not) I've made on my weight loss journey. My goal with these posts is to give a little glimpse into my week and for you to see I'm human and have good and bad weeks just like everyone else.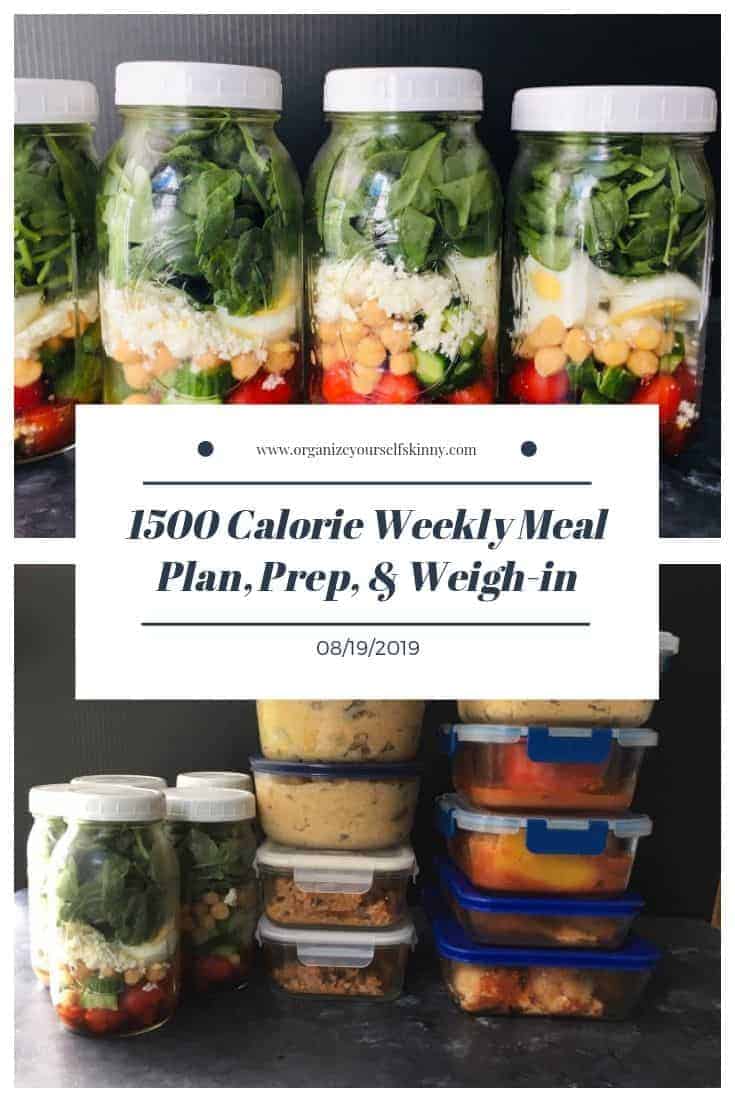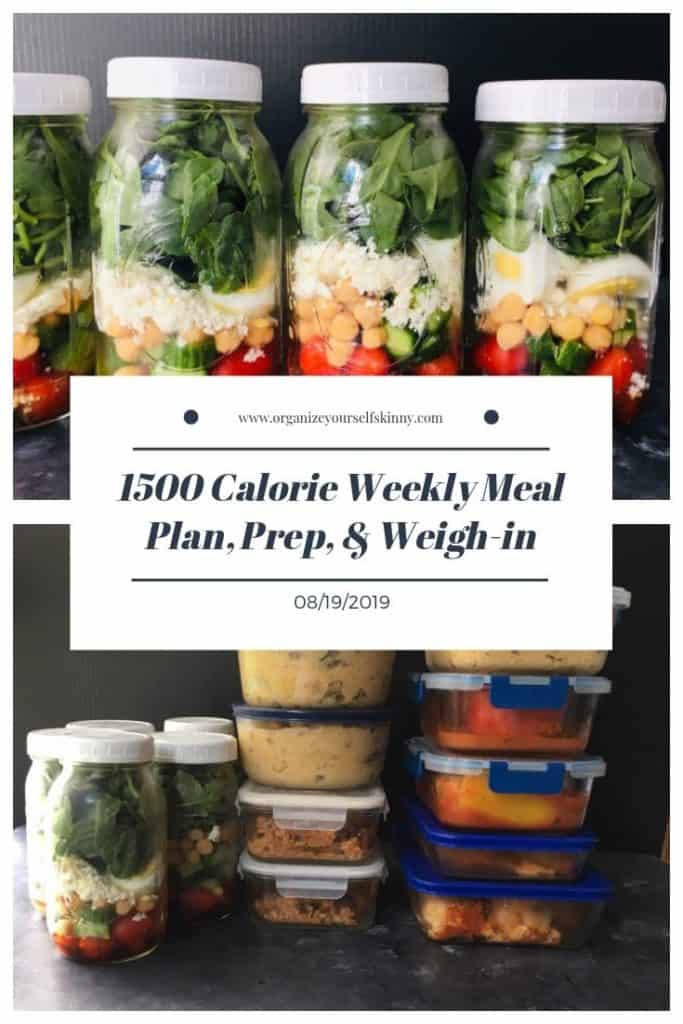 Hey everyone! Soooo….I was so close to not sharing a meal plan post this week. Not that I didn't plan or prep but I'm trying to get a lot of work done this week and want to stay focused. But this past weekend was my birthday so I have some pictures and thoughts to share. Not to mention, I spent 5 hours in the kitchen prepping dinners and lunch so I want to share all of that too.
First, let's chat about my birthday weekend. I turned 44 yesterday. It's so weird because when I was in my teens and twenties I seriously thought 40 was ancient. Now that I'm brushing up against my mid-forties I have to say I feel great.
Mike and I went to Russel's Steakhouse with 2 of our closest friends. If you live in the Buffalo area and haven't been to Russel's then plan your next celebration dinner there! It's THE BEST. It is very pricey so we limit our dinners there to twice a year – my birthday and Mike's. It's so worth it and I look forward to our Russel's birthdays dinners every year.
This is me, Mike, and Rachel. I'm not one to wear low-cut dresses but I got this one from my Trunk Club stylist Lauren and loved it. You can read more about Trunk Club in my Trunk Club Review.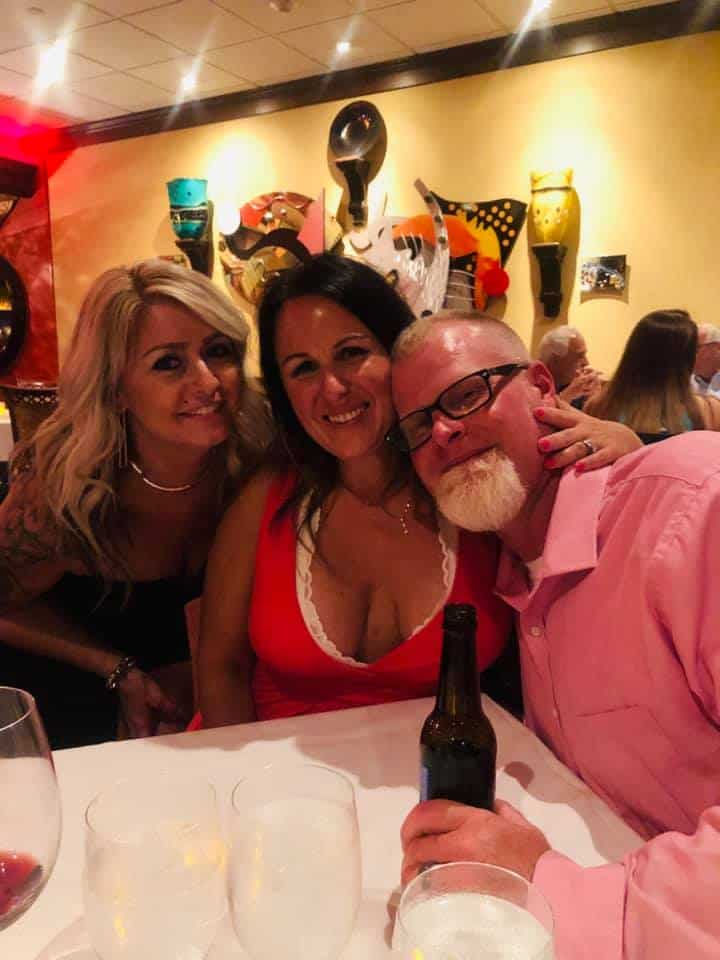 This is Mike and John. Just living the dream!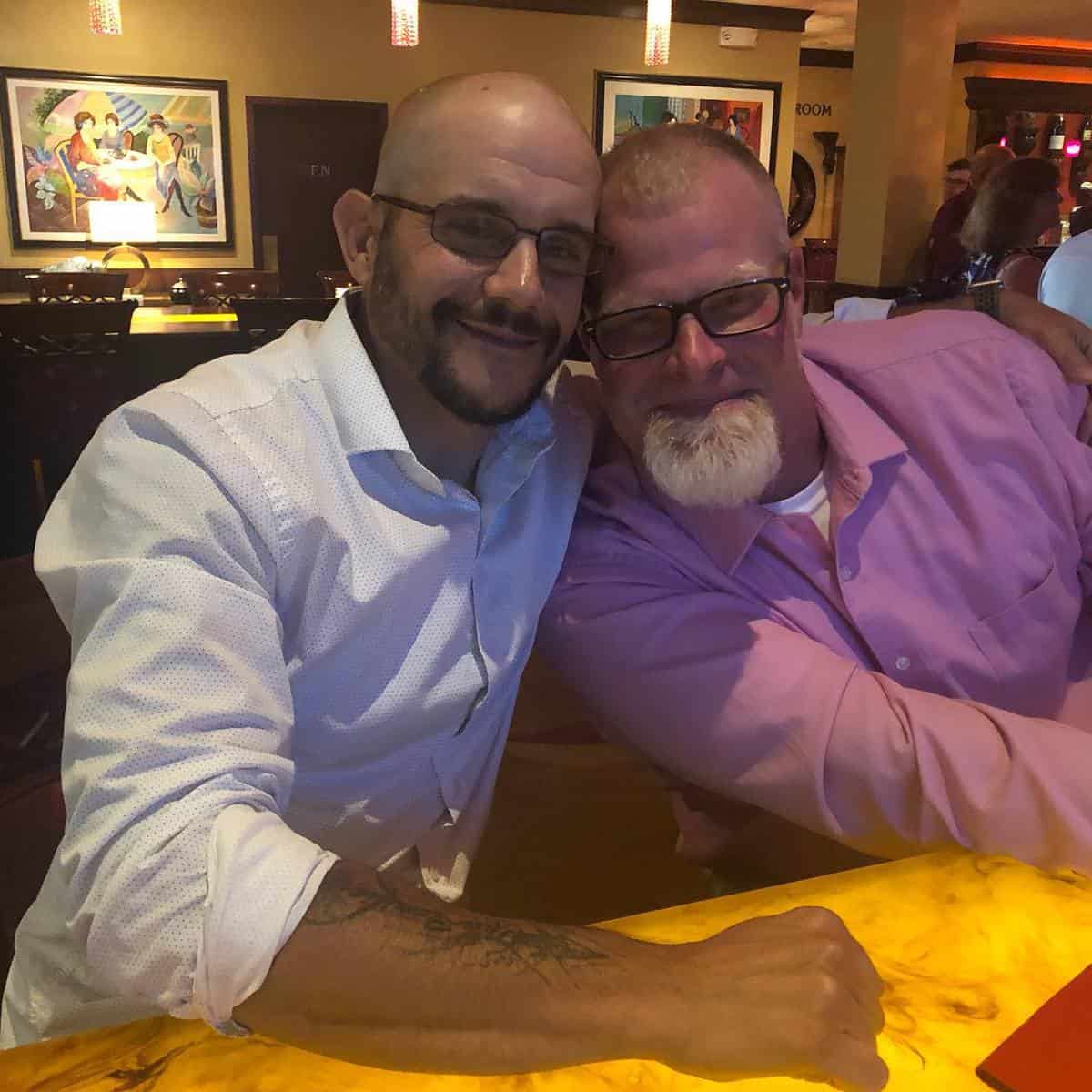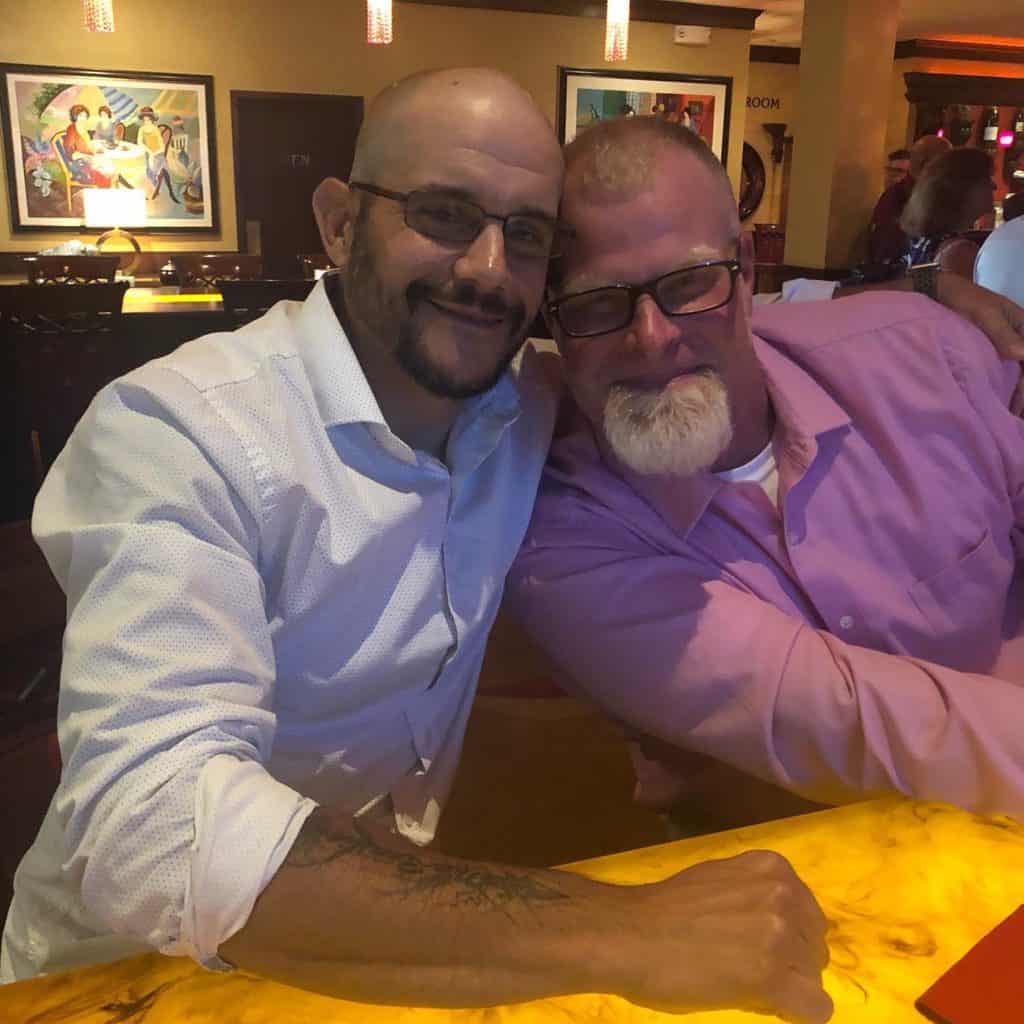 We call Rachel the family photographer because she always makes sure that every single event, party, and dinner we go to has plenty of photos to look back on. She is seriously the selfie queen!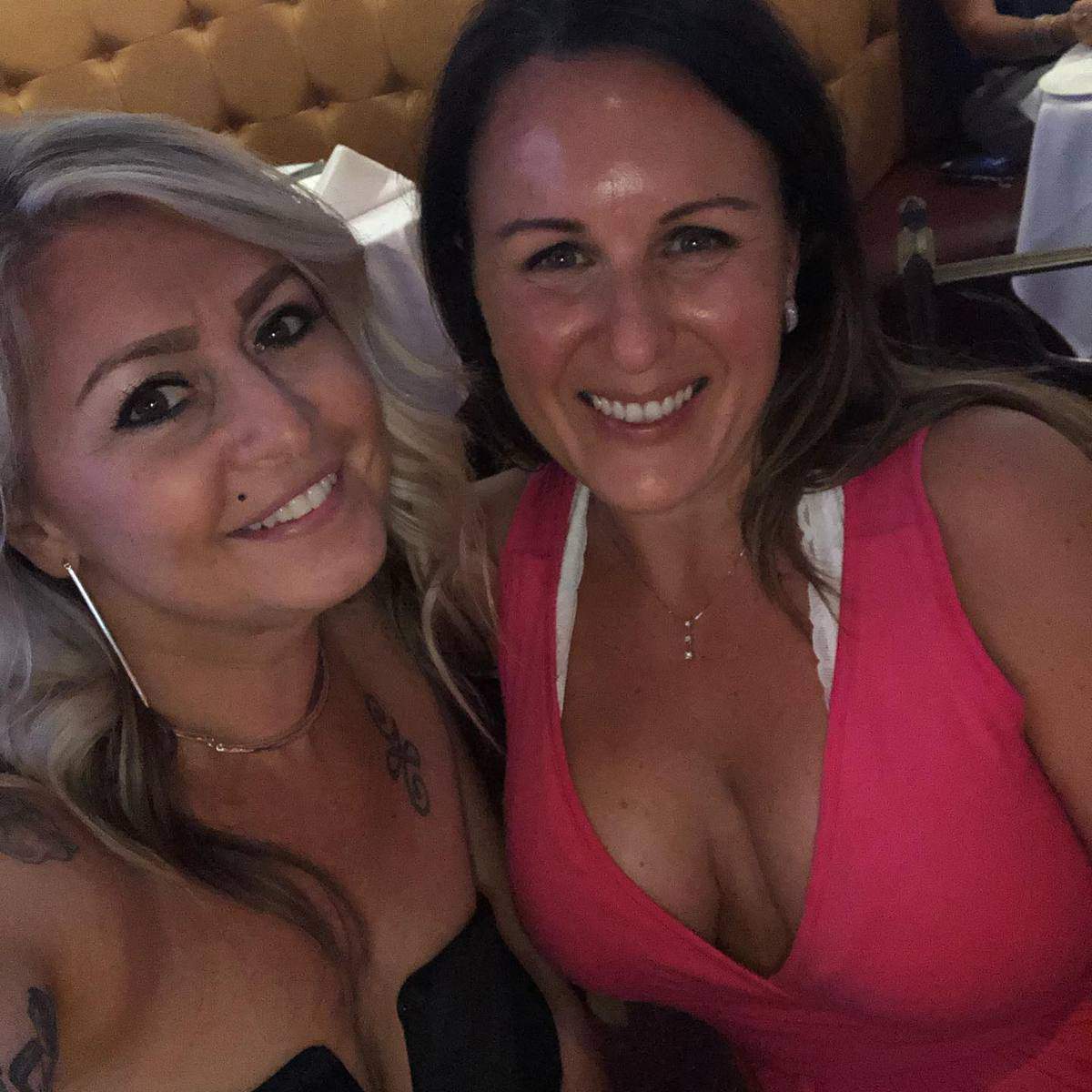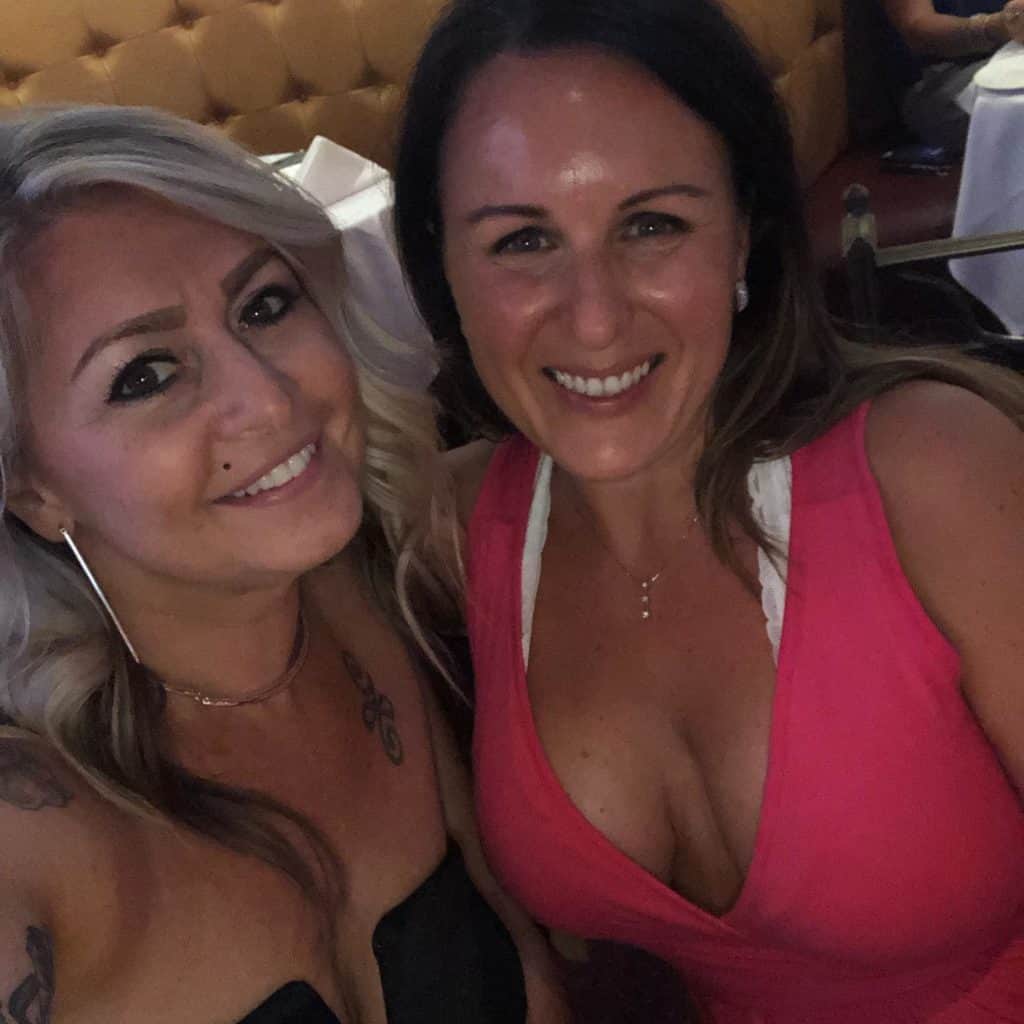 Yes I'm 44 and still get excited when I get a sparkler in my dessert. By this point I was soooo stuffed but it'd be a crime not to get a Russel's peanut butter pie.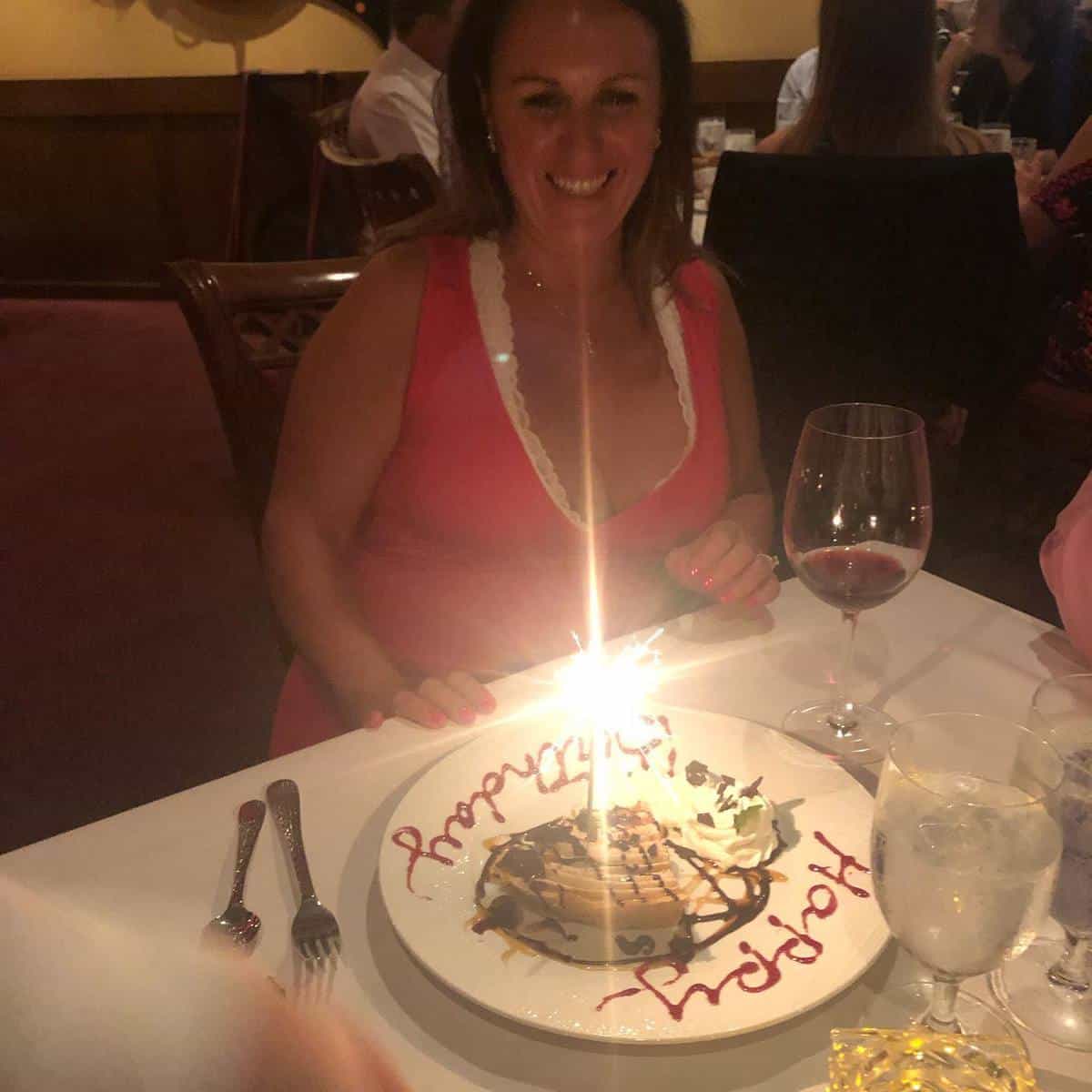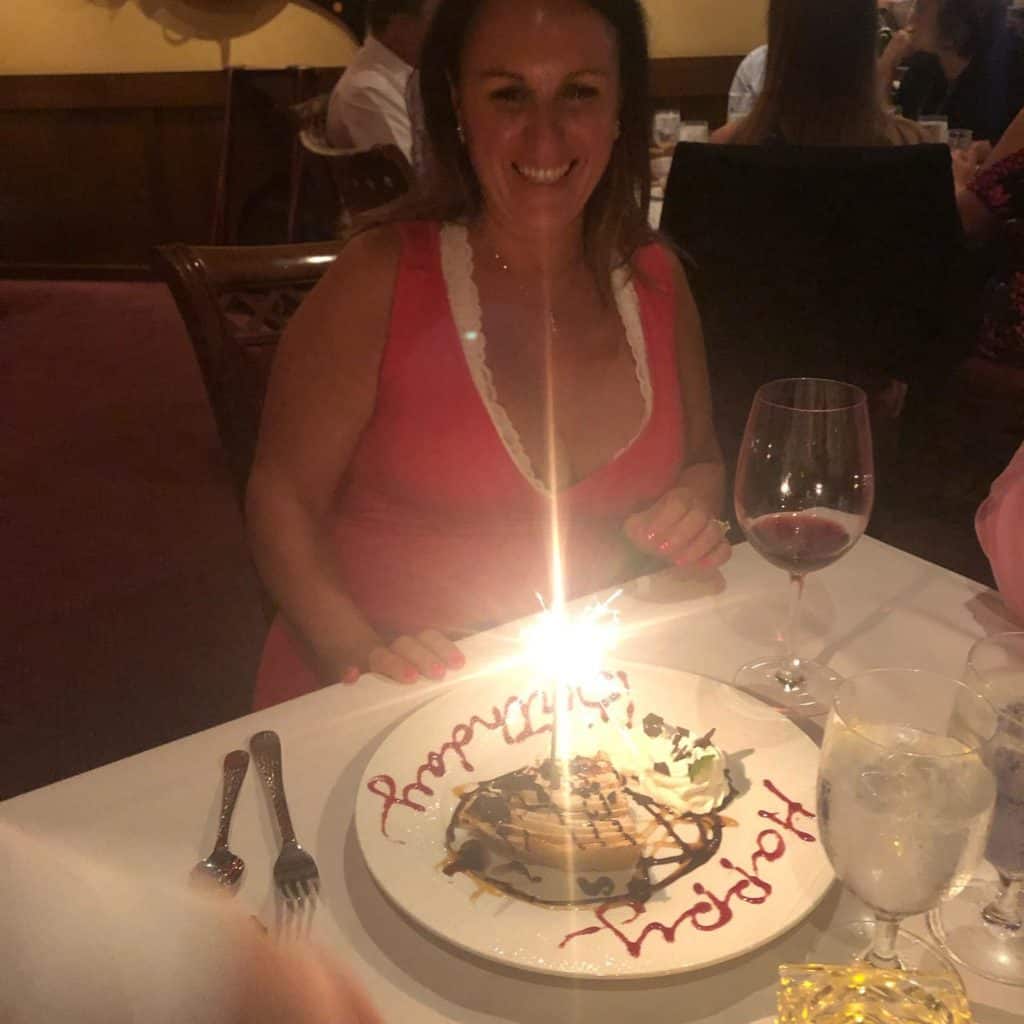 Of course, I made Rachel share it with me. We both had a bite and I took the rest home. Sooo sooo good.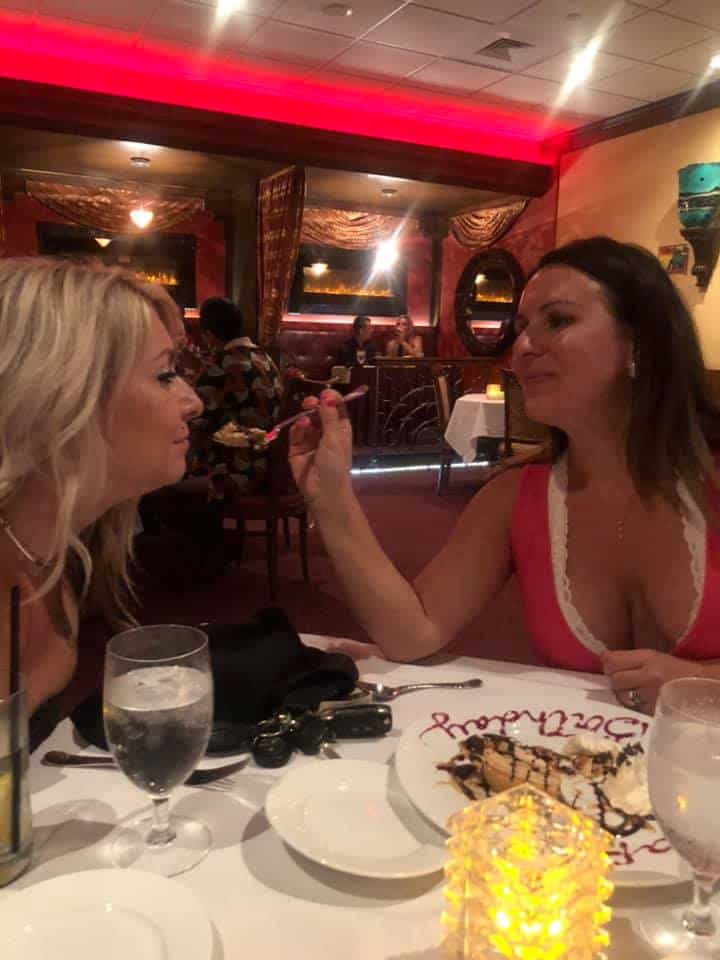 And this is us after dinner. Mental note…next time take this group shot before dinner. OMG we were all so bloated you could've rolled us out of there.
But whatever, we had such a fun time and I'm so grateful to have the most amazing wonderful people in my life.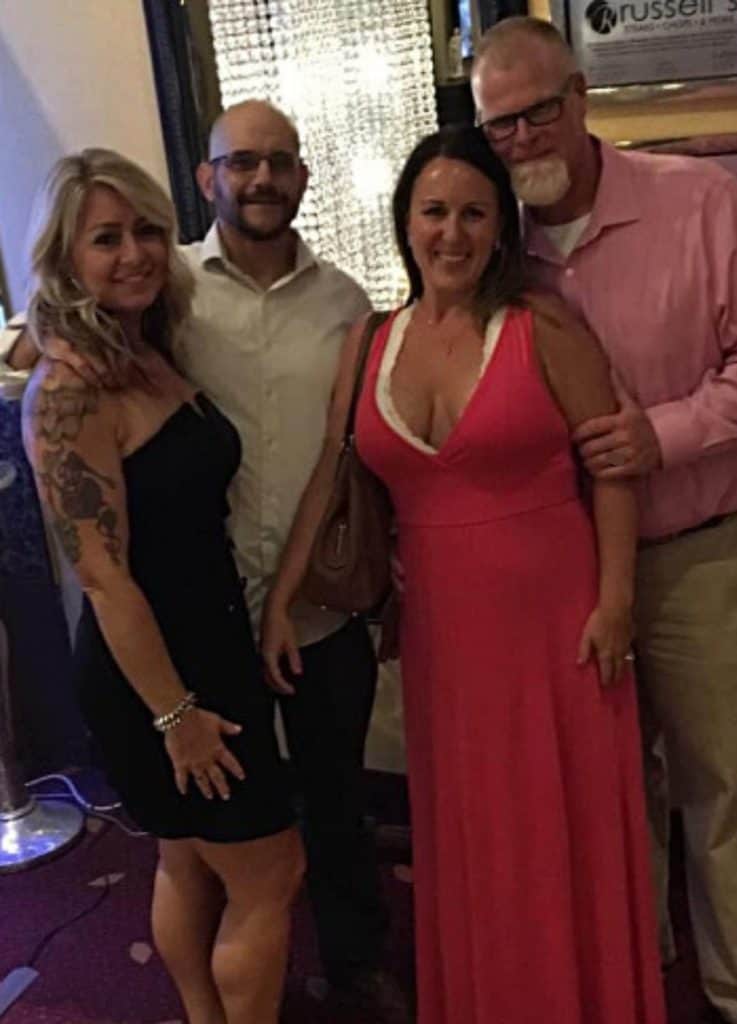 So that was Saturday. Sunday was my actual birthday. In the morning Mike and I went out shopping for a couple hours, and out to breakfast, then I spent the rest of the day prepping meals and watching some junk TV.
A part of me wanted to sit around all day but I knew I'd regret that the next morning so I just did my usual Sunday routine. And I was happy I did because this week is a busy one and I don't have time to worry about food all week.
Okay, let's get to my weekly weigh-in.
Starting weight (October 2010) : 177 lbs
First goal weight: 145lbs
Final goal weight: 135 lbs
Last week's weight: 155.6
Current weight: 156.6
Pounds lost: +1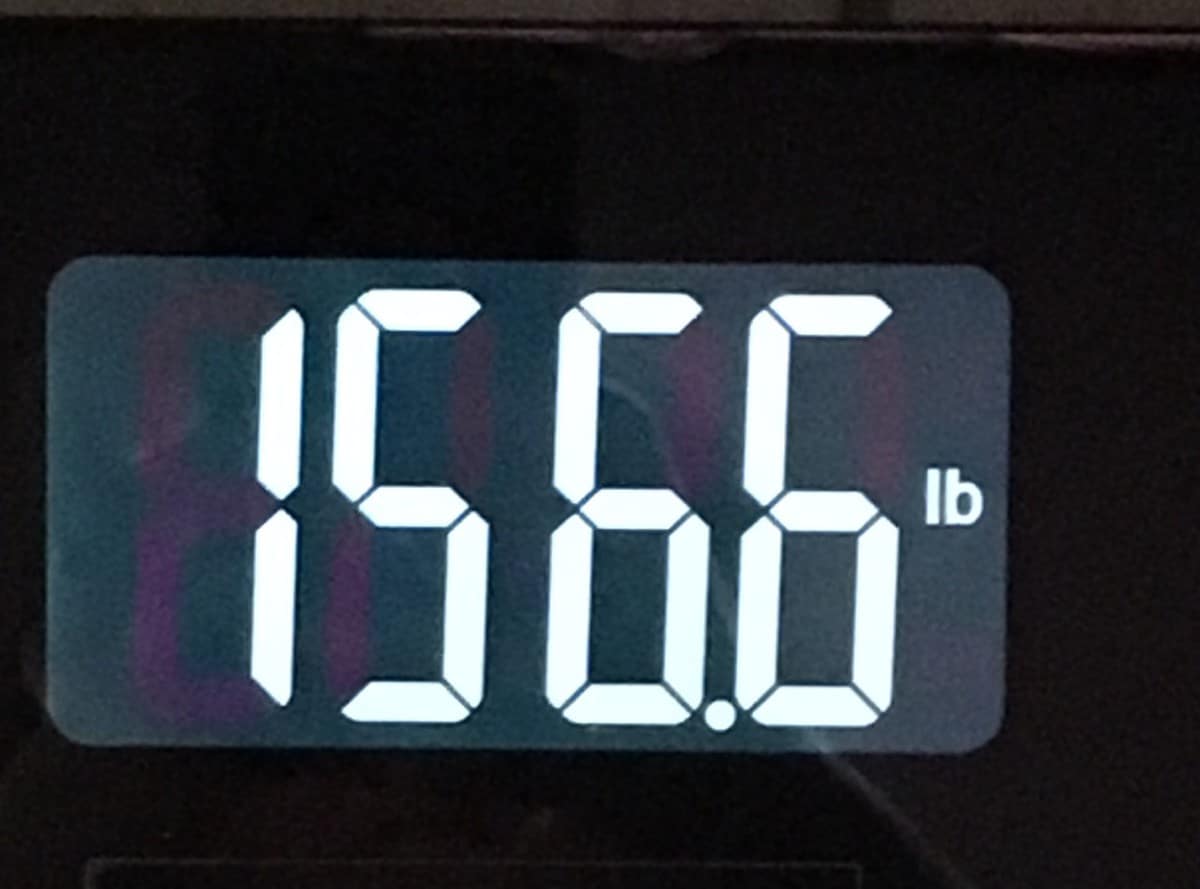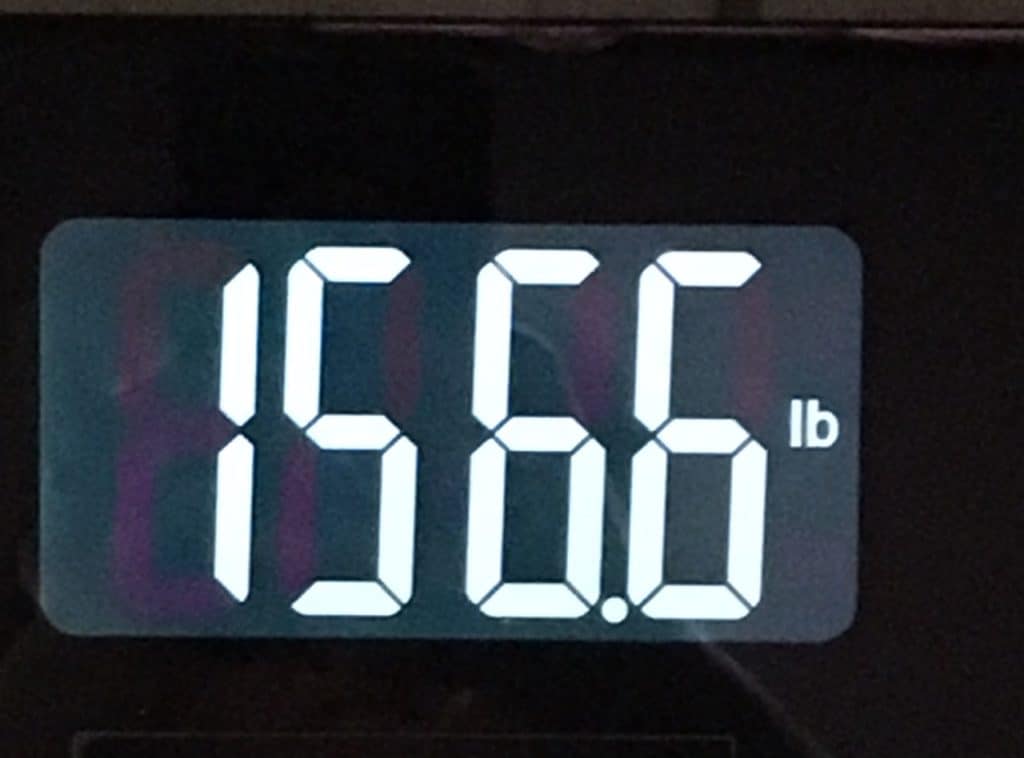 Of course turning 44 hasn't been all roses, there have been struggles with some "getting older" things. For example, hormones have definitely played a factor in losing weight, my skin, sleeping, and overall energy levels. I've managed a lot of these symptoms with diet, exercise, vitamins, and collagen supplements but there are still weeks (and months) I struggle. Honestly, some weeks it seems that I exercise, drink smoothies, and eat mason jar salads just to maintain my weight. And, if you look at my weigh-ins, I guess that's true.
Although, I really can't blame it all on the hormones because there are many days I drink too many calories or don't track the way I should. Back when I started, a few extra calories here and there didn't make a huge difference but into my 40s those extra calories make or break the scale. It sucks…but it's the truth. Food matters.
Also, exercise plays a big role in my 40s – especially toning. I know I harp on this all the time, but only because I didn't listen to this advice for so long. Toning makes all the difference. Muscle burns fat more than cardio does. As we get old we lose a lot of muscle mass which causes our metabolism to slow down. Toning builds that muscle back up which, in turn, speeds our metabolism back up. So, if you're struggling to lose weight then pick up some weights or exercise bands. That could make a big difference for you. I know when I'm consistent with toning my body starts to respond within a couple weeks and people start to take notice. This week I get back to my toning exercises – and I can't wait!!
However, I still like my cardio. I've said many times, power-walking and running keeps me sane. So while I do believe toning will make more of difference in the way my body looks cardio keeps me sane and energy levels up.
Just a few words of wisdom from a 44 year old woman 🙂
Here's my exercise schedule for this week.
Tuesday, Wednesday, Friday, Saturday, and Sunday
60 minutes – power-walk on treadmill with inclines.
**I also plan to take my dog for 2-3 mile walks later on those days. I decided I can't count on walking my doggy as exercise because it's not intense enough. Mama needs to sweat but doggy also needs a walk.
Toning
Arms (W and Sat)
24 bicep curls with 5lb resistance bands
12 bicep curls with 8lb hand weight
24 lateral raises with 3lb weight
24 front lateral raises with 3lb weight
24 tricep extensions with 5lb hand weight
Core (everyday)
125 crunches
3 (30 second) planks
Legs (Tues, Friday, Sunday)
50 squats
50 plie squats
25 lounges on each leg
Here's the exercise equipment I use:
3, 5, and 8lb hand weights.
Resistance bands – I purchased mine years ago from Target. You can also get them off Amazon.
Basic weight bench – I just purchased this one from Amazon a couple of months ago. It's super basic but all that I need to do simple toning exercises. 
Here's my 1500 meal plan
In addition to keep daily caloric intake to 1500 calories or below I'm going to keep my eating between 9am – 5pm most days. Friday and Saturday I'll stop eating past 7:00pm.
Breakfast – 292 calories
Coffee with 2 tablespoons creamer
Meal prep tips
I have 2 more smoothie kits in the freezer. However, I have lots of frozen blueberries, cherries, and strawberries to make additional smoothies all week.
Morning snack – 80 calories
Cheese stick
Lunch – 415 calories
Protein Power Mason Jar Salad (minus the quinoa) – 415 calories
Meal prep tips
I made 5 salads for the week yesterday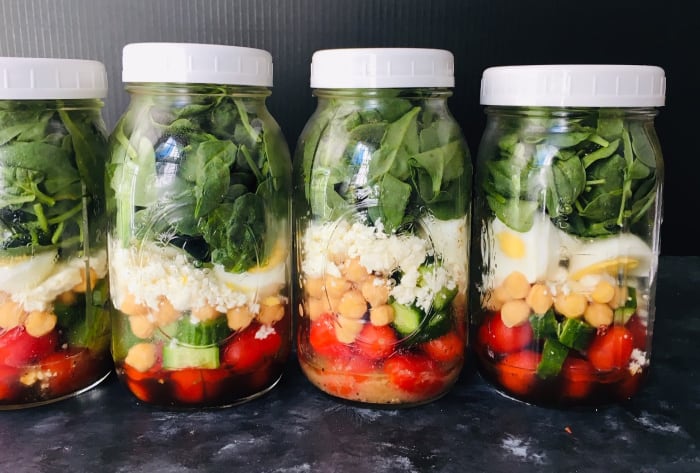 Mid-afternoon Snack – 220 calories
2 Deli roll-ups (Turkey, Ham, and mustard)
Meal prep tips
These can be made ahead of time but I'm going to make them the day of.
Dinner – 336 – 650 calories
Chicken Parmesan Meatballs with roasted broccoli (3 meatballs and 1 cup broccoli) – 336 calories
Cajun Chicken Quinoa Bake (I used smoked turkey sausage in place of chicken) 1 1/2 cups – 385 calories
Quinoa and Chicken Sausage Stuffed Peppers (I used brown jasmine rice instead of quinoa) – 400 calories
I'm also receive a box of organic meals from Green Chef this week (shaved steak with creamy chimichurri and quinoa, barbecue chicken cheeseburgers, veggie and bean stuffed burritos) 600 – 650 calories
Meal prep tips:
I made the meatballs, quinoa bake, and stuffed peppers yesterday. I had some extra stuffed pepper filling so I just baked that and put it in the refrigerator. I anticipate freezing half of these meals for next week because there's quite a bit.
I'm going to make the Green Chef meals when I get them.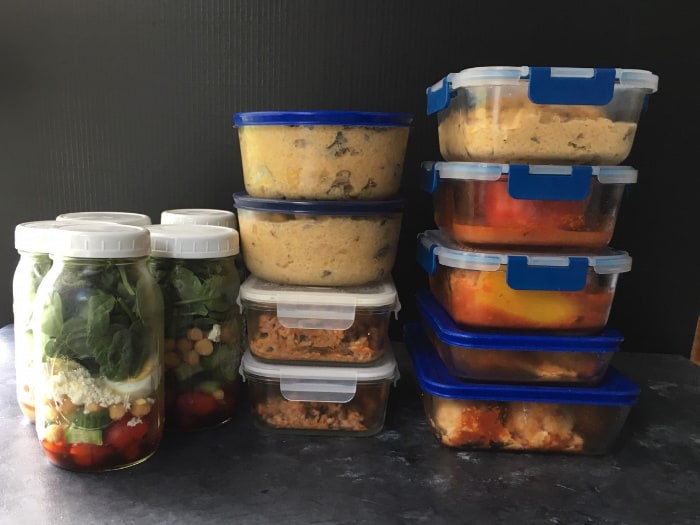 Meal Prep Containers, Tools, and Supplies Used This Week
36 ounce rectangle glass meal prep containers
2-cup round Pyrex glass containers
See the other glass meal prep containers I recommend here.
Check out my meal prep and healthy meal planning pages for more information to get you started.
Other Meal Planning Services
Sun Basket – Organic meal kit delivery. See my original Sun Basket Review 
Hello Fresh – The best meal kit to feed the whole family. See my Hello Fresh Review.
Purple Carrot – The only vegan meal kit service. See my Purple Carrot review
Daily Harvest – vegan grab n go meals in a cup. See my Daily Harvest review.