Every week I share my 1500 calorie meal plan, meal prep pictures, exercise schedule, along with the progress (or not) I've made on my weight loss journey. My goal with these posts is to give you a little glimpse into my week and for you to see I'm human and have good and bad weeks just like everyone else.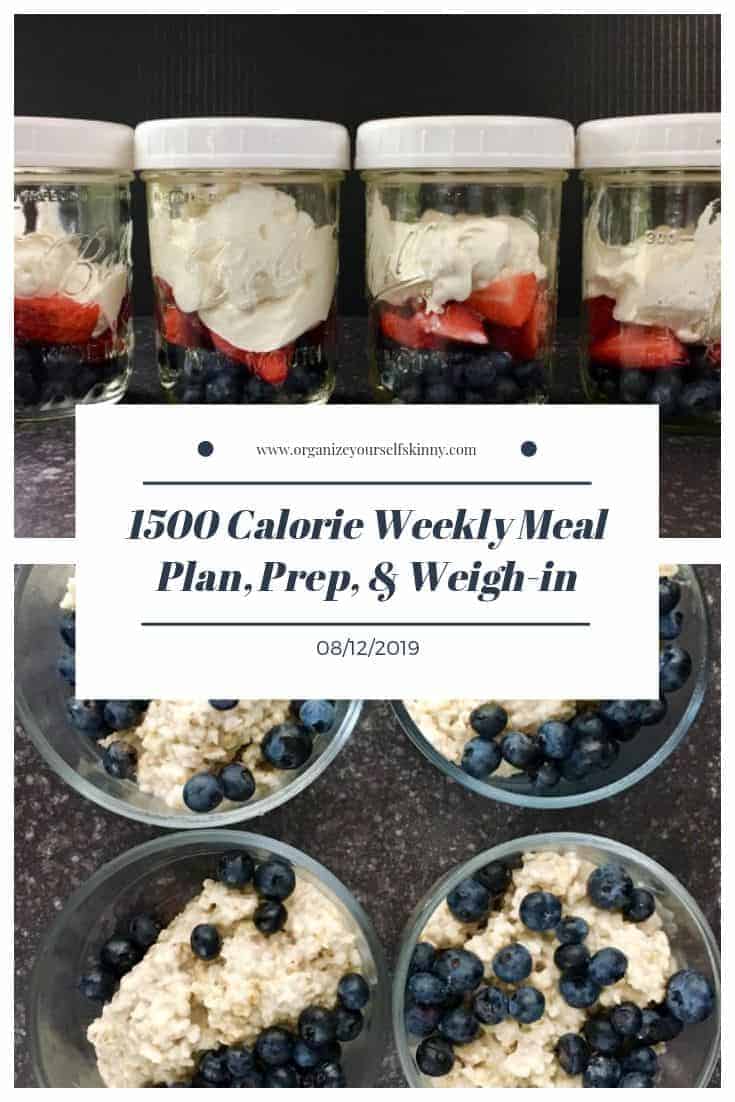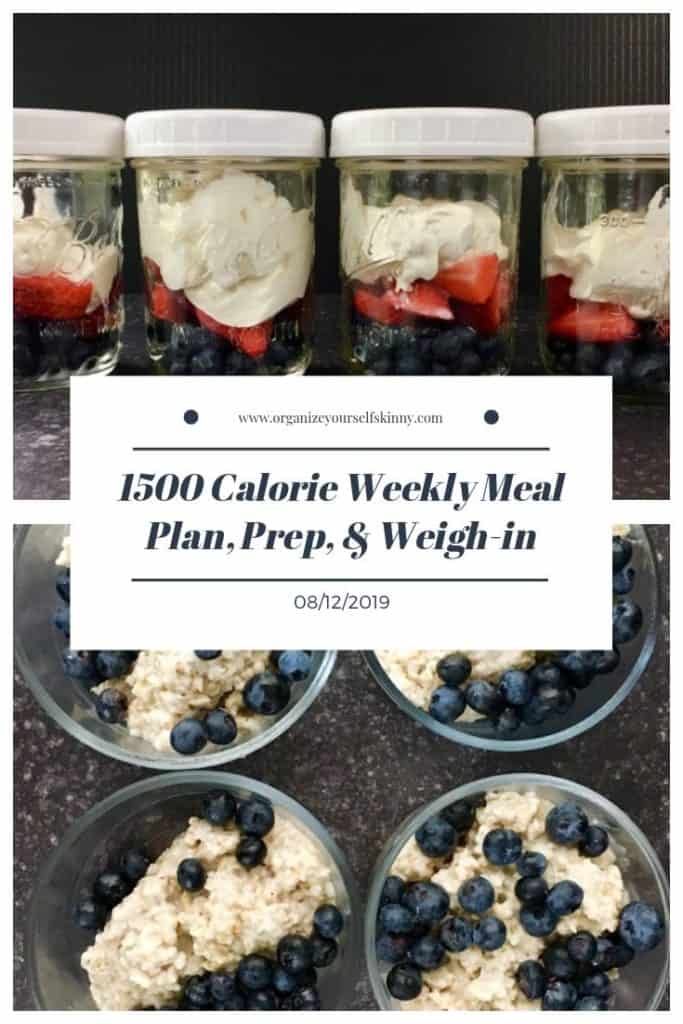 Hey there! I hope you had an awesome weekend. Mine was productive but also lots of fun. Saturday, we took our annual blueberry picking trip. Every year we pick enough blueberries to last us the entire year – no joke! In fact, my mom just used up her last bag a couple days beforehand.
I picked 12 pounds of blueberries! Well, not just me, my girls did a lot of picking too. I tend to go through our a lot faster because I use most of my blueberries in frozen smoothie packs. Of course I still make lots of blueberry muffins, pancakes, and some other goodies.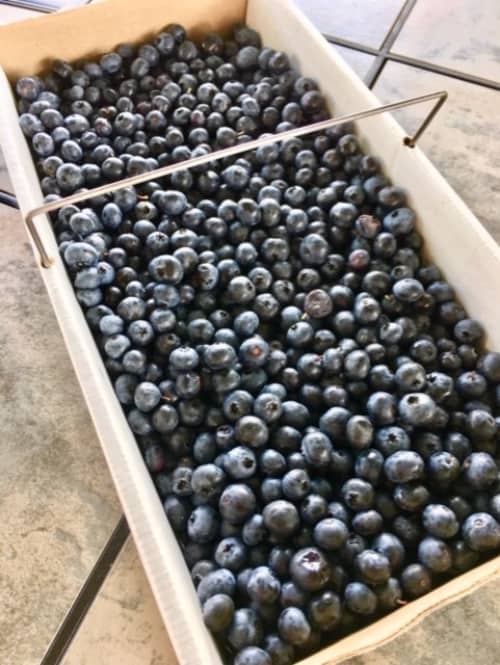 I also plan to freeze blueberries into recipe ready packs so I can easily make baked goods throughout the year. If you want some tips on freezing blueberries then check out my how to freeze blueberries tutorial. I also put together a list of my favorite healthy blueberry recipes if you need some inspiration.
Basically, what I'm trying to say is I'm going to be a blueberry eating queen this week!
Oh, and our garden is starting to produce – so we have lots of fresh vegetables to eat this week. For the first time, in a super long time, I didn't have to purchase tomatoes or cucumbers for my mason jar salads. I threw the banana peppers into a sauce I made and it was delish!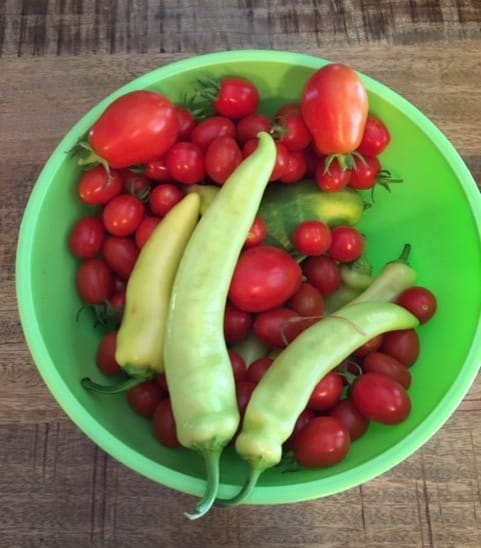 Admittedly, I was most excited about this eggplant. When Mike and I planted our garden this year I couldn't wait for our eggplants to start growing. This is our first eggplant of the season! Of course, I made baked eggplant parmesan and it was SCRUMPTIOUS!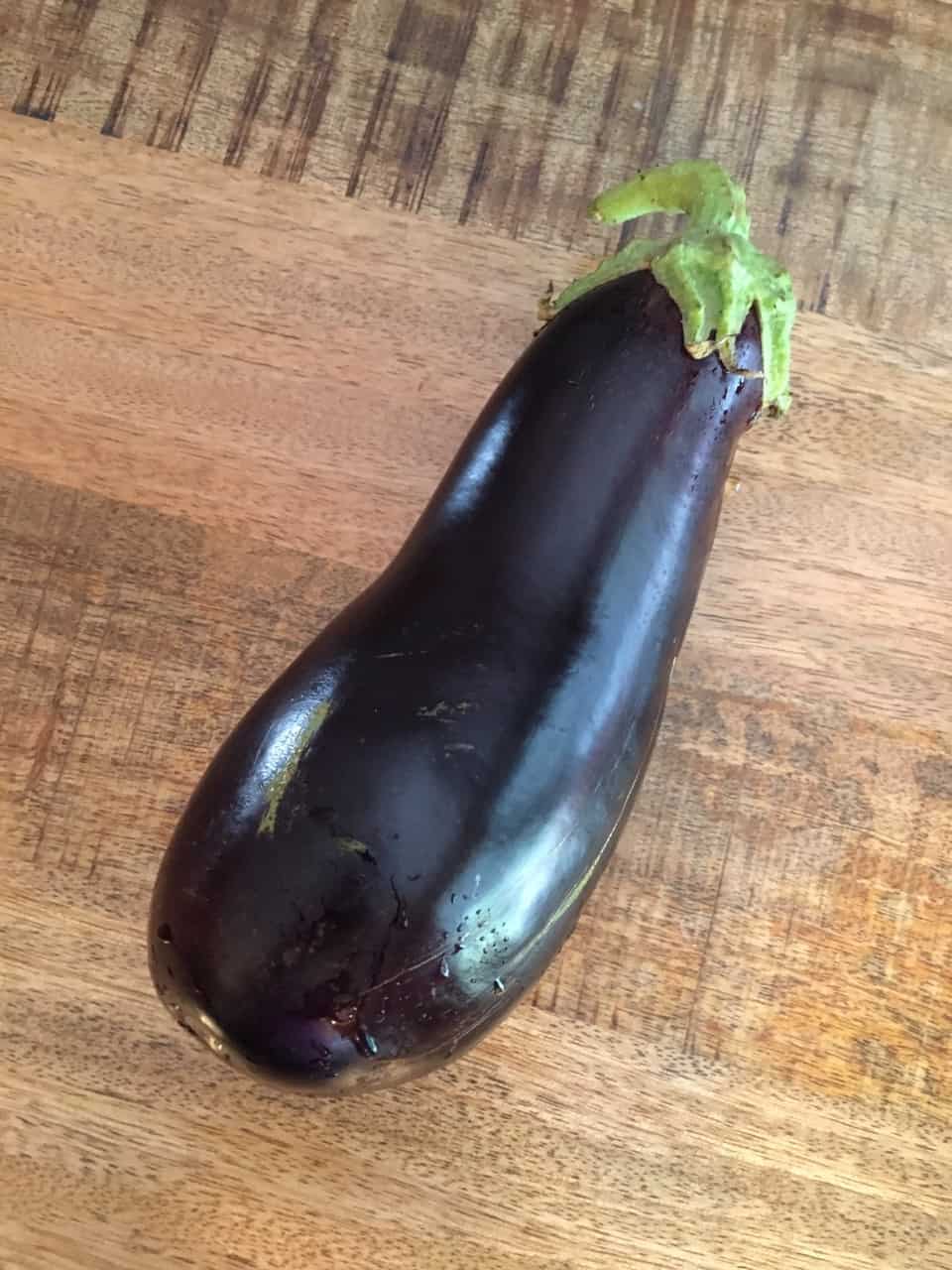 I wouldn't say Mike and I are expert gardeners by any means, but we are definitely learning. It's awesome to see all the vegetables grow and everything taste so fresh and much better than anything we can purchase from the store. In a few weeks we should have some acorn squash, butternut squash, and brussel sprouts ready to pick.
Okay, let's move on.
Last week I shared a big review on Trunk Club vs. Stitch Fix – check that out if you're on the fence with either of those personal online styling services. You can also check out my Trunk Club Review and Stitch Fix Review to learn more about each of these services.
I'm still working on updates for the Organize Yourself Skinny eCourse – enrollment opens on August 22nd.
On to my weekly weigh-in.
Starting weight (October 2010) : 177 lbs
First goal weight: 145lbs
Final goal weight: 135 lbs
Last week's weight: 156.2
Current weight: 155.6
Pounds lost: -1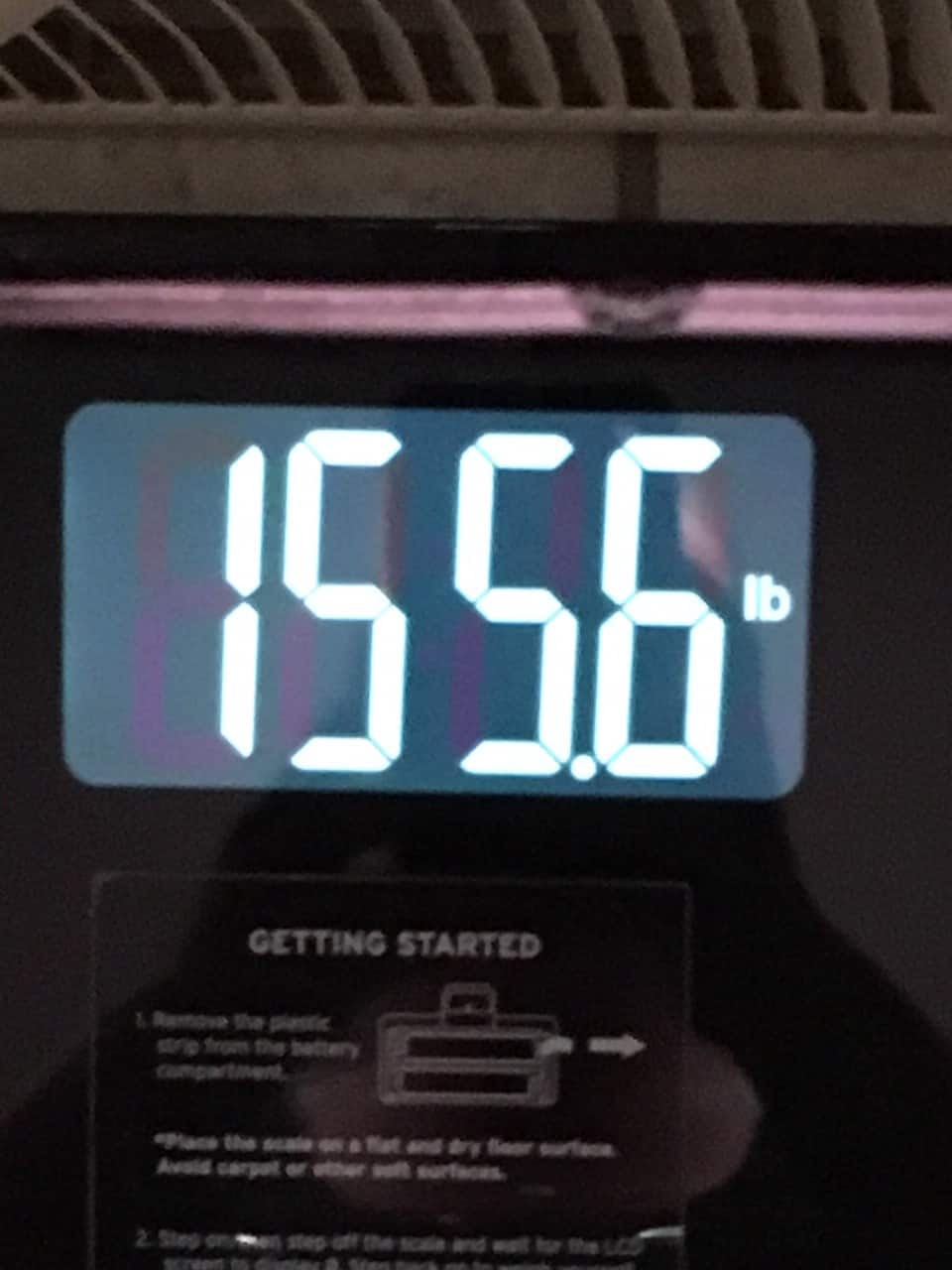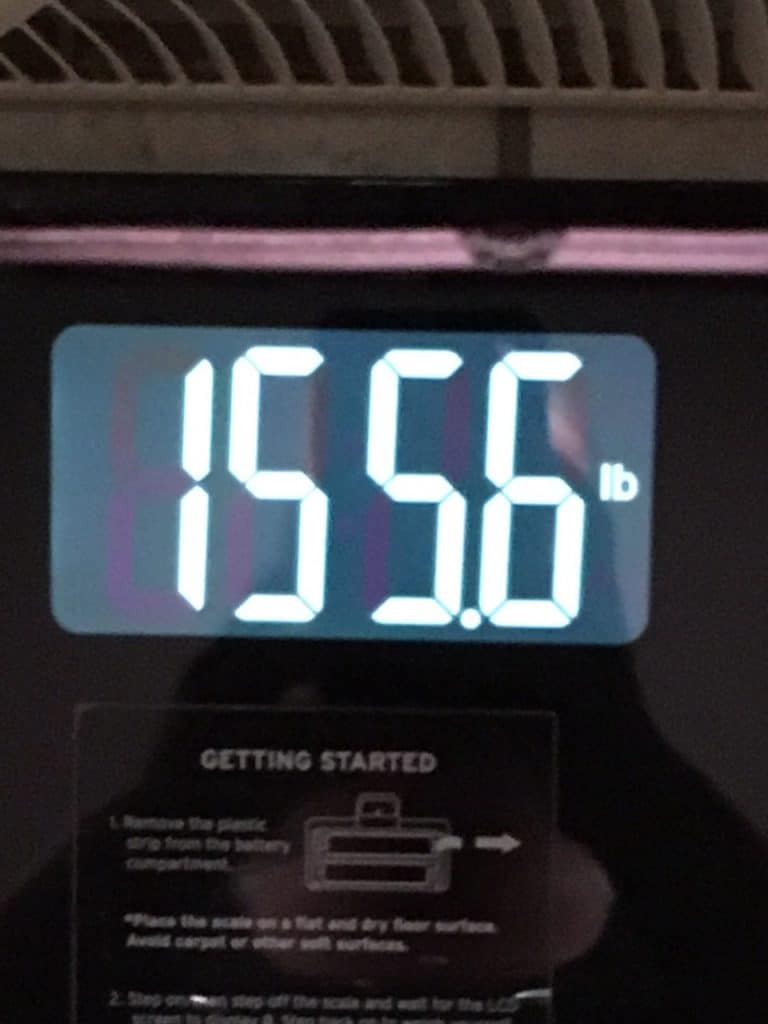 I barely lost a pound this week. Well, I guess it's better than gaining! Last week, was an up and down week for me. I had all my prep done and got in 4 days of power walking. However, a few days I ate dinner after 7 and with another birthday party this past weekend I definitely splurged on a big fat delicious cupcake. So it seems my weight is a constant struggle between smoothies and cupcakes. Ugh! Anyway, I just need to keep it moving.
This week I need to make it an absolute priority not to eat past 5. The only day I'll allow myself to eat later is on Friday when we go out for my birthday celebration. However, I'll make sure to get in a longer walk that day and some extra squats.
Another goal I have for this week is to focus on water. I've been drinking smoothies most days so I feel somewhat hydrated but I need to make sure to get in another 64 ounce of water – this will help with any bloating and extra water weight gain.
Last, I have to keep my exercise low-impact for 2 more weeks. I'm not going to lie, I really miss using weights. I truly feel so much better when I doing toning exercise. Anyway, I'll be back in action in a couple weeks.
Here's my low impact exercise plan for this week.
Monday, Tuesday, Wednesday 3 mile walk outside.
Thursday, Friday, Saturday, and Sunday walk on treadmill for 45 – 60 minutes.
Now, let's get to my meal plan.
Just like last week, I'm using up all the foods that are in my freezer. Honestly, between leftovers from last week, freezer meals, and my garden I didn't even need to grocery shop this week. So everything on my meal plan is food already in my kitchen. In the next few weeks I want to do a huge freezer cooking stock up so I want to clear out my freezer.
This is what I plan to eat this week.
Breakfast – 407 calories
Blueberry Cherry Smoothie – 337 Calories
Coffee with 2 tablespoons creamer – 70 calories
Meal prep tips
I frozen a bunch of cherries last month. I'll use those, along with the fresh blueberries I just picked, to make a daily smoothie. If you need some tips on freezing cherries then check out my how to freeze cherries tutorial.
Morning snack – 184 – 192 calories
Blueberry Banana Bread – 184 calories
1 cup steel cut oats with 1/2 cup blueberries – 192 calories
Meal Prep Tips
I made the banana blueberry bread yesterday. Then I cut it into portions and put into the refrigerator snack bin.
I made the steel cut oats yesterday and portioned into glass containers.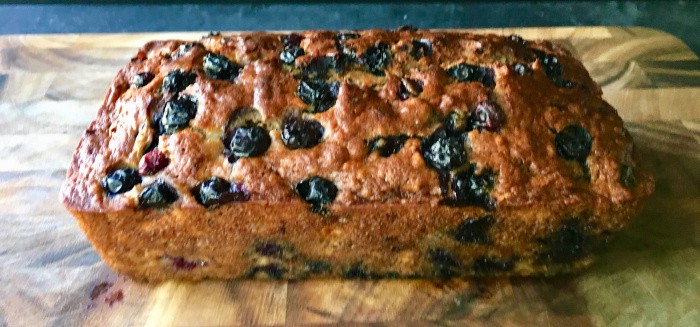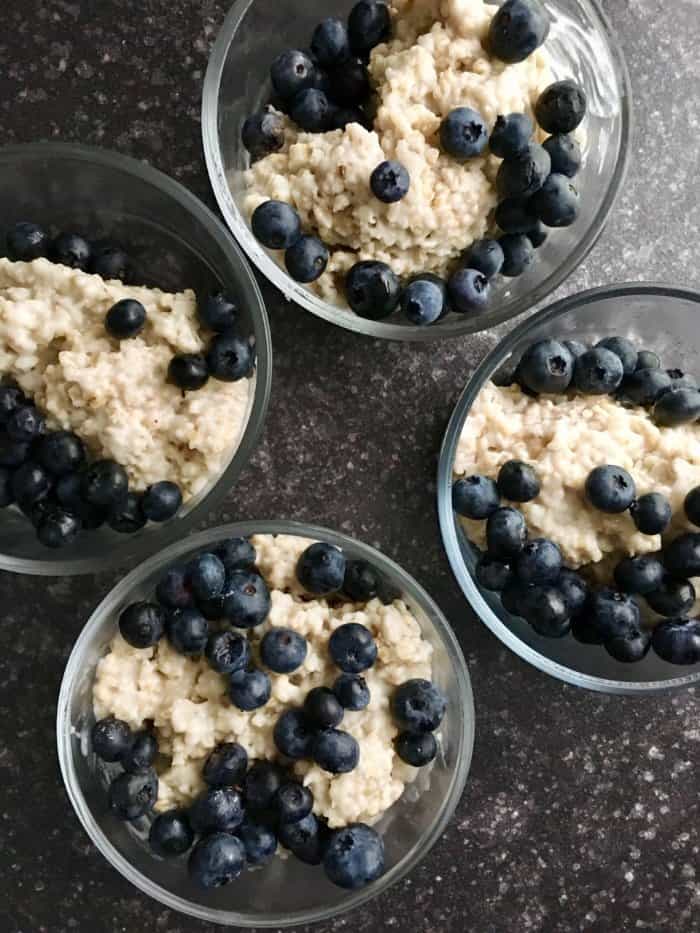 Lunch – 395 calories
Balsamic chicken mason jar salad – 395 calories
Meal prep tips
I made this salad with ingredients I had in the refrigerator. I grilled up some balsamic chicken breast that I had marinating from last week. Then I layered it into jars with tomatoes and cucumbers from the garden, crumbled blue that needed to be used up, chick peas I had in the pantry, and arugula that I bought last week and never used. For the dressing, I used a balasmic dressing I had in the pantry.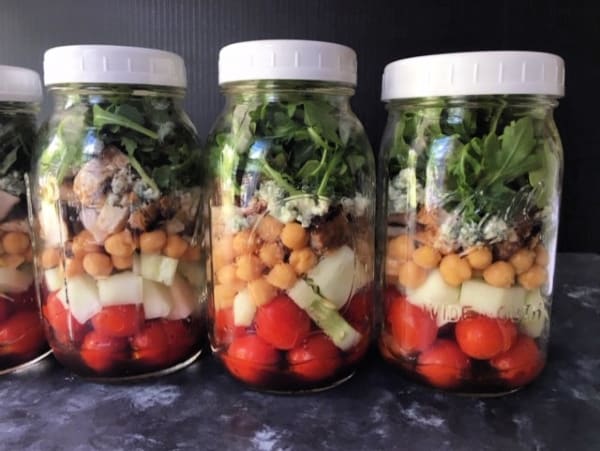 Afternoon snack – 176 calories
Vanilla sigi yogurt with 1/2 cup blueberries and 1/4 cup sliced strawberries
Meal prep tips
I made 4 fruit and yogurt cups yesterday.
Dinner
Baked Eggplant Parmesan – 374 calories (I'm having this with no pasta)
Beef Enchilada – 383 calories
Greek Meatloaf – 514 calories (the day I eat this I'll skip my morning snack or have something with less calories).
Quinoa Fried Rice – 403 calories
Meal Prep Tips
I made the eggplant yesterday and everything else in the freezer.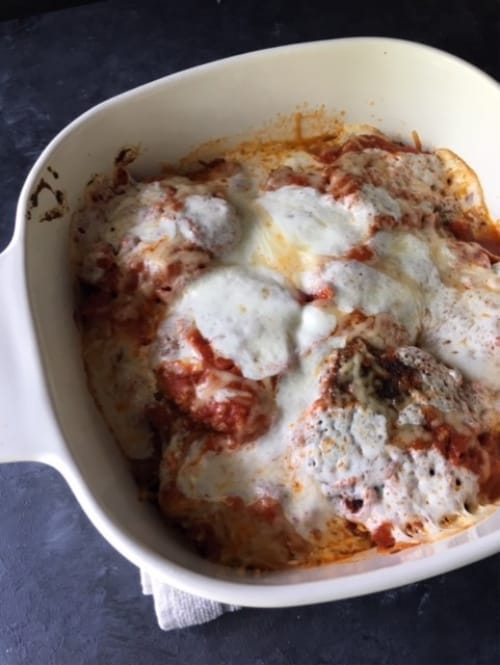 Meal Prep Containers, Tools, and Supplies Used This Week
36 ounce rectangle glass meal prep containers
2-cup round Pyrex glass containers
See the other glass meal prep containers I recommend here.
Check out my meal prep and healthy meal planning pages for more information to get you started.
Other Meal Planning Services
Sun Basket – Organic meal kit delivery. See my original Sun Basket Review.
Green Chef – Organic meal kit delivery. Check out my Green Chef review for more information.
Hello Fresh – The best meal kit to feed the whole family.
Purple Carrot – The only vegan meal kit service. See my Purple Carrot review
Daily Harvest – vegan grab n go meals in a cup. See my Daily Harvest review.