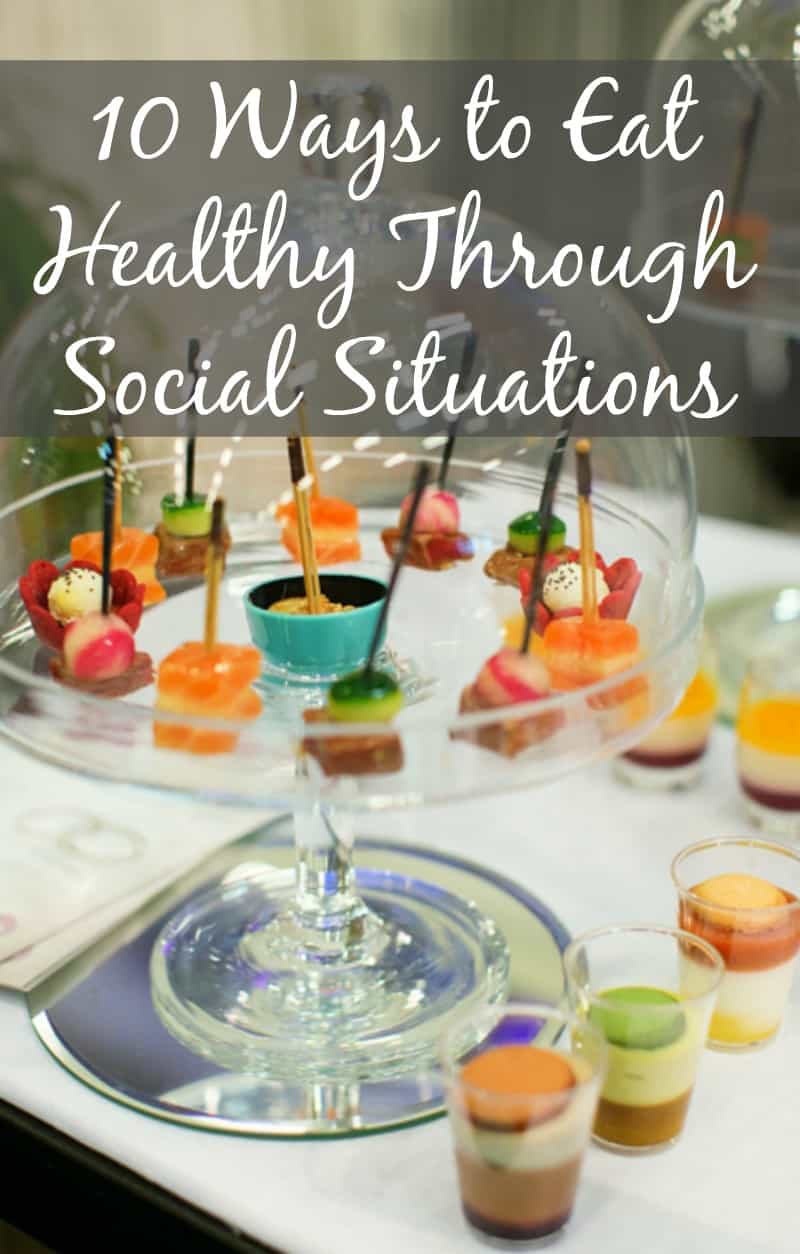 This post is by OYS writer Alexis from Trading Cardio for Cosmos. You can also find her on Facebook and Instagram sharing lots of awesome weight loss tips and motivation!! She's lost over 100lbs so she has lots to share!
---
Have you ever been invited out to dinner or drinks and thought "I have to say no. There's no way I can stay on track," OR "I have to say no. I can't eat or drink like everyone else so it'll be no fun!"
I'm here to tell you, you can and you should go! First, being with people you love is inspiring, comforting, and good for you. Second, there's no reason you can't go, eat, drink and make merry. I've lost -115lbs going out 2-3 nights a week and if I can do it, so can you!
Here are my 10 Ways to Eat Healthy Through Social Situations.
#1 Control the destination.
Often times when my friends and I get together, everyone does the "Oh, I don't care where we go!" And it's actually a struggle to figure out where we're going to meet up. I utilize this ambiguity as an opportunity! I move the breakfast, happy hour, or dinner to a place that's a little more diet-friendly, or health-conscious. Since you are the one doing the organizing, you get to say where you're going!
#2 Plan ahead.
I'm rarely surprised to find we are going out to dinner. That sounds weird. What I mean is I normally know ahead of time when we're going out to dinner, so there's no reason why I can't plan my day accordingly. If I know it's a big meal out, or happy hour with cocktails, etc, then I can load up on egg whites and veggies for breakfast, skip the toast, make my snacks all fresh fruit, eat a light lunch and save most of my calories/SmartPoints/intake for dinner!
#3 Plan ahead, part two.
Sometimes I feel like getting "have a plan" tattooed on my forehead! It's the number one piece of advice I give to those looking to lose or maintain a healthy weight. You may consider it a bit obsessive, but I check the menu before we visit any restaurant. Last night, Mr. Big and I went out for a date night, and I knew what my healthy options were going to be before we arrived. I knew I was going to want an appetizer and an entrée, so I picked a lower-calorie seafood for both, swapped the rice for a vegetable and said "No, thank you!" to the bread in favor of some wine!
#4 Have a snack before you go.
It sounds a little crazy to have a snack before you go out to eat, but sometimes having a tossed salad, a piece of fruit or even a hard-boiled egg helps because I make better food decisions when I'm not hungry.
#5 Offer to be the designated driver.
It may not be the most fun role, but being the designated driver ensures that you limit, or eliminate if you're a very good DD, your alcohol consumption. It also means you consume fewer calories, both from the alcohol you're not drinking, and in the mindless eating you won't do.
#6 Pick the thing you really want, and design your menu choices around it.
For me, when we go out to eat, I want steak. Or a serving of pasta. By knowing that the pasta or steak is important to me, I can help myself make better choices. I'm not going to pick a rich appetizer if it means I can't have the thing I really want, or that I'm going to overdo it . Maybe it's dessert that you really want. So then you make healthier choices, like choosing to swap the blue cheese for the low-fat vinaigrette, so you can have that piece of cake!
#7 Resist the "Let's just grab a couple appetizers and share them!"
I get that it's a social thing, I get that everyone is friendly and happy to share. But grazing, or where you pick at several dishes for several minutes, is a sure fire way to over consume. At least for me. I like to order an appetizer that is an easily identifiable portion so I can calculate the calories/SmartPoints.
#8 Pick a vegetable or protein-based appetizers, and skip anything with the words "crispy," "fried," "aioli," "battered" etc.
Shrimp cocktail, lump crabmeat, a crabcake, salad with lots of vegetables (but not tons of cheese, nuts and croutons), broth-based soup versus cream soups, chicken skewers rather than chicken nuggets, and usually anything served in a lettuce wrap!
#9 Pick seafood.
Seafood is a great low calorie and low SmartPoint choice. A bowl of mussels only has roughly 100 calories, or 1-2 SmartPoints. That's a whole bowl, and entire appetizer for very little intake!
#10 Stop hiding the fact that you're trying to lose weight.
Now, this is not appropriate in every social situation. But it is appropriate more often than not. In today's society where 50% of the population is overweight, it's not unusual for someone to be trying to lose a few, or many, pounds. I had to get over the idea or the sense of embarrassment that I should be hiding my desire to eat more healthily. And no one has the right to make you feel like you shouldn't be eating healthily. Deciding to eat healthy and be a better version of yourself is something you should be proud of!
So tell me, what am I missing? What do you do to help you stay on track during social situations?
---