I LOVE mason jars! I fell in love with them because of the mason jar salads I was making. But then I bought some jars with a wide-mouth and were a little smaller and found I had too many mason jars and not enough room. I was also dealing with another problem. Apparently, my husband wanted something else for lunch or dinner – even if I was satisfied with my salads. He felt like he needed either a little more food or a little more variety. So I decided to find some other uses for my mason jars and discovered that I love them even more than I did to begin with!
Mason Jar Pros
Multi-Purpose – Apparently these are not just for salads 🙂
Portion control – If healthy food is prepared, measured, portioned and packaged for individual servings, it is less likely that you will over-serve or choose something less healthy or eat out altogether.
Cute! – I think a mason jar looks much nicer than the plastic stuff.
Space – Mason jars might take up space or sometimes they can help make space.
Leftovers – Sometimes we can't find the container we want to use or you can split a larger portion into single servings by just storing it in the mason jar rather than storing it all in a larger container which will have to be separated later
Portable – I know plastic containers are lighter but you can still just grab and go. This is not as easy with a large storage container.
Safe in the microwave, fridge and oven – I have heard there are some that are freezer safe, too. (Mine are not)
Safe – No BPA. There are questions as to the safety of some materials found in plastic containers.
Less mess – I haven't had anything leak or spill (yet). However, I have had lids "warp" and open up in transport which did end up getting all over my stuff. Even if it was "empty" the plastic containers would get messy.
Mason Jar Cons
Breakable – This has never happened to me…it is probably just a matter of time.
Lids – the metal lids rust or get stuck together, but you can get plastic lids, too.
Clunky – Kind of clunky to carry around
Different Sizes for Different Purposes
Just because there are hundreds of different things you can do with a mason jar, doesn't mean you have to do them all. However, keep these things in mind when purchasing jars:
Size vs. Purpose/Food – My salads were too large in the quart and I didn't like the narrow mouth so I purchased a smaller, wide mouthed jar. These are much better for me.
Wide Mouth vs. Narrow – Some foods may be easier to get out of a wide-mouthed jar. Narrow mouth jars are good for less-bulky food like soups, stews, liquid driks and smoothies.
Smaller jars – are good for deserts or sweeter choices. You probably wouldn't put a "single serving" of fruit in a larger quart size jar.
10 Mason Jar Ideas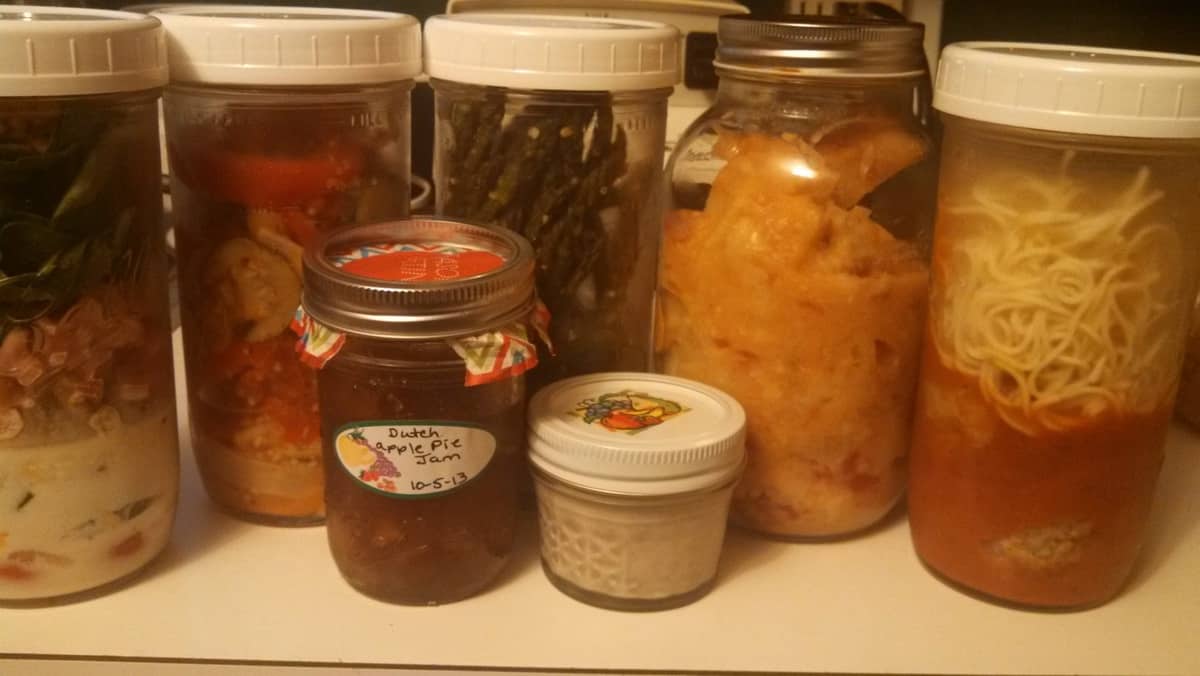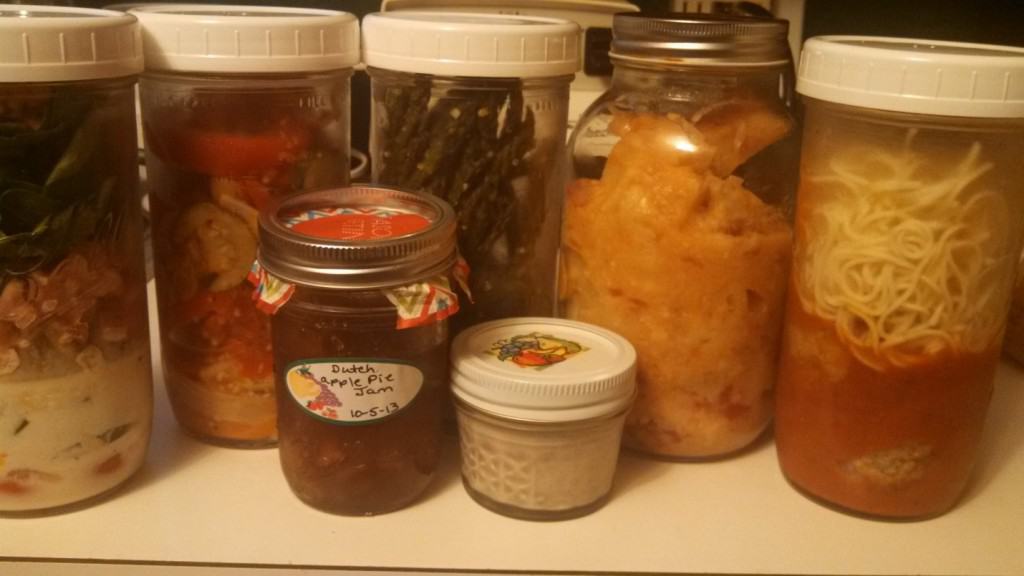 Some of the many things I have in mason jars at one time.
1. Salads – This appears to be the most popular. And we do love our salads!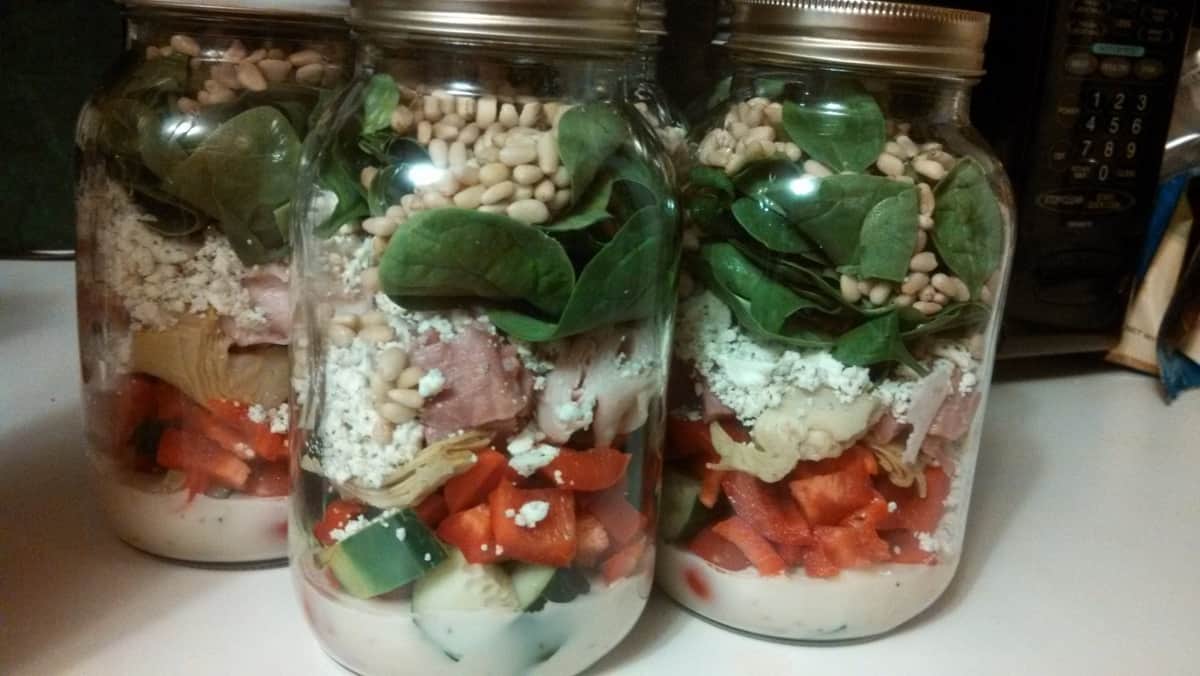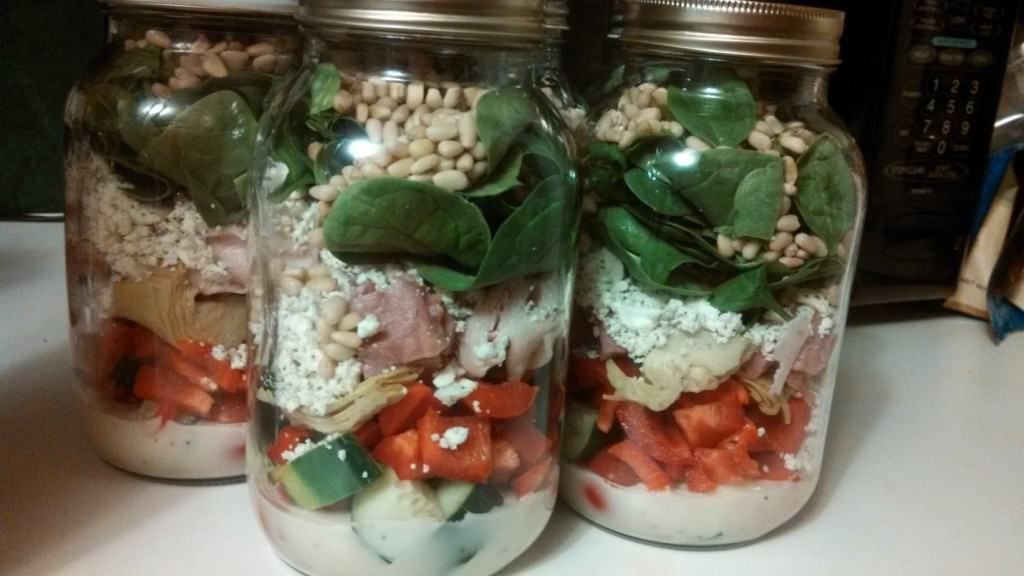 Salads stay fresh for at least 5 days
2. Smoothies – I store my extra smoothie in my mason jars. You could also just drink out of it too.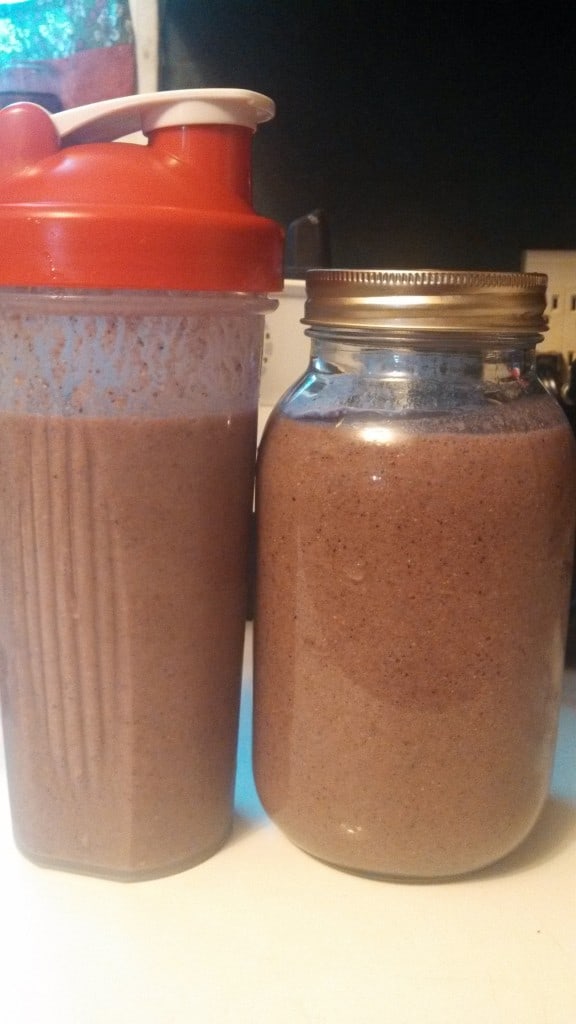 I save half my smoothie in a mason jar and take the shaker to work or on the run.
3. Granola – (click for the recipies)
4. Oatmeal/Steel Cut Oats – (click for recipes and freezing instructions)
5. Dinners/Meals – I found a ton of recipes and ideas just surfing the web (and Pinterest). Most of the mason jar meals or dinners are layered. The only thing to keep in mind is what order you put it in.
Pasta
Spaghetti & Meatballs
Spaghetti
Lasagna (layered)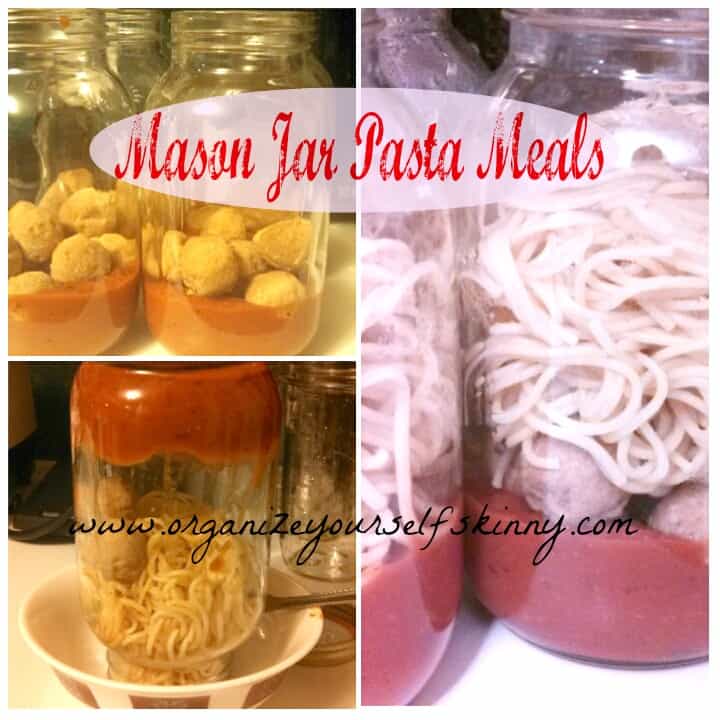 Chicken
Chicken Curry (layered with rice)
Puerto Rican chicken (layered with rice)
Mexican (pork with rice)
6. Soups (Prep) – just chop up and throw in your ingredients for a home-made soup. This will help you cut down on time when you go to make it instead of doing it all at once.
Chicken Noodle
Minestrone
Bean/Lentil (add beans, seasonings etc.)
7. Croc Pot (small or multi batches)
Potatoes
Carrots
Celery
Herbs
8. Desserts
Parfaits
Jello or Pudding – perfect for kids, if you have a house full of sick ones
Pumpkin Bake
Layered (ex. Pinterest)
Hard Candies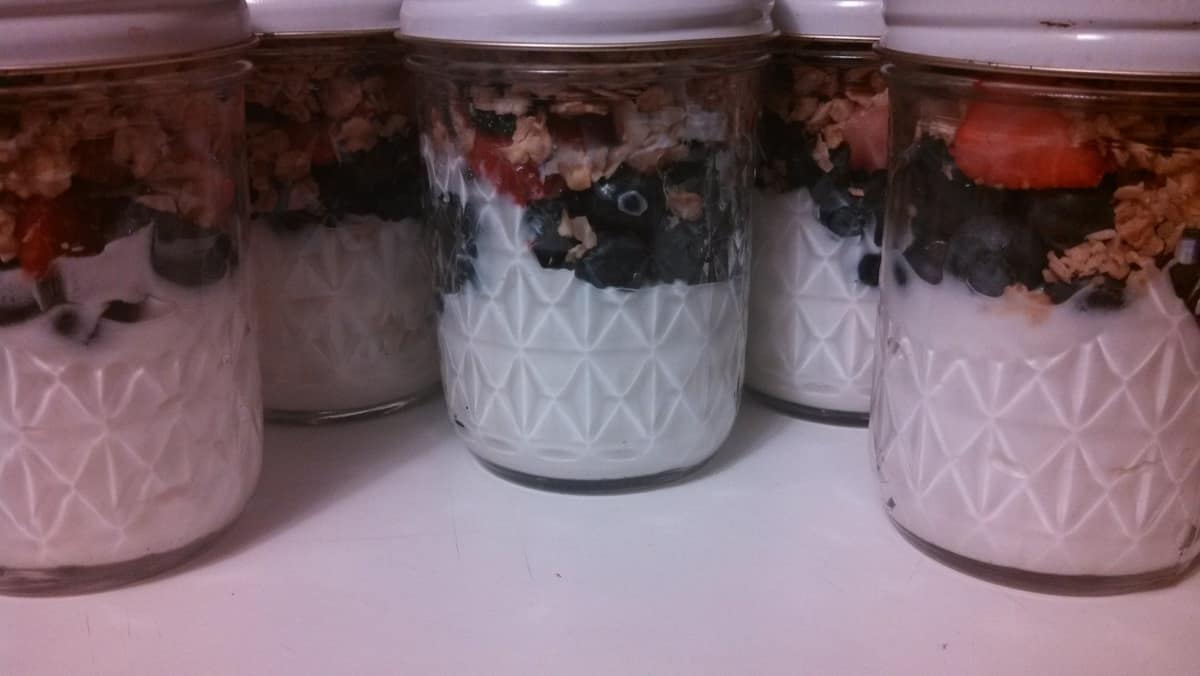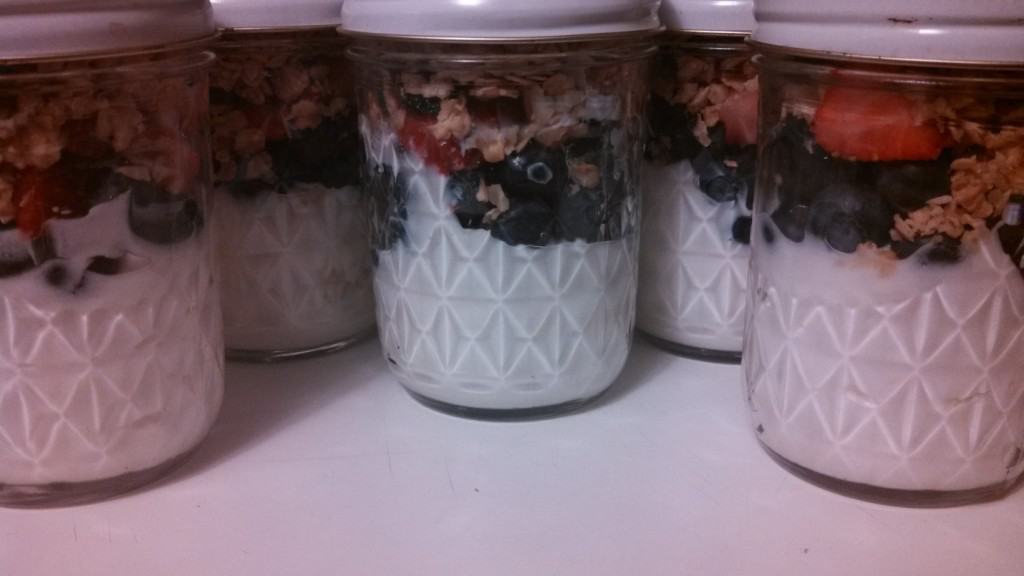 These stay fresh and crunchy for at least 3 days. If you place a barrier in-between the fruit and granola (wax paper or cupcake paper) it may stay crunchy longer.
9. Drinks
Lemon Water – Add your own lemon or other citrus fruits.
Tea – iced tea, herbal tea, green tea
Adult Beverages – Mix up a variety of drinks and have them available for company. There are pros and cons to doing this as well.
Wine – Missing or broken corks? Problem solved! No need to throw away or finish a bottle sooner than anticipated.
10. Canning/Preserve
Jellies/Jams
Pickles
Salsas/Sauces
Other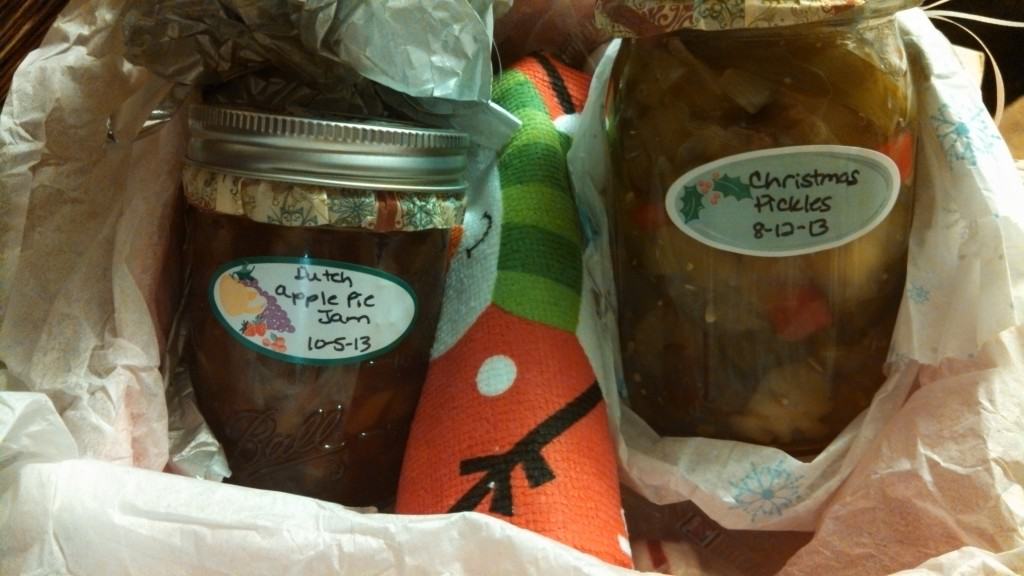 These are the Christmas presents from my aunt and cousin.
Bonus: Other/Storage
Salt (Cap)
Parmesan Cheese Shaker (Shaker)
Drinks (Cap)
Nuts
Other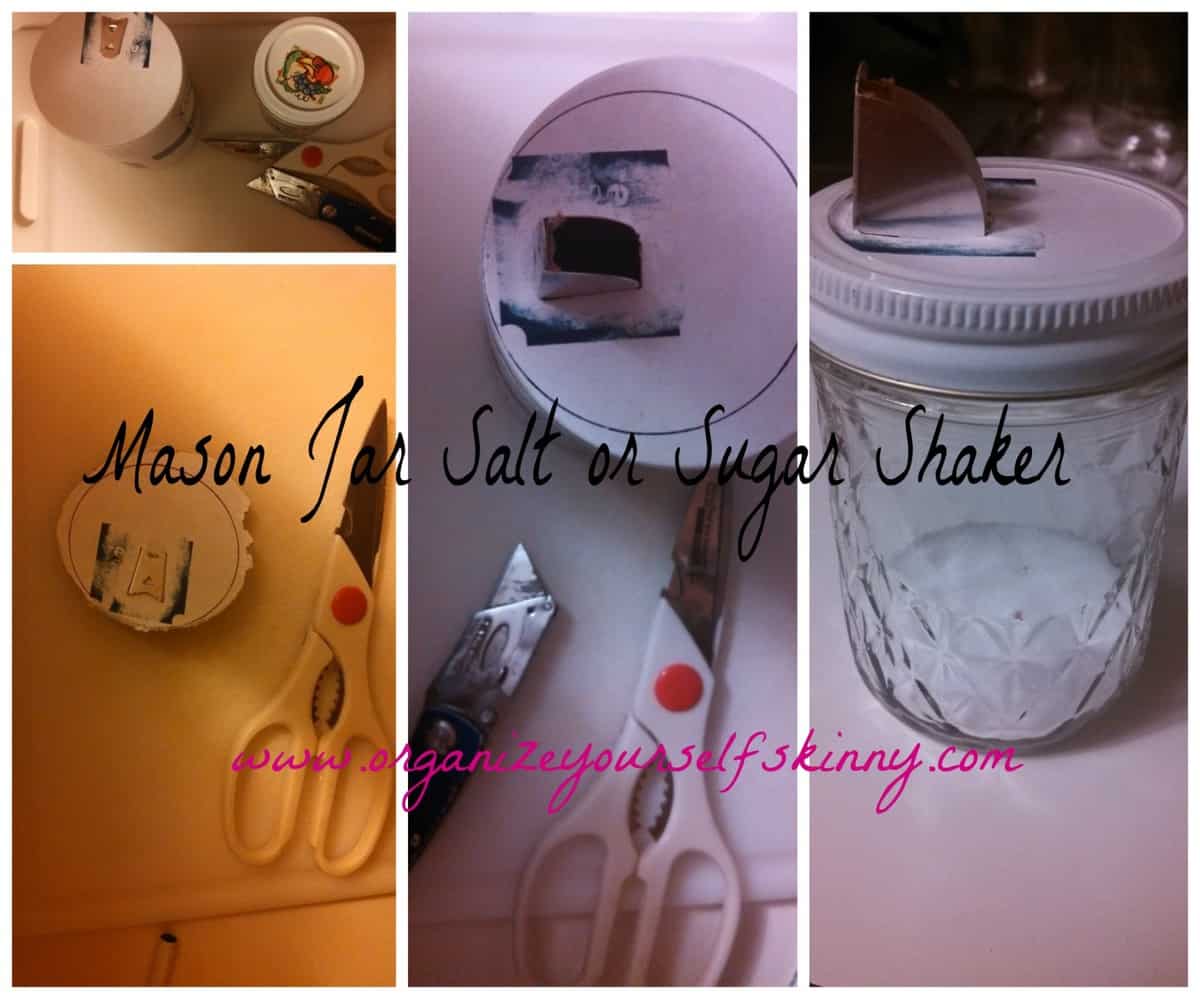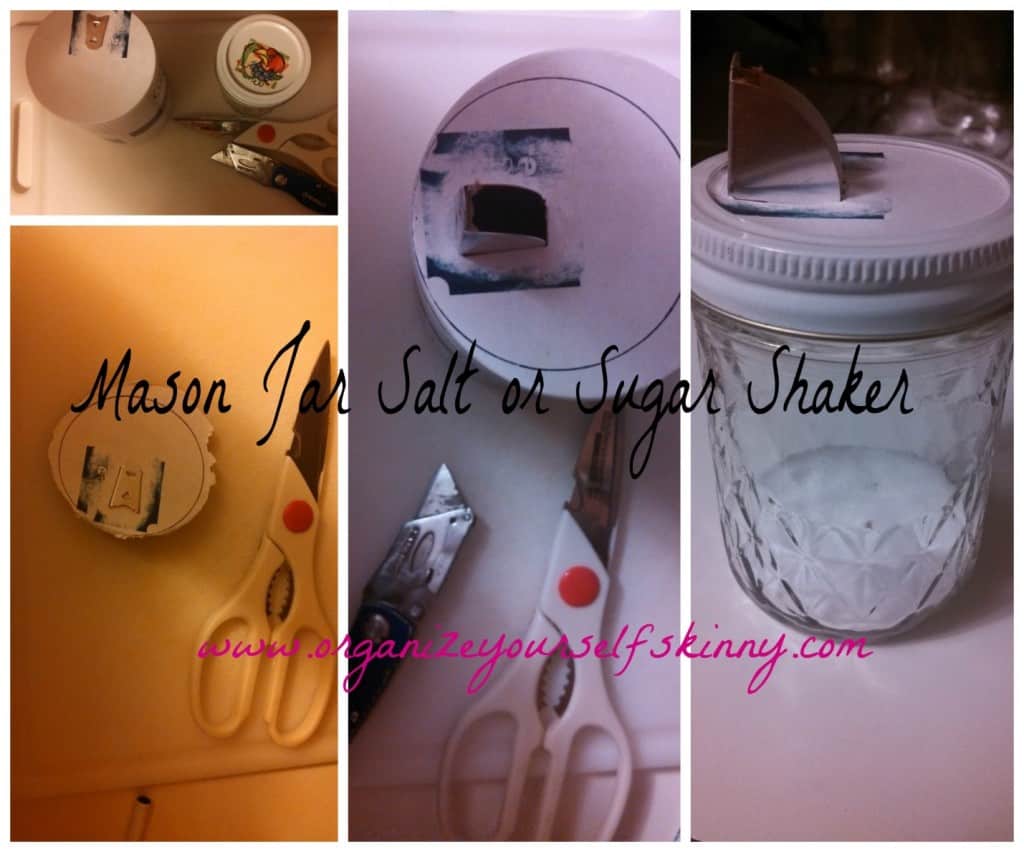 Now doesn't that just look so much nicer!? I think so!
Tips & Tricks
Here are some additional tips and tricks that I have heard or seen which you might find helpful.
Cupcake paper to separate some foods (ex. Cranberry jelly on top of mashed potatoes)
Onions at bottom with dressing (like vinaigrette) will help soften the taste and not be so strong.
Add or tape the recipe to the jar. – Sometimes we make something off Pinterest and forget how to make it.
Form a "lunch swap". One reader shared the following: "I am a teacher and we have formed a "Salad Jar Club" at school. There are 5 of us. Starting next week we are all making one recipe(which makes 5 salads), bringing them to school on Monday morning and exchanging them so we each have 5 different salads that will last us all week."
Dry food / Baking supplies – I have also heard that you can avoid foods getting clumpy by storing them in jars. (baking soda, cornstarch, salt etc.) And if you use a wide mouth jar, it makes it easier to put measuring tools in there without getting your hand stuck or the bag flopping.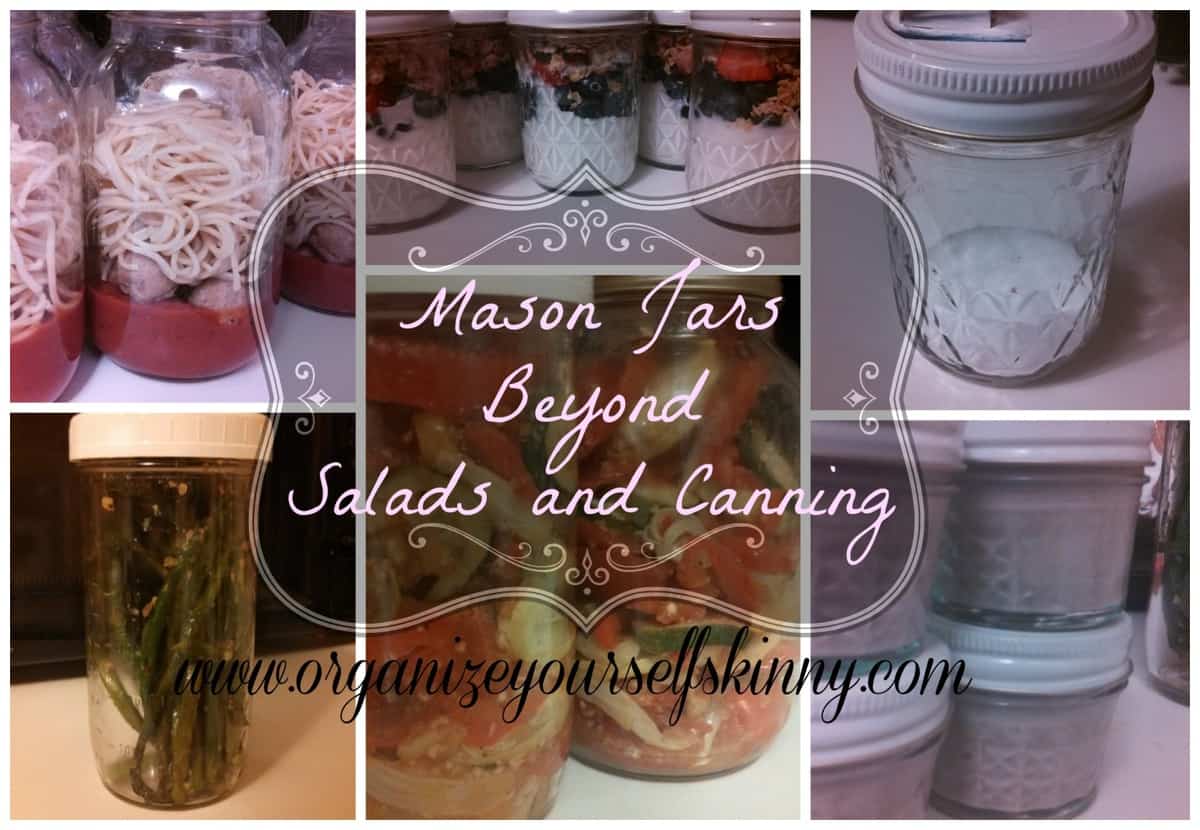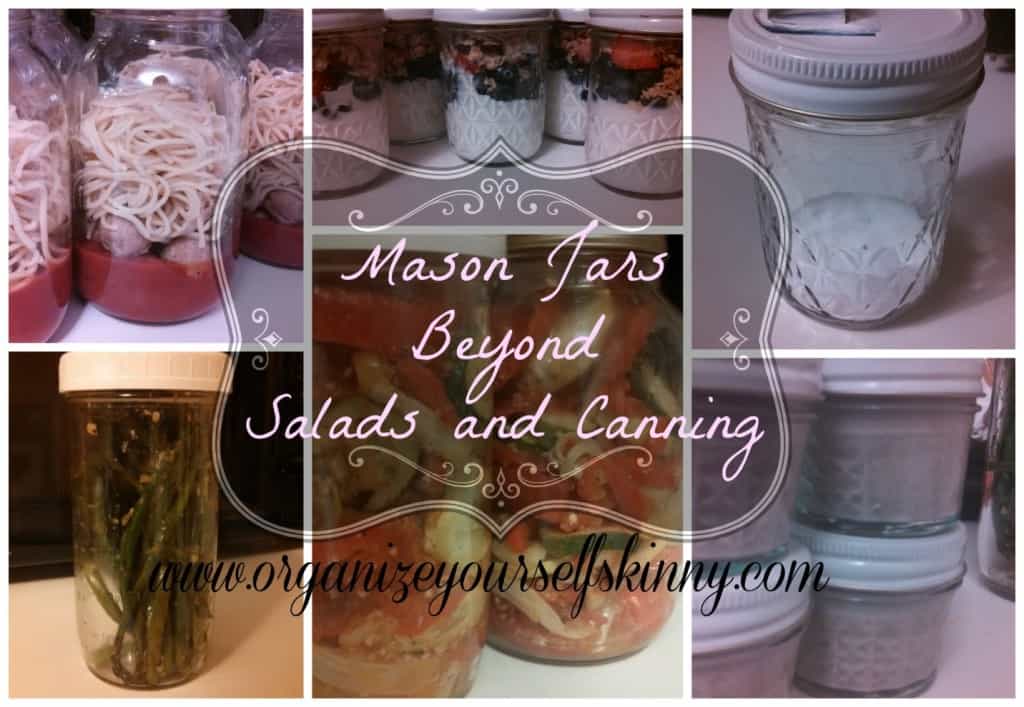 So what are some of your favorite things to use mason jars for? What tips or tricks do you recommend? 
Get Instant Access to My Best Weight Loss Tips & Strategies!
Sign up now for a free step-by-step 7-day email course that I created exclusively for my email subscribers! That's you. I will teach the best habits, strategies, and insider tips so you can enjoy a lifestyle that encourages and supports weight loss! Stop relying on willpower and take control back over your life! You can do this. Let me help!